The beauty that surrounds us Belizeans is immense and varied. Yet, caught in the throes of simply living and surviving, we might miss moments here and there. However, we get a gentle reminder when we meet people who have plotted and planned for months to visit our country. We meet them and see them trying to enjoy every second of their precious vacation time exploring Belize's wonders. Suddenly, our curiosity is piqued. Why here? What is it that draws you here, out of all the places in the world? Why Belize?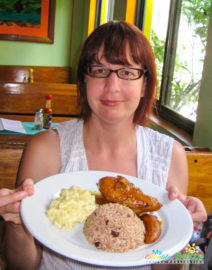 Hailing from Memphis, Tennessee, USA, Courtney Sage feels that Belize has been the definition of the word 'serendipity'. We certainly appreciate the chain of events that led her to the shores of Ambergris Caye, as she is one of the Belize visitors that gets what makes us unique and worth visiting, over and over again! She's currently living in Germany with her husband Mark, their African Grey Parrot Cleo and one very spoiled kitty, L'Baby, and is busy making grand plans for a return visit to Belize.
MBB: How did you find out about Belize?
Courtney: I knew for a long time that there is an incredible reef in Belize. It was on my bucket list, but I had no idea how I would be able to get there.
MBB: When did you finally make your first visit?
Courtney: 2007
MBB: And how was it versus your dream expectations?
Courtney: I literally cried when I saw the turquoise water. I'd only seen water like that in magazines…so, the WATER. The people: So warm, so helpful, so proud of their country and heritage. The food: I recall how I was initially very wary to eat anything terribly unfamiliar, but after a disappointing American style chicken breast sandwich, I decided to follow the advice I'd been given to "look for where the locals eat". A Belizean foodie was born.
MBB: Aha! We keep hearing about the food in Belize being a draw. Any favorites?
Courtney: I was immediately addicted to Sunday dinners (Belizean rice and beans). Watermelon water. Salbutes. Mmmm…breakfast at Estel's: fry jacks with Marie Sharp jam, fried potatoes and Maya eggs. Coconut pie from Elvi's Kitchen, beans and cheese pupusas from middle street. Funny story about those pupusas, I always thought the cabbage and tomato sauces were onions and hot sauce – ha!
I love Manelly's coconut ice cream and of course, anything from DandE's. Oh, and shrimp ceviche from Lily's Treasure Chest.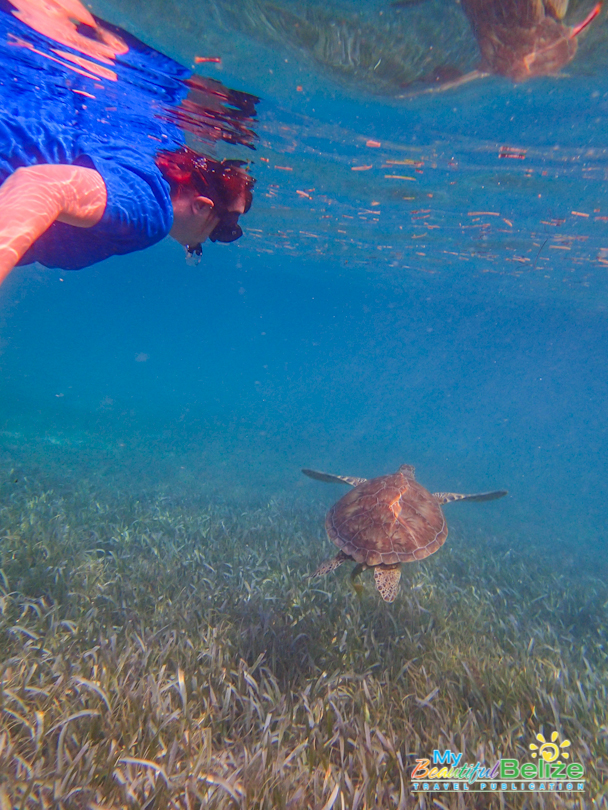 MBB: (Besides eating – ha) how would you spend an ideal 12 hours here?
Courtney: I can never sleep past sunrise – once I'm conscious of where I am (my favorite place ever) – so starting around 5/6AM, I'll sit on the porch and share my yogurt with my favorite tabby cat while bird watching and looking for iguanas and crocodiles in the canal next door.
Then I'll walk around for a couple of hours, watching the town wake up. I head towards the beach, sitting on docks looking for fish friends. I also like to go on a morning and afternoon snorkel if possible – Hol Chan and Mexico Rocks
I would meet with friends for lunch at Celi's, and I always order the same thing: Sunday Dinner
After lunch, I like a nap, so I'll find an unoccupied hammock usually, followed by an afternoon snorkel, then drinks somewhere. Nothing quite so refreshing as a rum punch at The Palapa Bar!
My ideal finisher for the day would be dinner at my friend's house – she makes salbutes to die for, and I get to catch up on my beloved local commercials on her TV. I head to bed around 8PM because I can't keep my eyes open and I'm so full and happy.
MBB: Aw. Sounds like a great day, and like you have local friends on the island! Tell us more about that.
Courtney: I feel like Belize has been the definition of the word serendipity for me…the people I've met, etc. I have family friends in Belize City who I've met through my mom. Her church had yearly trips to El Salvador, and she met a missionary there who ended up married to a Belizean woman. One day in Memphis, I wondered aloud if I could visit Belize and stay with them in the city. I was clueless and assumed I could stay with them and travel back and forth to the island every day. NOT!
However, the wheels began spinning and I turned to the internet, found Ambergriscaye.com, nabbed a great deal on a hotel and next thing you know I was on Ambergris Caye. I loved the energy of the town. The hotel was lovely but too far north for a solo traveler unfamiliar with the island. I spent all my money on water taxis.
After I returned from my first trip, I sent some of my photos to the ambergriscaye.com website and developed an online friendship with Marty Casado, the man behind the site. He gave me some of the best advice of my life: to meet Mary Gonzalez (now Rodriguez) and Marie Parham, and to go to Lamanai with Tanisha Tours. Because I followed his advice, I have a cluster of humans on that little island that occupy a huge part of my heart and make my life richer beyond explanation. I've planned a honeymoon for my dear friend, a family trip for 5, and even my own honeymoon there!
MBB: Oh…so it's Marty's fault, huh? Haha – we're so glad you listened! Seeing as you are one of our favorite people, share with us some of your Belize favorites too…
Courtney: Snorkeling at Mexico Rocks! But I also love snorkeling around docks and meeting new fish friends. The variety of marine life I've seen in Belize is mind blowing, and endlessly inspiring to me. I love to people watch – to see children going to school in their white uniforms! I learned there are secrets to keeping those so white, and it's hard work!
I am endlessly entertained by observing the daily goings-on (most certainly mundane to the locals, but fascinating to me) of activities in a place I see as having a much slower pace.
MBB: What are some of your not-so-favorite things about Belize…I have to ask because we know it's not all 100% perfection!
Courtney: I am concerned about the developments that destroy what Belize has been so progressive in protecting – I don't want it to be another Cancun. Most people who come to Belize do so because of their love for nature.
MBB: Any nature visits in your future?
Courtney: Yes! I want to spend time at Belize Bird Rescue. I want to see where my bestie grew up in Cayo. I also want snorkel the Silk Cayes, Sapodilla and Tobacco Cayes, to name a few. I want to explore the area where the Garifuna live…I want to see the Maya Mountains and the Five Sisters Falls.
MBB: …we need to make plans to join you all over the place!