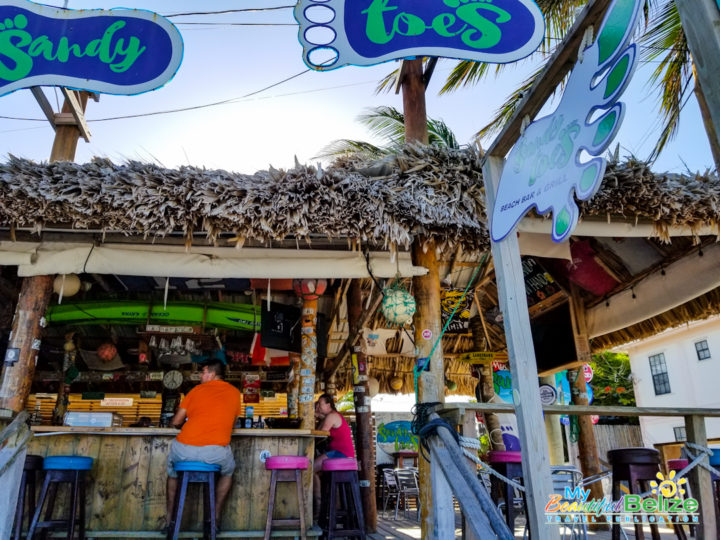 Beach bars dot our coastline on Ambergris Caye, each vying for your attention with cocktails, nibbles and atmosphere. Each one is unique, and Sandy Toes Beach Bar is one that has captured the hearts of many with their irresistible touches across their stretch of sand. Owner Ishmael 'Ish' Lisbey is no stranger to the beach bar vibe, as he was the lone ranger standing when the much-beloved BC's Bar served its final cocktail.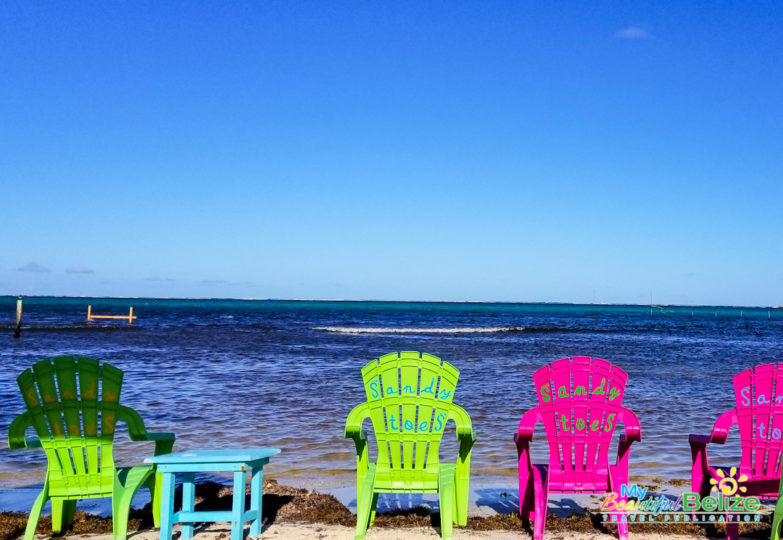 BC's regulars were thrilled when Ish then took on a spot in Boca Del Rio, across a fabulous swimming spot, and began setting up a thatched building set to serve up the best in cocktails, snacks, meals, music and the kind of service that locals and visitors have come to expect. Sandy Toes has wriggled its way into our inebriated little hearts, with its bright beach chairs, friendly service and tasty food and drinks.
Sandy Toes really caters to the classic 'on the beach' vibe. I've spent many hours soaking in the sunshine while sitting on chairs as waves lap across my legs, shooting the breeze with my gaggle of girlfriends. Indulgent waiters bring us cocktails and snacks in the water…just another fabulous weekend in San Pedro.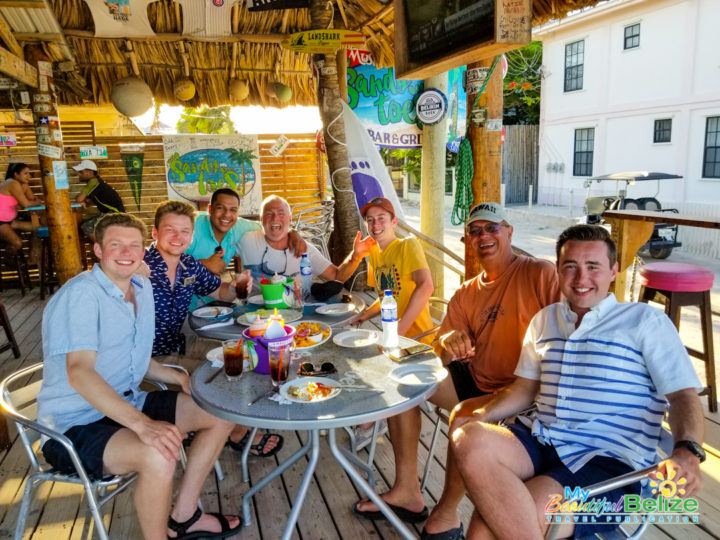 Children's shrieks and laughter rings through the air as they build sand castles, their parents catching up under the shade of umbrellas specially set out for their enjoyment, and when the sun gets to be too much, there's nothing quite like bellying up to the bar and downing an ice cold Belikin beer, snacking on fresh ceviche or nachos. If you want something heartier, I highly recommend their fried chicken. I'm not joking – the seasoned chicken is crispy and delicious, with either fries or the ubiquitous Belizean rice and beans.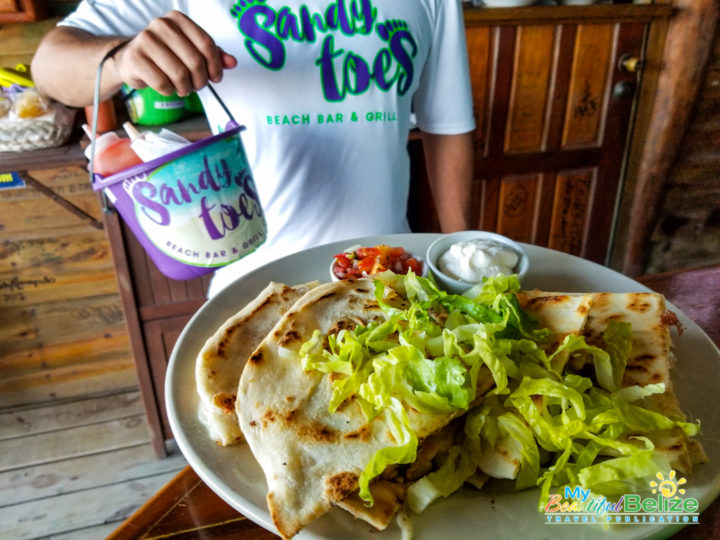 They also have tasty quesadillas, fajitas and more, all cooked to perfection. For something different to hit the spot, I'm also partial to the Jack and Dip. Ish recommended it to me one evening as I sipped more than one too many cocktails, and it was the perfect antidote for the alcohol. Strips of flour dough are deep fried into little fry jacks, and served alongside a gloriously flavorful bean dip for the best bar snack ever. (I didn't say it was healthy…but damn are the calories worth it!)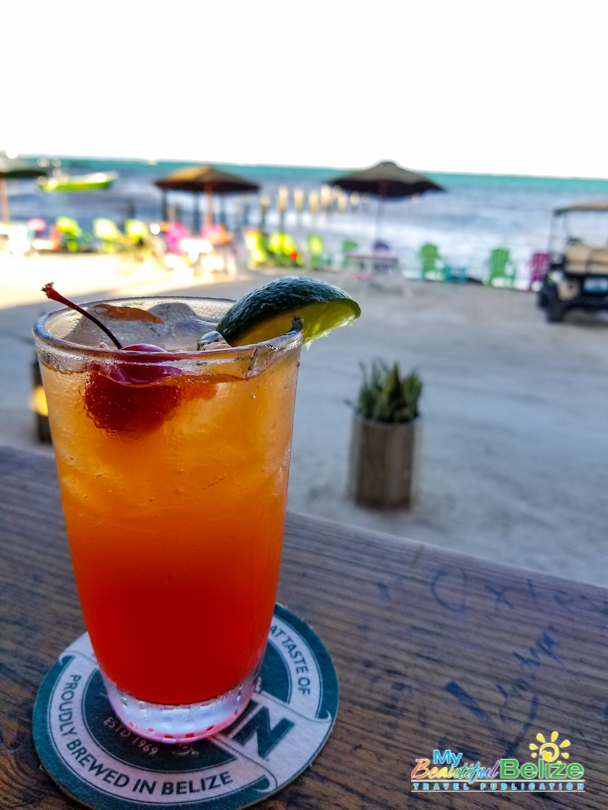 Sometimes there's live music, or a deejay spinning tunes that has everyone on the dance floor. After a few rum punches or panti rippas, even I believe I can dance! To look around, you'll see people of all ages, races and places having a grand old time.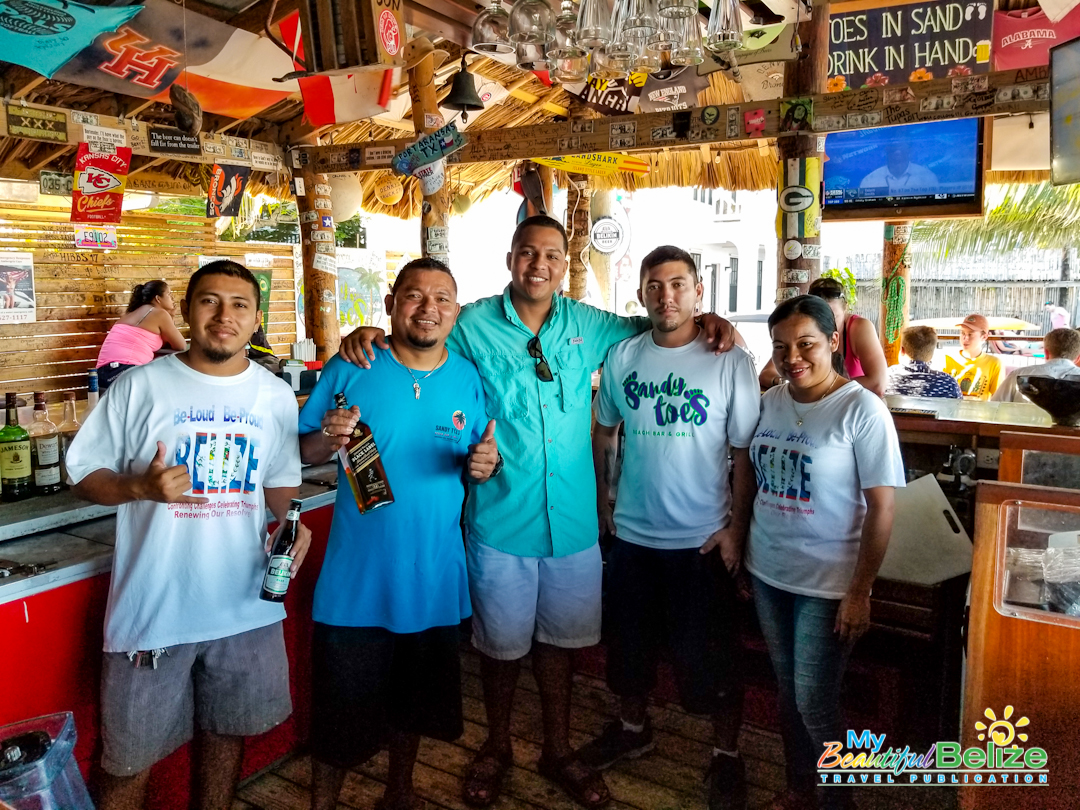 Hard-working bartenders and waiters make sure everyone's taken care of, all with a smile on their face. If you ever catch yourself in conversation with Ish, you will see why he has a following. His sincerity and genuine love for people comes across in spades, and you know you're part of the big Sandy Toes family.
Hope to catch you with sand in your toes, drink in your hand on the beach at Sandy Toes!