The thick, lovely comforter is keeping me warm as I lie on the king-sized bed. Netting cocoons me like a veil, and a sound unlike any other is roaring outside the window. It's slowly lulling me into contentment, the last vestiges of my dinner wine a pleasant memory. I snuggle down and with the sounds of the night as a lullaby, I fall into a contented sleep; truly the deep, dreamless sleep that can only be brought on by fresh air, an elevated altitude, and a day full of excitement and exploration. I am at Gaia Riverlodge, and that sound that both put me to sleep and woke me the next day, that was the sound of Five Sisters Falls crashing into the smooth rocks that have formed over eons. I am at Gaia, and I am in a jungle paradise.
But even before I delve into the delights that I experienced at Gaia, I'd just like to make a confession.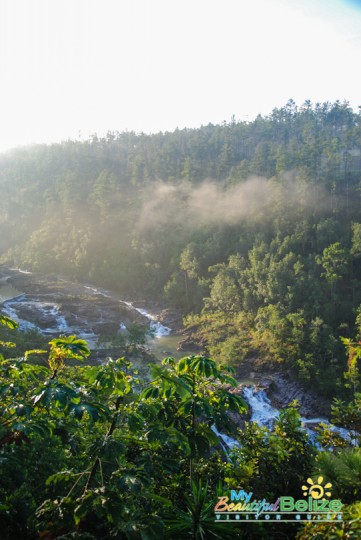 I am allowed to have favorites right? This country is divided into six districts, and each has its own draw, but I would be lying if I didn't say that I have a favorite. Of course, I am biased, considering I was born and raised in the mountainous area of the Cayo District. Sure I enjoy the sun, sand and sea that makes up Ambergris Caye and its sister island Caye Caulker, and Placencia…and Hopkins…and…you get the idea! But at my very core, Cayo, as my childhood home, has claimed the top spot in my heart.
And why shouldn't it? Have you seen its mountains, tall and lush with their verdant foliage? Have you ever woken up to the sounds of birds tweeting and chirping, calling you to 'come on out, the day is breaking"? One of my fondest memories (from the stockpile of fond memories) is being able to determine rain. From our home nestled in a valley at the foot of two majestic mountains, we could hear a distant rushing sound. Even though it was very faint, our ears were tuned to it. Mothers would send us out to the clothesline, where piles of clothing would have been flapping in the breeze and sun, drying to a delicious crisp. Deft fingers would race with the pending raindrops, which were fast building up to a roar as it drew closer, until it finally became a downpour. We would run to shelter, with the still-warm clothes safely in our arms. Sometimes the rain would last a while, and other times, it raced over us as quickly as it came, leaving glossy leaves and droplets everywhere, and a scent that I can only call green.
It is that scent that no seaside village or town can replicate, and every so often, when life gets too hectic, it is time to recharge and get my fill of the wonders that is my mountain home.
That chance came up with an invitation from the wonderful people at Gaia Riverlodge. Formerly Five Sisters Lodge, Gaia is a renovated, updated, sleek and gorgeous sister resort to Ambergris Caye's Matachica. A lovely weekend stay at a luxurious resort – in my favorite district, just past my village? I was mentally packing from the words "would you like"! I joined my editor on this adventure, excited to show her my old haunts, and eager to discover Gaia's beauty in person as well.
One of the main comments we get when we ask travelers what they like about Belize, is, "The people!" We'd like to acknowledge that answer as well when it comes to Gaia. The resort staff is truly warm and welcoming. From our arrival long past sunset, to the refreshing cocktail that awaited us as Nigel and Javier from the front desk introduced themselves and other staff members who would be taking care of us during our stay, we felt like part of a family. We particularly enjoyed Javier's description of the jungle: Mud, Sweat and Beers, as opposed to the standard island fare of Sun, Sand and Sea in San Pedro.
The only sign of mud was when veered off the standard path, searching for birds and admiring the landscape. There was sweat: when we walked around after a short rain, followed by some sun and no breeze. That problem was easily remedied when we made our way down to the roaring falls and jumped in to cool off in the chilly waters. And there were beers: and margaritas, and wine, and mojitos, and did we mention margaritas? Oswald was a genius behind the bar, mixing those wonderful cocktails just right.
Our first night included a hot, delicious meal: Pesto Pasta with grilled shrimp, along with a fantastic Beef Tenderloin with roast potatoes. Icy cold fresh juices, alongside a cocktail or two helped us unwind and truly begin the relaxation. We opted to get rest and enjoy the resort in the light of day, and so our first night passed with blissful slumber after a hearty meal. Morning broke with the nearly-forgotten sounds of birds calling from the trees just outside my room window.
I had been assigned the Summit room, and from where I stood, I could see the falls in the ravine below. Mist floated gently above the rushing waters, and the sky barely was tinged with color as the sun made its ascent to begin the day. By the time I had my first cup of coffee (sweet nectar of the gods), and met Sylvia and Lucy at the dining room, the sun was well on its way up, and the mist had burned off, leaving only the spectacular rushing falls in clear view. A delicious hot breakfast, complete with fresh fruit and juice – and lots more coffee – was made even more appetizing when we took our seat at the outdoor deck. Gaia's design has been made to take full advantage of these falls – offering tantalizing glimpses of the rushing waters from nearly every corner, and of course, its sound meandered throughout the grounds, keeping the beat with our every move.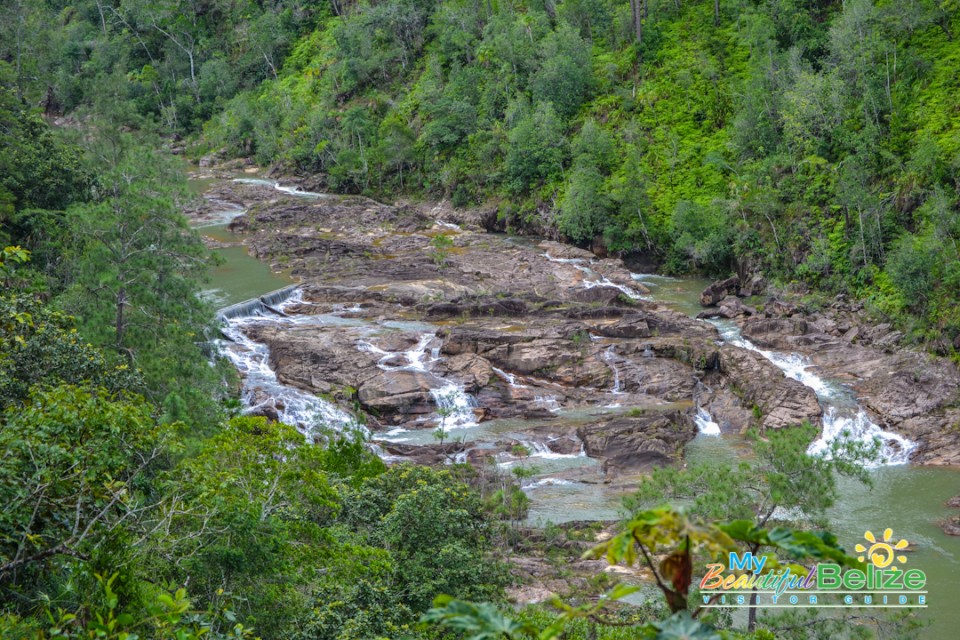 An entire day spent at this beautiful resort and its gorgeous surroundings sounded like the best idea ever. Any plans to leave and explore other areas quickly took a backseat as we eyed the tram that would take us down, down, down to the sandy 'beach' at the base of the falls. But first, we joined Javier in a tour of the rooms at Gaia, taking in the décor and comfort that each villa offered. There were definite elements that tied it to Matachica, but with a jungle twist. There are options for couples on a romantic getaway, and families or friends looking to explore the jungle together. The villas are laid out to offer privacy and seclusion, a welcome respite from the everyday hustle and bustle that most run away from.
We relaxed, took photographs of hummingbirds and tropical avians for a while, exploring on our own before meandering to the dining room for a light lunch. A gorgeous Pizza Formaggio and delicious chicken enchiladas fit the bill, leaving us more than satiated, and ready for the falls.
Oswald had been forewarned that we'd be heading down, so he packed us a cooler full of beer and some wine. Had we wanted nibbles, it would have been included too, but since we were watching our figures (grow), we declined snacks and focused on the beverages – as any good traveler would do; after all, hydration is key!
There were two options to reach the falls way down below: via 300 steps, or sitting in the comfort of a tram that slowly lowered us and our cooler down. You can guess which method we chose! In our defense, we were…no, we were lazy…no excuses…just the thought of walking down 300 steps had us sweating. Plus, we had a cooler, and it was heavy!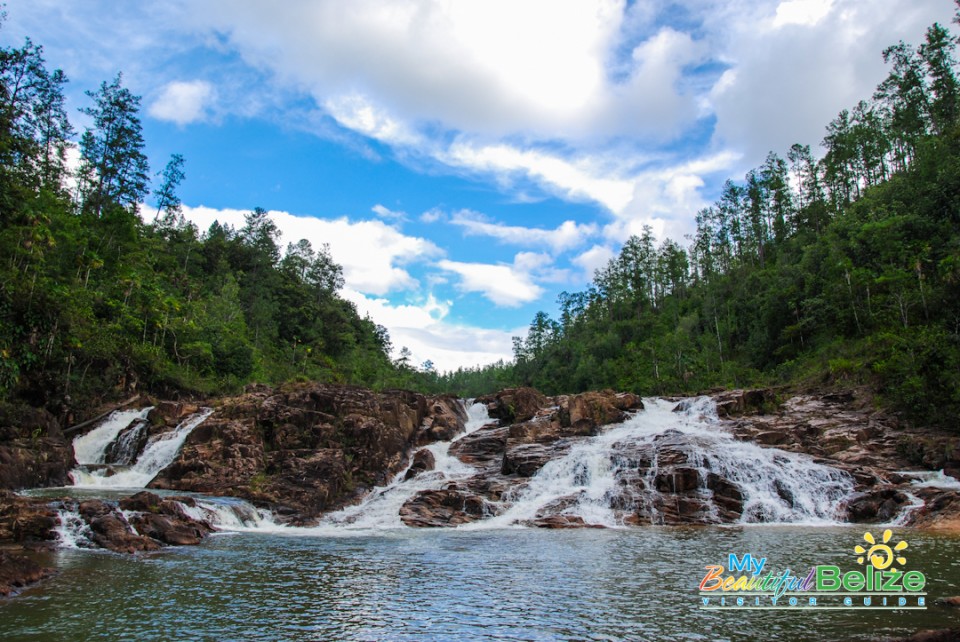 We made it down in no time and boy were we happy to have opted for transport! We had all afternoon to play, and so we did. We swam in the cool waters, a welcome respite from the humidity of the day, then came back out and enjoyed the hammocks strung under a thatched palapa, sipping Belize's finest Belikins while we listened to some music until the sun made its way slowly down, signaling our time to head back up. The tram ride was smooth and easy, and the only hike we had was a few steps to the main building where we dropped off our cooler and headed to refresh ourselves for the evening. (And by refresh I mean we took a shower followed by a quick nap).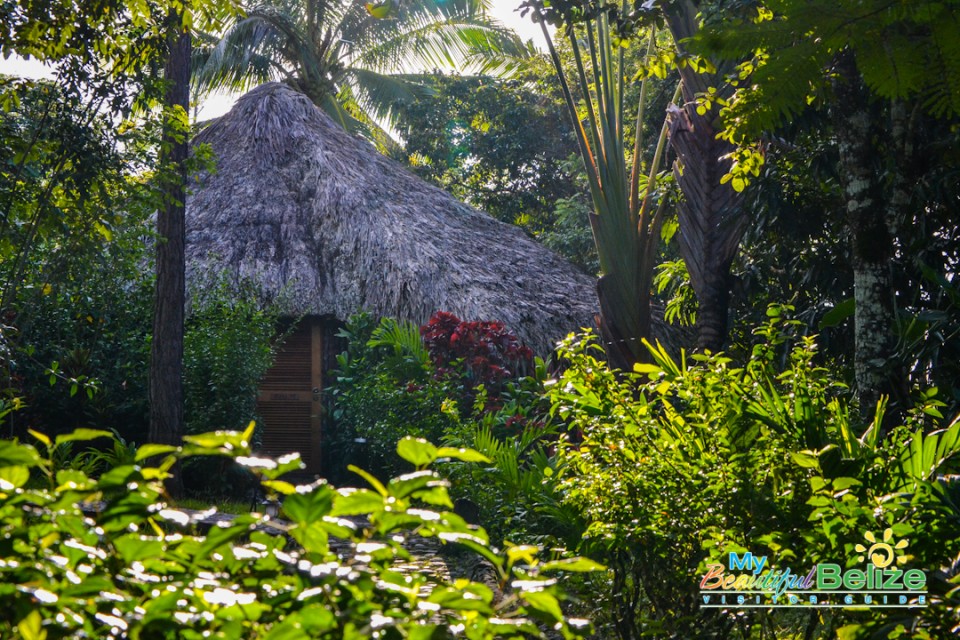 Our final night at the resort was a beautiful one: bright moonlight, cool evening, billions of stars overhead. Once again, we opted to dine outdoors, enjoying appetizers and dessert since our bellies were still happy from our big lunch, following it up with a great socializing time with other guests. The hours flew by while we chatted, and the party eventually moved to the bar. Such things keep happening to us – we don't know how! Despite the distinct lack of available Punta dancing lessons (we're looking at you Oswald, Nigel and Javier/Ignacio!), we still had a fantastic final evening, and we realized that the lack of cellular service and internet so deep in the forest means we make connections and have real conversations. What a concept!
Our sleep that night came swiftly, our bodies tired, our minds relaxed after two wonderful days of travel and enjoyment courtesy of Gaia Riverlodge, and the magic of the Five Sisters Falls and surrounding Pine Ridge.
Getting there
Just getting to Gaia is an adventure onto itself. Although Gaia provides transportation for their guests we opted to add to our adventure and drive! From our flight to Belize City from San Pedro via Tropic Air, to picking up our rental car from Cristal Auto Rentals (an all-black 4-wheel drive – truly the stuff of dreams!), followed by a smooth drive down the Western Highway, we had a blast. We had left the world of sand and sea, and were plunged into the mainland's best features: tall verdant trees, riotously colored flowers, winding highways interspersed with clusters of adorable houses making up villages all along the way. The scrubby swampy landscape outside of the city slowly makes way for tall peaks of green mountains in the horizon. Those mountains get closer and closer, and the air cools significantly – a distinct green, earthy scent permeating and raising the excitement of being in a completely different area of beautiful Belize.
From the junction at Santa Elena, and through the villages of Cristo Rey and San Antonio, and then on to Seven Miles and into the Pine Ridge area, the road is full of adventure. You never know when you'll want to pull over for a quick photo opportunity with a bird, or with a villager riding his horse while carrying his power saw. But take those photos quickly, because you want to drive while there is still daylight. The roads are unpaved in the Pine Ridge area, so slow and steady is the name of the game. That also means more driving time, and a sign that you need to plan accordingly if you will drive yourself to Gaia.
On your way back, start early so you don't miss the impromptu football matches in Cristo Rey, or the Maya Women's Group in San Antonio. And if plants tickle your fancy, chances are, there will be a family by the roadside with bagged plants ready for sale. We always recommend a drive whenever possible, because these are the sorts of adventures you just can't get otherwise.
Things to know about Gaia
No cell service, TV's or internet (except at the main office building) means real conversation, perhaps a few chapters into that book you've been meaning to read, bird watching, or vegging out at the base of the falls. If you're more into the adrenaline rush, activities can be arranged with licensed tour guides at the resort. From horseback riding, mountain biking, kayaking, hiking, waterfall exploring or Maya ruin sightseeing, there is plenty to do while in the beautiful Cayo area.
A hydro-electric system powers the entire resort, so there are no air conditioners. But you don't even need those – ceiling fans quickly cool you down and the chill of the mountain nights keep you comfortable all night long. There are 16 villas, and their layout is such that you may not even bump into anyone for hours at a time. For those seeking privacy and seclusion, this is the ultimate getaway. A spa is also on its way to add to the indulgence – we may have to go back just for that! And for the best of both worlds, book the Reef to the Rainforest package: spend a few days at Gaia and a few at Matachica for a full immersion into the best that Belize has to offer. To learn more about this beautiful place, visit www.gaiariverlodge.com and book your next jungle vacation.