When visitors to San Pedro ask me what mainland tour they should take I never hesitate to recommend Lamanai. In one day guests have the opportunity to explore the many personalities of our country, from traveling by boat to the mainland, exploring the New River, traveling by land to Orange Walk, then a final river expedition to the majestic Lamanai Ruins, each step of the way is a deeper look into the colorful persona of Belize. There are several reputable tour companies on the island who offer this day-tour but there is one that I recommend with complete confidence for this trip, and that is Tanisha Eco-Tours. Owner and professional tour guide Daniel Nuñez pioneered the journey from San Pedro to Lamanai 23 years ago and is still the sole guide for his business. Most companies only allow for a 45-minute tour of the site while Daniel dedicates a full two hours to the experience. He is a Tanisha Eco-Tours constant, and you know exactly who is going to take you on a journey you will not soon forget. From spotting dolphins on the way in, to manatees on the way home, and lots of wildlife and flora along the way, Daniel knows this tour like the back of his hand.
It is not often you meet someone who has been doing the same tour for 23 years and is still passionate about it. So how is it that Daniel's love for Lamanai was first kindled so many years ago? The tall, rugged guide with sparkling eyes and a mischievous smile explained, "Most people were doing Altun Ha back then. I had heard about Lamanai and that there was a lot of wildlife so I decided I needed to check it out. So I did an expedition by myself, I just had to check it out. So I took my smaller boat and went to Bomba where I hired a van and I went to the New River where I found this lady who was taking boat tours into Lamanai from Orange Walk. It was OK but not the best tour. So then I went with Novelo Adventures, Antonio and his brother, and I listened to his tour and really liked his information and how he did his presentation so I asked him if we could work together and we did for nine years. During that time I sold a lot of tours to Lamanai from San Pedro but I was getting frustrated because they [Novelo Adventures] never maintained their boats and I traveled with tools all of the time to fix them when they broke down, which happened a lot. Sometimes I wasn't getting back to San Pedro until 9pm to drop my people off and of course everyone was happy at the end because it was always an adventure! So I decided it was time for me to be doing my own tours into Lamanai. I had been going with Antonio everyday on his tours, I never would just sit and wait on the boat…I was always an escorting tour guide with my guests and I always listened to the guide. That's how I ended up getting good at it….I was interested in what the guides were saying and I got books and researched and studied to learn all about it. I used to be the water boy, walking with the cooler all around the whole site. Eventually I put everything together and did the whole tour from San Pedro to Lamanai myself. My boat's name was Tanisha and people identified me with the name and that is how the name, Tanisha Eco-Tours came about and it worked. Just a couple years ago I had three groups come in that remembered me by the name of the boat when they went on the Lamanai trip with me 14 years ago!"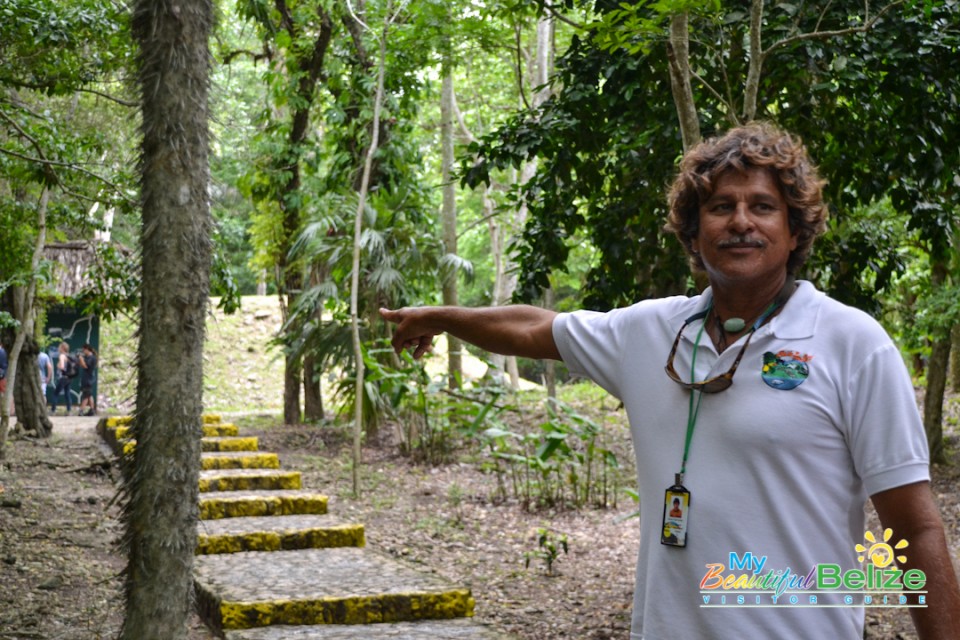 When doing the math Daniel has literally led thousands of Lamanai tours. When asked after all these years how he maintains his genuine enthusiasm he says, "It's good, because the people you meet every day are different and when people tell me it's the best tour they have ever been on in their life, and they leave my boat applauding it makes me feel good. There is so much history there, I like to teach but of course you can't make it too long, and I try to add some humor while I am doing it and I like it when people enjoy what they are learning. I never get tired of it and every day I meet different people and it is a different experience. I am just trying to teach what I know and show what I have learned from all the years, it doesn't get boring to me. I know the river so well that I can show my guests where the animals are, where the orchids are, the crocs and monkeys, the bats, the birds, you name it."
Although Daniel thoroughly enjoys the other tours he offers, from snorkeling to deep sea fishing, fishing and beach BBQ, Belize Zoo tours, cave tubing, zip lining, manatee watching and tours to Altun Ha and Xunantunich to name a few, Lamanai still holds a special place in his heart. But he also likes to fish too, and a few years ago he rediscovered the fun in it. He also enjoys teaching guests how to snorkel and spends time showing folks, new to the sport, the easy technique, assuring their comfort level before venturing into deeper waters. "I also enjoy our Bacalar Chico tour, again there is so much history there and a lot more to learn about that area," he commented.
Daniel gets to enjoy the best of both worlds, from snorkeling our gorgeous reef to exploring the ruins and jungles of the mainland; he fully embraces the wonders of Belize and enthusiastically shares it with his guests. To book a tour please call 226-4124 or 624-9756 or visit their website at www.tanishatours.com