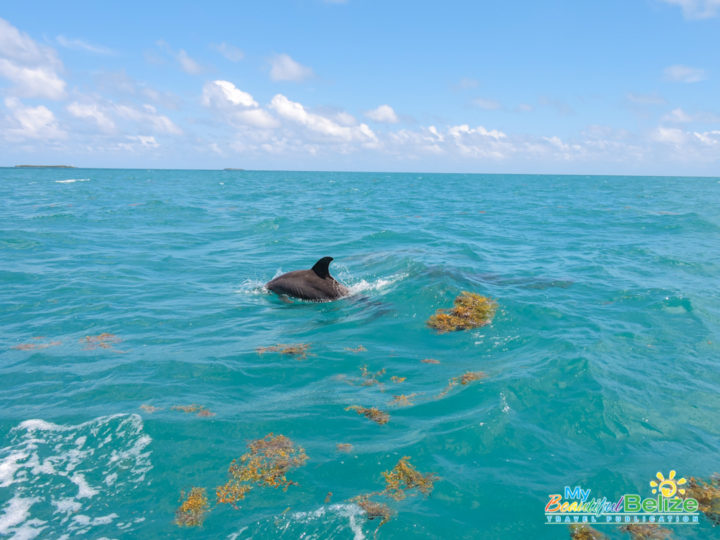 "It's good luck to see dolphins," William, our excited boat captain exclaims as he slows our speeding vessel down and sharply turns back to where he just spotted crescent-shaped dorsal fins breaking the water. "There, you can see two of them," he points as we quickly grab our cameras and steady our stance on the rocking boat. Our eyes follow Williams direction and as we skim the choppy sea steel-black dolphin backs crest the surface as the pair swim in unison. We marvel at their graceful beauty as they disappear into the blue abyss and we indeed feel lucky, and more excited than ever to reach our Hatchet Caye destination some 20 miles east of the Placencia Peninsula. Not once during the 1 hour, 15-minute boat ride do we feel "alone" on the vast blue expanse, the dolphins and Captain William are good company, and from near and as far as the horizon the seascape is dotted with emerald isles. Some of the larger ones sit populated with cottage clusters while others are secluded islands graced with ribbons of white sandy beaches or no more than a modest tangle of mangrove habitat.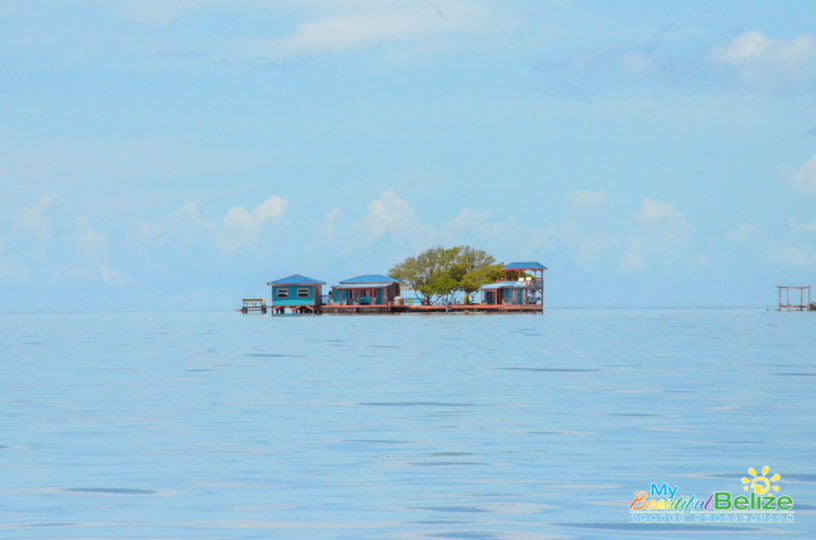 With an estimated 75 cayes within the area, it is easy to dream of boarding a sailboat and exploring them all for days on end, and we are impressed when William rattles off names like Lark Caye, Laughing Bird Caye, Round Caye and Moho Caye along the way.
The majority of cayes within this Placencia/Laughing Bird Caye Coastal Planning Region are either wholly or partly owned or leased. Located on the edge of the Gladden Spit and Silk Cayes Marine Reserve, Hatchet Caye is privately-owned with secluded areas reserved for their resort guests while hosting a public area where visiting fishing/snorkeling/diving/sailing groups are welcome to enjoy their Lionfish Bar & Grill and beach area.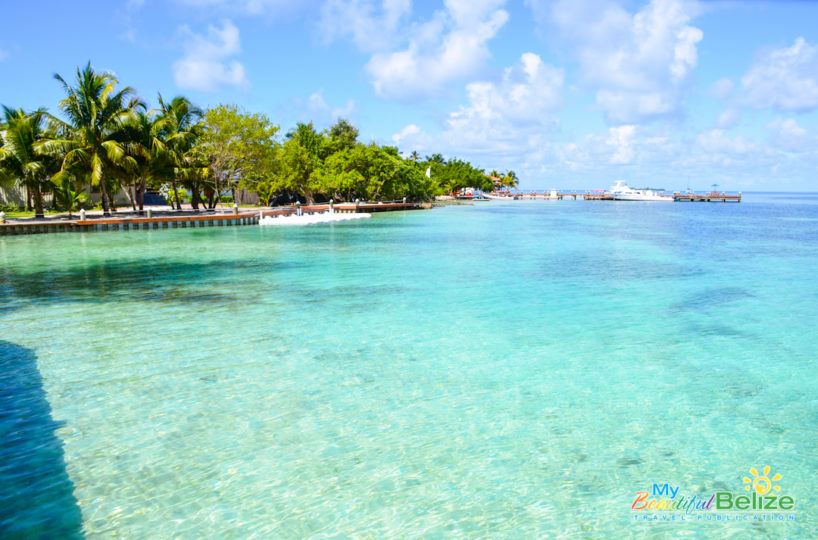 Upon our arrival, this popular eatery and watering hole is bustling with jovial island hoppers and resort guests. We are greeted with a refreshing glass of rainbow-colored juice and resort manager Dasha welcomes us to our home for the next two nights.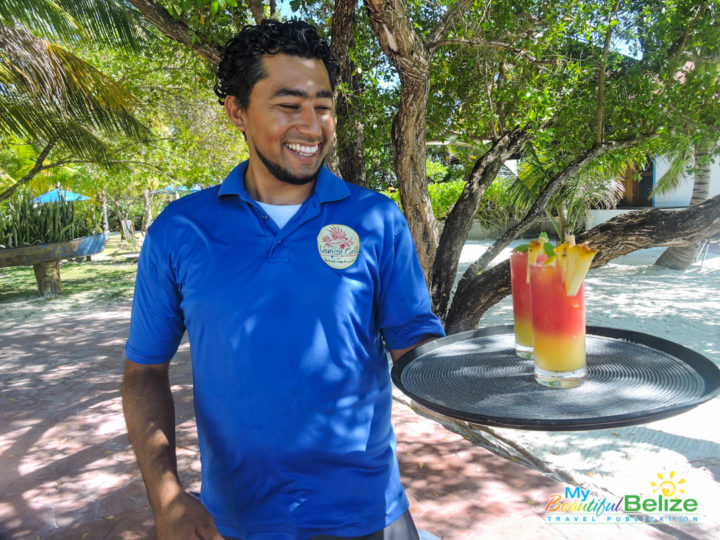 Replete with a handful of cozy beachside cottages that face the Meso-American Barrier Reef with views of the Silk Cayes on the horizon, these cabañas are the perfect combination of lavish leisure. No detail has been overlooked, providing the ultimate in comfort and privacy.
Our abode is an ocean view room on the ground floor of the main building which houses a third-story "crow's nest" deck for amazing 360˚ views and the ultimate space for a private massage.

As a gal from Ambergris Caye, people often ask me what it's like to live on an island, and I like to respond with a quote from Police Chief Brody in the 1975 movie classic "Jaws" when he says, "It's only an island if you look at it from the water," which is indeed the case on Ambergris. However, from every vantage point on this 7.5-acre oasis, there is no doubt you are on an island, with breathtaking seascapes where ever you look.
But don't let this tiny slice of tropical heaven fool you when it comes to BIG adventures, which they offer in abundance! Resort guests are welcome to use their large selection of non-motorized water "toys", and your choices include kayaks, pedal boats, paddle boards and Hobie Cats complete with complimentary sailing lessons if needed! Surrounded by world-class dive sites, they also offer diving tours and certification classes and fishing in the area attracts anglers from around the world!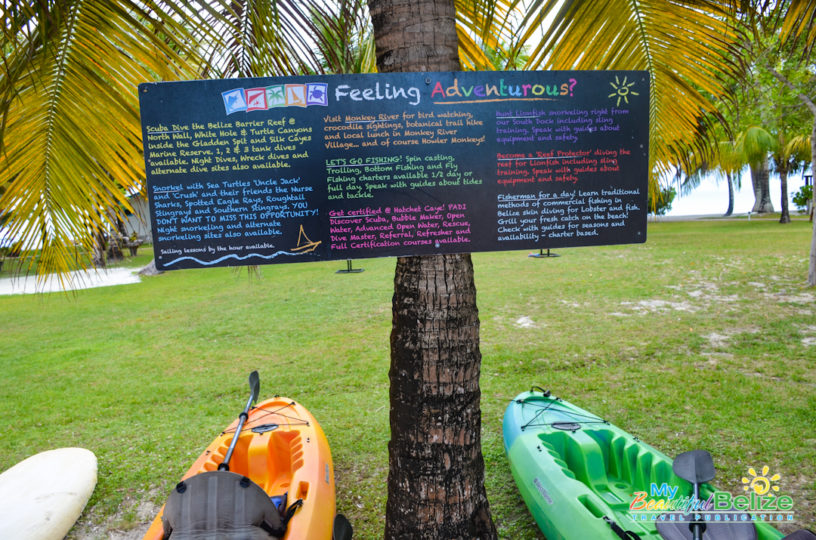 Just off the shores of Hatchet Caye is prime habitat for permit, tarpon, and bonefish, where fly fishing "grand slam" dreams come true, or venture further into the deep blue for Yellow Fin and Black Fin Tuna, Wahoo, Dorado, Sailfish, and Blue and White Marlin.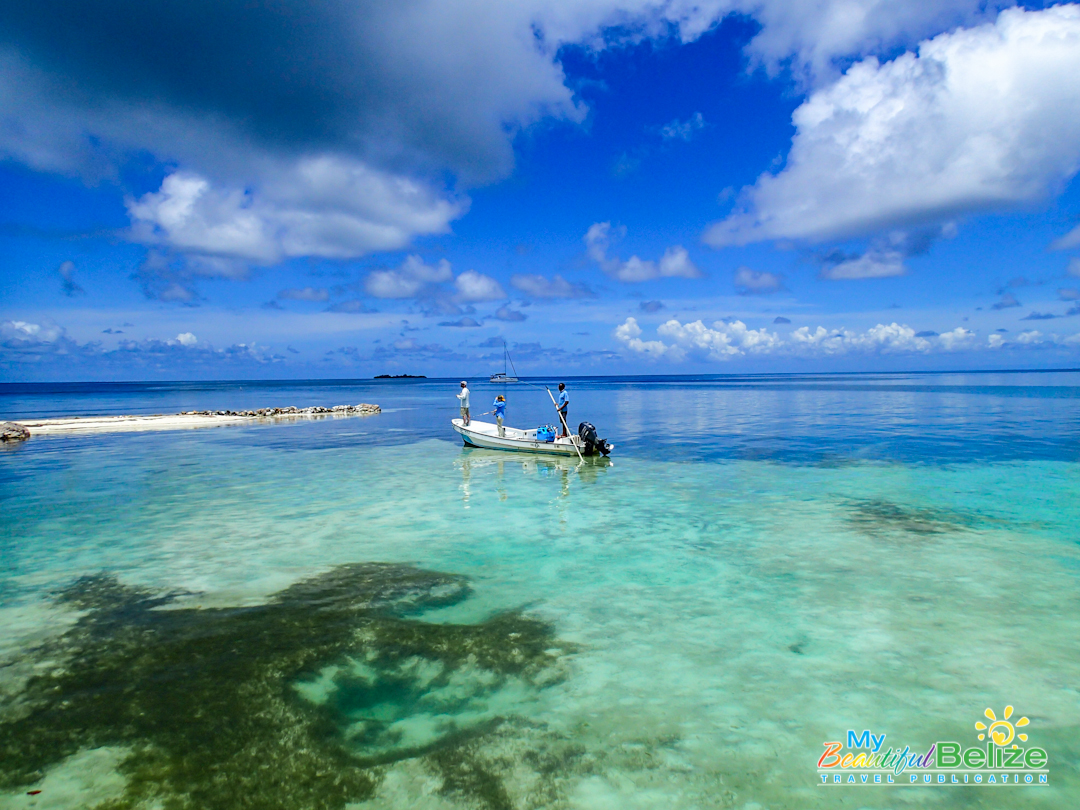 As much as I love the water toys and fishing, for me, it's all about the snorkeling! The coral formations around the caye are super healthy and teaming with a kaleidoscope of marine life. The following day we start from the main pier where we spend more than two hours snorkeling around half the island, then take a lunch break and finish snorkeling the other half of the caye! Never in water deeper than eight feet, through warm, crystal clear water we spot Queen, Gray and French angelfish, trunkfish, cowfish, trumpetfish, tons of colorful wrasses and parrotfish, neon gobies, butterfly fish, grouper, sea stars and anemones among gorgeous varieties of coral. The resort also offers guided snorkel trips to nearby sites such as the Silk Cayes or you can snorkel with turtles within the Gladden Spit Marine Reserve. 
And, if you're really feeling adventurous, at night the lights on the end of the pier attract gorgeous spotted eagle rays, squid, octopus and other fish that you can snorkel with in the dark. Too creepy for me – I think I'll just enjoy watching them from above while sipping a nice glass of wine!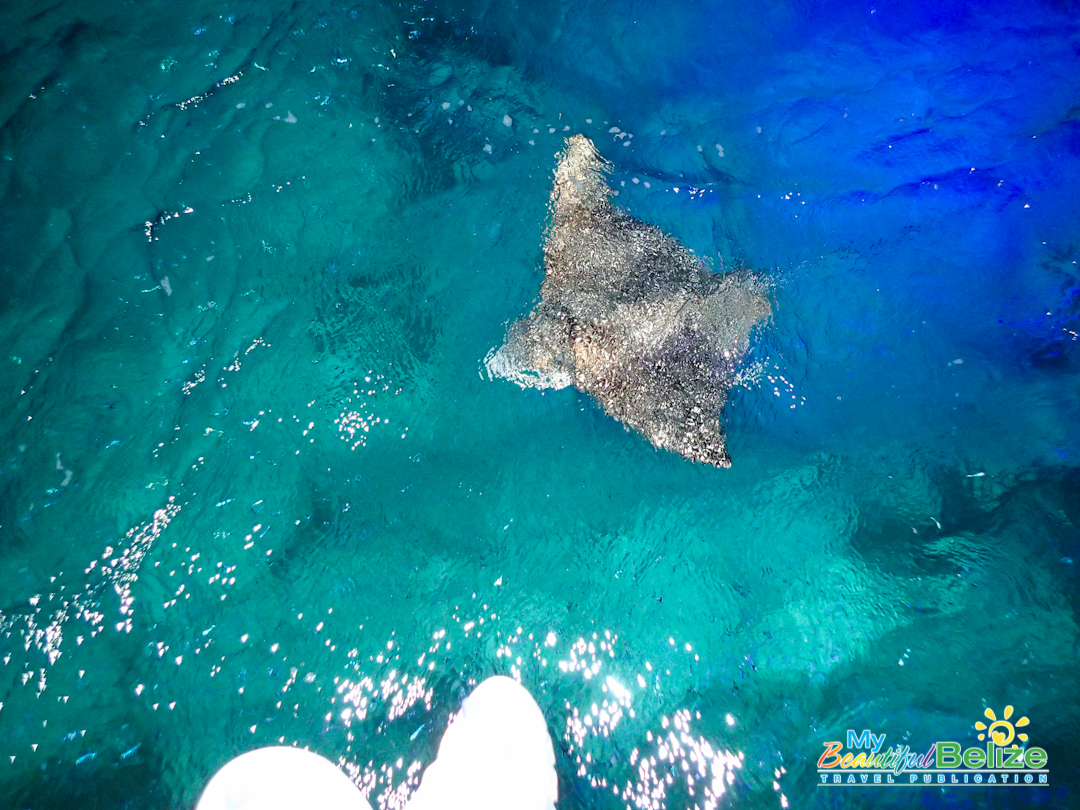 Of course, with all this activity, a person can work up a mighty hunger and thirst, and the friendly staff at the Lionfish Bar & Grill assure that you are well fed and watered! Offering a delicious variety of breakfast and lunch items you can order off the menu morning classics like Huevos Rancheros or a yummy breakfast burrito to fuel you up for your busy day of fun, while lunch items like tasty Lionfish tacos or a jalapeno-infused burger along with a frosty mug of Belikin beer can top you up for an afternoon of relaxing around their freshwater pool, making good use of a beachside hammock or perhaps a little pampering with a massage?
Their dinner menu varies each night, with your choice of appetizer, three different entrees, and a dessert. Fresh seafood is a mainstay served in a variety of ways, such as with pasta or perhaps in a kabob, and other items like ribeye steak or braised ribs paired with your favorite cocktail or wine can hit the spot after a hard day of play!
Whether you're on a romantic getaway, celebrating a special occasion, on an exciting family adventure or spending quality time with friends, your escape to Hatchet Caye is sure to be one for the memory books. Be sure to check out the summer specials they are currently offering at https://www.hatchetcaye.com.