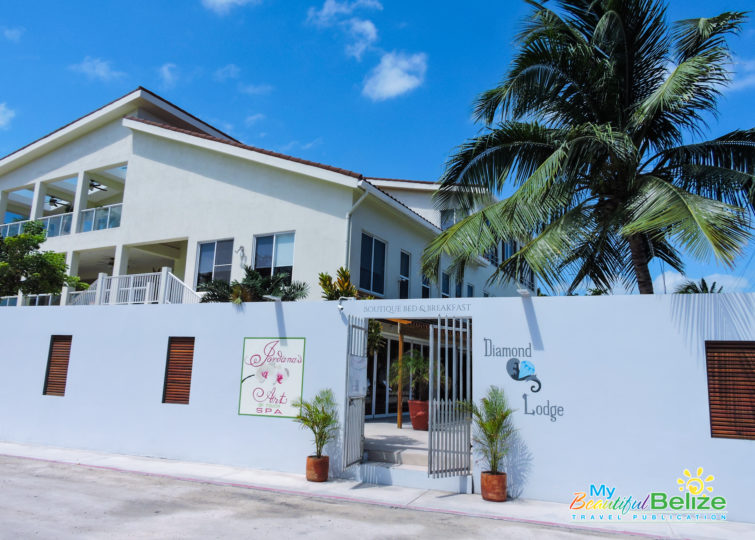 Just south of San Pedro Town within the bustling community of Sea Grape Drive lies a sanctuary of tranquil serenity. Embraced within a property of landscaped luxury and a sparkling pool that begs for quality time, the Diamond Lodge Bed & Breakfast is an intimate retreat where you can laze your day away or immerse yourself into the surrounding community.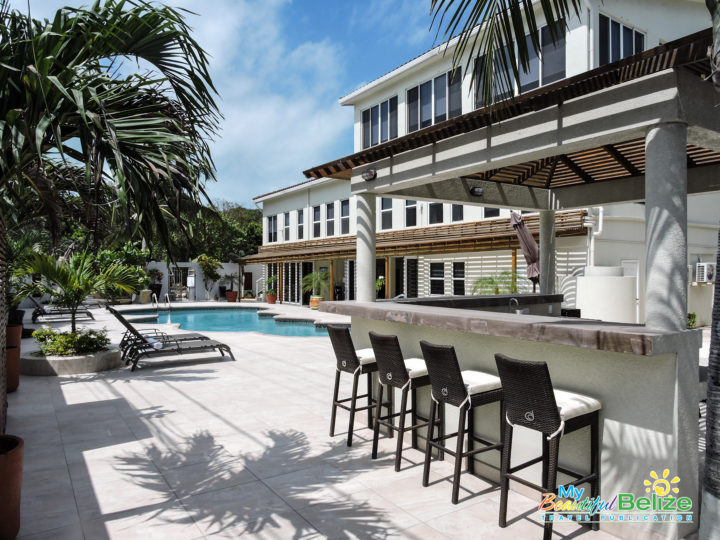 I'm always game for a weekend getaway, and when we were invited to enjoy a night and amenities at this island retreat, I was delighted to say yes! Who says you need to travel far to indulge a little? Upon arrival, we are greeted by their gracious host Seleni, who gives us a tour of their expansive great room where guests can lounge in extreme comfort and the open kitchen where Chef Duane Lizama creates his amazing meals. I can hardly wait for the morning!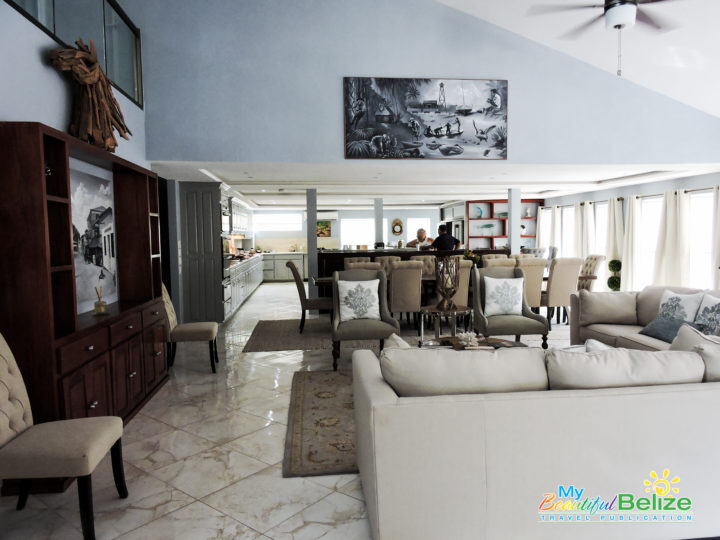 Guests at Diamond Lodge can choose from ten different accommodations, from the stunning penthouse suite to luxury rooms and deluxe studios, each one styled with comfort and convenience in mind. Every amenity is considered, including a coffee maker, mini-fridge, and SMART TV. We feel like we are living large and are delighted that we can enjoy our favorite Netflix show later that evening, but more fun first!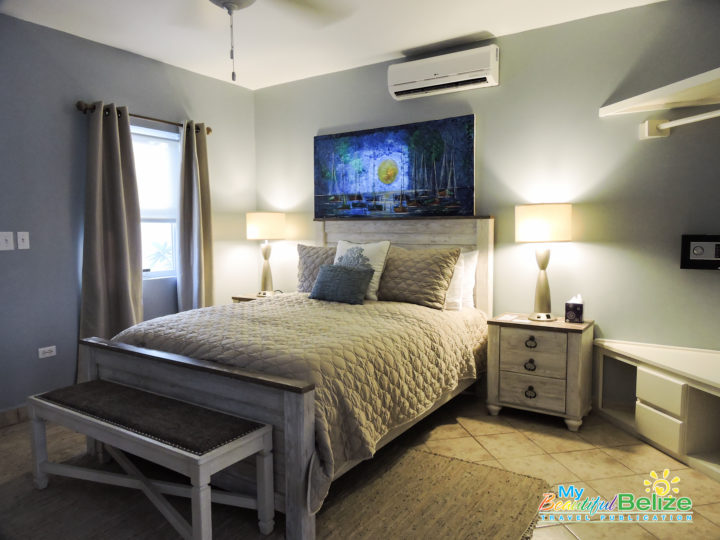 On-site is Jordana's Art of Touch Spa, where the lovely Shajiri works massage magic and treats guests to spa treatments such as body wraps, facials, and the ever-so-essential mani/pedi! I'll never refuse a massage, and this little dynamo knows just how to work the worries out of every tired muscle I have. An hour later I'm relaxed beyond measure and thankful for the much-needed pampering. Now that I'm crossing off all the creature comforts, it's time for some dinner!
I love to play tourist in my own backyard, and the Diamond Lodge location offers a nice variety of restaurants and bars within walking distance. The choice is a tough one, do we go for sushi or hit the bar and grill down the road, or, we can even opt for Garifuna cuisine if we want… ultimately we settled on a delicious, not-so-healthy-but-hey-we-are-on-vacation meal of wings, mac n' cheese and a couple cold beers at Average Joe's Bar around the corner. Thankful that we have to walk just a little bit to burn off some of those tasty carbs and calories, our evening of rest and relaxation is complete.
In the morning we follow the warm aroma of freshly brewed coffee to the kitchen where Chef Duane, another Diamond Lodge dynamo, greets us with a platter of fresh fruit and a cheerful welcome. Chef Duane is a well-known culinary master in Belize with a signature approach to incorporating fresh local ingredients with a flare into his kitchen creations. Even the coffee has a little extra kick! We feel like we're at home with a long-time friend as Chef Duane works wonders over the stove and tells us that he can also prepare dinner for guests upon request. Adding to the cultural experience, he even offers cooking classes of local favorites such as stewed chicken with rice and beans for those who want to recreate these amazing flavors and impress their friends back home!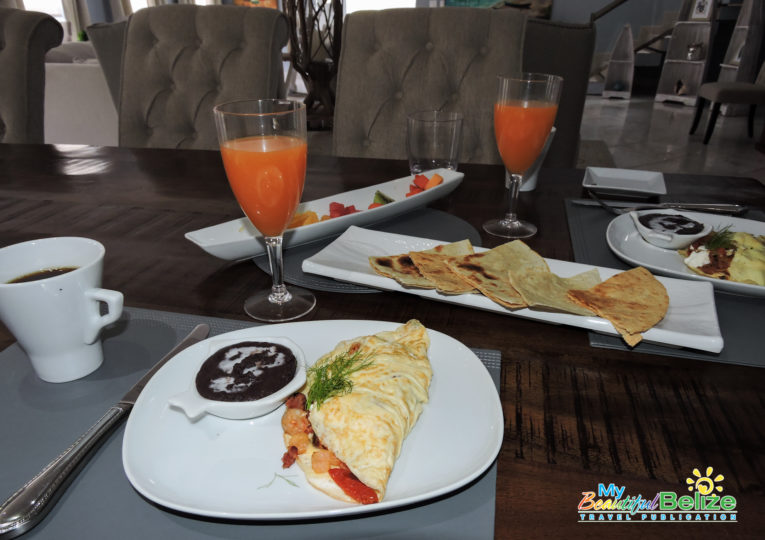 For us, Chef Duane prepares sautéed shrimp and sausage omelets with fennel, cilantro, goat cheese and sundried tomatoes. With every bite, the combination of flavors perfectly complement each other, and along with the homemade tortillas laced with carrots and pesto and savory black beans our tummies do the happy dance! Our morning meal concludes with a refreshing breakfast 'dessert' of frozen yogurt bark with granola and cranberries…so good!
Although Chef Duane is no longer cooking there, the Diamond Lodge team is delighted to have Chef Mansfield at the helm, and they maintain their focus on fresh ingredients. They are also proud to be featuring recipes especially created for them by renowned Chef Patrick Parmentier.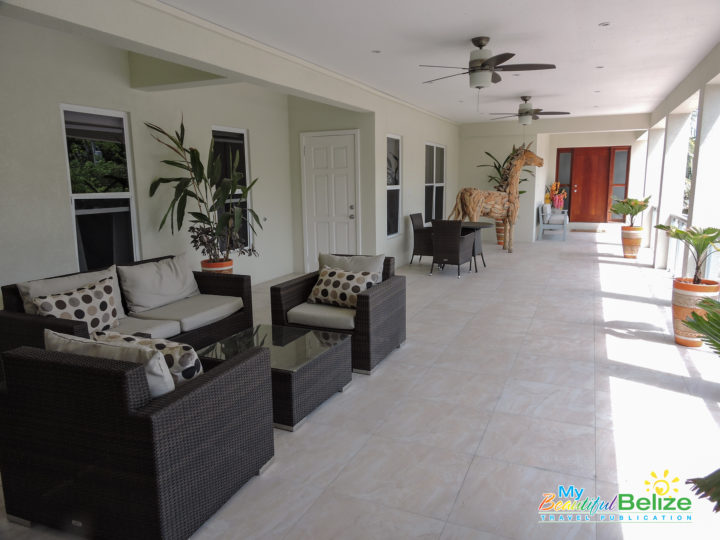 Whether you're an island resident looking for a little getaway or visiting from abroad, your time at this boutique resort is spent enjoying the finer things in life. Be sure to check out their 50% off Summer Special, just ask for "summer special" when making your reservations! For more information please visit their website at https://www.diamondlodgebelize.com.