By: Anonymous…Name Withheld by Request…okay, fine, by Mary Gonzalez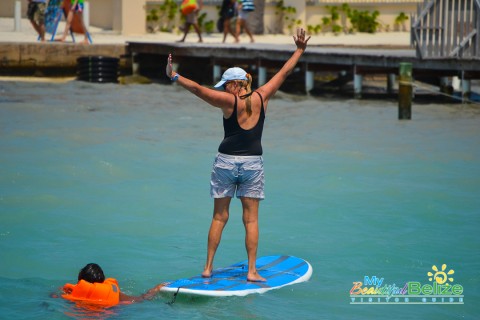 Kerplunk!! Splash!! Instant wipeout…those are generally not the things one wants to report on of their first attempt at a water sport. But then again, when one can hardly keep balance while sober, in flats, on steady ground, what should we expect when confronted with choppy water and something resembling a surfboard?
I don't know about you, but I have spent the majority of my 31 years of life stating the obvious: 'Someday I am going to do X, Y, Z…' Then another year flies by and I realize that I have not accomplished a single task I have promised myself. So when the invitation to try paddleboarding came from a woman I truly admired, Pam Killen, there was no way I would pass it up.
House chores? Forget them… Lunch needed to be prepared? Fuggeddaboutit! I was determined to do something for myself. Accompanied by the big boss, who armed herself with a camera to capture my attempts (and perhaps to have something on record for when she needed a chuckle) – we drove up to the spot where I would learn.
Of course, I planned to easily hop onto the paddleboard, balancing effortlessly with paddle in hand, intending to look as fierce and independent as the ladies I have seen on my newsfeed (on Facebook of course – where else). Pam met me that super breezy Saturday morning, offering a lifejacket since the waters were quite rough. I could hear the waves as they crashed against the seawall where my lesson would take place, but somehow, I still – foolishly – thought it would be easy peasy.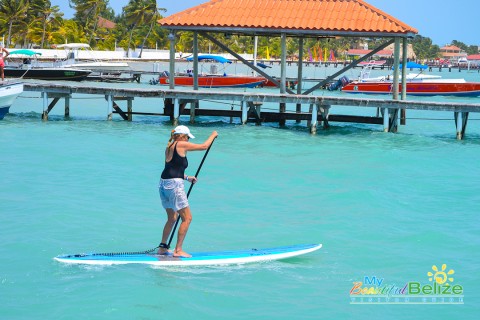 After explaining to me the basics, and instructing that I must be careful with the very heavy board, and its protruding fin, Pam places the board in the water. Almost immediately, the waves start bouncing it about, making it bob and weave sideways. I am now officially concerned. She gets in the water, and shows me how she gets on the board: first lying down on the bottom half, then pulling herself up to her knees and ultimately, gracefully, standing wider than hip width apart at the middle of the board, paddle in hand.
See? Easy!!
I get in the water…WHOA that is COLD! Waves smack me in the face, and I am immediately uncomfortable. Did I forget to mention that I can't swim…at least, not properly? I can feel the lifejacket holding me up, and with trepidation, I turn to face the board.
Pam begins her encouraging lesson as I frantically pedal my legs underwater to stay afloat. The paddleboard is my lifeline, and I hang on to it for dear life, making my first attempt to get on. I really need to start lifting weights, and increase my arm strength, because I fail miserably, barely able to clamber halfway before slipping off. Pam continues her encouragement, and after many, many, MANY attempts, I make it on the board.
She starts swimming, pulling the board with me on it, out further away from the dock. The waves are really strong, but she is stronger. We are soon out between two docks, with just the board, a paddle and some serious waves. "The water is a little bit rough today, so this is going to be tricky." A bit of an understatement, but carrying on…
I have to get on my knees on the board, and learn to maintain balance while paddling further out. I get on my knees, feeling my entire body trembling from the sheer effort of staying afloat. I do not want to fall in the water. With paddle in hand, I follow Pam's instructions, paddling while staying on my knees and balancing. Three things at once – I amaze myself!
All along, Pam keeps talking to me, and my fear dissolves to determination. I do not want to let her down; she who has dedicated this morning to my lesson. With that in mind, I decide to try and stand up.
SPLASH…I fail, miserably…
I try again…and fall…again, and again. And again.
I'm starting to get really tired of pulling myself up every time I fall, but I notice that with each fall, getting up is quicker. I have learned that much at least. My arms are like limp noodles, but every time I have to get up on the board, they kick in and help.
Eventually, Pam just starts talking about life, and what she does when she is on the board. At 63, she is full of vigor and life: paddling out to the reef, a light rucksack strapped on to the front of the board, containing her water and essentials. When at the reef, she 'docks' at the mooring buoy and does yoga on the board, then paddles peacefully back home.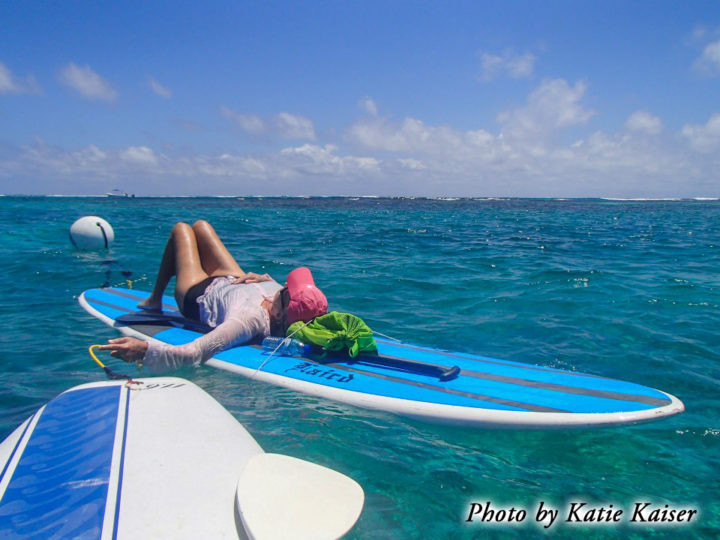 I want to do that. I want to be able to head out and do such amazing, peaceful sounding things.
Determined, I get back on my knees, wanting to at least stand on the board, because it is apparent that gliding up and down the Caribbean Sea will not be happening in one lesson. Pam quiets down, or it could be the roaring in my ears, I don't know which. I face the board, and in the least graceful way possible, try to find my balance. I close my eyes and place my hands flat on the front of the board, my feet planted firmly on either side, and despite the lapping of waves, and rocking motion, I let go and stand. For about 2 seconds.
It seems an eternity to me, but when I unceremoniously land with one massive splash, I realize that I have to get far more lessons before I can stand. You know what they say: First things first.
I have at least learned about fifty more ways to fall in the water. I cannot wait for the next lesson in calmer seas.
That night, after begging the hubby to rub my sore, aching shoulders with a soothing balm, and I swallow some Ibuprofen to numb the pain, I drift off to sleep with thoughts of paddling out to the reef someday, a small picnic on board, communing with the fish out at sea.
Maybe I'll even do yoga. But I'll need lessons for that too.
Paddle boarding is catching on, and Pam Killen is at the forefront of the movement, encouraging her friends to try it out. Thank you ever so much Pam, for your patience! I will try again! Those looking to rent a board to paddle out to sea can do so from Island Divers Belize, located on the dock at the Holiday Hotel. 226-4800.
AN UPDATE:
I did it!! Following this first lesson, I waited two weeks before braving the water and the board again. I took my sister and niece, who live in the mountains – so they are definitely not surrounded by water at all. And of course, they got up on the board on their first try. Of course they did.
Naturally, my attempts were hilarious, but I managed to get up and actually hold the paddle for longer than a split second. It does certainly get better and easier, and so much more fun!!