It's not an exaggeration to say that Belize is beautiful, inside and out! For decades I've done my best to explore and experience the stunning landscapes of my country, from misty mountain tops to blue lagoons, jungle forests, and savannah scenery. My ventures have also found me submerged within the underwater world of our crystal-clear Caribbean Sea, discovering coral reef majesty teeming with colorful marine inhabitants and vibrant seascapes. I want to say I've done it all, but there's one astounding geological feature of Belize that is revered by many and feared by others…and I fall under the 'fear' category because to me, caves are just dark, deep, creepy and downright frightening! Sure, I've done a couple of the requisite cave-tubing adventures where we float through a dark chasm on inner tubes, donning headlamps and waterproof flashlights, but I managed to calm my nerves by likening the journey to a scary amusement park ride that will be over soon! Never did I linger and embrace the darkness.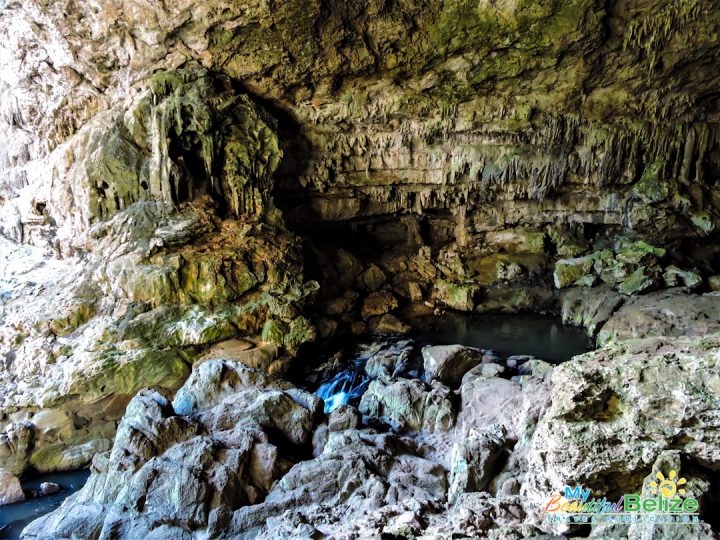 Belize is blessed with the most extensive cave systems in Central America. Throughout these systems run a myriad of rivers, streams, and creeks, making easy access via rafting, trekking, swimming, inner tubing, kayaking, and canoeing. Throughout the years, many brave souls have explored and mapped these countless caves, only to discover that man has long ventured into these subterranean caverns. Centuries ago, armed with nothing more than burning torches, the ancient Maya journeyed deep within the bowels of Mother Earth where they believed caves were conduits to the underground world of the gods, known as Xibalba or "place of fear." Here they worshipped, sometimes sacrificing human life during ceremonial rituals, or called upon deities to bless them with a bountiful harvest, fertility, safety or other appeals. Today, their artifacts can still be found (and preserved) in the timeless darkness of these passageways and cathedral-sized chambers, a testament to their rich heritage.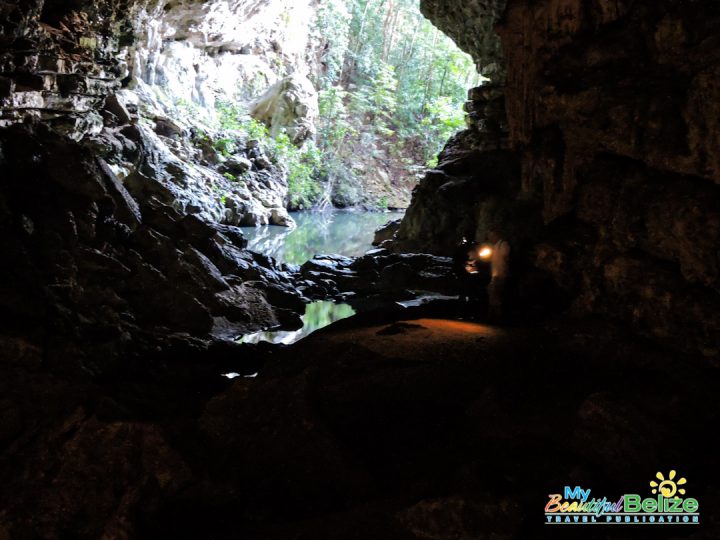 It is this amazing archeological discovery of ancient relics and fossilized remains, paired with mind-boggling geological formations that found me overcoming my fear and exploring a handful of caves this year, becoming braver after each encounter with THE DARK and slowly evolving into someone who now loves caves. We don't always have the luxury of breaking ourselves in slowly when it comes to this dark exploration, like starting with spelunking 'lite' to full-on Indiana Jones. But again, sometimes it's better to be thrown into a super scary environment where you must GET OVER the fear NOW, like when my first real experience was descending into the stunning Xibalba Cave within the Dr. Elijio Panti National Park in the Cayo District. It was either sink or swim for this claustrophobic nyctophobian, and the feeling of accomplishment when I not only overcame my fear but started to enjoy myself was as amazing as discovering the mystery and beauty within the dark wonderworld.
Rio Frio Cave (on my scary meter – 1 out of 5)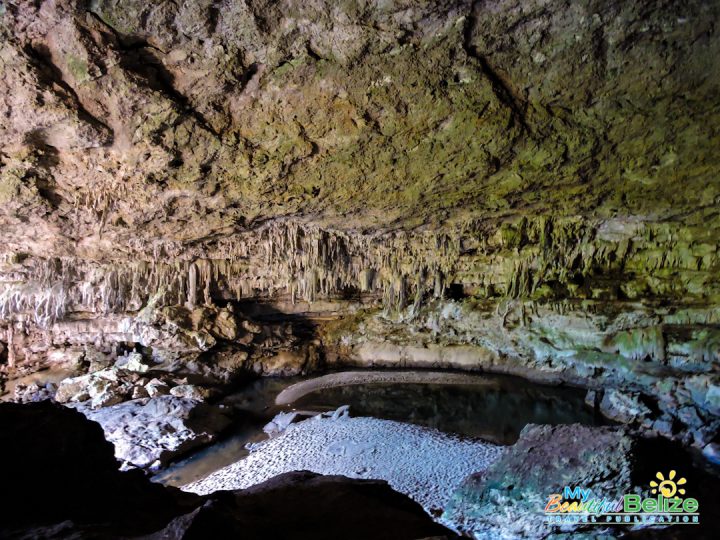 One of the most popular of all caves in Belize is the Rio Frio in the Mountain Pine Ridge area. The cave is easily accessible, has a wide entrance with slow running water through it, a designated path, and there IS a light at the end of the tunnel, perfect for the first-time spelunker! Although a flashlight comes in handy, you are never fully in the dark, and the high ceiling alleviates any sense of claustrophobia. With stalactites descending from above, a sandy 'beach' along the river and water cascading as it exits, this cave (or more like a natural tunnel) is picturesque and peaceful.
No tour guide or company required for this experience.
Barton Creek Cave (on my scary meter – 2 out of 5 – narrow passages and low ceilings in places)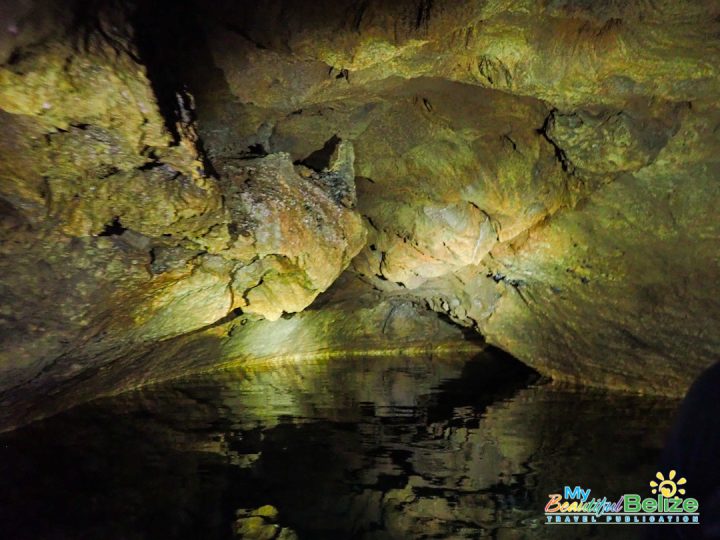 One of the largest river caves in Belize, Barton Creek Cave is known as both an archaeological site and a tourist destination. Located in the Barton Creek area near San Ignacio in the Cayo District, this cave is easily navigated on a guided canoe trip. The cave is at least seven miles deep, but tours only go in about a mile or so before turning around. Wearing headlamps and using high-powered flashlights, explorers are impressed with passageways wide and narrow under ceilings several stories high to low within reach. Dramatic natural 'bridges', grand stalactites created from dripping mineral water over the millennium sparkle, and fascinating Maya history (just twenty years ago archaeologists found large ceramics on high ledges, plus evidence of 20 human remains, including a necklace made of finger bones), makes this cave a thrilling experience and understandably one of the most popular cave tours in the Cayo District.
Tours offered through several companies in the area and at the site.
Ian Anderson's Caved Branch River Cave Expedition (on my scary meter – 3 out of 5 – more than three and a half hours inside a cave can be a little unnerving if you're afraid of the dark)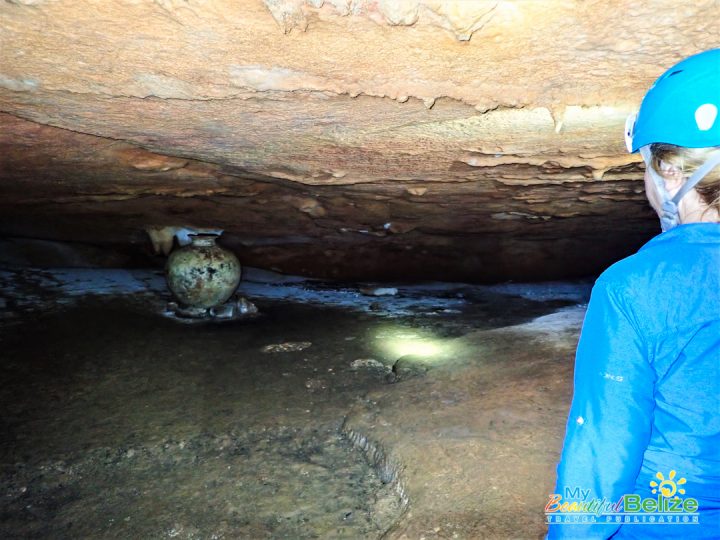 This adventure starts with inner tubing along a slow river 100 feet to the entrance of the cave system. Once inside, you go through a series of tubing and portage where you traverse pathways from waterway to waterway. Along the way, you are surrounded by sparkling stalactites and stalagmites, spectacular forms of columns, puffy looking formations and curtain-like cascades of folded rock. Above, the ceiling reaches impressive heights where bats have hollowed nesting holes within the stone and can be seen hanging down. Here you learn about the history of the cave and the Maya world while your professional guide points out ancient ceremonial centers, pottery, artifacts, altars, obsidian bloodletting blades, jade and the actual footprints of the Shaman and priests that date back to 400 A.D. Believed that the Maya appealed to their god of fertility here, stalagmites have been sculpted to cast shadows depicting a pregnant woman flanked by a male suitor, and another effigy protruding from the stone wall portrays of a deity only noticeable when illuminated.
It's a day sure to be full of firsts. How many times have you indulged in an underground riverside picnic? Complete with a picnic blanket, tortillas with cold cuts, juice, and fresh fruits and vegetables, eating under the light of your headlamp, this is a most unique experience! A three-and-a-half-hour expedition, it is rated "three out of five sweat drops" requiring moderate exertion that includes extensive underground hiking and climbing throughout the cave in addition to cave tubing.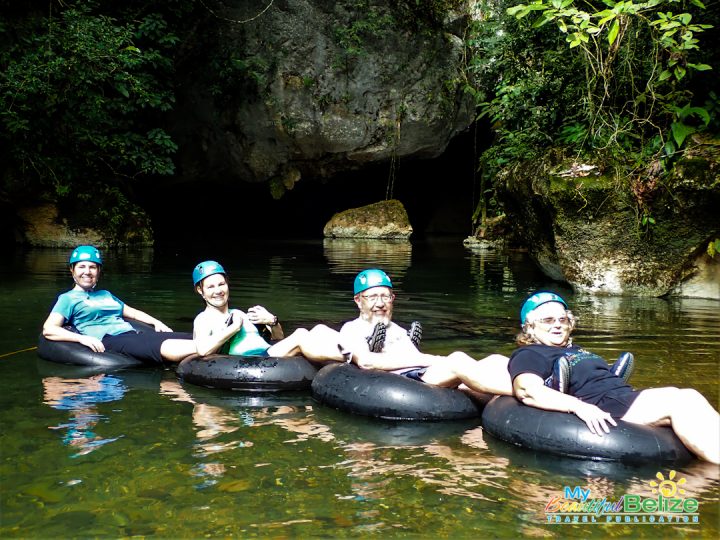 Ian Anderson's Cave Branch Adventure Company and Jungle Lodge on Hummingbird Highway in the Cayo District offers a wide variety of caving experiences, from moderate to extreme. Tours can be booked directly through their website at https://www.cavesbranch.com/belize-cave-tours.
As a rule of thumb, caving attire and gear should include lightweight walking shorts that can get wet, well-treaded sneakers or enclosed hiking sandals or boots, bug repellent and a water bottle. Guided tours usually provide any gear necessary such as headlamps, flashlights, life jackets etc.