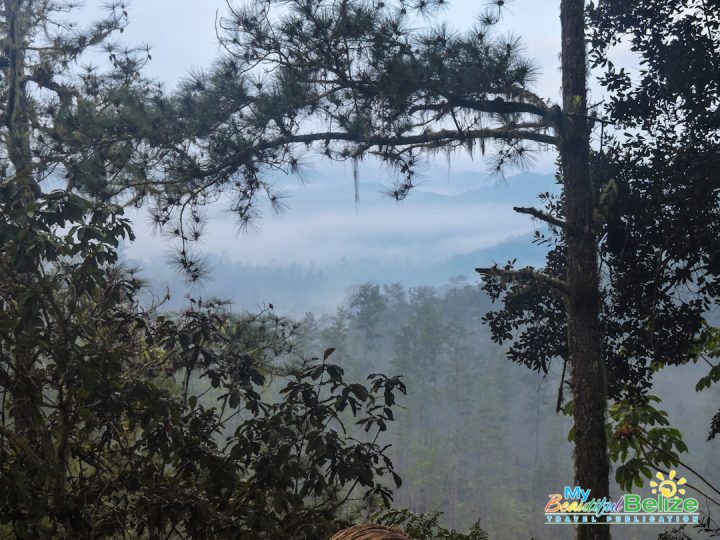 As images of a vacation getaway dance through your head, how do you fantasize about your escape to Belize? Do you see yourself working on your tan while lounging on a beautiful beach sipping an umbrellaed cocktail? Or, maybe its days spent immersed in crystal clear Caribbean waters, diving and exploring our stunning underwater world? Perhaps you are more of a landlubber, and channeling your inner Indiana Jones includes zip-lining through jungle canopies, rappelling down waterfalls and scaling tall Maya temples while Howler Monkeys roar your soundtrack?  Yes, our small-but-mighty country offers these quintessential vacation possibilities and more, but I bet you've never imagined exploring Belizean pine forests where wild landscapes have you wondering if you've just time-traveled to the rugged mountains of Wyoming!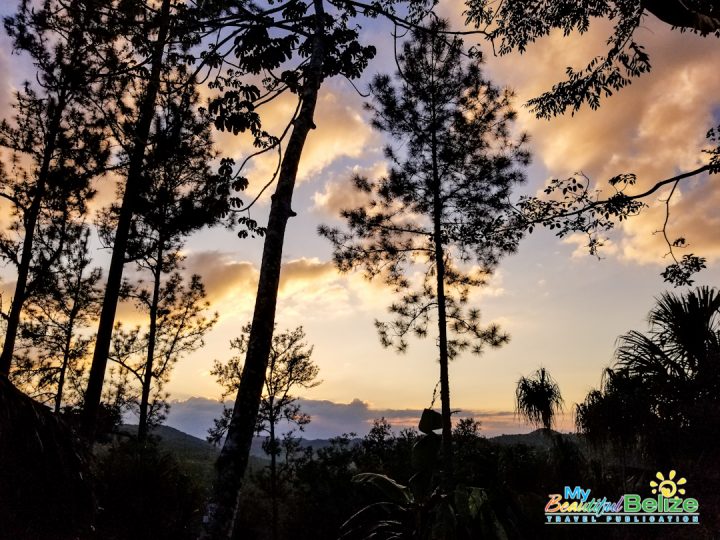 The Mountain Pine Ridge Forest Reserve is nestled within the Cayo District of south-central Belize. Covering an expanse of more than 106 thousand acres, the reserve is primarily pine forest with its fair share of broadleaf forest and grassland areas. Replete with majestic waterfalls, rumbling rivers, vast cave systems, misty mountains and amazing creatures large and small, this area is the perfect playground for those who love the serenity of nature and have a thirst for adventure. With so much to see and do, where do you rest your weary body after an exhilarating day of exploration? There are a handful of resort properties within the reserve, each exceptional in their unique way, but one that stands alone in stellar location and hospitality is the one and only Gaïa Riverlodge.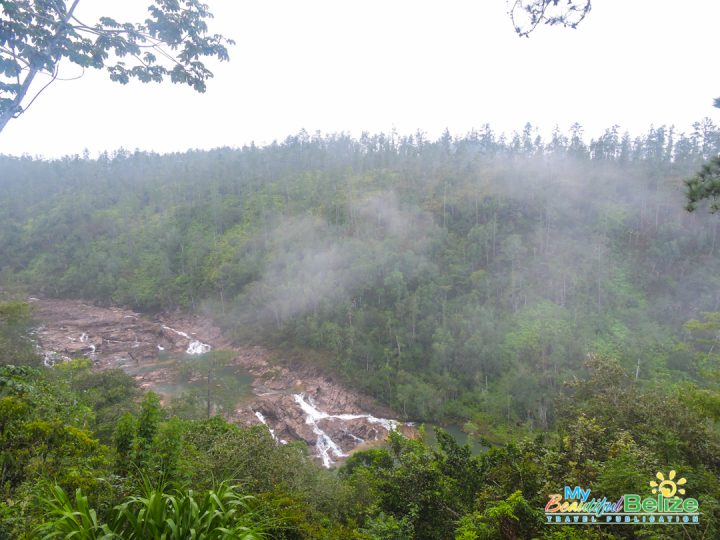 Perched above a breathtaking view of the dramatic Five Sisters Waterfalls, this intimate resort is a lush compound of thatched cabañas and suites that offer your choice of garden, mountain, waterfall or riverside views. Charming and warm, the rooms have expansive vistas, delicious beds topped with netted canopies and fluffy duvets when the mountain air has a chill, and every creature comfort is met with thoughtful attention. Add the dull thunder of the waterfalls below, paired with birdsong and the buzz of the surrounding forest, and the stage is set for enjoying nature at her finest. Only in the main lodge can you connect to the internet; there is no place for televisions or phones in this wild abode. Here you disconnect from the troubles of the 'real' world, and as you unplug, you are gently persuaded to linger in the lull of the forest.
When you're not busy relaxing, adventure awaits you at your doorstep. The first thing to explore? The Five Sisters Waterfalls that you have admired from the terraced levels of the main lodge above. Depending on how active you want to be, you can add the steep stairway to the riverbed to your daily workout regime or opt to take the little tram that the nice people at Gaïa have installed for the less motivated (like me) or unable guests. At the base of the waterfalls lies an expansive pool, complete with a sandy beach, gazebo, lounge chairs and thatched shade where you can bask in the sun and enjoy a cool swim. With trails along the river, there's plenty of areas to explore and other natural pools to swim in a while being one with the wild.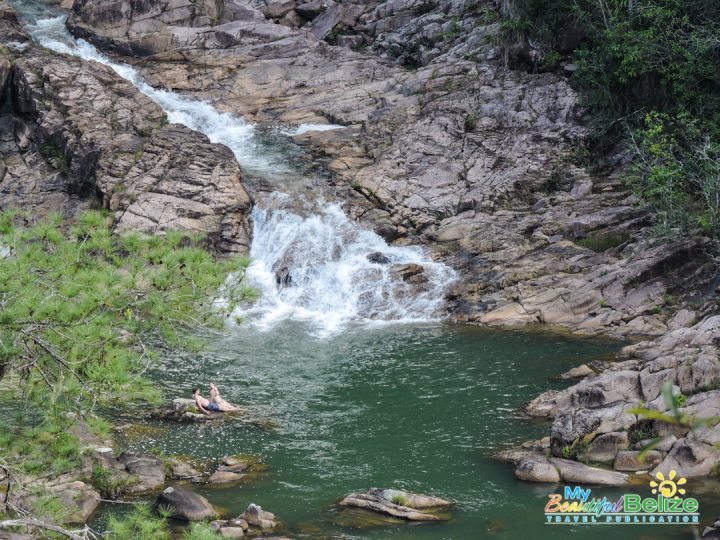 Other adventures that originate on-site include mountain biking, hiking, early morning jungle walks, birding, and even a nocturnal rainforest walk. Our most ambitious activity? A guided hike and exploration of the nearby Xibalba cave. According to my handy-dandy Fitbit, throughout the five hours, we covered close to five miles and logged more than 12,000 steps. Along the way, our very knowledgeable guide Isael Mai stops and points out plants and insects of interest. From the cohune palm where the heart of the plant is a delicacy, to small trails worn through the forest by busy leaf-cutting ants to admiring large termite nests that look like big brown warts growing on trees, it is a fascinating trek. Isael even invites us to eat a termite, claiming they taste like mint! My comadre Mary is brave enough to sample one, and she agrees they'd make a delicious Mojito – ha!
Once we reach the entrance of the cave, we don helmets, headlamps, and flashlights as we take a short ladder into the dark abyss. I have to admit I'm intimidated by the idea of the enclosed space, but decide to brave it anyway.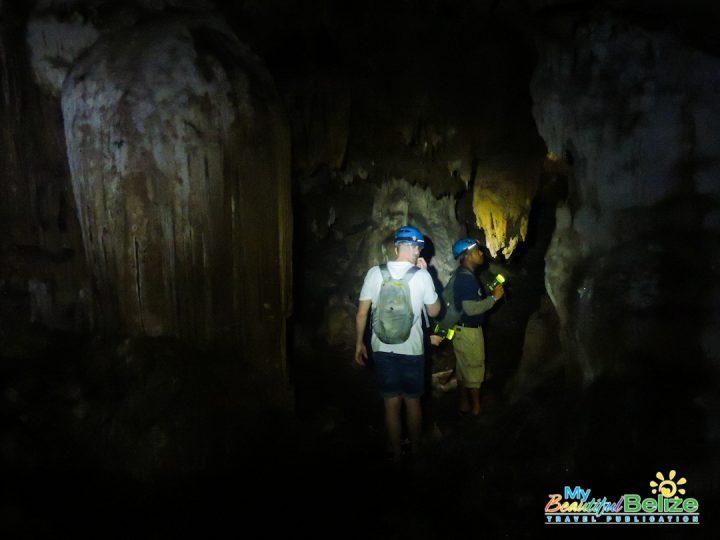 Inside Isael tells us about the ancient Maya and how they revered the mysterious caves. Along the way we see pottery shards from deep within the massive cave where stalactites and stalagmites meet, forming impressive natural columns and expansive ceilings sparkle with glitter-like minerals. Back we go into total darkness, sometimes squeezing through tight places, almost a quarter mile.
It's an exhilarating and even scary adventure, but amazing and worth overcoming any fears you may have! On our return to the lodge, a waterfall invites us to swim, but the cool temperatures and light rain finds us looking for a warm shower instead.
On another day we venture off-site in our Crystal Auto rental car and drive to the Caracol Archeological Site. It is an all-day expedition over rough dirt roads deep with potholes and mud. We spend hours exploring Caracol while Howler Monkeys growl in the treetops.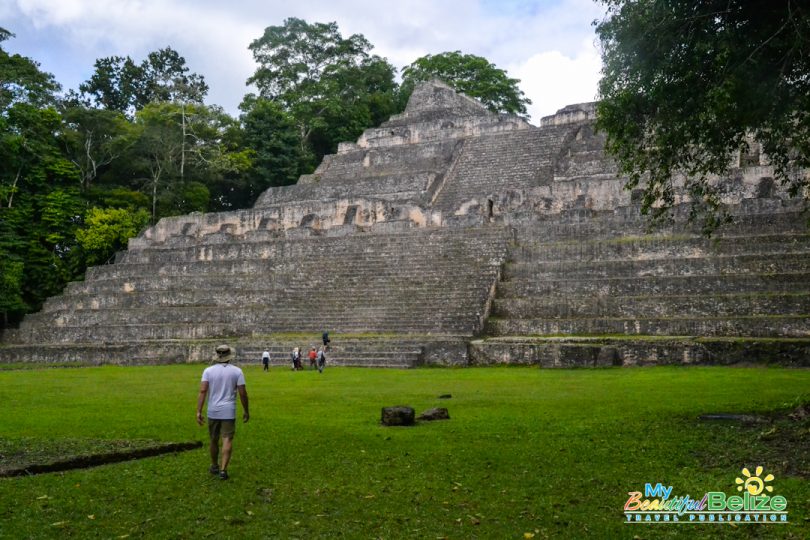 It is the largest Maya site in Belize, and we are breathless when we top the Caana pyramid. The panoramas from the top are worth the effort it takes to scale the massive structure!

On our way back, we explore the impressive Rio Frio cave and enjoy a superb picnic lunch packed by our friends at Gaïa. It's a perfect day indeed.
After you've spent a day exploring unknown territory you are sure to have a mighty thirst and a hearty appetite. Bartender/hero Derby at the main lodge is happy to mix up cold libations like refreshing ginger Mojitos, specialty Martinis or cocktails made with tropical fruit juices, yum!
When its time to eat, meals can be either be enjoyed on one of the outside terraces or inside the lodge. With much of the vegetables sourced from their own garden, breakfast, lunch, and dinner are full of fresh flavors, and their menu is mindful of those who prefer meatless dishes. There's something for everyone, one-night I enjoy a delicious Eggplant Parmigiana while the next I devour some of the best tenderloin steak I've had in Belize.
From archeological sites to ziplining, cave-tubing, horseback riding, cave exploration, and river tours, Gaïa Riverlodge offers countless tours and activities.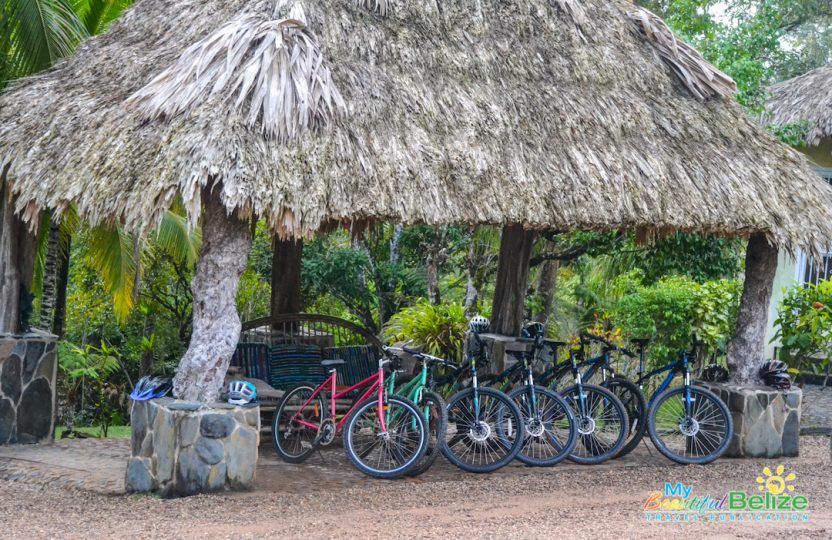 If you're looking for a little downtime, their spa treatments are sure to pamper you just the way you like it. Pair this with their super friendly staff, warm ambiance, comfortable accommodations, and stunning views, and you have the ideal place to find inner peace and solitude.
For more information about Gaïa Riverlodge, please visit their website at www.gaiariverlodge.com.