If you're lucky enough to be here with us on Ambergris Caye this week, visitors and Islanders alike will tell you that, the past fews days on the island have been some hot ones… summer has hit San Pedro hard, and we're really starting to feel the heat. No need to worry though, because the island has many ways to beat the heat and stay cool on these scorching summer days…
Here's our picks for the top 5 ways to stay cool on Ambergris Caye!
Enjoy a couple scoops of delicious Ice Cream at ParadICE Cream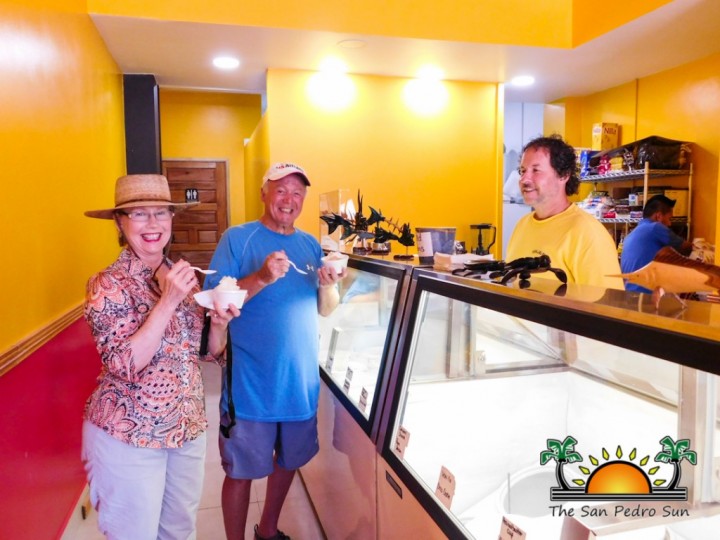 If you're looking for a quick way to cool off or just want to relax and enjoy a cool tasty treat then you can't go wrong with a delightful scoop of ParadICE ice cream. They offer over 30 different flavors of delectable homemade ice cream with unique selections and popular favorites to choose from. Be sure to sign your name on the wall to let everyone know that you've stopped by at one of the coolest places in town!
Sip on the signature 'Paleta Plunge' at Rojo Lounge
The bartending magicians at Rojo Lounge teamed up with local entrepreneur Regina Sansores to create this one-of-a-kind island treat that is sure to help you ditch the heat and stay cool. Together they've crafted unique combinations of Regina's fresh fruit popsicles (paletas) and paired them with a cool glass of champagne (or Prosecco from Wine de Vine sounds yummy) in a stemless wine glass of pure bliss. Incredible Paleta Plunge flavor combinations include Pineapple Cilantro, Ginger-Lime-Honey, Juicy Red Plum, Strawberry Basil, Coconut Cinnamon, Soursop and more.
Spend the afternoon kicking back on the floating tubes at Palapa Bar
Palapa Bar is the perfect island beach bar. This extremely popular, overwater bar has the largest open-air palapa on the island with tons of shade, super cool breezes, gorgeous views of the reef and floating inner tubes right on the water! So jump in, grab your tube, kick back and ride the waves under the cool shade of the giant palapa. The best part? You won't even have to get out of your tube to get your next drink. Order a bucket of beer and they'll lower it right down to the water for you. You barely have to lift a finger except to take your next sip.
Get out on the water and party with 'YOLO'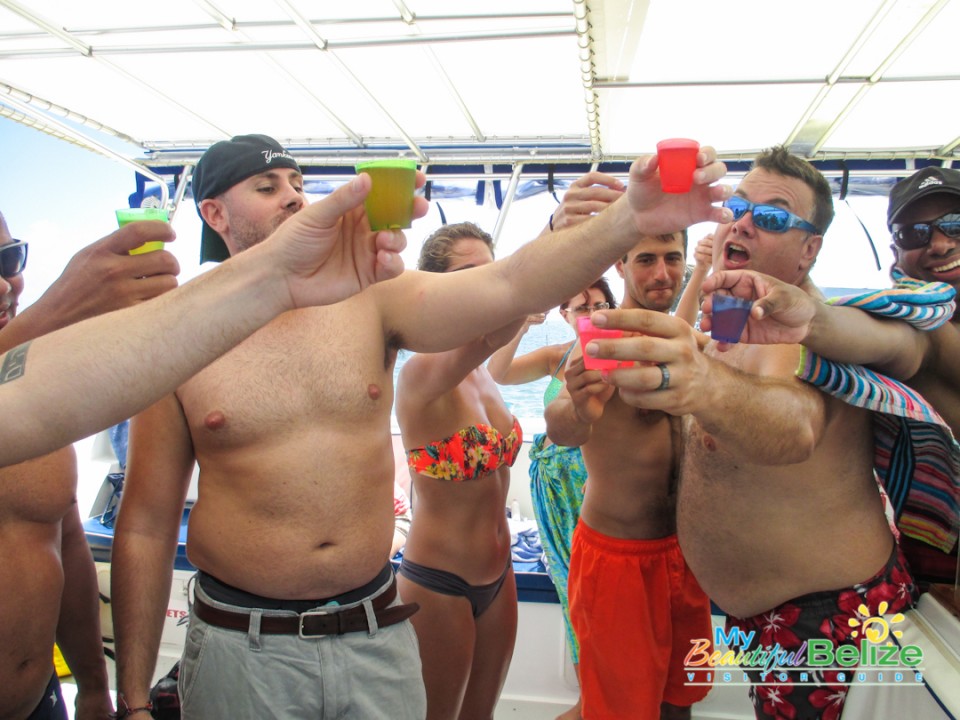 It doesn't get much cooler than chillin' on a catamaran, sailing along the reef with a bunch of new-found friends and enjoying some ice cold drinks. YOLO is a customized 40′ catamaran with a spacious flat deck, convertible top, comfortable cushioned couches and lounge chairs. So join the party and get out on the water with the YOLO 'Chill' Cruise. The name says it all. This is certainly one of the best ways to beat the heat.
Grab a bucket of Ice Cold Belikin and hit the beach
Last but certainly not least, there's always the local Belizean go-to way to cool down… relax and enjoy an ice cold Belikin. You won't be disappointed. Belkin, the beer of Belize, is an absolute must for those sweltering hot days of summer. It's so smooth, so cool, and sold just about everywhere on the island. So you don't need to go far to enjoy your next cold one. On those really hot days… you deserve it!
So when the heat is on and you need to cool off, you know what to do…