Without fail, right around Halloween season, the craving for some tasty homemade candy hits extra hard. Belizean kitchens often churn out some of the most interesting sweet treats, from bread to cakes, to things like fudge, tableta, empanadas de coco, to syrupy, sugary boiled fruits and starchy root vegetables. One particular item that just screams Halloween vibes to me, or Dia de los Muertos, is dulce de calabaza.
Stewed pumpkin sweet – this succulent treat is a combination of brown sugar and warm spices, stewed for a few hours, the brown sugar caramelizing into a syrup that's full of flavors from cinnamon, star anise, allspice seeds, and of course, bits of the deliciously thick pumpkin flesh that falls apart throughout the cooking process. YUM!
The best part about writing this story is that we had to cook some 'for photos,' and so I'm currently nibbling on some as I type with one hand! It's really good, and you should totally make your own!
For this particular recipe, I picked the classic squash – it's grown locally, and comes in a variety of shades. I only know it as the Halloween pumpkin, but it actually is a squash, Cucurbita Maxima. I have friends declare the butternut squash is perfect for this dish, but I stick to the classic, even if it takes a little longer to cook. It's what my mom prepared for me growing up and so; it just makes sense that I try to recreate my childhood sometimes.
Cut up the squash into even cubes. For this size of a squash (about 4lbs), I use about 1½ pounds of brown sugar, a cinnamon stick, a couple of cloves and some water.
First, melt down the sugar, letting it caramelize slowly over low heat. I was given this instruction with the explanation that it would add the color needed for the squash. Not one to turn down cooking advice, I've done that ever since.
Once melted, but not bubbling, slowly drop in the chunks of squash and toss gently then add enough water to cover. Toss in the cinnamon stick and cloves.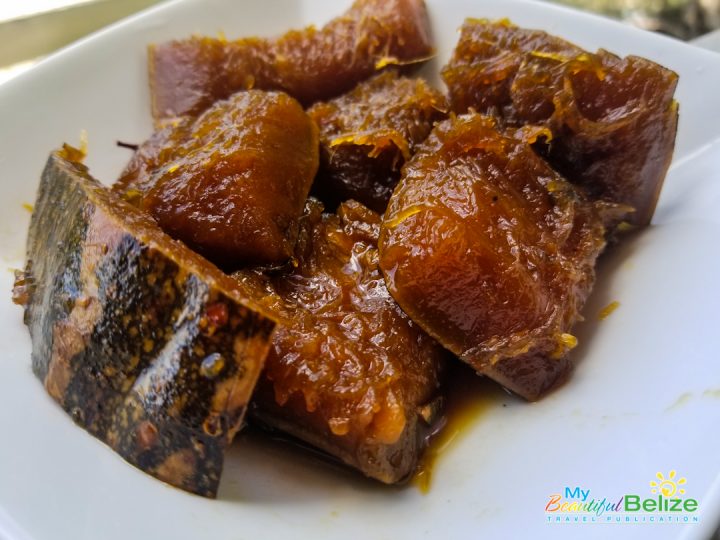 Let simmer slowly, adding water every so often and stirring, so it doesn't stick, the squash will turn melty and brown and thick and oozing with syrup when it's ready.