Six bartenders, five judges, several bottles of liquor, and lots of Belizean ingredients set the stage for a fun afternoon at Matachica Resort. The occasion? An impromptu bartending competition initiated by Lawrence Picard, a three-time winner of GQ/Bombay Sapphire's Most Imaginative Bartender Competition in Las Vegas, Nevada USA.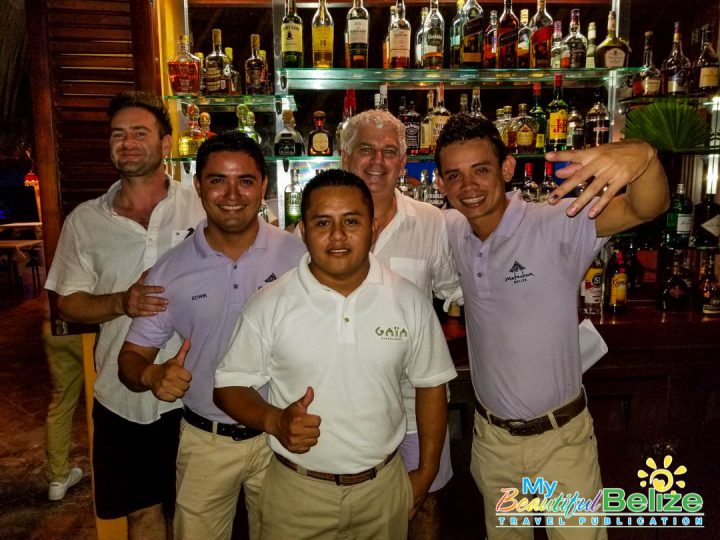 Owner of Nectar and Mixologie in Montreal, Quebec, Canada, Picard has been working alongside Matachica and her sister property Gaia's bartenders, revamping, strengthening their skills and training them in the fine art of mixology. Picard was on hand, training the gentlemen to seek out local rums, understand its history and makeup, then studying global trends and flavors, adapting using ingredients readily available to produce unique cocktails for guests. Gilbert, Adam, Alfred, Derby, Edwardo, and Edwin took to the task, focusing on originality, aesthetic, flavor, and technique to present a unique cocktail to be judged.
It was a relaxed affair and fun to witness the participants as they applied their lessons, listening to their casual banter, and exchanging stories about the ingredients and choice of liquor. Owner of Matachica and Gaia, Daniel Lighter was on hand judging, and he was proud to witness the efforts that each bartender put towards improving their craft. "It's not just about redesigning the décor, boats, or revamping our casitas. We also want to focus on our staff, making an investment in them. I am investing in Belize, kind of saying, 'let's step it up.' We all benefit." And benefit we all did, as delicious cocktail after the other landed before us, ready for sipping and enjoying.
At the end of the action, a discussion determined the three standouts. Walking away with bragging rights and even a little cash prize for their efforts was Adam, who took third place with "The Anti-Oxidant." Adam shared that he studied the current trends, seeing how bitters and health consciousness is prevailing in the cocktail industry and opted for something similar. Derby took second place with his "Ginger Star" – a refreshing mix of fresh Starfruit and Ginger puree that hints at the tropics and gentle rainforest breezes. With his drink titled "The Hummingbird," Edwin walked away with the grand prize. A sweet cocktail, using Traveller's Liquors Nance liqueur, The Hummingbird was a sip of home – reminiscent of the craboo fruit that grows in Grandma's back yard – telling the uniquely Belizean story that most travelers seek out.
It's not just a cocktail
Lawrence Picard also worked with the bartenders at Gaia to establish a Farm to Bar movement, aiming to make Gaia stand out in her location in the rainforests of Belize. Similarly, Matachica's bar will be focused on providing the best of Belize via its ingredients, personalities, and history. "We want to tell the story of Belize, its people, and its culture…The mix of Creole and Maya world is stunning, and we need to export that to the world."