"Why did you choose the Xtabai?"
My forearm was still smarting and tingling, the swelling finally down, but the skin super sensitive to the touch as my latest ink addition settled in. My best friend, who had no ink of his own, was highly curious about my new tattoo. As Belizeans who grew up steeped in rich folklore and storytelling, we both had knowledge of the Maya story of the Xtabai (pronounced eesh-tah-bai).
The folk tale essentially speaks of this beautiful woman with long black hair, a long white dress that hid her chicken feet (I know…right?!). Slender and beguiling, she only ever appeared to drunk men stumbling along dark roads near bushes, luring them deep into her forest home. Upon embracing her, the men would quickly realize their mistake, as she would turn into a prickly tree, piercing their skin and making them sick. If after three days, the victim wasn't found or couldn't make his way out of the forest to be treated by the bush doctor, his fever would eventually cause him to die.
The feminist in me always wondered why it is that the women were always luring men and getting that bad reputation. As I grew older, I realized that the lessons we learned at the feet of our grandparents can be layered and much more meaningful. What if the Xtabai was being chased into her own forest by drunken, leering men. Her reaction – freezing and turning prickly – sounds pretty natural for someone cornered until she has to fight back. With my own history, this felt more like a lesson, and I have admired the Xtabai ever since. Thus, when I suddenly began itching to cover my left arm with ink, I opted to go full Belizean style.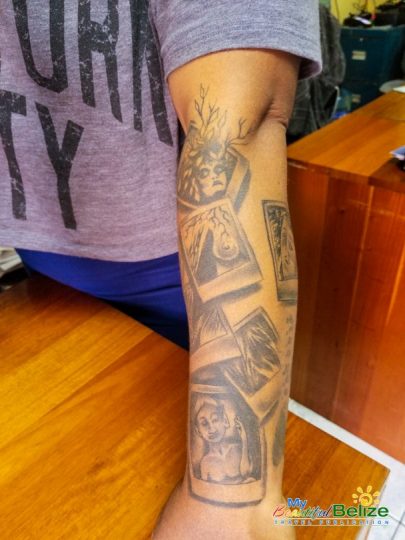 My Maya heritage is full of intricate details (just look at our archaeological sites!) and rich folklore that could be converted into skin art. So, I did it. My artist, Wimpas Sosa of Belizean Ink Tattoo Shop, is a phenomenally talented artist who can take a stick figure attempt at an idea, and find a way to bring one's dream into reality. I chose to make the Xtabai half-woman, half-tree, then nestled the Tata Duende inside her trunk.
Another character of our folklore, the Tata Duende has a bad rap for luring children away into his forest. Then there is the version of his child-like heart, a love of guitar music, and intense desire to play, seeking playmates who won't make fun of him for his lack of thumbs and backward feet. Again, feeling the need to embrace the negative and make it a positive, I made the Xtabai maternal, allowing the Duende refuge in her trunk. Over the years, perhaps things might change, but at the moment, I look down and feel an immense pride that I have permanently encapsulated a big part of my background on ink, on my skin. My grandmother's stories travel with me, remind me to be stronger than I ever thought capable, and when asked, to share proudly what our Belizean heritage teaches us daily.
To get your very own Belizean ink souvenir, check out Wimpas at Belizean Ink – Wimpas Tattoo Shop on Facebook. Message them for an appointment.
Note: I am fully aware that tattoos are not everyone's cup of tea. But I also embrace the amazing Belizean pride items that have sprung forth via young entrepreneurs. ID7 Belize has some fun clothing lauding praises of the fry jack, hudut and more. Culture Apparel has its iconic 'ripped' Belize emblem on a variety of clothing items in fun styles and colors. Beyond the keychain or beer koozie, there are tons more ways to showcase Belizean pride. Mine's just a little more permanent.