I had no idea that puffy fry jacks were a thing of wonder. Apparently, not everyone has the recipe to successfully make puffy, pillowy mounds of fried dough. As I write this, the world has essentially ground to a halt. Many of us have been tasked with finding ways to stretch our budgets, focusing on comfort items to feed ourselves, our families, and our quarantine buddies. On the list of things that many seem to be focusing on is flour-based foods: bread loaves, dinner rolls, cinnamon rolls, sweetbreads, cakes, and cookies. 
In Belize, our go-to breakfasts and dinners have always been warm, soft tortillas and fry jacks accompanying refried beans and eggs, our favorite way!
Making tortillas is a process most of us learned at a young age: kneading the tortilla dough, forming the dough balls, flattening them out into symmetrical circles. Then there is the careful placing of the discs on a hot comal, managing the heat levels as the dough cooks up, flipping them to cook the other side, and sliding it off to nestle warmly in its cloth wrap as more and more get baked. The majority of Belizeans grew up eating these as a staple.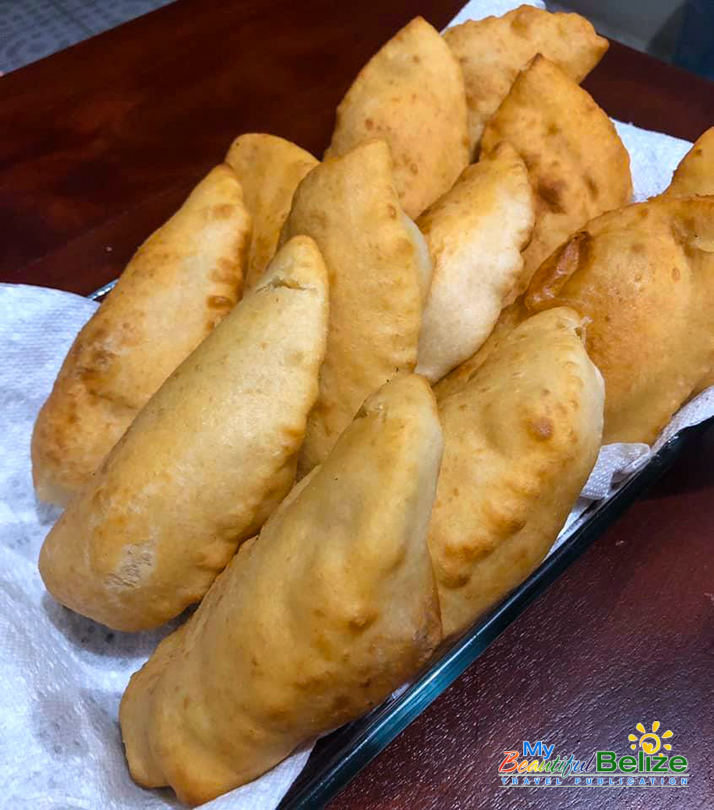 A real treat, however, is the fried delights known as Fry Jacks. Made with the same tortilla dough, fry jacks are the epitome of indulgence. Once flattened into a nice round circle, some cooks would slice the dough in half, then drop in a pan of hot oil, letting it fry up nice and puffy, turning and ensuring all sides are evenly browned and perfect.
Imagine my surprise at finding out that not everyone has the same luck at the first try! Their fry jacks often stay flat, perhaps a bubble or two forms, but no full-on puff that separates and creates the perfect pocket to stuff with beans and cheese or eggs or veggies or what-have-you.
I had happily posted a video of my dough frying one innocent Sunday, showing the delicious puff of dough as it cooked in inches of deep, hot oil. Unbeknownst to me, friends were envious of 'the puff' – and it became quite clear when my messages began pinging through. "I need your recipe!" "Mine never puff up like that – what am I doing wrong?" "Recipe please, I want puffy fry jacks!!" It turns out, this quarantine has brought us together in search of the perfect PUFFY fry jack!
I've never been one to shy away from sharing recipes; I think it's an honor to pass down tricks of the trade, and seeing as I learned from my mother, there is no better feeling than to share her recipe. This recipe, in particular, measured using my mom's method, tossing ingredients in separate containers then calculating ratios. What a fun science experiment that was, and now you can have some fun too!
Fry Jacks: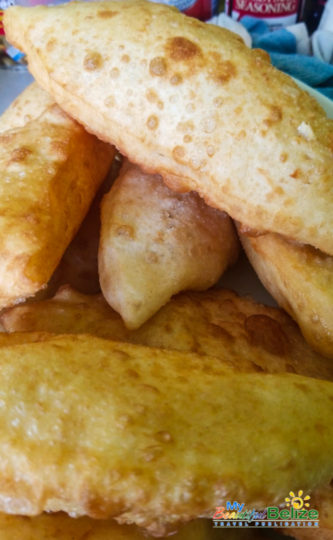 Ingredients:
6 cups flour (dry measure)
4 level tablespoons baking powder
1/2 cup shortening
1/2 teaspoon salt
Room temperature water
Directions:
Mix flour & baking powder to incorporate the baking powder as best as possible. Sprinkle salt and mix well, then add in shortening. Using your hands, incorporate shortening into the flour mix until it feels/looks like cornmeal.
Add water, starting with a 1/4 cup at a time, so you don't run the risk of your mix getting too sticky. Add a bit more water till the flour is moistened and starts to come together. If it feels too dry, add a tablespoon of water at a time…and if it feels too tough, add a little shortening and keep kneading.
Knead till it feels smooth and elastic, and you can form little balls easily. You should get around 16 dough balls.
Let them rest for about 15 minutes in a nice warm spot.
Heat up about 2 inches of oil in a heavy bottomed pan.
Flatten dough balls into rounds, slicing in half and quarters, then carefully place in hot oil to fry up. They should puff up beautifully. After about 30 seconds, flip to brown next side for another 30 seconds, then remove.
Place on a paper towel-lined plate to drain any excess oil.