Two years ago, brother and sister duo Dora and Felipe Paz started a unique venture that quickly became a must-do activity on Ambergris Caye. Belize Food Tours took the best of Belize: food and vibrant Belizean personalities, and converted it into a fun tour that takes guests on a culinary adventure. Now they've taken a step further, adding a cooking segment to their repertoire, inviting guests to try their hand at recreating some tasty Belizean favorites.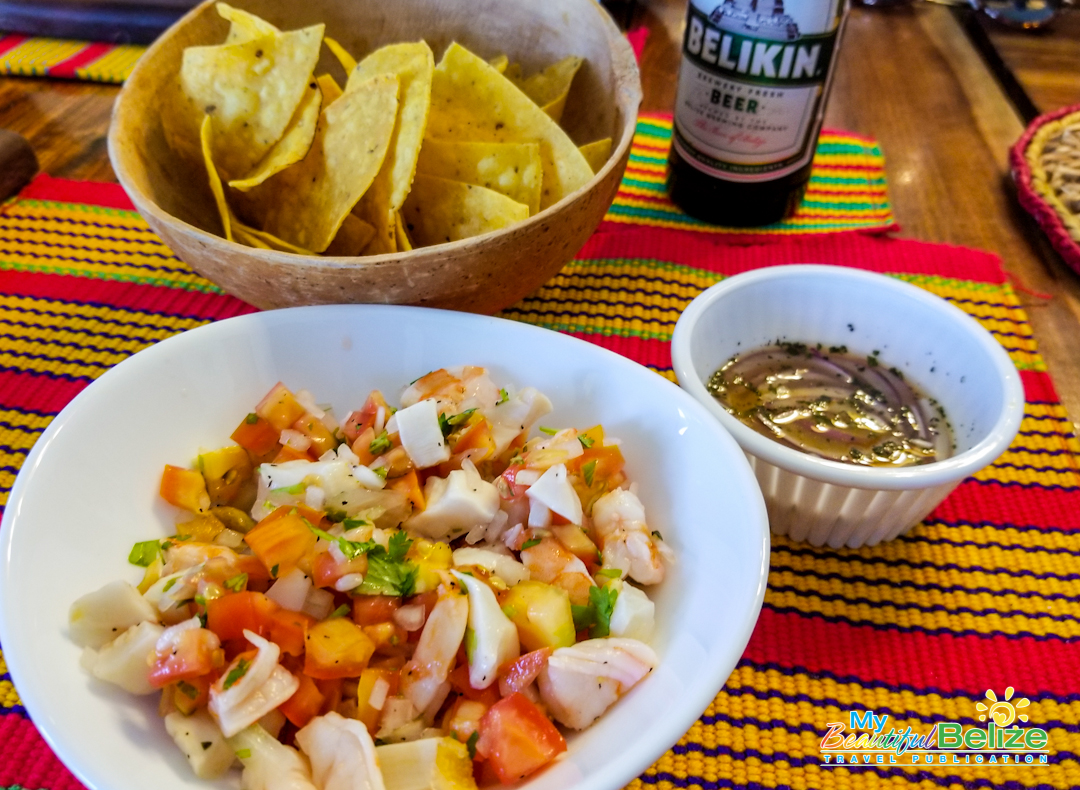 "Yuh Belizean Kitchen" is located on Barrier Reef Drive, directly across from Fido's Courtyard and in the same space as Maxi's. The cheerfully decorated space has ample seating to take full advantage of cooking demonstrations, and for the inaugural first class, we were thrilled to make a delicious sweet potato pudding (pound), ceviche and the tres amigos de maiz (three friends of corn): panades, garnaches, and salbutes.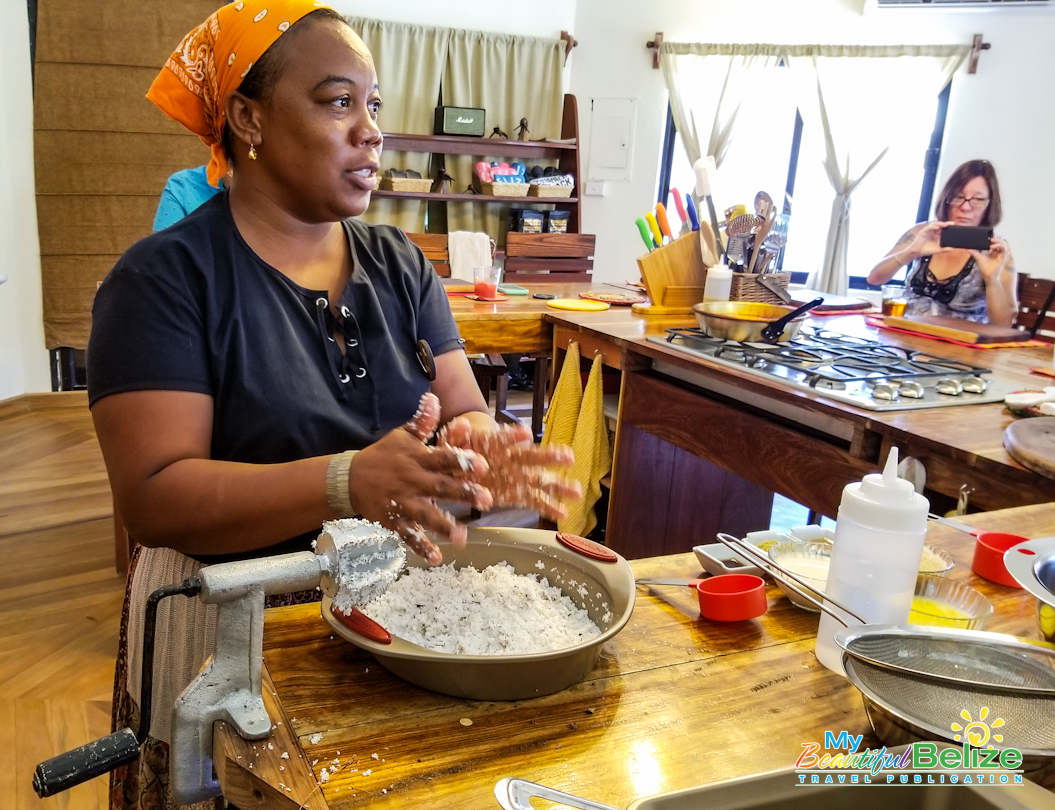 In between cooking lessons by Farah and Kieron, with the helpful dish-washing efforts of Felipe, we sampled Belizean rums and even cashew and berries wines. A refreshing ginger-watermelon cooler helped cleanse the palates too.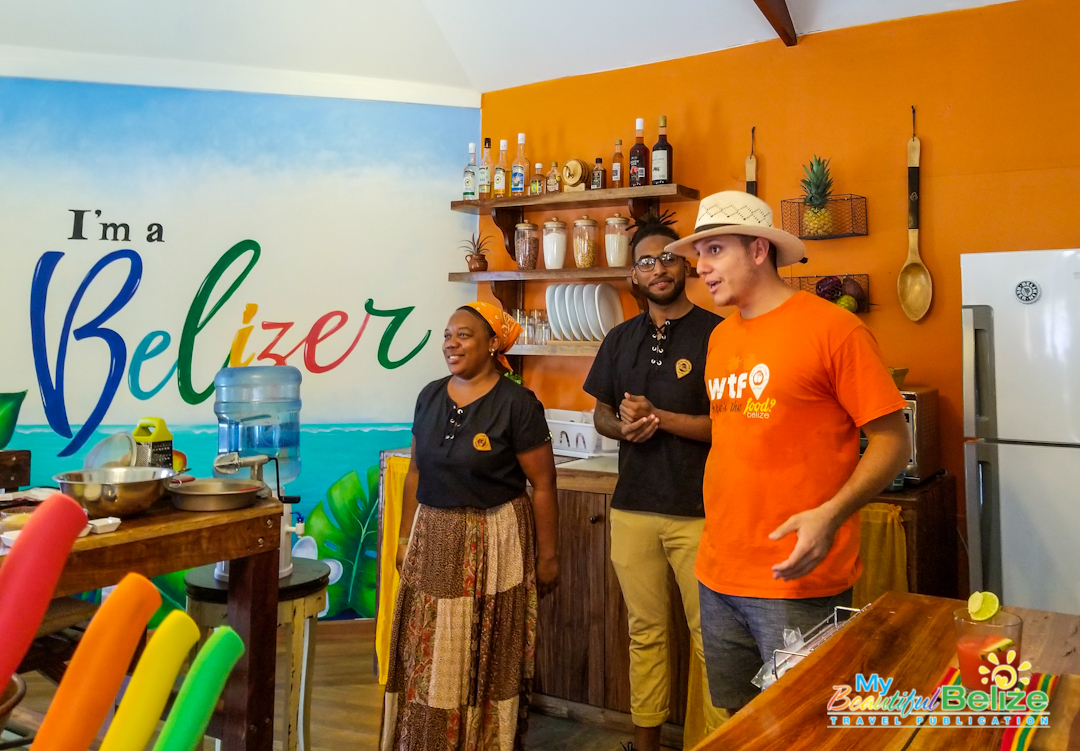 The class has been a long time coming, and it's in the capable hands of the folks at Belize Food Tours, who have established themselves as a fun and energetic creative force. Farah is of Garifuna descent, and she takes pride in sharing tidbits about her culture and history as she prepares various items for cooking. In the background, Belizean music plays and Farah is more than willing to throw in a dance lesson alongside the cooking – talk about doubling your skills!
Guests are encouraged to get hands-on, helping to grind coconut, chop vegetables, sauté fish and chicken and even make their own tortillas. First up was a Garifuna classic dessert: Sweet Potato Pound. Everyone was given a piece of sweet potato to grate, and a few took turns to grind fresh coconut which would then be squeezed to extract milk. Farah mixed the ground starchy potatoes with the coconut milk, evaporated milk, grated fresh ginger, vanilla, butter, sugar, cinnamon and nutmeg with a splash of One Barrel Rum. The fragrant mix was placed in a buttered pan and put to bake while more cooking and eating took place.
After the classic ceviche lesson – diced tomatoes, onions, conch and shrimp tossed in lime and cilantro with salt and pepper, we learned the method to fluffy, always crisp fried corn dough – add some baking powder to the ground corn. Don't worry about getting messy – aprons are provided.
They have quirky taglines like "If E Nuh Bunn, E Nuh Dunn", "I believe I can Fry", "I just wanna have ABS-olutely all the panades and salbutes" and more.
With your wardrobe safe from flying foods, you can happily indulge in scarfing down tasty garnaches (crispy flat tortillas spread with beans and topped with cheese), hot panades (corn dough pocket filled with shredded fish or refried beans) and the crown jewel: salbutes. Shredded stewed chicken topped with jalapeño, tomatoes, some pickled cabbage, and onions are layered on a crispy fried tortilla to make for a tasty snack.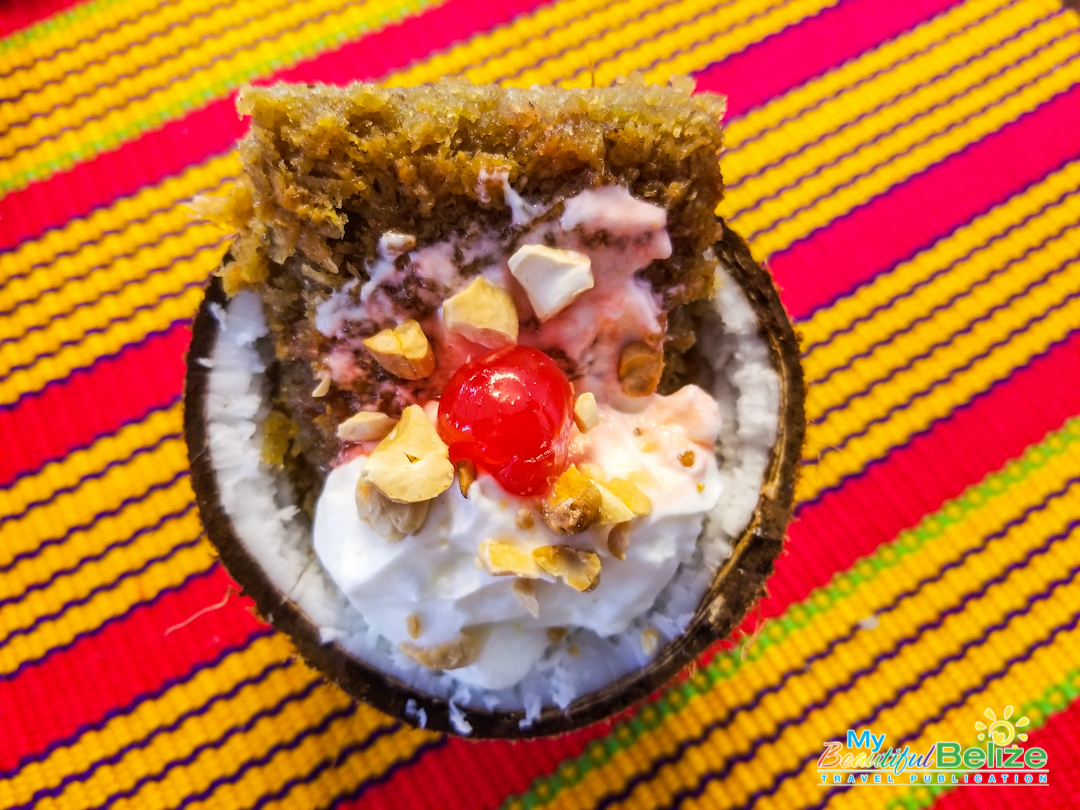 Once everyone had eaten their fill of ceviche and corn-based snacks, it was time for dessert! Fresh out of the oven, slices of sweet potato pound were topped with fresh whipped cream and served beautifully in coconut half shells. It was definitely the best kind of day, filled with fun, food, and laughter.
Book your Belizean Kitchen lessons today by visiting their website at www.belizefoodtours.com. They have lots of fun events planned around the kitchen, including guest chefs and specialty ingredients. Indulge in a culinary adventure that you can recreate back home when you're missing Belize!