Belize's cuisine is so varied and delicious, that you could spend an entire week trying to taste every last bit at mealtime, and still would not finish. Imagine our tourists who are only here for a limited time, and probably want to dine at local eateries or renowned establishments to sample some of our delicacies. The chances of them eating both our national staple the Rice and Beans with stewed chicken are probably guaranteed. But what about the Rice and Beans with stewed gibnut…or the fish balls…or cane juice…let's not forget the banana-leaf wrapped tamales and the rich black chirmole!
Enter Belize Food Tours, a new venture run by enthusiastic and talented siblings Dora Paz-Guerra and Felipe Paz III.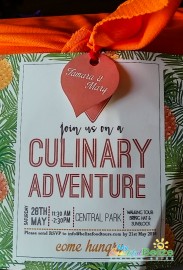 Hoping to capitalize on the wonderful treats being churned out day in and day out at the hands of gifted cooks, the siblings realized that visitors and locals alike may just want to taste test what's on offer. On Saturday, May 28th, we were treated to the inaugural food tour, where our legs got a workout as we traipsed all over town core, feasting on some of the delicious treats they picked for us to try.
The tour had been highly anticipated, as Dora and company had gone above and beyond to tease the grand start of her business with social media, and then their totally unique invitation: a brightly wrapped box of Belizean treats, complete with t-shirt and invitation card. How could we resist the call of a fellow foodie?!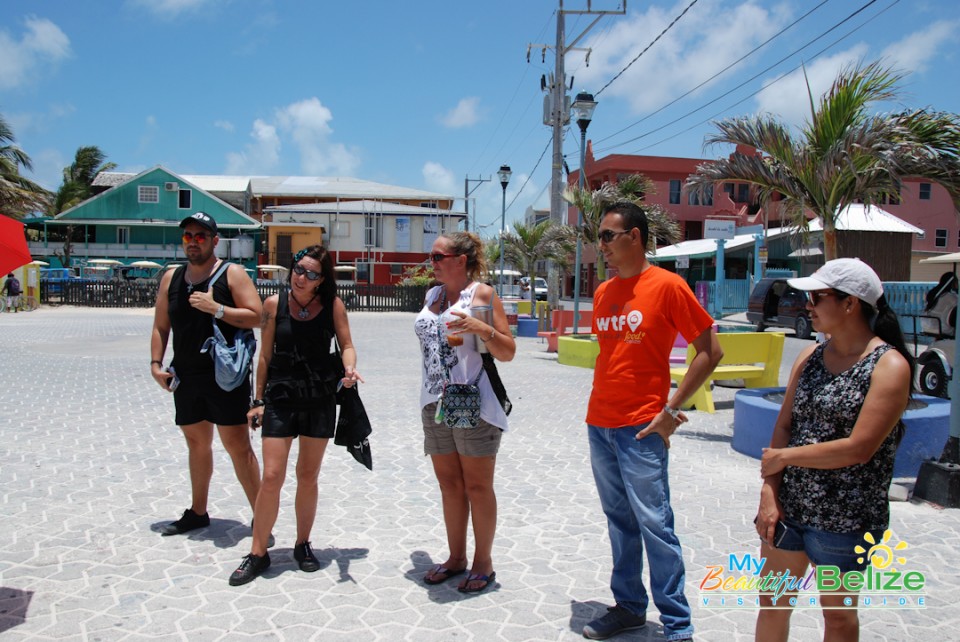 Right at 11:30AM, our tour began from the Central Park, where we headed to Elvi's Kitchen. It was the natural place to start, considering its history as the first restaurant establishment on the island!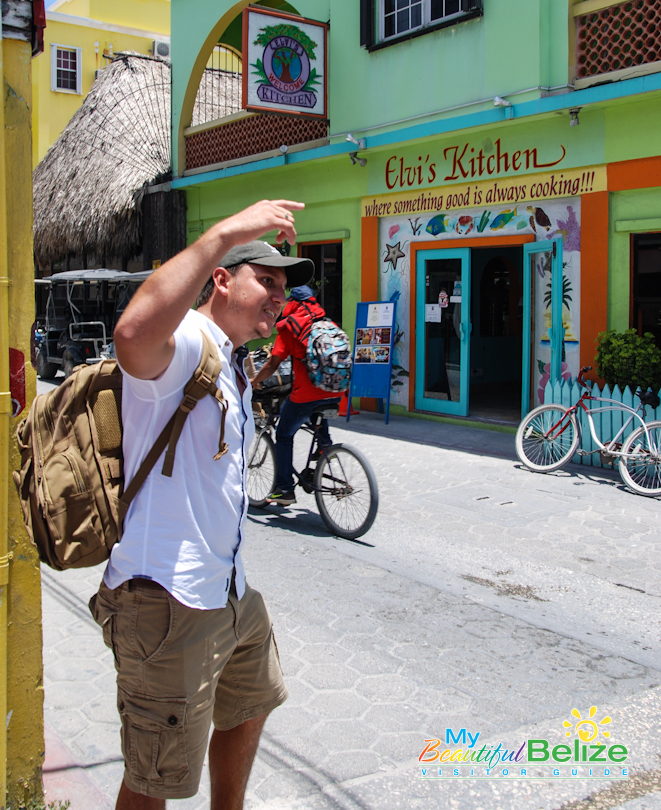 Chef Jennie Staines has made her significant mark in the kitchen, and her fabulous tacos and refreshing cane juice came first.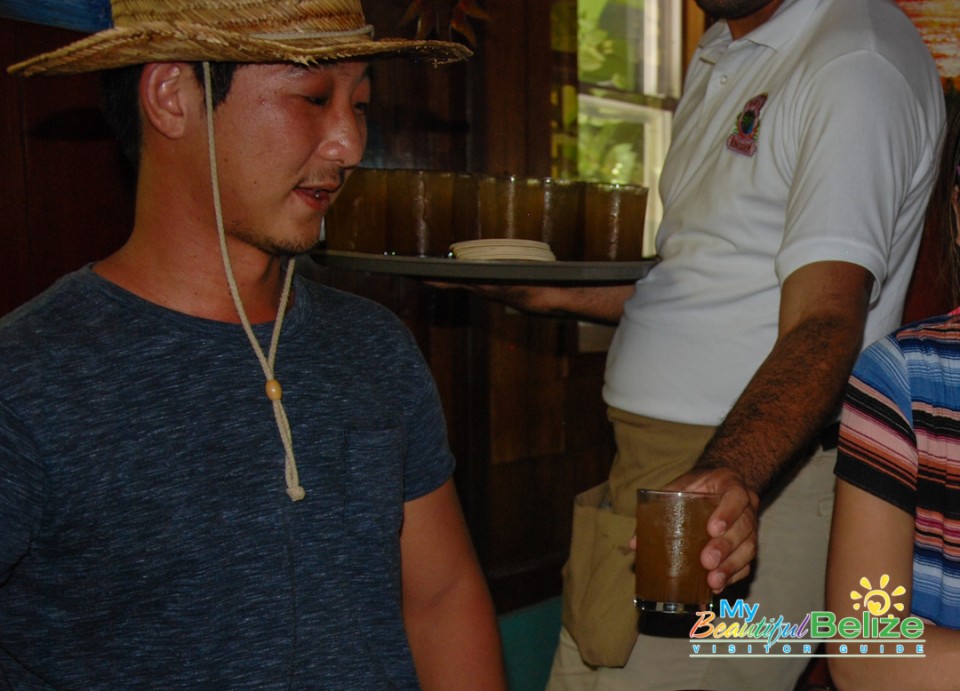 Our guide Felipe gave a run-down of the history of Elvi's, and we learned that to this day, lucky patrons who order dessert will be treated to Ms. Elvia's fine hand-made pies and sweet treats.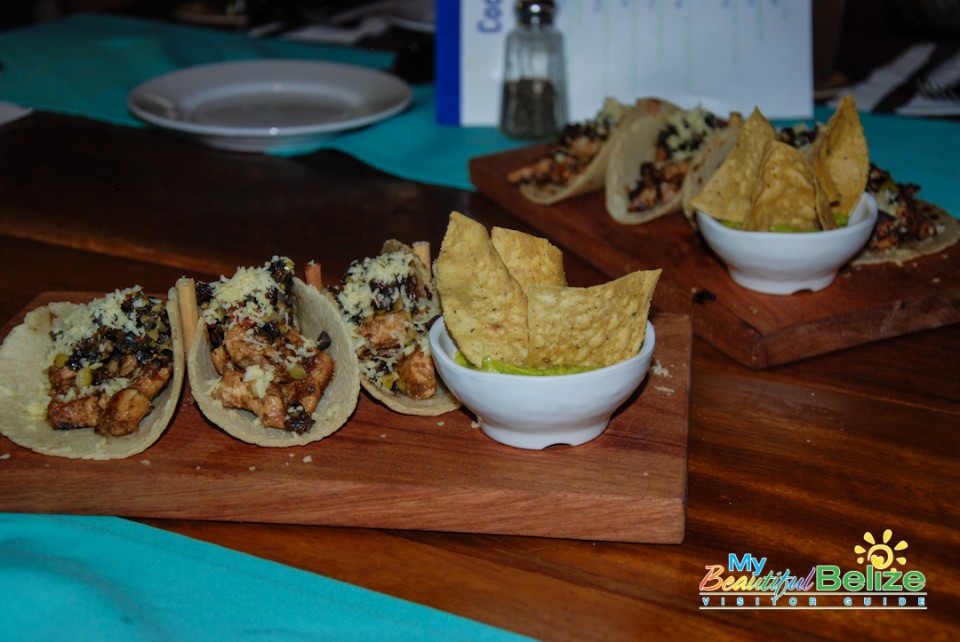 Having been primed for the tour, we headed just a little ways to Traveller's Liquor shop "Want Rum? Got It!" Wendy was ready for our group, sharing sips of Cashew and Blackberry Wine, Craboo Cream, One Barrel and more.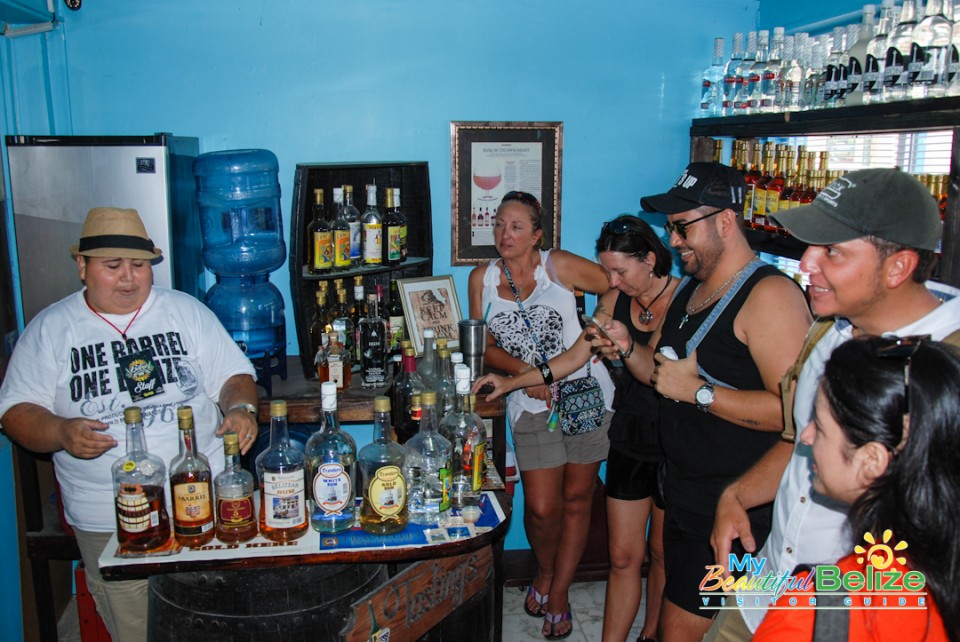 We were just on our second stop, and already the drinks had been brought out! Were we in for a treat or what?!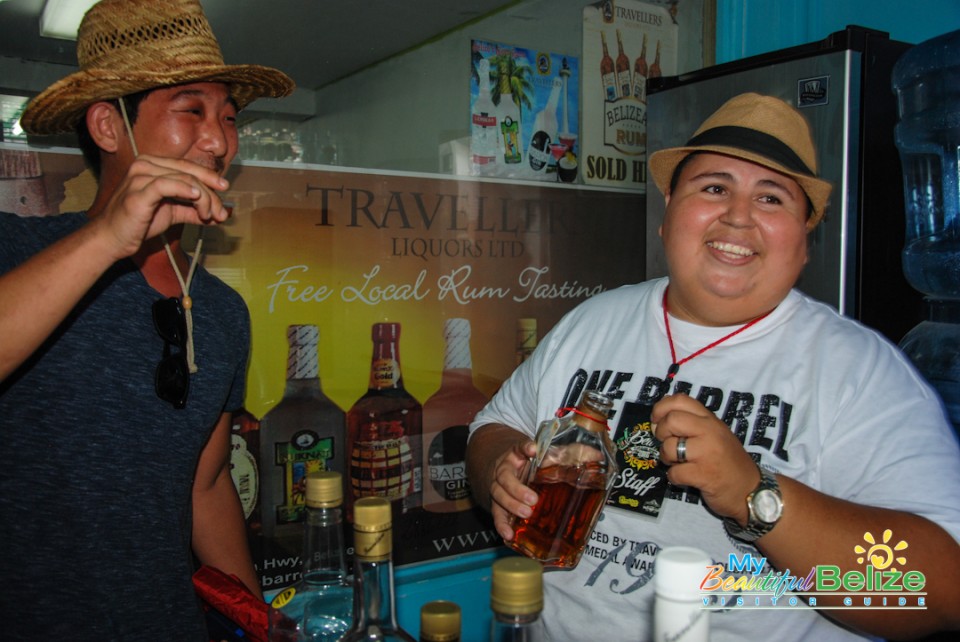 Our rag-tag group followed Felipe to the beach, where we breathed in fresh cooling sea breeze and oohed and ahhed over the never-gets-old view of the Caribbean blues.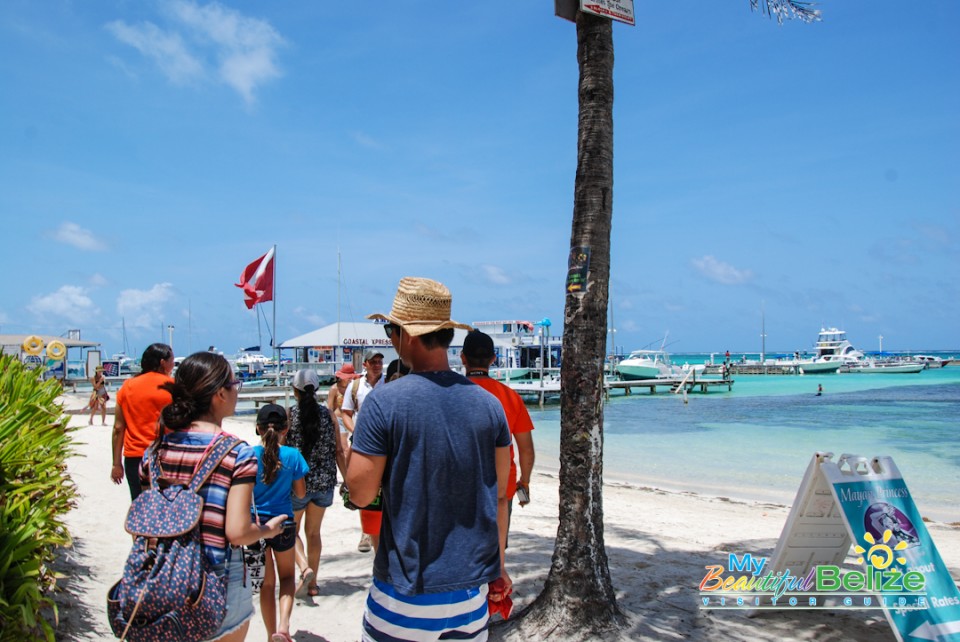 Our next stop: Lily's Treasure Chest. Awaiting us were some cold beers and Guinness Stout.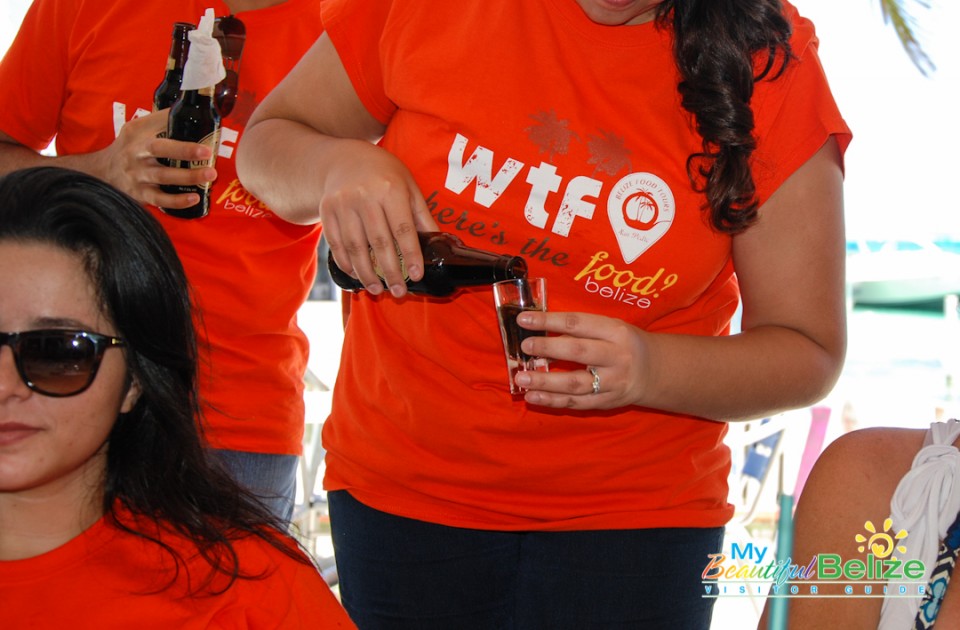 Felipe explained that part of the tour included shots of stout as it was his grandfather's secret to longevity! If it means more years enjoying this country, I'll drink to that!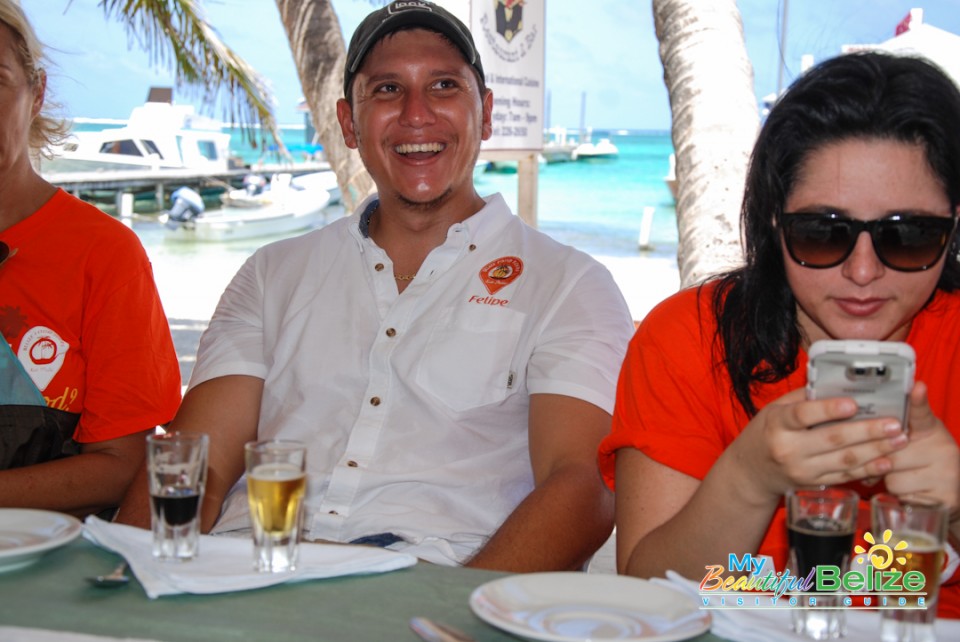 But the excitement bumped up a notch when our waiters brought out a huge plate of shrimp ceviche. Lily's is known for their delicious ceviche, and we were treated to a gorgeous-looking platter full to the brim with tasty shrimp and vegetables in its lime pickle.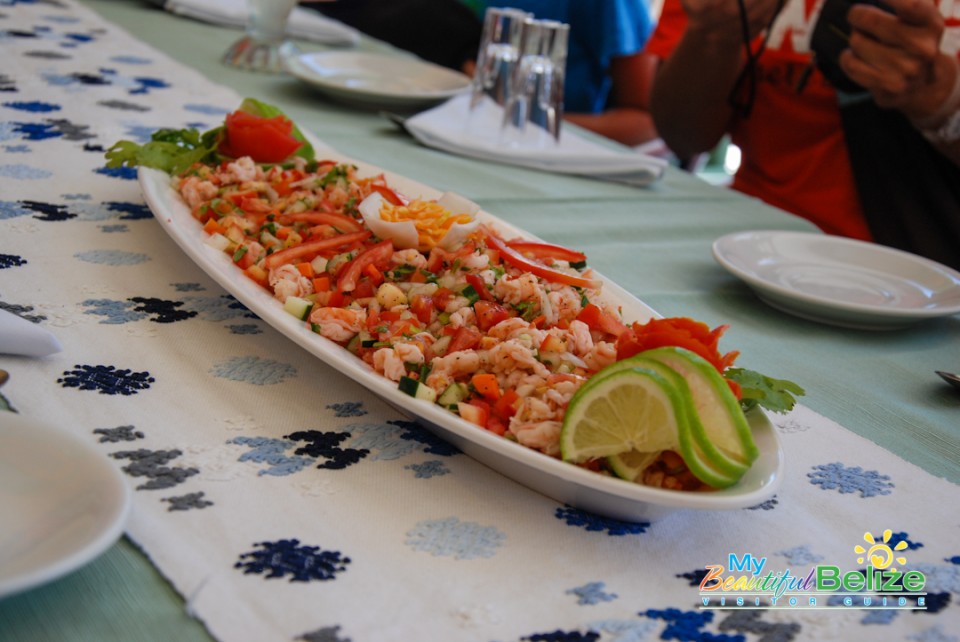 A street vendor passed by, and next thing we knew, we were trying to eat our ceviche with cassava and plantain chips too!
After our foray into seafood, we turned the corner back to front street, where Regina's icy cold, fruit-laden Paletas waited us in a stack at San Pedrano's Store. We had so many choices, including lime, coconut, soursop, peanuts…yum!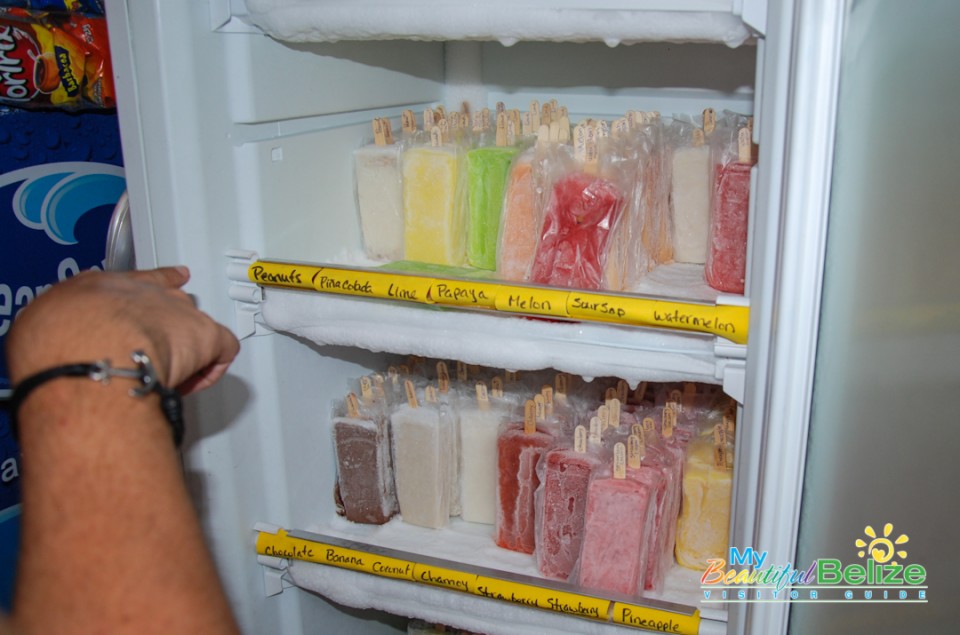 As we happily nibbled on our icy treat, Felipe took us by a fruit stall, where he proceeded to pick up a few treats to share with us as well.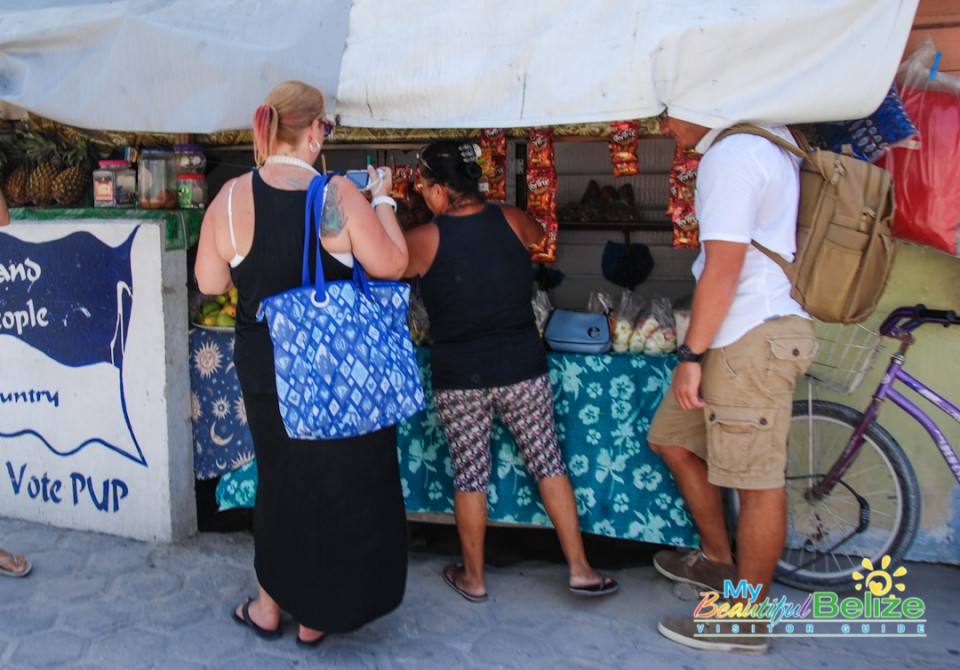 We loved that there was a chance to stop and admire, perhaps buy a quick snack to taste. Onward we went, heading to back street, where Ofel Guerrero warmly greeted us into his establishment: Brianna's Deli.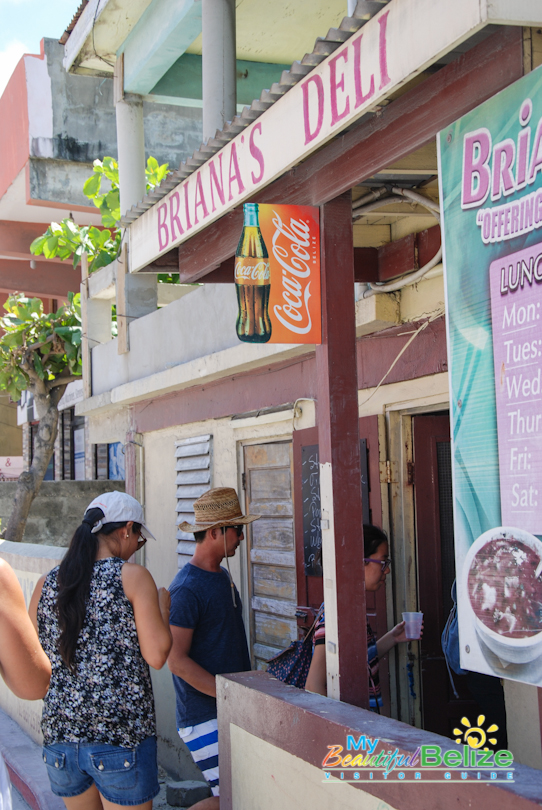 On the menu was their famous black soup: Chirmole. A Mestizo dish, the soup is blackened with a black recado (normally recado is red from the achiote). Felipe explained how black recado is made, with spices and masa and burnt tortillas. Served with hot corn tortillas, the soup went down a treat. Of course, we couldn't say no to the delicious watermelon juice either! Sip, Sip Ahhh!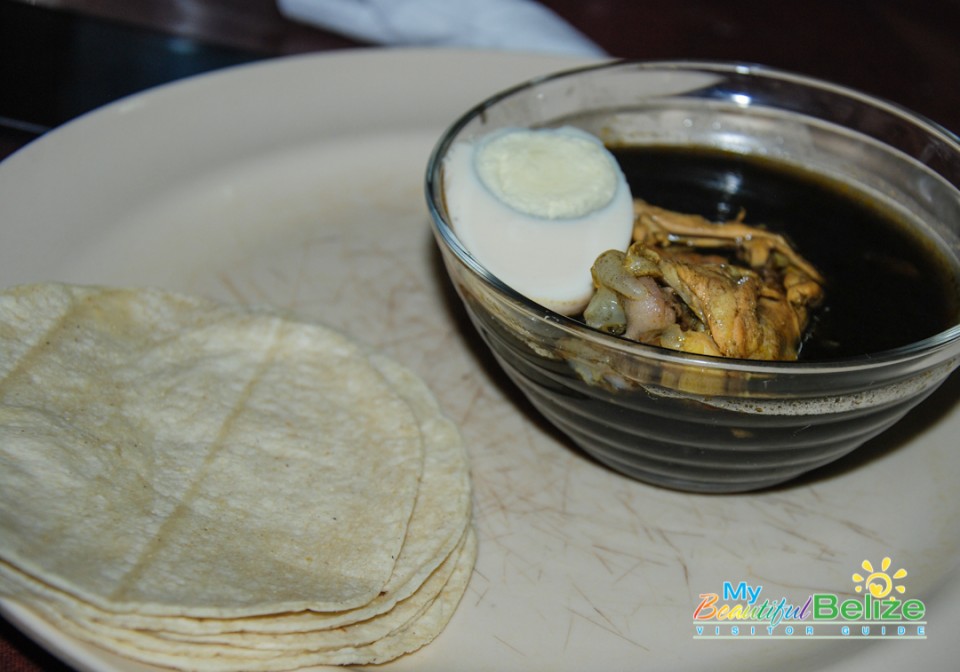 Once we were done, we headed outside where Dora pulled out a really nice treat: icy cold face cloths to cool us down from both the heat of the sun and the soup!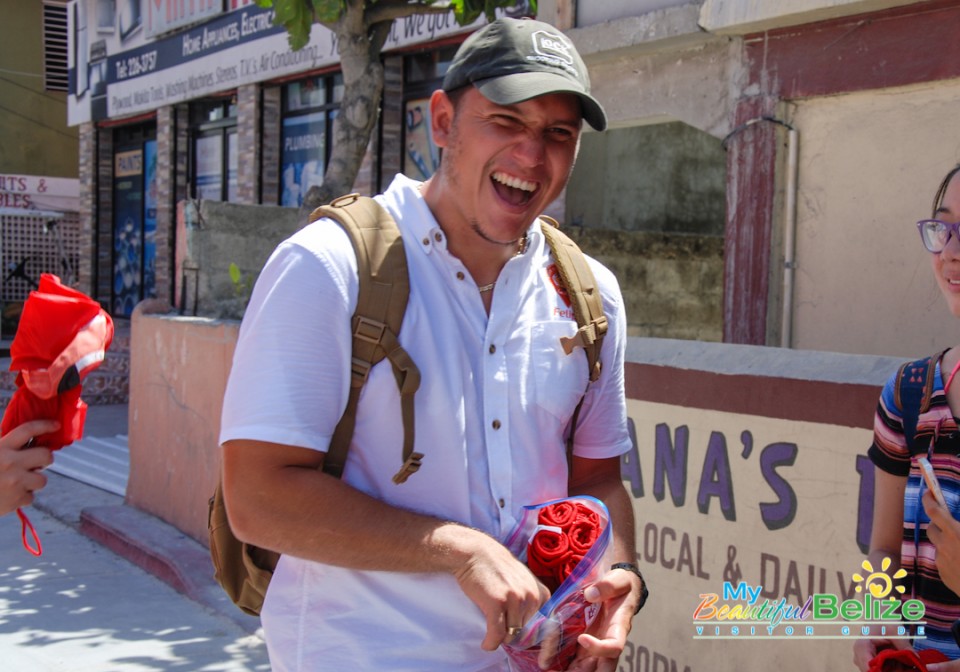 We followed our guide once more, the promise of more treats to come keeping us alert. Along the way, Felipe pointed out interesting landmarks and historic tidbits for our learning pleasure.
Soon, we neared our next destination: El Fogon.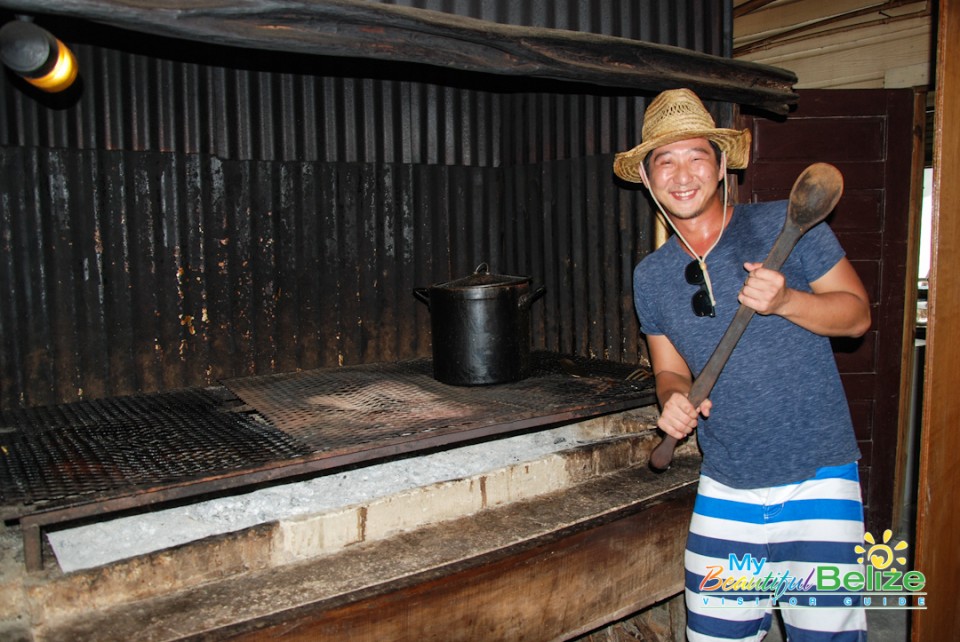 Known for their fire hearth (fogon) cooking, El Fogon has been putting out tasty, unique dishes for several years, first at the hands of Ms. Susana Eiley, and now under the management of her daughter Olive and son-in-law Fernando.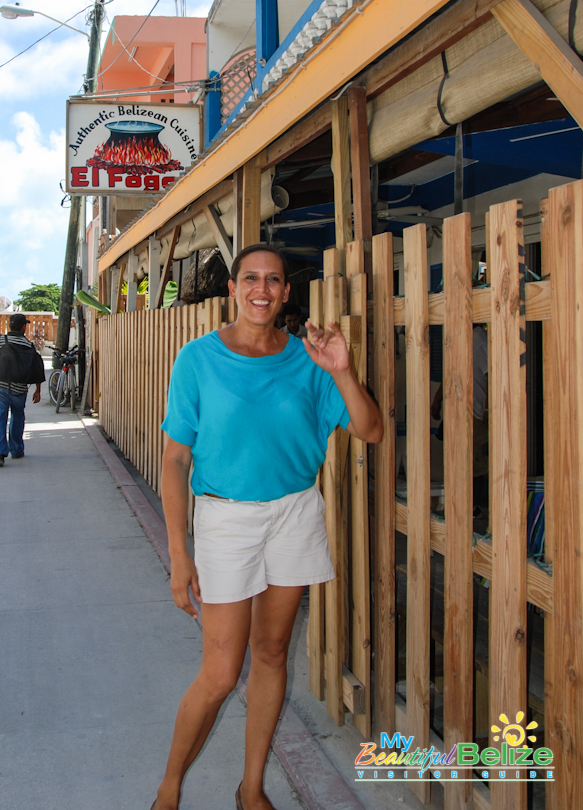 They greeted us warmly, with a refreshing rum punch made of natural juices. On the menu there was stewed gibnut and fish balls. Gibnut is a staple Belizean game meat (on the mainland), but for La Isla Bonita, well, it's a delicacy.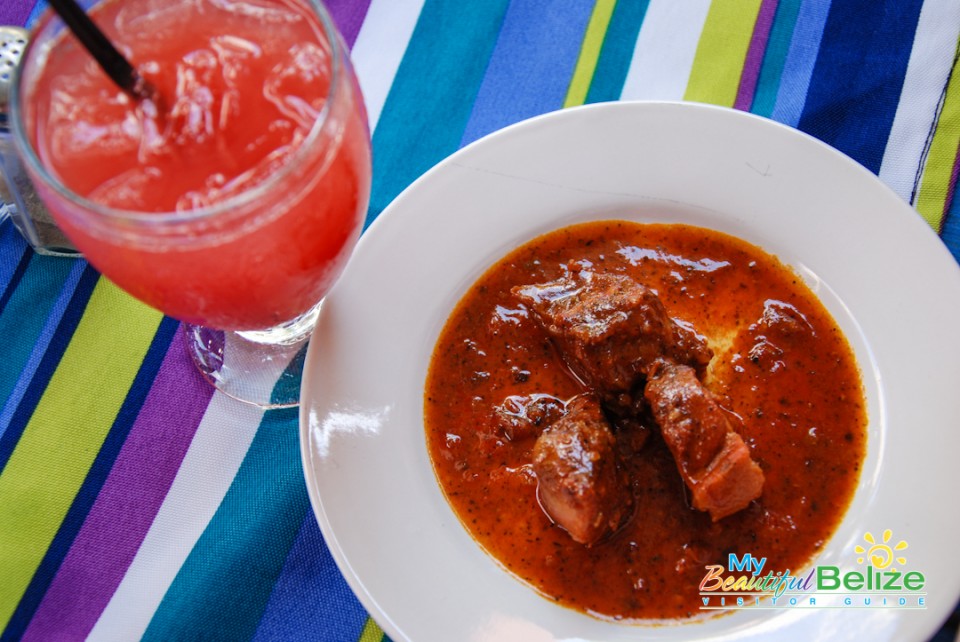 One of our tour members mentioned always seeing the item on the menu, but she'd never ventured to order an entire plate. Well, the tasty samples provided probably guaranteed next time she will! We also enjoyed some fish balls, a local favorite: shredded fish rolled in a batter with other seasonings then deep fried and served with a tangy sauce.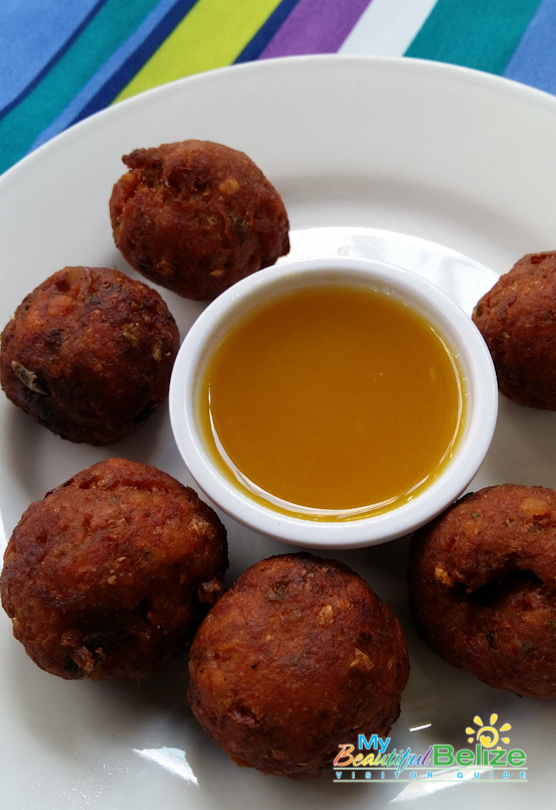 We were in food heaven!
Paradise beckoned however, when Dora announced with glee, that our last stop was dessert.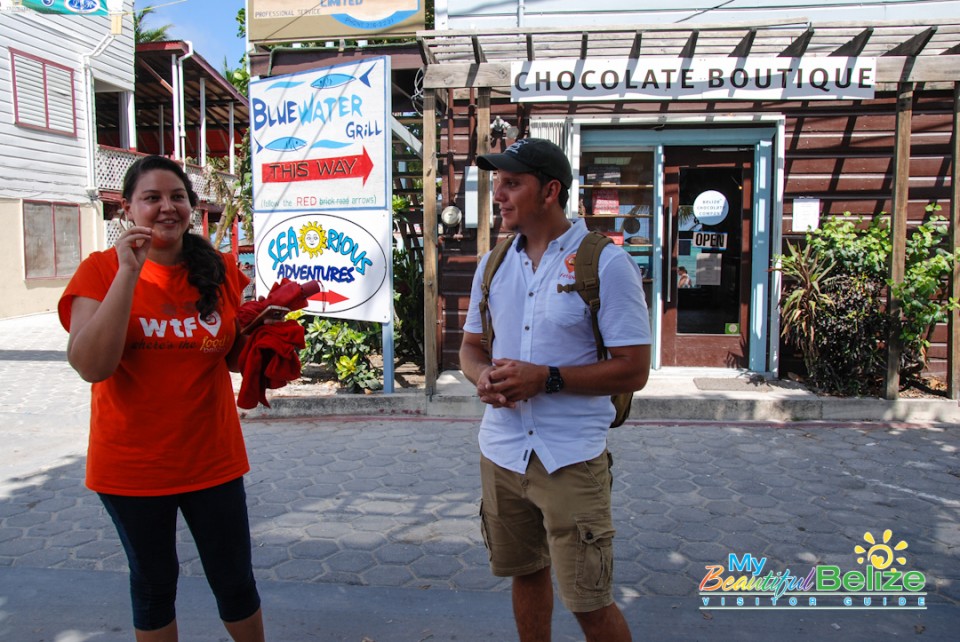 Belize Chocolate Company (Kakaw) utilizes the Belize-grown cacao sourced primarily from the Toledo district. Owners Chris and Jo have their own factory on the island, making small batches of premium chocolates, truffles, brownies, cookies, chocolate syrup, cocoa powder and so much more!
We enjoyed the delicious chocolaty treats, declaring the first ever food tour a sweet success!
Follow Belize Food Tours on Facebook, Instagram, Snapchat and of course, on their website: www.belizefoodtours.com. If you've tried it and loved it, be sure to let them know via TripAdvisor!
For those seeking tasty treats and wanting to experience a lot in one go, Belize Food Tours is the way to do it! Congratulations to the vibrant entrepreneurs on such a tasty, well-organized venture!