Creativity is often borne out of necessity, at times under pressure, even crisis. With the world seemingly still on a pause, it has been fascinating seeing the creative ways businesses and entrepreneurs have taken to make things work. On Ambergris Caye, one award-winning resort restaurant has opted to reinvent and reinvigorate its menu. Matachica Resort's Mambo restaurant has mastered a menu makeover at two skilled chefs' hands, and with the changes, a new, casual Mambo Bistro unveiled. Hotelier Daniel Lighter's sons Stephen and Nick have been at the resort for a few months due to the pandemic. Stephen is a graduate of the Culinary Institute of America and former Bouchon Bakery baker. He collaborated with his friend Leon Cerrado, former Chef de Partis at the world-famous French Laundry. Both Stephen and Leon worked together under the inimitable seven-Michelin-starred Thomas Keller.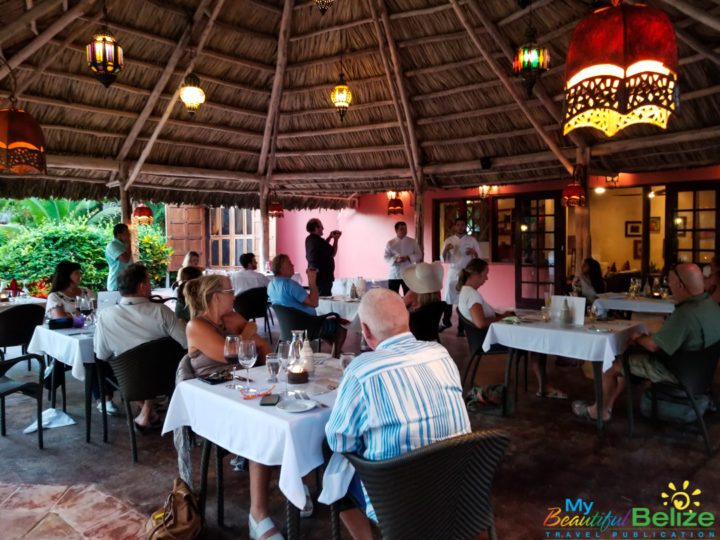 I will not lie, there was much a-fluttering when I learned of the chefs' experiences. This Food Network-watching, cookbook reading, wannabe Belizean foodie practically raced to dinner; my excitement was so real! However, more than the excitement of the Michelin stars was the curiosity on how local ingredients and new techniques could craft bold, fresh dishes.
Light French fare with a local Belizean Twist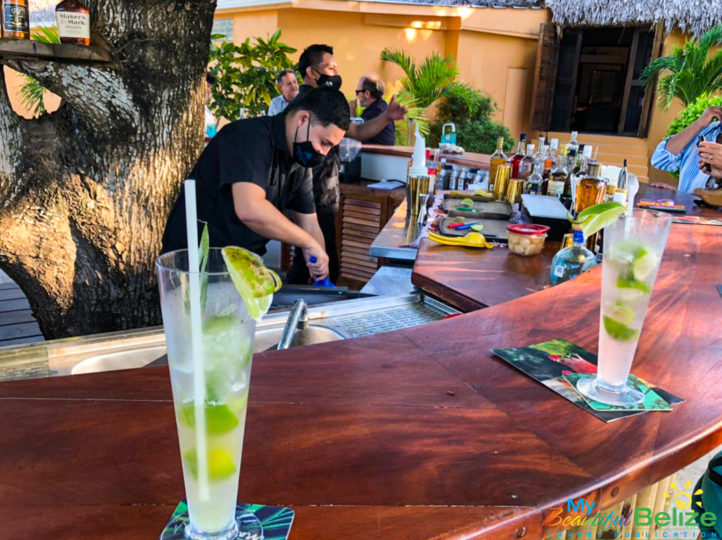 After a glorious social hour under Danny's Tree Bar, nibbling on tasty bar bites and sipping deliciously concocted cocktails, we were led to the dining area where items from both the new Bistro and revamped Mambo would be served.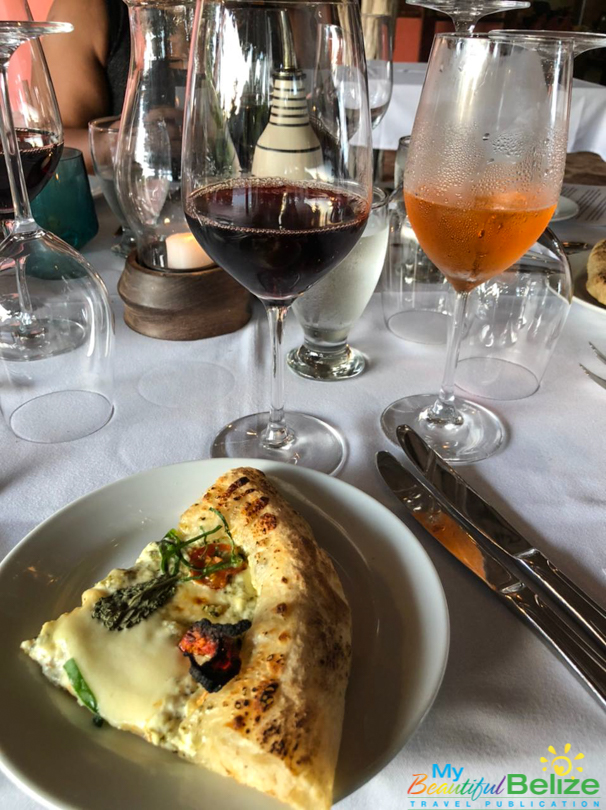 A specialty pizza led the show and wowed our tastebuds. Made with a homemade sourdough crust, the chewy, crusty dough was layered with a tangy sour cream and chimichurri base, topped with mozzarella, fresh basil, oregano, and tomatoes. It is the perfect, light beach fare for a bistro on the beautiful grounds of Matachica. That crust!
The carrot turmeric soup shot was perfect, chilled to perfection, and almost like an amuse-bouche to the next course. On a hot, humid day, a bowl of that soup, perhaps with some crusty bread from the in-house bakery, would make for a perfect light lunch! Or maybe we would be happy with their veggie burger slider. A fantastically seasoned homemade veggie patty made with quinoa and fresh vegetables, this slider slipped right into our hearts. Where's the beef? Who needs it! It is a delicious option for veggie lovers or if you are giving Meatless Mondays a chance.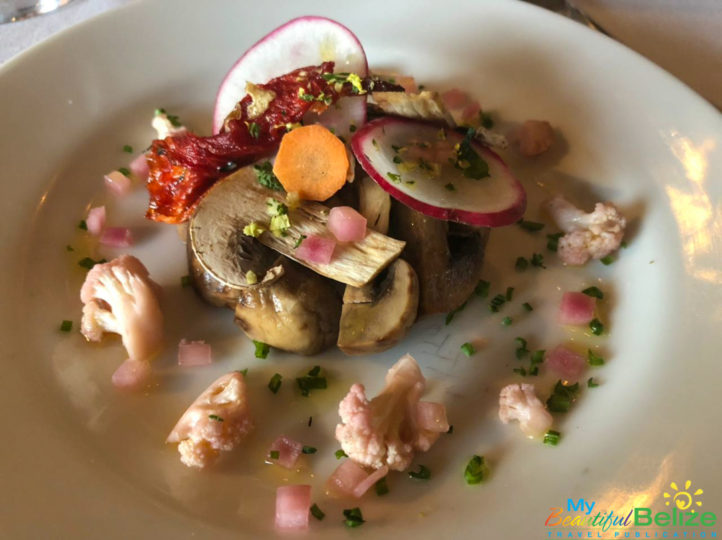 In showcasing the versatility of their sister property, Gaia's garden, the Mediterranean Mushrooms were boldly vegetarian. Poached in white wine and spices, button mushrooms were accompanied by pickled vegetables and sundried tomatoes. It was a mix of flavors and textures – soft mushrooms and crunchy pickled vegetables were both earthy and bright – what a delicious combination!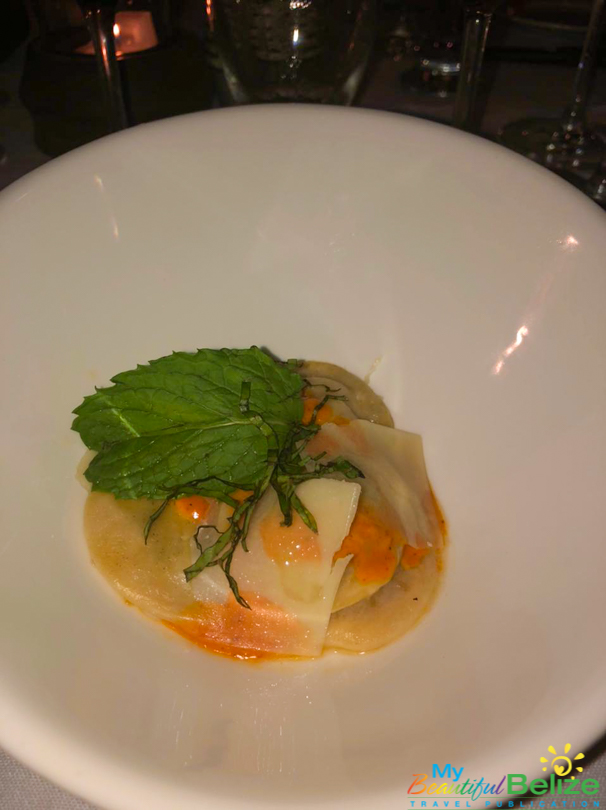 From the garden in the mountains, we dove for lobsters via their Lobster Ravioli. Another star of the night, these homemade raviolis were stuffed with spicy lobster meat, then topped with a unique recado-based sauce. Parmesan shavings topped the dish, along with fresh mint and basil for a complex, fresh finish. My companions were delighted with the combinations, and my recado-loving self was gleeful to see it used in such a unique way.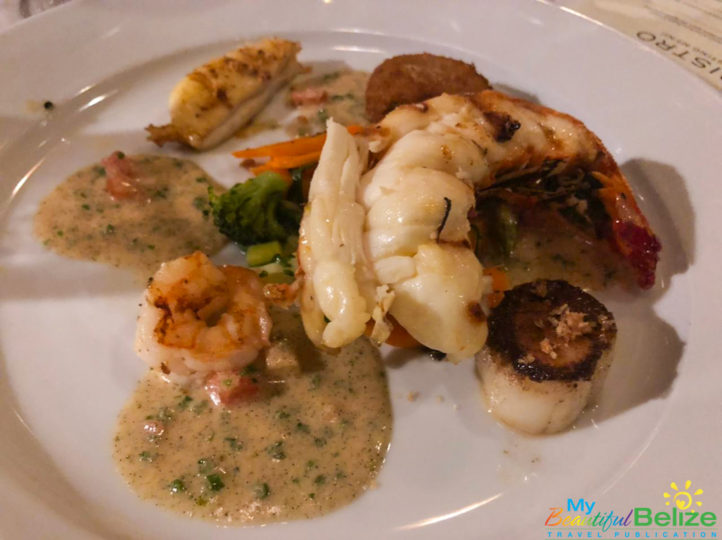 The final dish of the evening focused on the island's main cuisine: seafood. The Deep Blue was a combination of scallops, crab, shrimp, calamari, and lobster, topped with a sweet vanilla beurre blanc. We hear you: vanilla and seafood? Yes! The aromatic vanilla bean is used in many ways, and the bouquet brings the perfect light touch to briny seafood. The scallops and calamari were seared, while the spicy crab cake fried, and the shrimp prepared jerk style. The lobster was seasoned to utter perfection and grilled, topping various vegetables and crispy shallots for extra flavor and crunch. Each bite was nuanced, and the vanilla beurre blanc floated in and around, hitting a variety of notes depending on the style in which the seafood had been cooked.
You would think we had had enough, but dessert awaited, and we were not disappointed. A very pretty Mocha Tart provided complex flavors without overwhelming sweetness. In contrast, the whimsical mini key lime pie showed how to have fun with your food while bringing all the classic tangy flavors to life.
The entire evening was a symphony of flavors, a combination of creativity and talent, a clear effort to bring forth the new and exciting while still honoring the cuisine's innate identity at Mambo and Belize. We are so excited about what's to come!