There's nothing like sitting behind the computer, watching your social media feed full of images of the gorgeous sunshine, blue hues of water, and all kinds of jealousy-inducing fun. So, one Thursday afternoon, tired of the envious feelings, I got up, dragged my pal Janelle with me, and headed off to Castaway Caye to set up a parasailing adventure for the next day.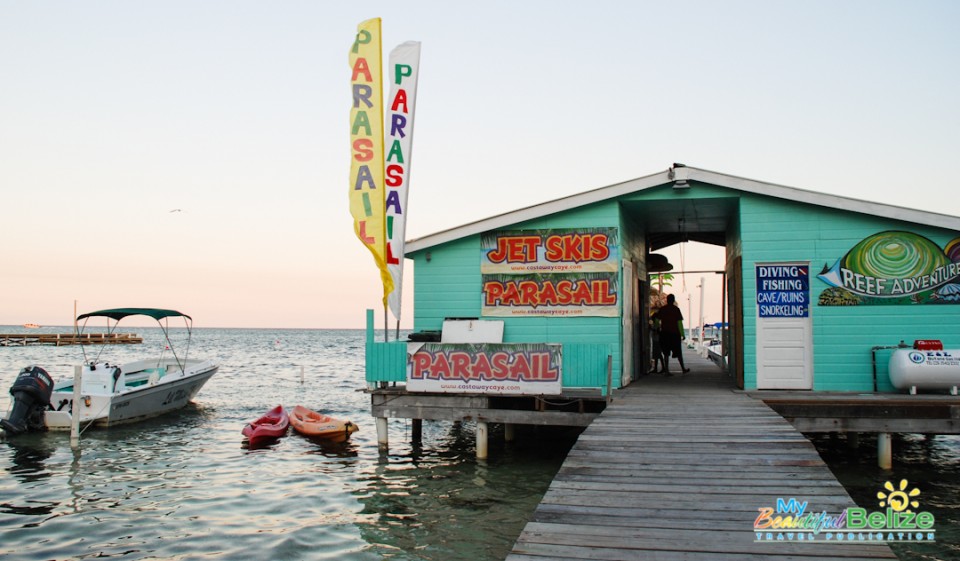 The winds have been delicious, and coupled with the sunshine, spotless blue skies and crystal clear waters, there is truly no better way to enjoy it all than dangling from a smiley faced chute as a boat sails you around.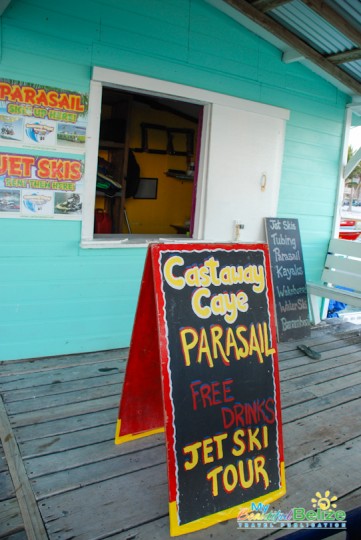 Imagine our surprise when Jimmy says, "Okay, let's go right now!" I mean, all you can say is "Okay!"
This is living the moment, and all thoughts of deadlines, computer screens and really, life, slip away as we get on the boat for our spontaneous little adventure.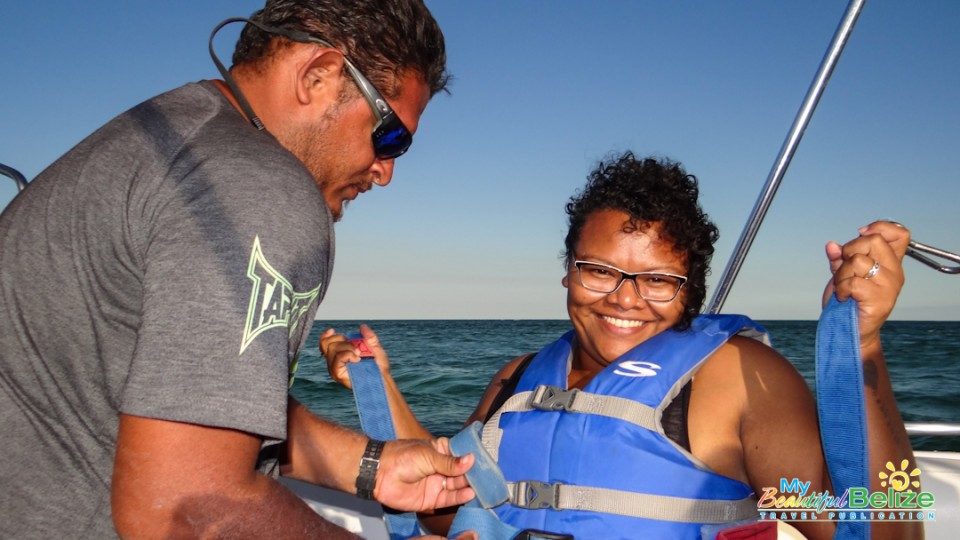 Do we let the boss know? Nahhhh…she'll figure it out when we come back to office MUCH later than the 15 minutes we promised! Teehee…and knowing her, she'd have joined in had she come with us too!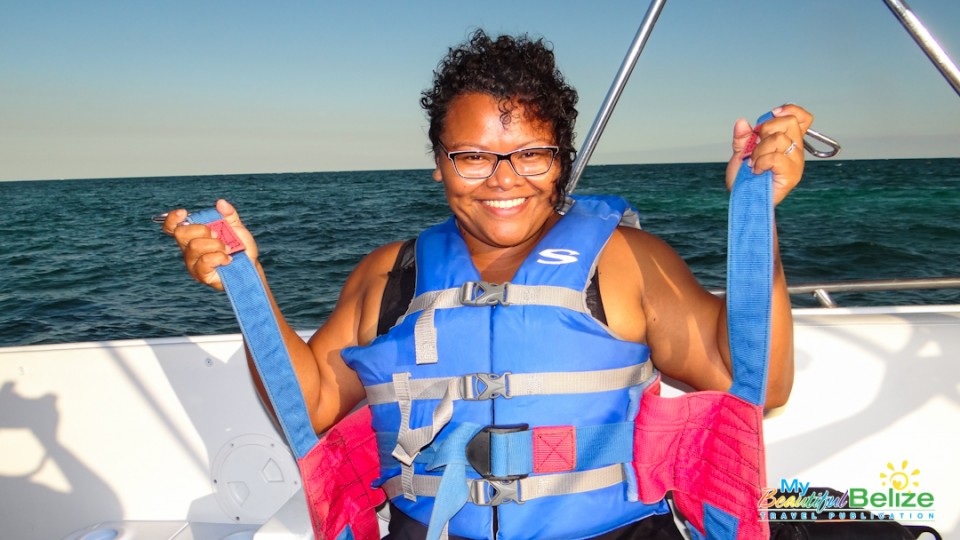 Jimmy and his right-hand man Eli and assistant Ahmad took care of us on the quick little boat ride out to sea from their dock, and within moments, Eli has me strapped in to a life vest and harness. I had a flashback to my previous skydiving adventure, and oh my how my excitement grew! Back in the air I go, but this time from the 'ground' up.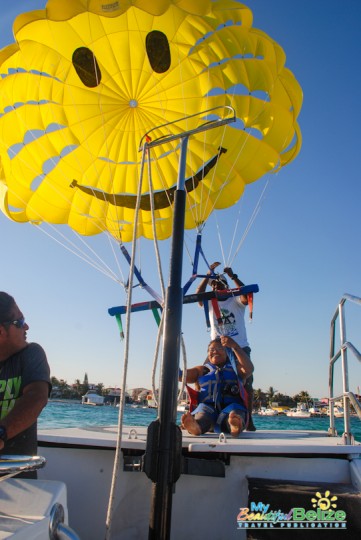 Jimmy explained what I needed to do, and at the right moment, I walked up to the bow of the boat, right at the bulls-eye, and got clipped on to the bar attached to the chute.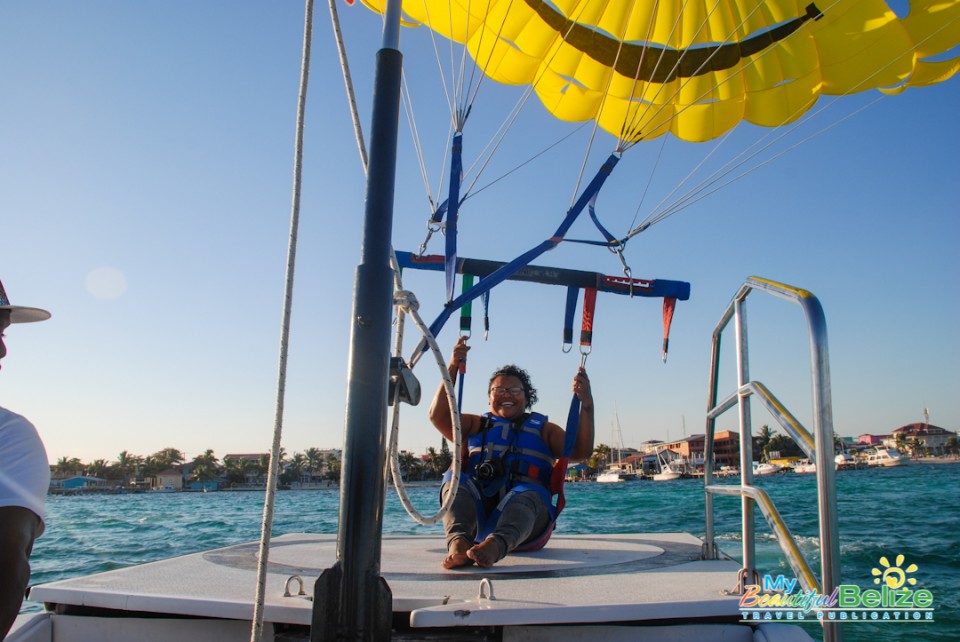 I sat with feet extended towards the boat, and shortly the tug of the line began pulling. Almost before I knew it, boom, I was in the air and heading up, up, up and away! Wheeeee!!!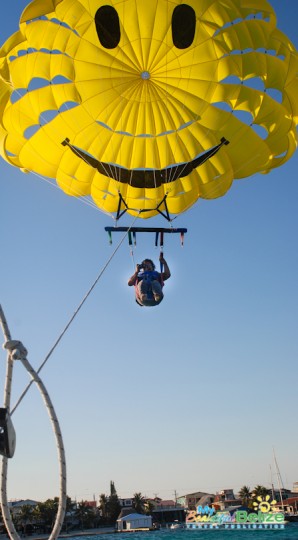 All around me, visions of blue water and the crest of the barrier reef…and oh how exciting it was to catch a glimpse of a turtle coming up for air!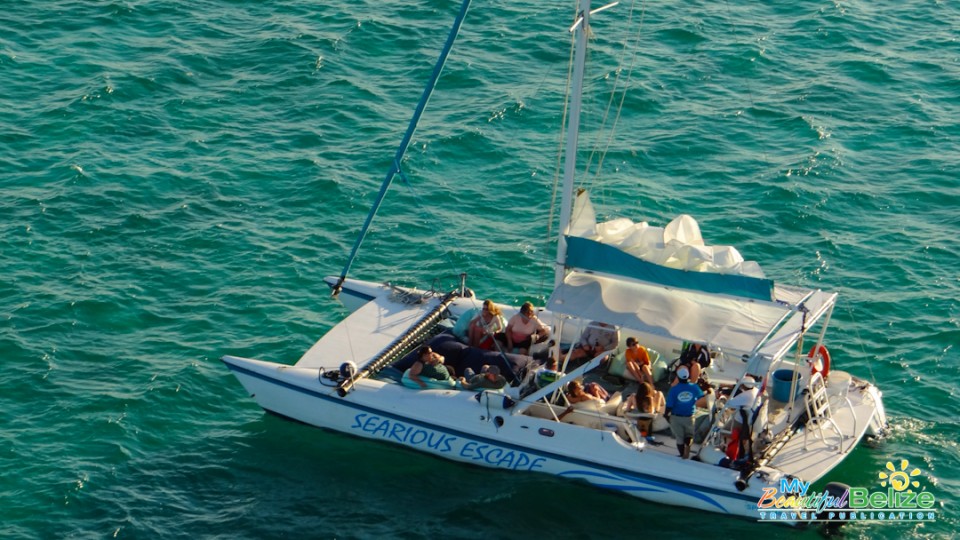 A catamaran boat packed with happy tourists passed below, and we exchanged shouts of encouragement and waves. What a happy feeling to be a part of the fun, in, around and over the water.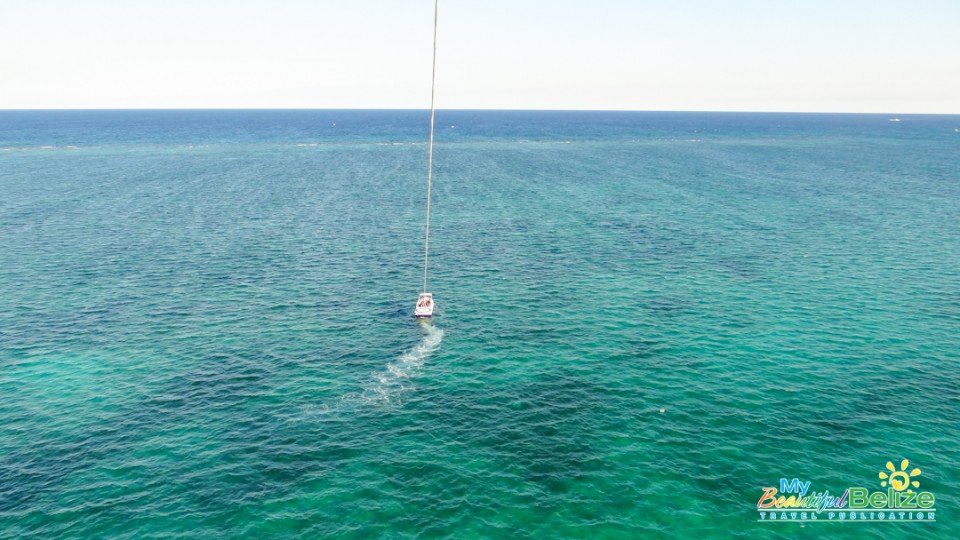 Like Jimmy had prepared, when the winds kicked up a notch, I simply swayed in the breeze, pretending I was on a playground swing and just enjoying the feeling of being suspended in the air.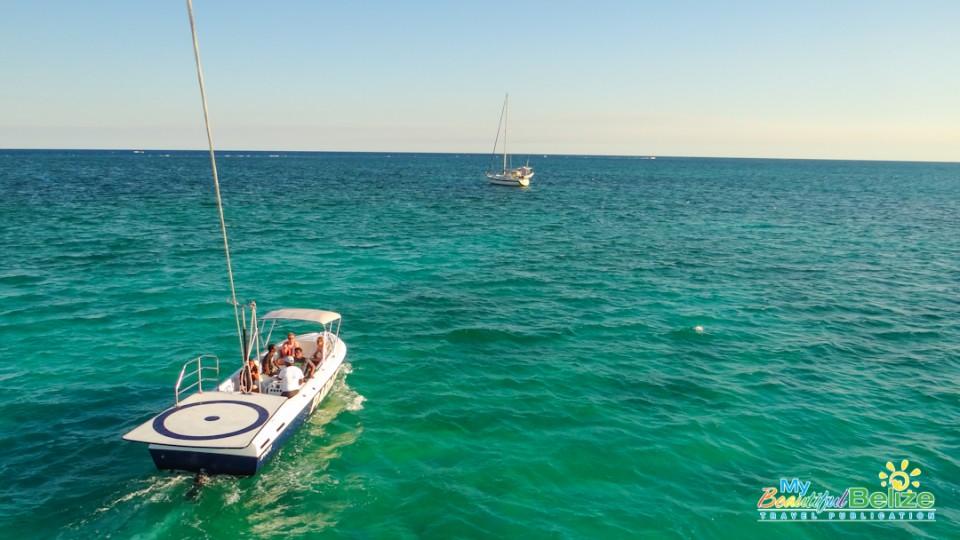 For the fifteen minutes I hovered in the air, I calmed down and took refreshing breaths and recalibrated. I highly recommend that you try this out sometime…or lots of times!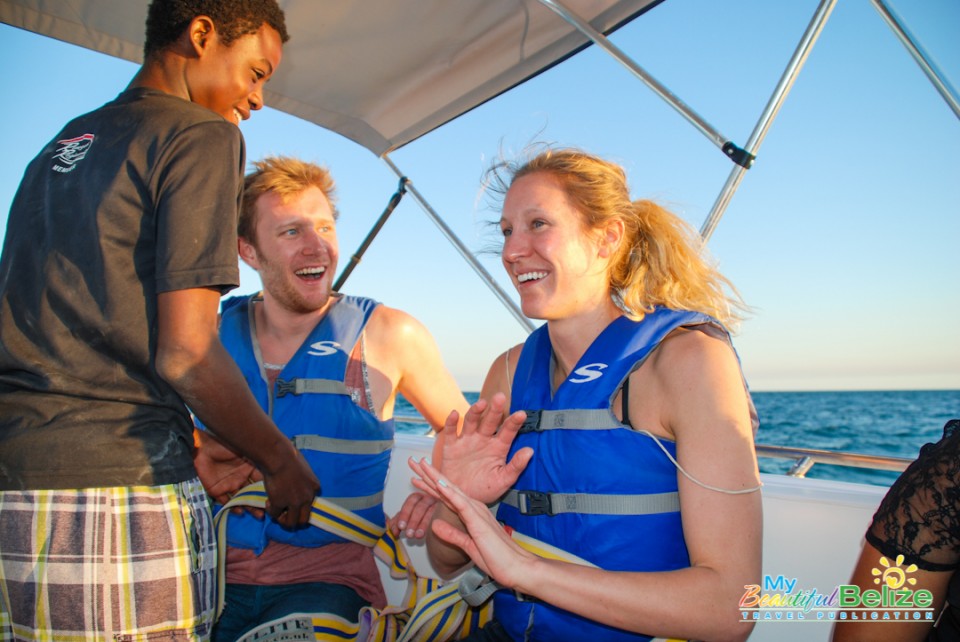 When I made it back to the boat, I sat back and watched other guests overcome their fear of heights as they braved the parasail.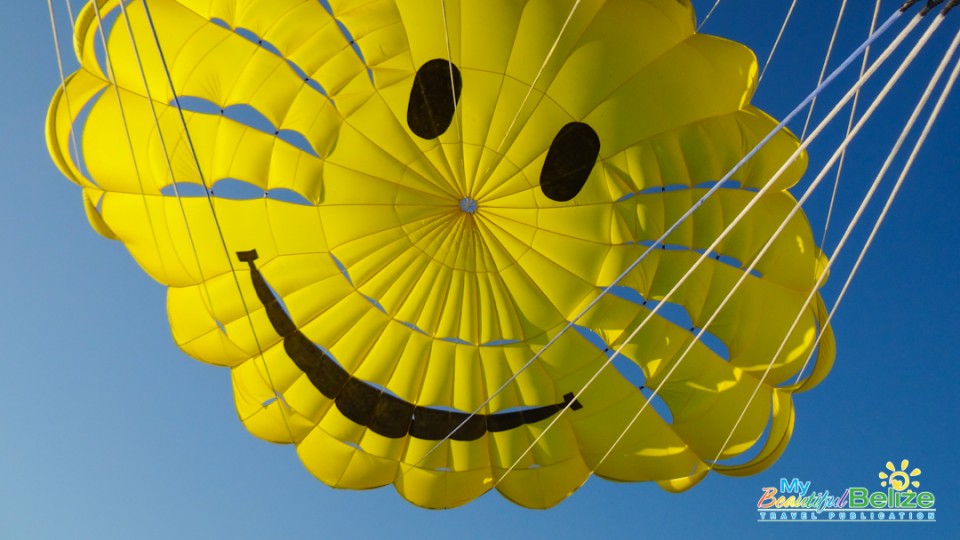 The sun began dipping down and the vistas changed…still beautiful, but even more serene.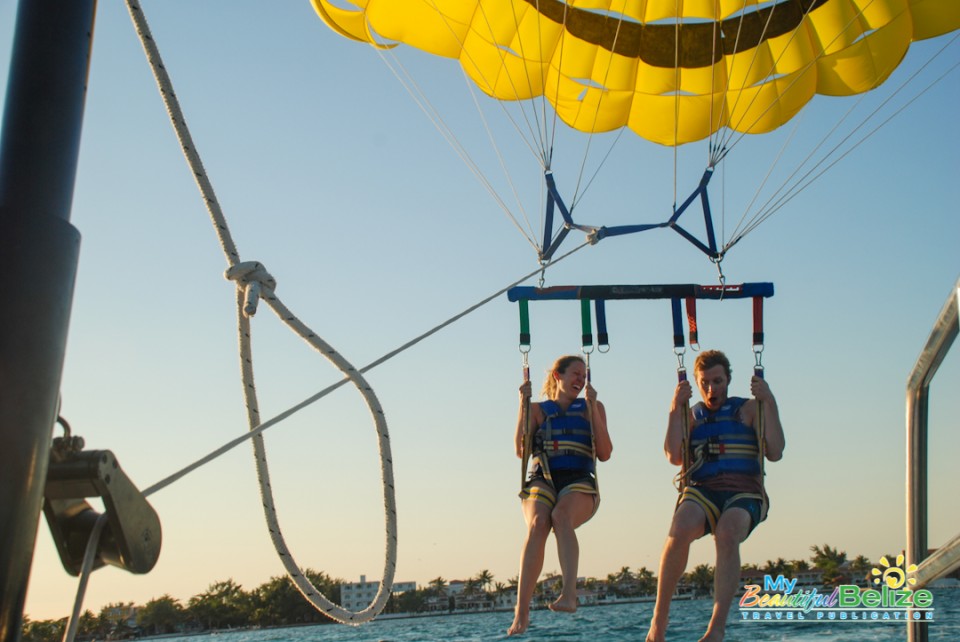 Our friends even got a chance to dip their feet in the water from their parasail perch, before making it back to the boat, ready for a rum punch or beer to toast their wonderful adventure.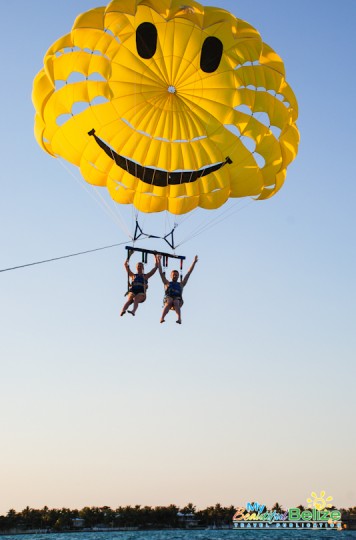 Cheers to Castaway Caye, and the smiley parasail that reflects our happiness while enjoying the vistas from above!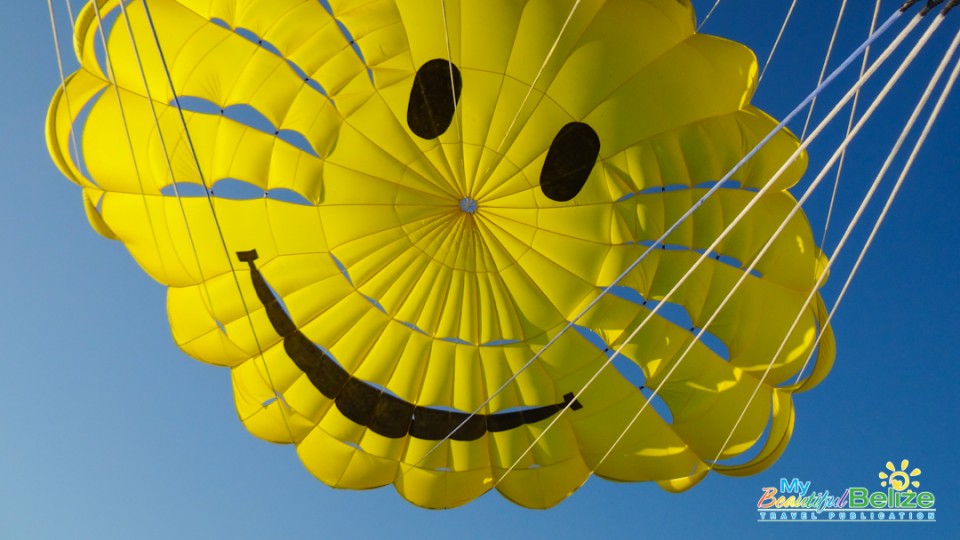 Castaway Caye Watersports is located on the Wet Willy's Dock in Boca Del Rio. Apart from Parasailing, they offer Jet-ski fun, wakeboarding and more! They're open from 8AM – 5:30PM, and you can call them at 671-3000. Check them out on Facebook and make your reservations via [email protected]