Everyone knows we love adventure, I mean that's no secret, and we're pretty sure you do too! In fact, that might be the very reason you're actually in Belize. When it comes to making the most of your stay, we know that's serious business! So we have got you covered! As usual, we're in a constant effort to cover as much of The Jewel as possible when we seek out activities that you'll enjoy just as much as we do!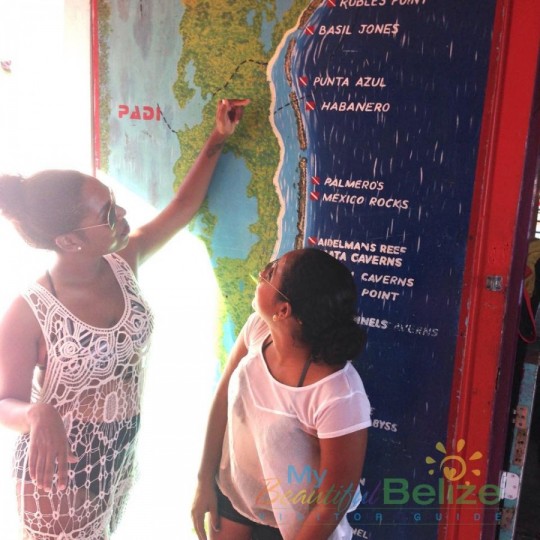 Our latest adventure took us about 600 feet above ground (yikes), and man oh man did it get our adrenaline pumping! We're talking parasailing with CastAway Caye Water Sports on Ambergris Caye. Janelle and I were looking for adventure and we sure found that and a whole lot more with these guys!
We booked our tours with Karen, the very accommodating manager who let us know we'd be joining another couple that evening. So, with swimsuits on and cameras ready we headed over to their dock! Captain Alex and Tevin would be taking us on our aerial journey, but we were a bit early, so we decided to have some girl time and take out a kayak, especially since the waters were so pretty that day (NO Sargasso in sight). We paddled out for about 15 minutes before we decided that our muscles were virtually marshmallows and that this was way too much work, so we headed back in.
Our partners were already there and just about ready to go! We followed Alex and Tevin to the boat and as we boarded we got a brief run down on the safety measures.
Janelle and I would be second to go so we had plenty of time to see just what we were in for, and if we wanted to abandon ship, haha!
Tevin got the couple strapped into the parasail seats and before you knew it the colorful parachute goes up, up and away!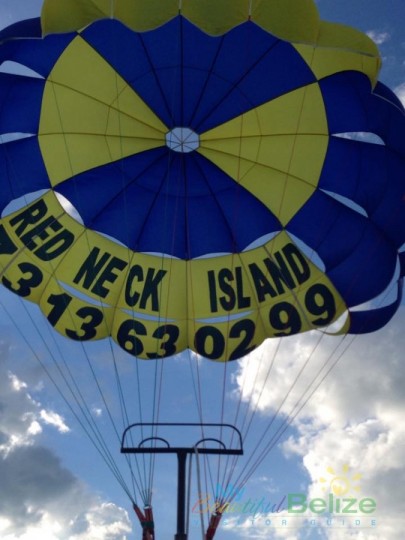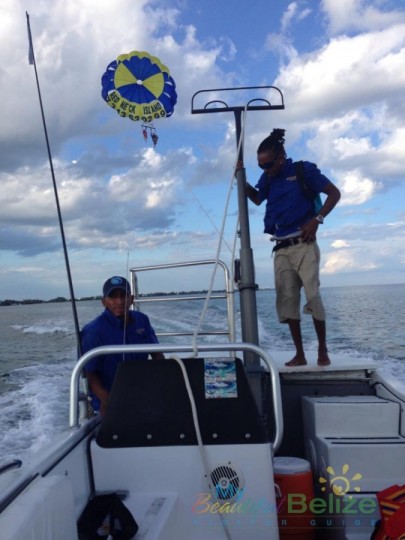 We watched them high in the sky and could hardly contain our excitement I got to admit I was a bit nervous, but nothing a good ole' glass of rum punch couldn't cure! So Tevin poured us up a beverage from an ice box filled with our favorite goodies (Belikins, Lighthouse, sodas, Rum Punch and plenty of water) – thanks guys!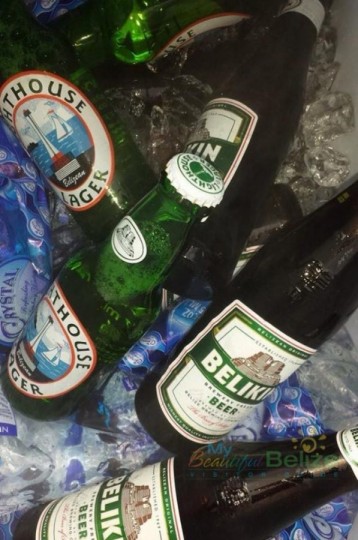 And then it was our turn…..with a couple clicks to secure us to the harnesses and a few safety tugs we were ready! We held on tight as we prepared to take flight and away we were in no time! We elevated in to the sky as smooth as butter! Everything looked a bit smaller from up here, especially Tevin who was waving to us from below! We watched the sea that was flat and glossy, calm enough to see turtles and rays even! We had the perfect bird's eye view of the lagoon as it met the sea again and the calm reef as gentle waves tumbled over it.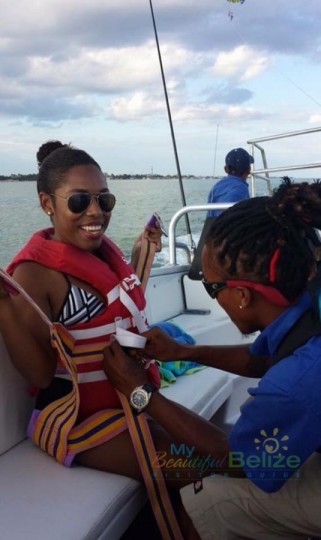 Once we were over our initial nervousness everything was so serene, and the wind was gentle on us too! Our chute flew smoothly through clear skies as we took in the beauty of La Isla Bonita.
Before we knew it our time was coming to an end. Alex brought us down close enough to dip our toes into the water but then surprised us by accelerating the boat engines and up we went again! Dang! Talk about excitement. We enjoyed a few more minutes of flight time and then it really was time to bring us down! Tevin reeled us in gently and got our gear off! We thanked him with high fives!
As we made our way back to the dock, the guys got the music pumping and of course poured up some more Rum Punch! We thanked them once more for an amazing day and took a few selfies to cherish the moment (Because you know- it didn't happen unless you have the selfie to prove it)!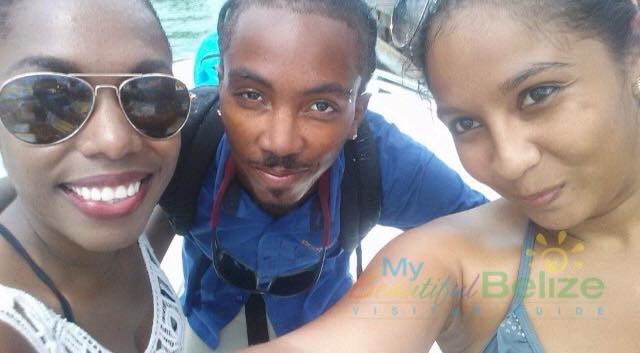 We HIGHLY (no pun intended) recommend this tour whenever you find yourself on Ambergris Caye! These awesome guys made for a great time and the experience itself was every bit of amazing!
To book a parasailing tour or to arrange other water activities (jet skis, banana boat rides, kayaks etc) contact them at (501) 671-300.