Suffering from "stuck song syndrome," otherwise known as the pesky earworm, I'm plagued with the Tom Paxton "Going to the Zoo" song as we walk into the entrance way of the Belize Zoo and Tropical Education Center. In my brain the song skips on replay for the next two and a half hours with intermittent content diversions…we're going to the zoo, zoo, zoo…OH LOOK a tapir taking a bath…how about you, you, you…WOW check out Junior the jaguar napping, I wanna rub his belly… you can come too, too, too…OMG what's that smell, peccary?…we're going to the zoo, zoo, zoo…AHHH baby monkeys!!!
No matter what our age, going to the zoo resurrects a childlike excitement that never grows old. Sure, as an adult I would prefer to see the exotic animals of Belize in the wild, but we all know how likely those chances are! Somehow I don't see myself spending days hiking deep within the jungle just to catch a glimpse of the elusive jaguar, or following a tapir path for miles in hopes of spotting our national animal. Admiring these beautiful creatures within a natural habitat at the zoo is the closest I will ever get, and with some of them I'm happy to have a fence between us! My, what big teeth you have Junior!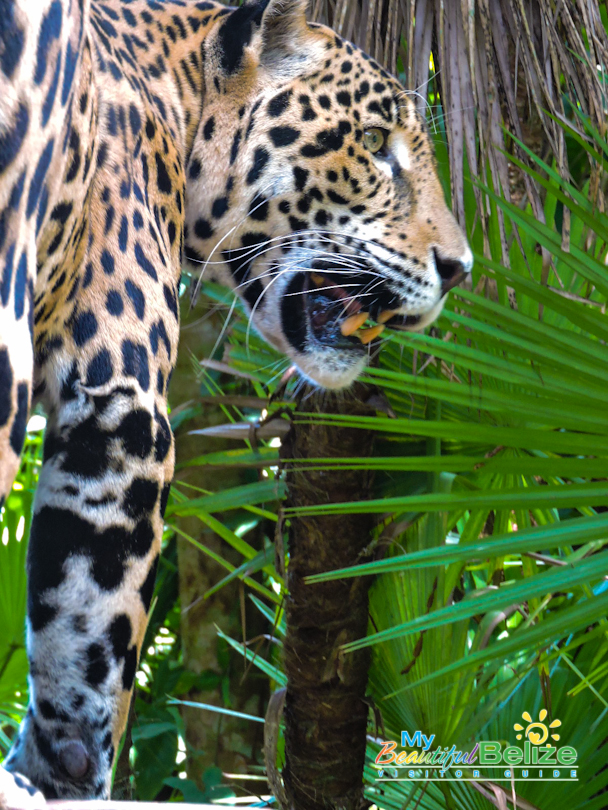 What I love about the Belize Zoo is that it's more of an animal refuge and education center than showcasing animals in cages. Spread over 29 acres, spacious, wild dwellings are suited to the specific needs of each animal. The zoo was started in 1983 when a collection of wild animals used in making documentary films were in desperate need of a home. The zoo now houses more than 150 animals representing 45 native species, and all of them were either orphaned, rescued, rehabilitated, born at the zoo or donated from other zoological institutions. No wild catches here! These animal ambassadors represent their species in fine fashion, and are essential in educating the public and instilling an appreciation for Belizean wildlife.
One of my favorite zoo residents is the black jaguar, Lucky Boy. In July 2012 I closely followed his heartbreaking story, when he had been left for dead in a cage after those responsible for his care abandoned him. In an impressive effort by members from the Belize Wildlife Conservation Network, Lucky Boy was rescued. Near death, the emaciated jaguar was found starving and riddled with parasites. Nothing but skin and bones, his recovery was questionable at best, but under intensive care, and taken in by the Belize Zoo, Lucky Boy is now a gorgeous, healthy big cat. Who doesn't love a good animal rescue story? Too bad he was camera shy and wouldn't pose for us like we wanted!
Being a self-proclaimed 'bird brain,' Panama the Harpy Eagle is a bird of prey that has also captured my heart. Harpy Eagles are the largest and most powerful raptors in the Americas and are considered nearly extinct in Central America. Hatched in 2002 in Panama, under the Harpy Eagle Restoration Program, 'Panama' suffered damage to his left eye when 'exiting the egg' and was deemed un-releasable into the wild. Panama is quite the celebrity at the zoo, and he along with other zoo residents even have birthday parties in their honor! How about that!
It's hard to imagine a person leaving the zoo without realizing how fortunate we are that these magnificent creatures call Belize home. We can only hope that a seed of responsibility to conserve and protect these animals has been planted, and that the sense of stewardship will continue to grow.
The Belize Zoo is located at mile 29 on the George Price/Western Highway. Admission is $15US for adults and $5US for children, Belizean residents are $7BZ per adult and $2BZ per child. Hours are 8:30AM to 5PM daily. For more information please visit their website at www.belizezoo.org