For as long as I can remember, I have always been a sea/caye person. Give me the sea, the sun and little spot to relax, and I'm the happiest person in this world. As such, a Waterfall Cave Expedition via Ian Anderson's Cave Branch Jungle Lodge was definitely something out of my comfort zone. However, I don't regret it one bit!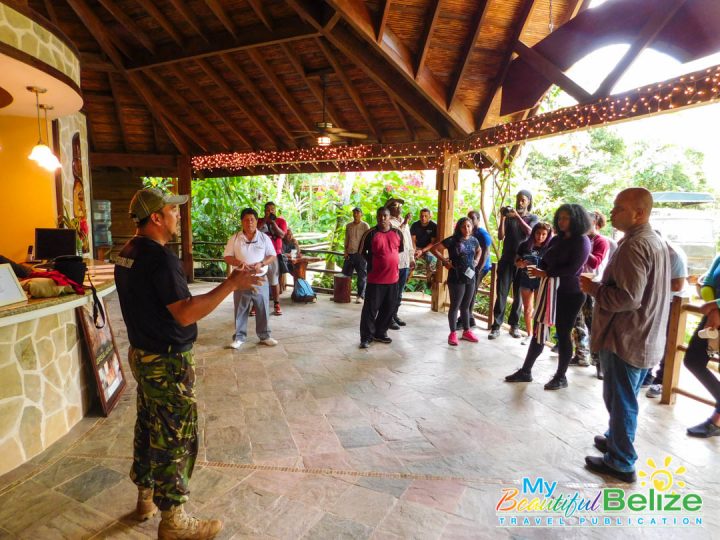 As part of our annual media familiarization tours hosted by the Belize Tourism Board, adventure was to be had! The tour began around 10am, departing from Ian Anderson's Cave Branch Jungle Lodge with all of us transported in a rustic open-air bus to an area close to the cave. After that, it was a vigorous 30-minute hike three kilometers through the jungle. I was mostly worried about the mosquitoes and bug bites, not about a jaguar encounter or snakes or other jungle animals. A bath in insect repellent solved my issues, and all I concentrated on after was the birds chirping here and there, and the excitement when one of my colleagues accidentally startled a small boa constrictor. One of our tour guides, Carlos Hernandez noted it had just eaten, as its stomach was swollen, and such there was no aggression. That was a relief! When we arrived at the entrance of the Waterfall Cave, Hernandez gave us a quick briefing on what to expect inside.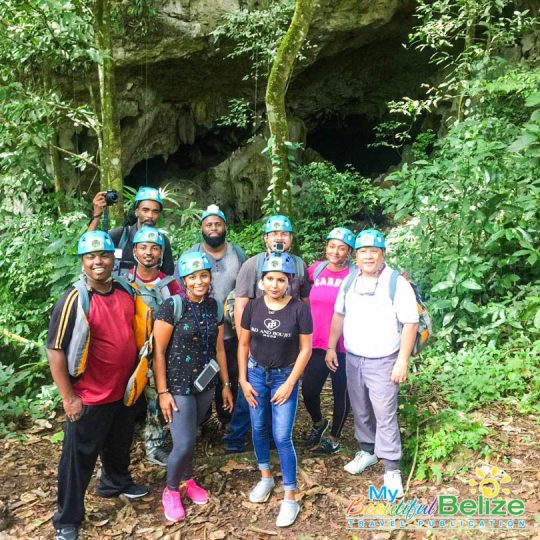 I was immediately impressed with the cave's impressive ceiling heights, and the bats flying all over at the top, which meant no mosquitoes! Our trek continued deeper into the cave, where we encountered amazing sculptures believed to have been done by the Maya, who used the caves to perform their rituals and sacrifices centuries ago. During this tour, we learned about the history of the cave and more about the Maya world as our guides point out ancient ceremonial centers, altars, artifacts, among other amazing things throughout our hike.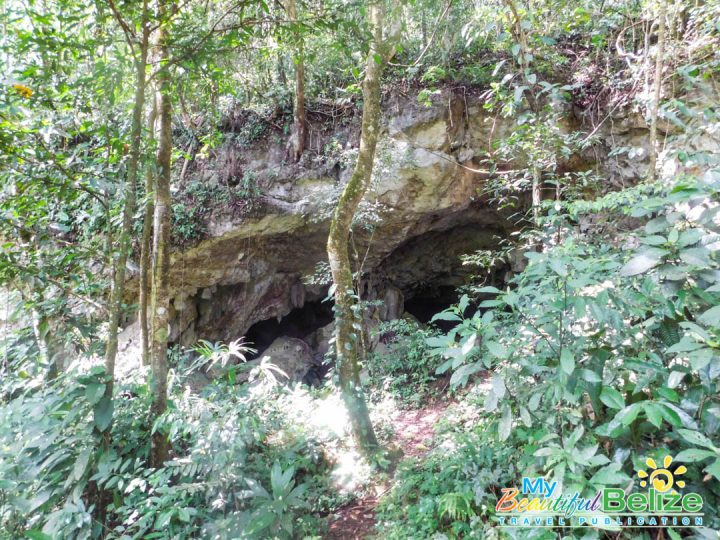 After almost 45 minutes of trekking, it was time to get wet! Our hike took us up, up, and all the way to the top of various waterfalls where the true fun began. Our hike included plunging into refreshing pools, and the higher we went, the more breathtaking the stalactites and stalagmites were. Their sparkle motivated me even more to continue, as I wanted to see what was next.
At the top of the last waterfall, I felt like a Belizean Dr. Henry Walton ("Indiana Jones") after all. I had just conquered one of the ultimate cave expeditions in Belize!
On the way back through the waterfalls some brave souls opted to jump off each waterfall and into the pools below! I opted to be lowered by ropes (you know, to ensure this story would be written!). When we made it back to the base area of the cave, Cave Branch tour guides had already set up one of the cutest lunch areas ever! A white picnic blanket and candles were laid out on over a rock, with tortillas, cold cuts, fresh vegetables, and fruits ready for consumption. Eating a burrito deep inside a cave was one of the most memorable experiences ever. After all that trekking, swimming, and hiking over a few hours, believe me when I tell you it was, they were the BEST burritos I've had for this entire year. ( Editor's note: he's still talking about those burritos!)
After our short lunch break, we continued trekking until we made it out of the cave around 3pm. We then hiked back through the jungle, where our driver was waiting with our fancy ride. He took us back to the lodge where we took much-needed warm showers and rest.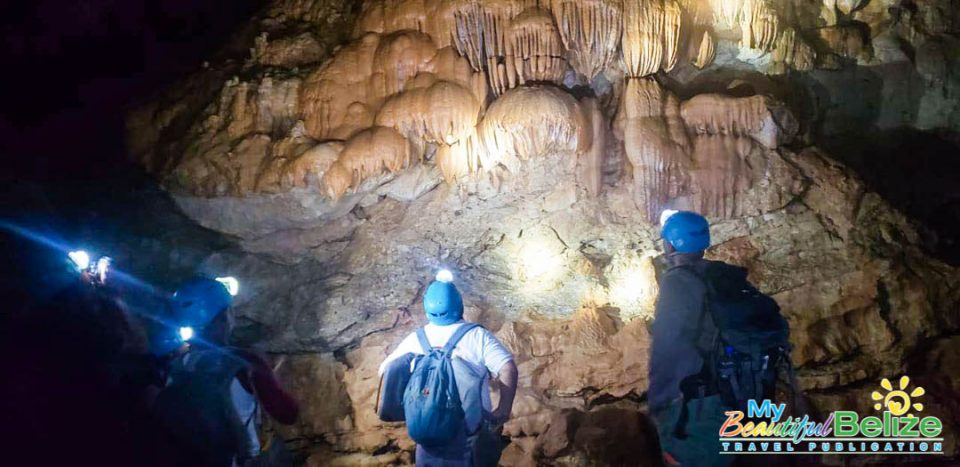 More than four hours were spent viewing spectacular formations and ancient Maya ceremonial centers inside a mist-shrouded kingdom. I can say it was of one of my best adventurous experiences ever. It may have been my first cave expedition, but it will not be my last!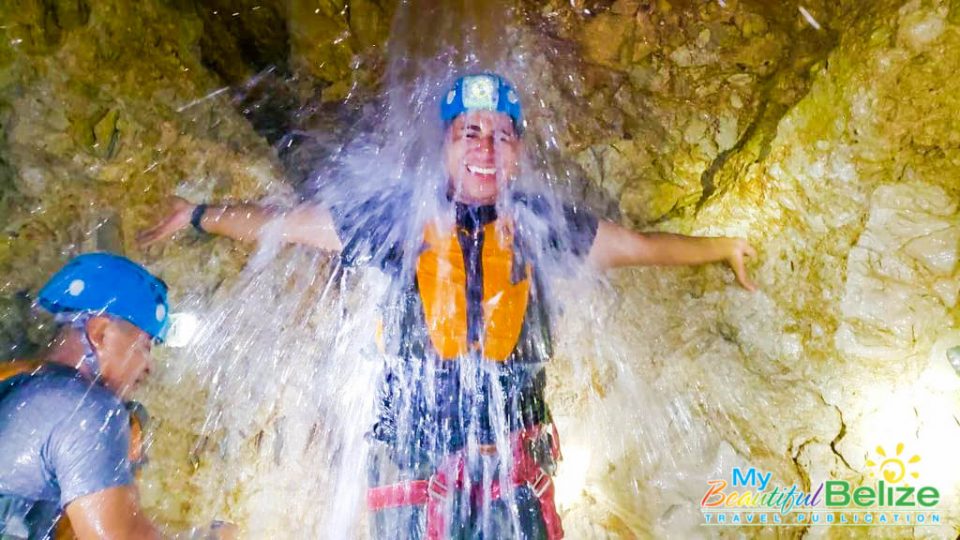 This amazing Waterfall Cave Expedition tour offered only by Ian Anderson's Cave Branch Adventure Company and Jungle Lodge on Hummingbird Highway in the Cayo District. They further offer a wide variety of caving experiences, from moderate to extreme. Tours can be booked directly through their website at https://www.cavesbranch.com/belize-cave-tours. Some caving rules include lightweight walking long pants (no short pants allowed) that can get wet, well-treaded sneakers or enclosed hiking sandals or boots, bug repellent, and a water bottle. Guided tours usually provide any gear necessary, such as headlamps, flashlights, life jackets, etc.