At the iconic Elvi's Kitchen, something good never stops cooking. The popular restaurant on Pescador Drive (middle street) and recently awarded the Belize Tourism Board Restaurant of the Year 2022,  took its yearly break in September and reopened with a new façade and tasty surprises on its menu. My Beautiful Belize was invited to the restaurant to learn more about what they have in store. From liqueur and cocktail tasting to delightful dishes, the Elvi's Kitchen experience did not disappoint, and here we share with you what is happening at the legendary restaurant.
Elvi's Kitchen welcomes you with a classic Belizean ambiance with Yucatecan Maya flair. You have the option to enjoy fine dining in the sandy floor dining room, with their signature lighted flamboyant tree, or in their air-conditioned seating area. This intimate space is ideal for larger groups, with one wall adorned with colorful local artwork for sale.
Elvi's restaurant and bar manager, Oscar, cheerfully welcomed us, and the libation tasting began. He has been working on liqueurs to produce signature drinks. The four samplers included hibiscus, chipotle, blackberry, and chocolate. The blackberry and chocolate were among the favorites; the hibiscus, more on the sweet side, and chipotle, with its spicy notes, were also winners. After tasting small samples of each, cocktails blended with the signature liqueurs were served throughout the evening.
The food presentation began, starting with a ginger-coconut shrimp appetizer. Lightly breaded, crunchy, sweet, and tangy, the flavors perfectly complemented the tender shrimp. Next, we savored a delightful conch, avocado salad, and a tuna crudito on top of avocado and mango. The artfully presented appetizers were equally lovely to the tastebuds, with the delicate tuna and conch the stars of each dish.
We all love onion rings, and Elvi's local touch to these crispy favorites is nothing short of brilliant. Spiced with red, black, and white Belizean recado, the color combinations each had subtle accents of smoky recado, a traditional spice mixture usually made with annatto, oregano, cumin, clove, cinnamon, black pepper, allspice, garlic, and salt.
Undoubtedly the most unexpected treat of the evening was a new twist on an island favorite. Instead of using seafood in the ceviche, we were surprised with delicate slices of young coconut, which mimicked the consistency and texture of the conch. The coconut served as the perfect medium for absorbing the robust flavors of fresh chopped tomatoes, red onion, cilantro, and lime juice, the usual base for ceviche. An added touch to this tasty dish included diced mango as well! Served with fresh corn tortillas and plantain chips, this popular dish was elevated to a new level. Not only was it delicious, but a perfect option for vegans.
With a growing demand for vegetarian dishes, Elvis has thoughtfully added new choices to their menu, including a vibrant purple pasta cooked in beet juice garnished with sweet corn kernels and topped with an edible marigold flower. And in homage to traditional Maya dishes, Sikil Pak, this spread is made of ground pumpkin seeds and roasted tomatoes with a combination of traditional spices. It is served with handmade corn tortillas and has the consistency of a nutty pesto. Super yummy!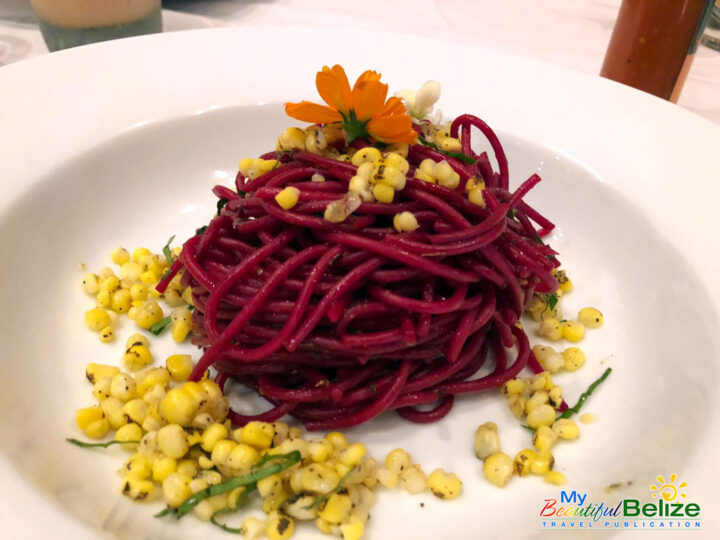 Main dishes
Elvi's famous Stone Crab claws (a sustainable resource) were next. A royal dish only found at Elvi's Kitchen and prepared by its renowned Chef, Jennie Staines. There was the option to savor this delicacy with garlic butter sauce or chipotle. The claws were sweet, meaty, and easy to eat as they were served pre-cracked—no need to work for your meal, just enjoy all that deliciousness. Chef Jennie joined the table while we devoured the tasty crustacean and engaged in an all-things-food conversation.
As if we hadn't had enough to eat, coconut curry shrimp served in a halved coconut shell was the next dish before us. Rich golden curry sauce with sweet chunks of ripe plantain and succulent shrimp on a bamboo skewer balances the sweet and savory to perfection. Chef Jennie tells us it is one of the favorites at the restaurant and was inspired by her mother, Ms. Elvi. "On Sundays or special occasions, she cooked curry for us, and we would eat bananas instead of plantains and raisins as well. From there, I became inspired and started making this dish, especially for her," said Chef Jennie. Don't miss this signature dish next time you visit Elvi's Kitchen!
Of course, no meal is complete without dessert; again, Elvi's signature sweets did not disappoint. Ms. Elvi's scrumptious coconut pie topped with vanilla ice cream is another island favorite, and their signature key lime pie is served with a new twist! Layered and frozen in a small mason jar, this refreshing, tangy yet sweet dessert is the perfect end to a perfect meal.
It was an evening filled with great company, drinks, and the best variety of freshly prepared food. Elvi's Kitchen is ideal for family reunions, memorable dining, receptions, or special gatherings. The island ambiance, top-notch service, and exceptional food will make San Pedro's iconic restaurant your favorite place again and again.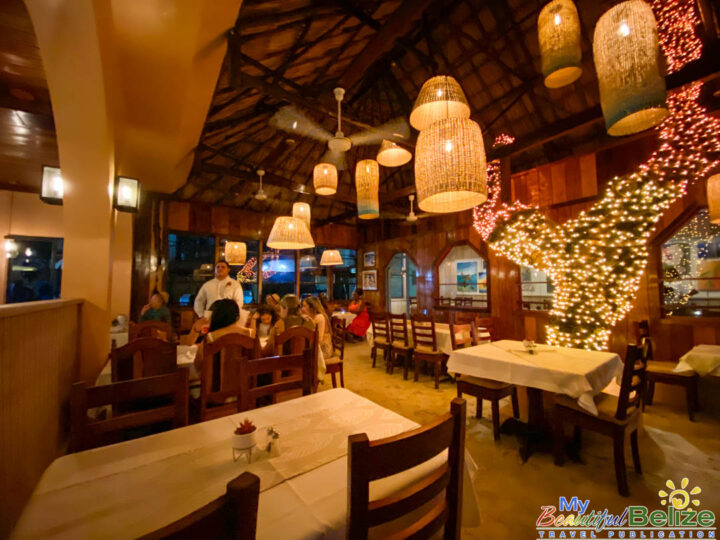 Elvi's Restaurant
Open Hours:
Monday – Saturday:
11:00 AM – 9:30 PM
Sunday:  Closed
E-mails: