It was 5:30PM when my phone pinged.
"Stop drinking now. We have a date at 8PM at Blue Water Grill."
Okay, first of all…dear husband of mine…why did you assume I was day-drinking?! (Nevermind the fresh glass of Caribbean and Cranberry that just landed on my table…errrr…)
Secondly…Aaaahhhh!!
As Blue Water Grill (BWG) owner Mukul tells me all the time, I am "Sooo lucky!" I am; I really am.
You see, this invitation was not for any ordinary date-night dinner. I would not be ordering my beloved Ahi Poke Tuna salad. Instead, I'd be picking three items of guaranteed deliciousness, from a pre-fixe menu. Whatever item I chose would have been cooked by one of four chefs: Ned Elliott of Foreign & Domestic in Austin, Texas, Ferrell Alvarez of Rooster & the Till in Tampa, Florida, Dave Santos of Good Stock in New York, NY, and Chris Aycock of Blue Water Grill – San Pedro, Belize.
One thing you can count on from BWG owners Kelly and Mukul Kanabar, they are never boring. They are truly having fun with their establishment, bringing new and exciting things to lucky patrons every time. For four nights only, over the course of two weekends, six chefs present their tasty offerings.
The menu is set: Appetizers, Entrees and Dessert. You don't know who's cooking what, but you can certainly ask and the chef will stop by and chat a bit with you. Talk about interactive and extra fun!
So, yes, I did quit day-drinking, raced home and got dressed in record time. Anything for BWG, I say – well, that and the wine I was promised.
One glance at the menu and I knew I was in trouble – the good kind of course 😉 I chose the barely cooked blackfin tuna with burnt pineapple, vegetable escovitch and coconut milk agua chile. Tart, creamy, fresh…all these contrasting flavors tempered by the tender slices of tuna.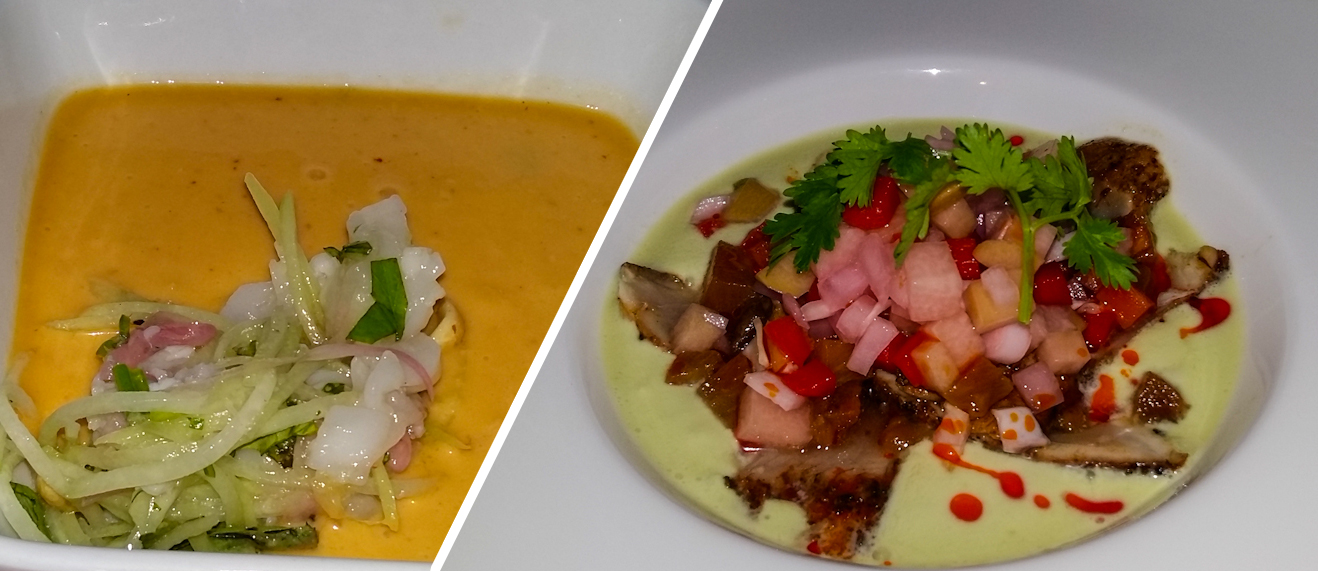 The hubby's chilled red curry mango soup was just as delicious! The initial heat came as quite a surprise, but he was pleased when it dissipated almost immediately, and was left with the sweet creaminess of mango. Each bite of soup came with the crunch of peanuts and a bite of lobster and cho-cho, and we found ourselves eating every last morsel; eager for our entrees.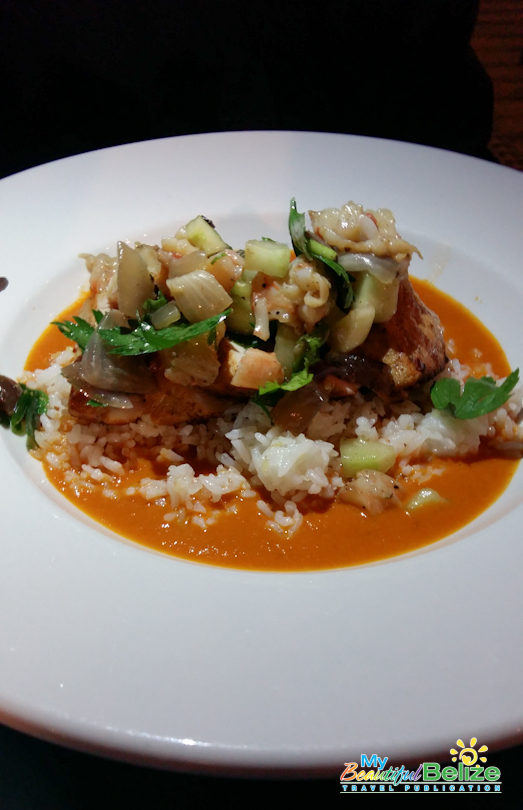 Husband opted for the piri piri pork loin, which was accompanied by marinated shrimp, and garlic rice with grilled tomato coriander broth. Tender sliced pork brought some spice but it was cooled by the sweet juicy shrimp and tomato broth. Does it sound funny to say that rice is exceptional? Because when you make it garlicky, yes it can be!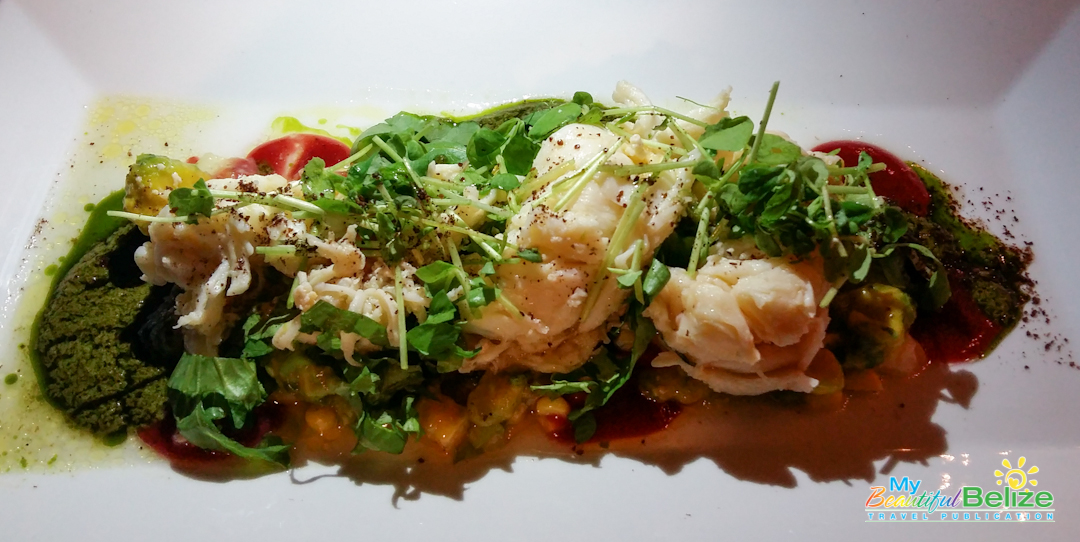 My butter poached lobster came stacked on sweet corn, avocado, sumac, purple sweet peppers and fresh sorrel puree, dots of black plum coulis and a dab of creamy mashed potatoes. It was the epitome of luxury and comfort, and this lobster lover was in heaven, especially as I sipped a delightful sparkling wine (Domaine Carneros, Napa Valley). Could my night get any better? Um…yes!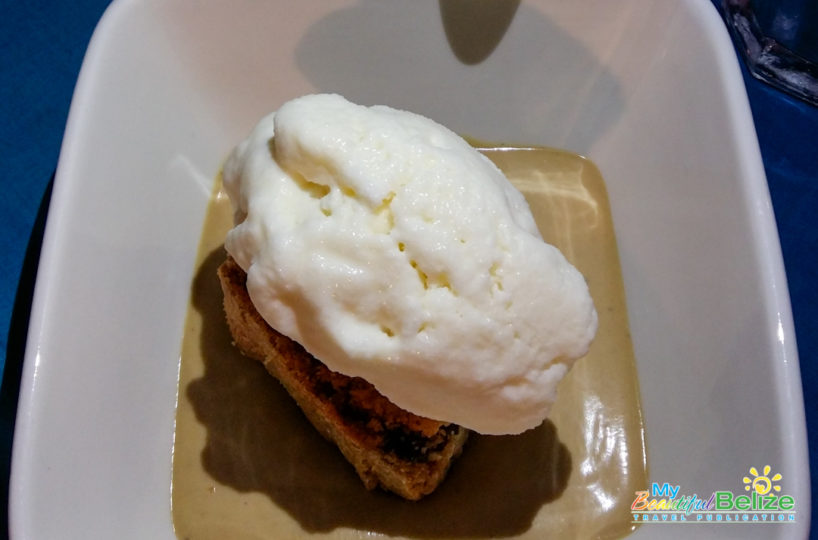 We decided to share one dessert, as we were close to tapping out from the generous meal we'd had. A dark chocolate blondie with banana pudding and yogurt snow made its way to our table. Accompanying this treat was a glass of Drouhin Gevrey-Chambertin '12 (Burgundy, France). It was the perfect ending to our impromptu dinner – especially when I found out we will be enjoying the second guest chef series too! Yep, I'm a lucky, lucky girl. 😀
The second series takes place on Friday, July 28th and Saturday July 29th. It will feature Ryan Lachaine (Riel Restaurant, Houston, TX), Rich Parente (Clock Tower Grill, Brewster, NY), Ned Elliott and Chris Aycock. Make your reservations online!