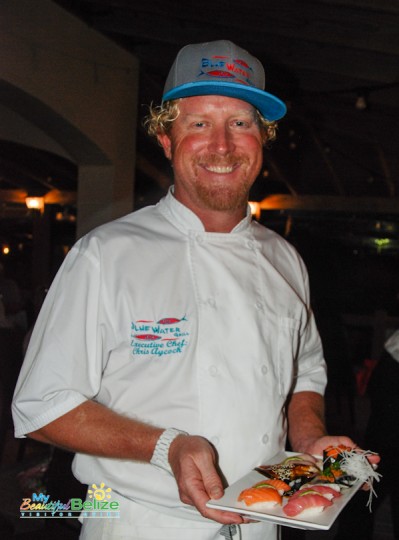 With names like Monkey Brains and Dragon's Eye, the dishes being presented to us hinted at some adventurous eating. Don't worry, we weren't being held hostage somewhere scary, being tortured into giving up the identity of Doctor Love or anything. Nope; we were just having the time of our lives, dining on delicious sushi at Blue Water Grill.
When it comes to eating out, I am biased. Ambergris Caye simply has the best eats; there, I said it. Restaurants and eateries cater to even the most finicky of taste buds. Topping the list of places to dine at is Blue Water Grill (BWG), especially as on Tuesdays and Thursdays, you're looking at sushi night. Visitors and residents alike love the variety of Chef Chris Aycock's creations. From the veggie rolls to the adventurous Sashimi, Nigiri and the aforementioned Monkey Brains – there is something for even the most hesitant diner.
Chef Chris promised us a plethora of his divine creations, but first, he took away the soy sauce…! Wait, what was happening?! Don't we need that sauce for the meal? Oh…Chris explained that each of our special dishes came with its own sauce. I look over to the boss – 'ooohhh…we're special!!' Always known it, but love that it's acknowledged! (Ha).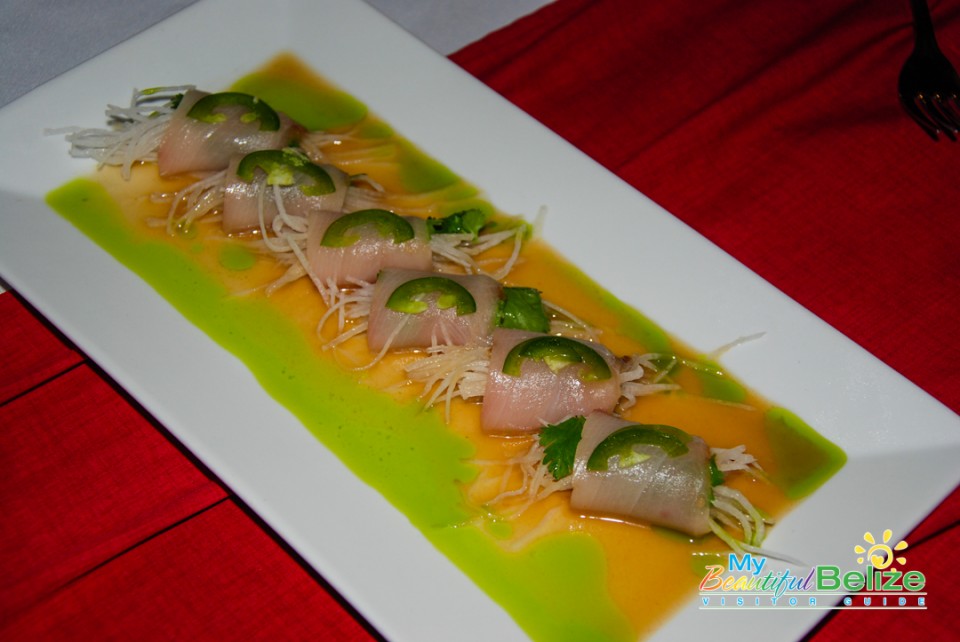 First up was the Saikyo Hoisin Yellowtail. Hoisin is dabbed on thin slices of yellowtail tuna, which are then topped with Saikyo miso, cilantro, shredded daikon radish and rolled up into little bites of perfection. The thin slice of jalapeño gives it a little extra kick, and dipped in the fresh yuzu sumiso sauce (a combination of Japanese citrus fruit, miso sauce and scallion oil) provided, our first foray into 'special' was divine.
Following up that platter was a Wasabi Basil Tuna, which was similarly rolled, but contained wasabi, fresh basil, cucumber and was topped with itty bitty flakes of diced red onions. The flavors were completely different, especially when coupled with the Yaki saba sauce, which was earthy with the flavors of grated garlic and green Yuzukoshō. Not only were our taste buds totally getting immersed in new flavors, but so was our vocabulary!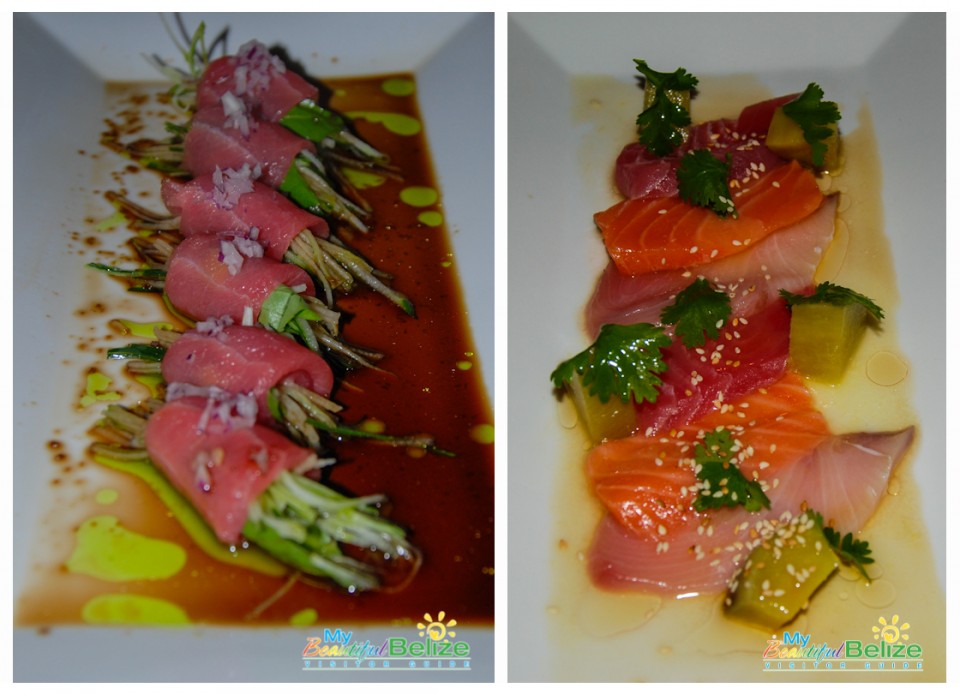 Almost as if to cleanse the palate, the Rainbow Sashimi makes its way to our table. A beautiful trio of thin sliced salmon, tuna and yellowtail sits glistening with its dressing of white soy, sesame oil, sour orange juice and toasted sesame seeds. Nestled amongst the slices of fresh fish are tiny bites of boiled sweet potato, and we can tell that Chris is prepping us for new flavors!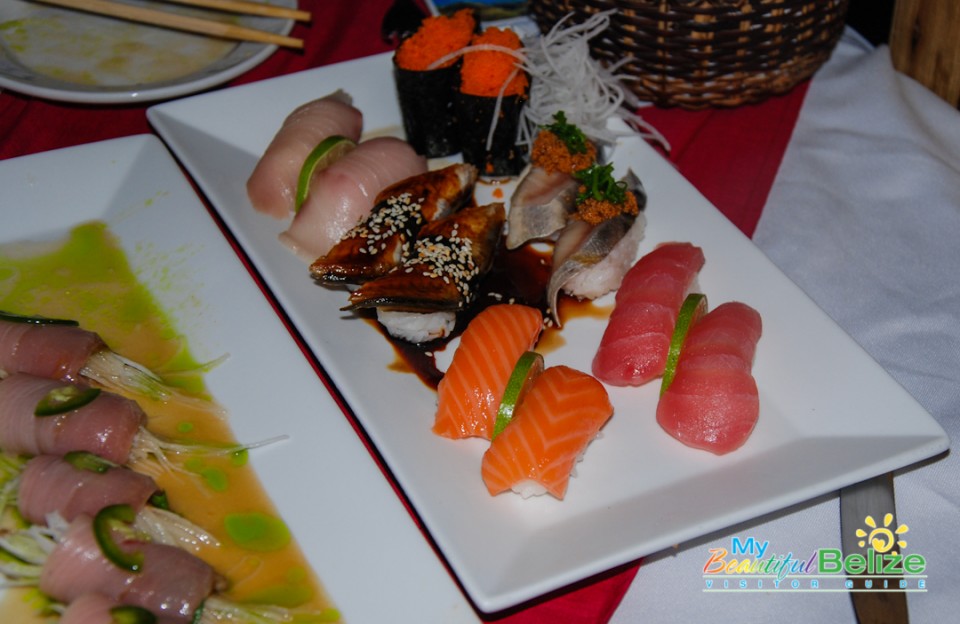 Our palates are ready for the Nigiri Sushi platter, featuring a bevy of tasty eats: salmon, tuna, eel, yellowtail, masago and Chris' favorite, mackerel. If there is one fish that packs a flavor wallop, it's this one. We can certainly see how Chris would declare it one of his favorites. A special sauce accompanied these delicious bites, and yet again, we had to acknowledge that the master knows what he's talking about. No need to drench such a well prepared dish in soy when each bite reveals layers of flavor that are best complemented by nuanced oils and fresh herbs of the chef's choice. We were learning – and what a delicious lesson!!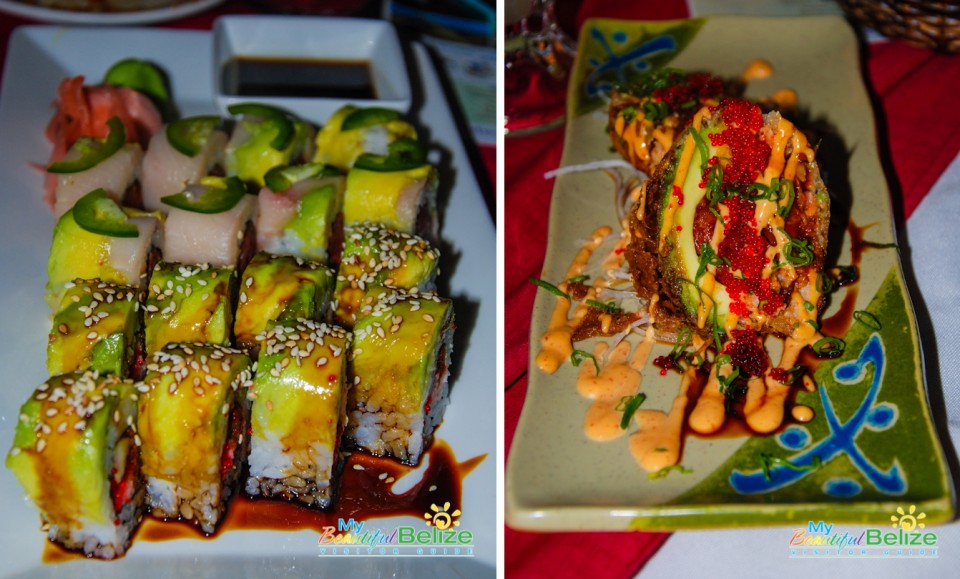 Class continued with one of my favorites, the Yen Yen roll. A complex mix of spicy tuna, mango, yamagobo, yellowtail and avocado, topped with thin sliced jalapeno and a sweet-tart omazu sauce had us practically licking our chopsticks. Were we full? Yes. Could we go on? We sure did…especially when Chris convinces us to try just one more. Considering it is a special dish that's available only when avocados are in season, Monkey Brains was something we just could not turn down.
Chris happily concocted this favorite by taking avocado halves, stuffing them with spiced tuna, then tempura battering and frying them to golden perfection. A drizzle of Japanese mayo and some smelt caviar tops this ridiculously delicious, fun dish. Spicy tuna tries to bite back, but the cool, creamy avocado tempers it immediately. Such a fun experience – and Chris for sure makes it a delicious journey in the complex world of sushi. So much flavor in each bite, and we were hooked!
Blue Water Grill is open 7 days a week, serving breakfast, lunch and dinner. Sushi nights are on Tuesday and Thursday. The family owned restaurant is located on the beach at Sunbreeze Hotel, right in downtown San Pedro. You can call for reservations (recommended especially on a sushi night) at 226-3347.
If ever you want to read up on BWG's musings and hear more about the other (equally delicious) food they serve daily, follow them on Twitter @belizefood or hit that LIKE button on Facebook (Blue Water Grill – San Pedro, Belize).