You would think that for someone who's passion is exploring and mapping unchartered caves, they might be hard to impress when it comes to adventure. But for Brad Barcom, a speleologist visiting Belize from Indiana, USA, jumping into the warm, clear Caribbean water to snorkel at the Mexico Rocks Marine Reserve was an off-the-charts experience. "Who needs bats and dark crevices when you can swim with turtles?!" he exclaimed.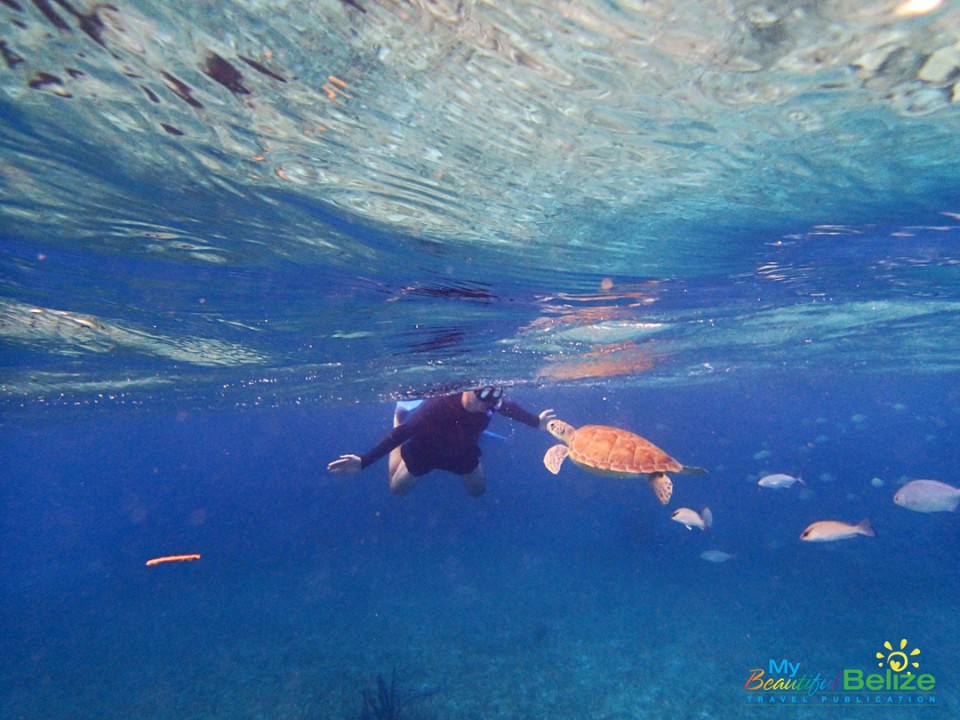 Of course, I agree with Brad. I'm not nearly the thrill seeker Mr. Barcom may be, but when I'm indulging in my favorite marine pastime, I couldn't be more excited. I have a mental checklist that quantifies if it was a good day snorkeling. Spotted eagle ray? Check! Nurse sharks? Check! Angelfish? Check! Flamingo Tongues? Check! Christmas Tree worms? Check! Turtles? BINGO!!! My day is now complete!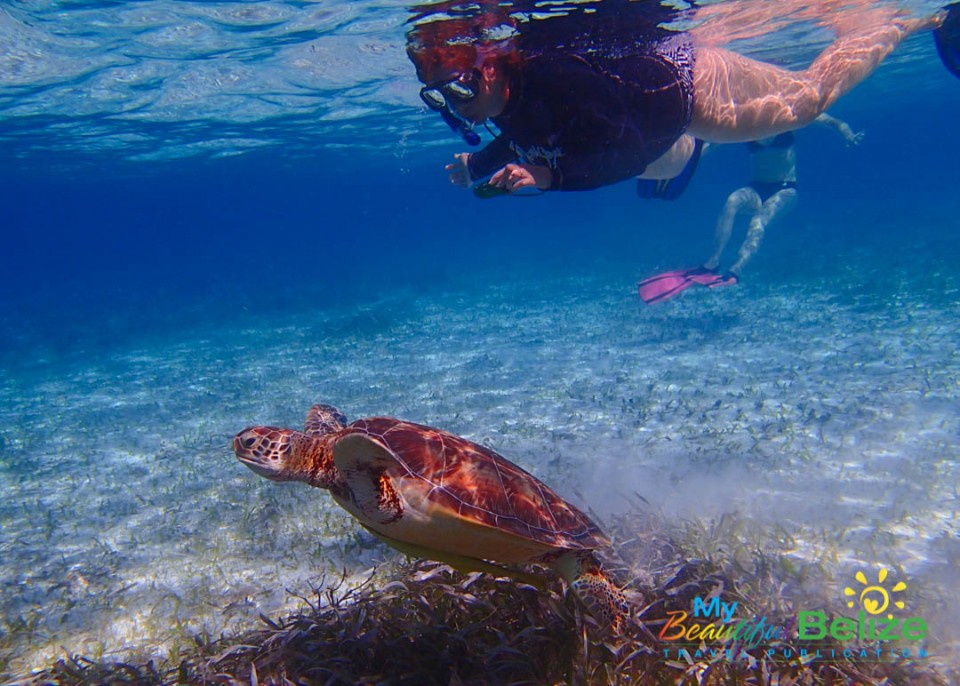 Not only are sea turtles gorgeous to see as they graze on the seabed or effortlessly glide through the water, their beauty is more than shell deep. When sharing the sea with a turtle I can't help but marvel at the fact that I'm swimming with a true survivor. Against all odds, this creature first hatched on a sandy beach and flippered into the sea (if something didn't eat him first), then survived the perils of the oceanic food chain and man's mess of garbage and obstacles. What makes seeing these creatures even more incredible is knowing that all three varieties of sea turtles that nest in Belize are Red-Listed by the International Union for Conservation of Nature (IUCN). How often can you hang out with an endangered species in their wild habitat?
At most of the marine reserves off Ambergris Caye, the turtle most commonly seen is the Green turtle, which is considered Endangered by the IUCN. Green turtles aren't really green, but their fat is! That's probably how they got their name. These beauties are the second largest sea turtle (next to the Leatherback, which is sometimes seen in southern Belize) and can weigh up to 500 pounds. These vegetarians eat turtle grass (thus the name), and are often seen doing just that, grazing! Juveniles and adults can be found on reefs and over seagrass beds throughout Belize, eating turtle grass or manatee's grass.
Listed as Critically Endangered by the IUCN, Hawksbill turtles are considered the most abundant in Belize per the Sea Turtle Census. In all my years of underwater adventure I have only seen one, and that was at the Hol Chan Marine Reserve. I was so excited I almost swallowed my snorkel! Hawksbill sea turtles were once harvested for their shell which was used to make jewelry, eye glass frames and other items which is known as tortoise shell. They are normally found near reefs rich in the sponges they like to feed on. Hawksbills are omnivorous and will also eat mollusks, marine algae, crustaceans, sea urchins, fish, and jellyfish.
Last, but not least is the Loggerhead turtle, which is easily distinguished by their large head. I've snorkeled with two over the years, once at Chato's Graveyard near Hol Chan, where conch fishermen clean their catch, and one when looking for whale sharks near the Gladden Split Area.
To me these turtles look like the old men of the sea, with big crabby faces and barnacles often attached to their shells. Listed as Endangered by the ICUN, adult loggerhead sea turtles are seen cruising coral reefs looking for crustaceans and mollusks.
No matter what you consider adventure, chances are you'll never forget swimming with turtles. When snorkeling or diving with turtles please admire them from a respectful distance, and never touch or pester them. It is an honor and a privilege to share the sea with these gentle creatures, and as stewards we need to do our best to protect these endangered species.