My idea of a perfect getaway is escaping to a quiet beachside resort, where you can explore secluded beaches, languish by a swimming pool, nap in a hammock and indulge in fabulous food and cocktails. Add having your worries massaged away by a skilled masseuse, while surrounded by peaceful serenity, and I'd say you had me at hello! Needless to say, when the nice folks at Naïa Resort and Spa invited me to a weekend of pampering, I couldn't wait to pack my bags and head to Placencia!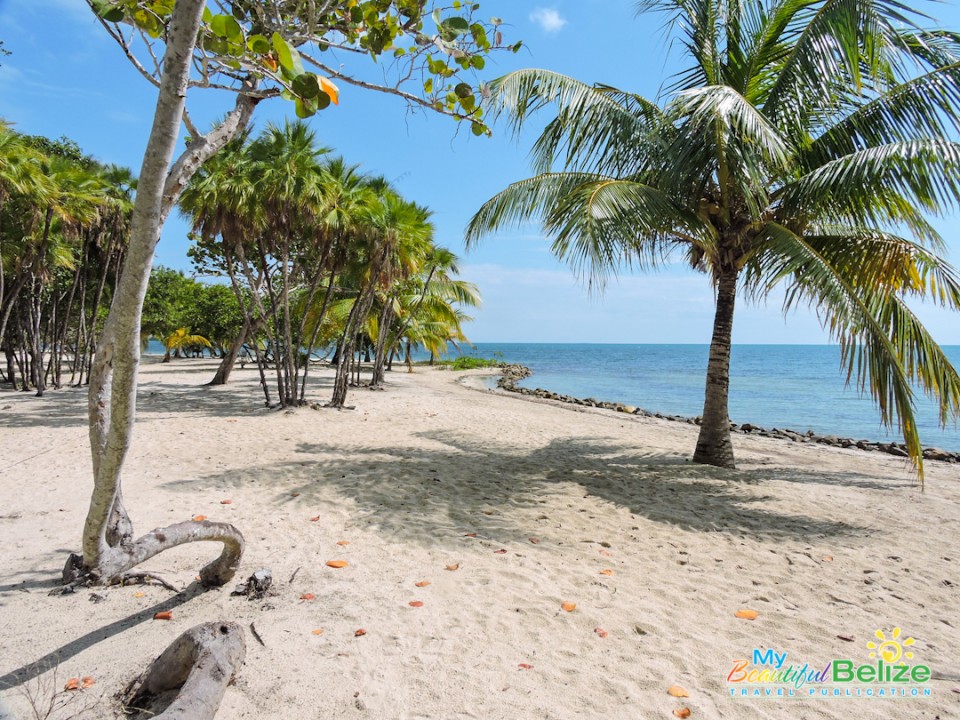 Known as one of the most popular tourist destinations in Belize, the Placencia Peninsula is centrally located in the Stann Creek District. This picturesque ribbon of land is blessed with 17 miles of sunrise beach front and a vast sunset lagoon with mountain views of the mainland. The length of the peninsula is dotted with sleepy communities, marinas and resorts, with the village of Placencia at the southern tip. Located between Maya Beach and the Garifuna village of Seine Bight, Naïa Resort and Spa is situated within the 200-acre Cocoplum Residence. On 19 acres of quiet beachfront and tropical landscapes, Naïa is the newest star in this resort community.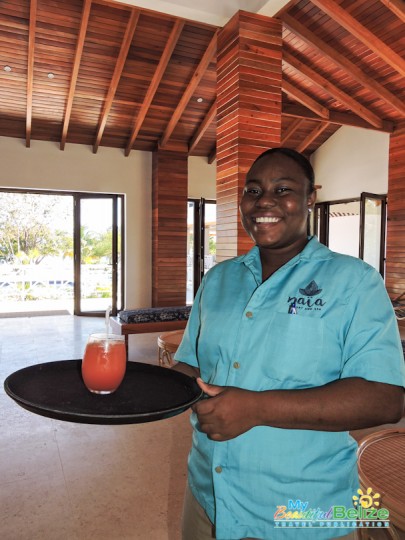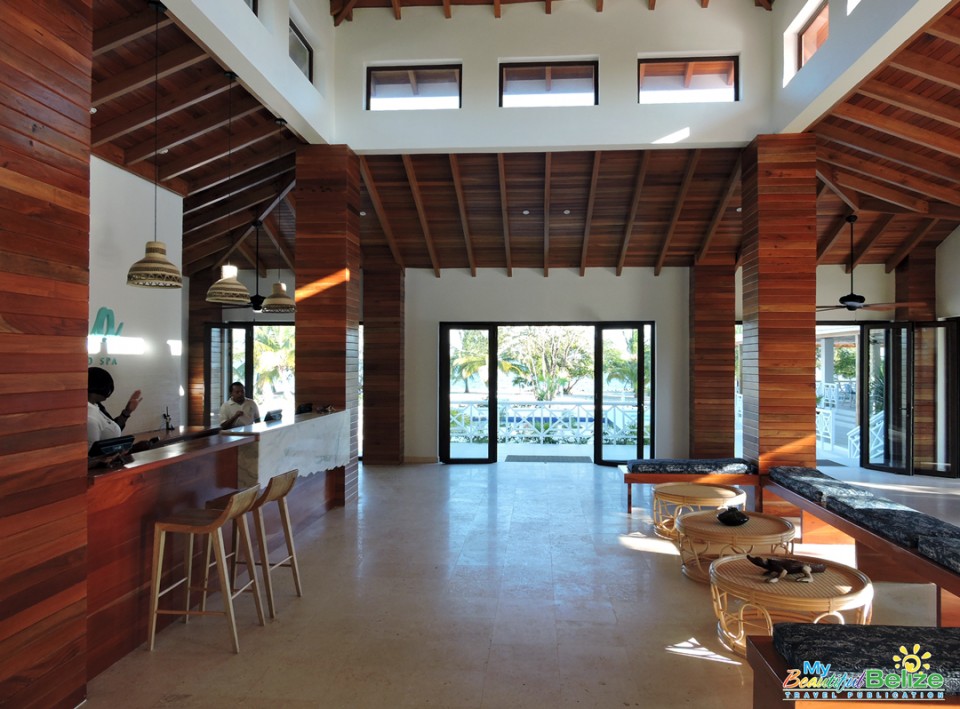 When I arrive, I'm welcomed with a refreshing fruit punch and I marvel at their spacious reception area that overlooks a very inviting beachside pool. Guest Services Manager Pamela introduces me to my one bedroom beach home that has a splash pool on the front porch. Complete with the requisite beach furniture, it's a space I could spend some serious time at.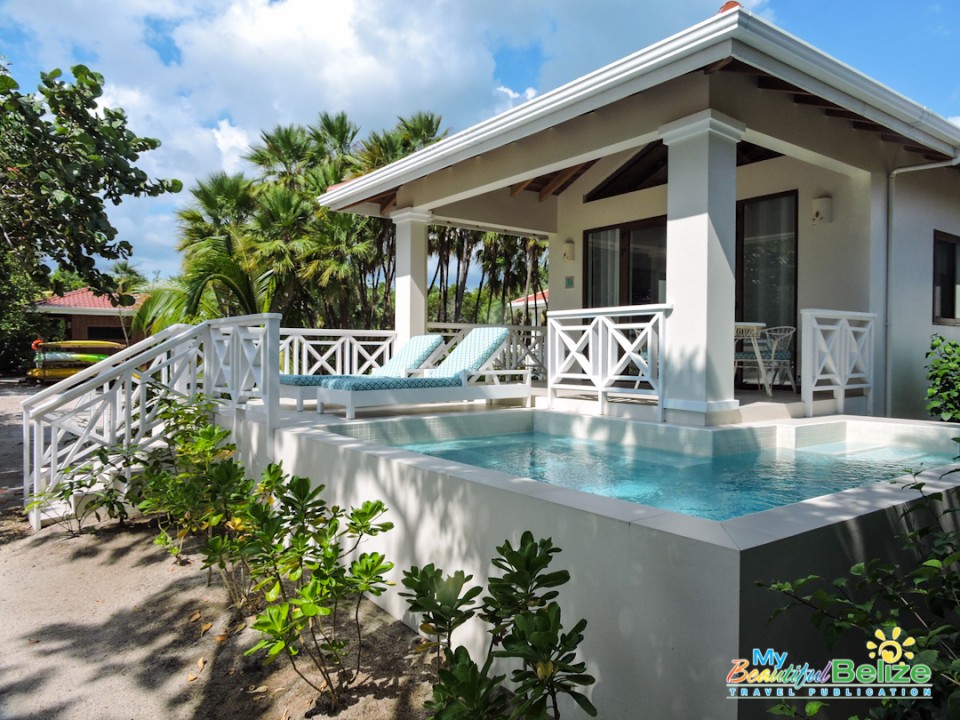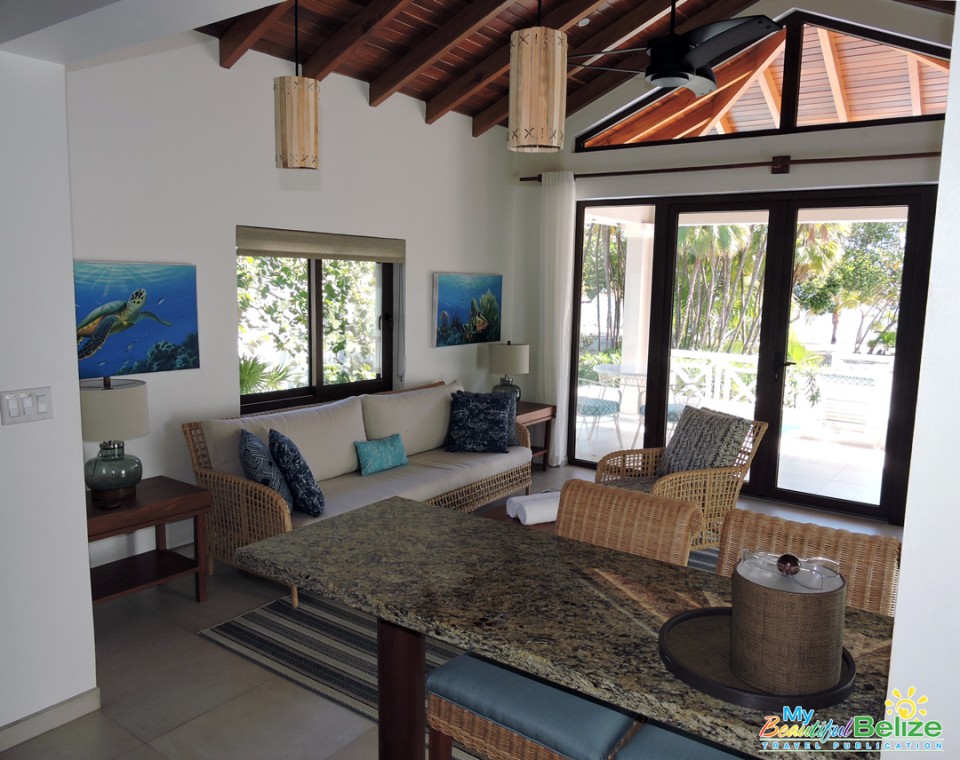 My cabaña is sunny and colorful, with every amenity you can imagine, down to granite counter tops, Smart HD TV, a coffee maker with whole beans and a grinder, a lovely outdoor shower, a huge soaking tub and of course cool AC. The only thing I was missing was my husband!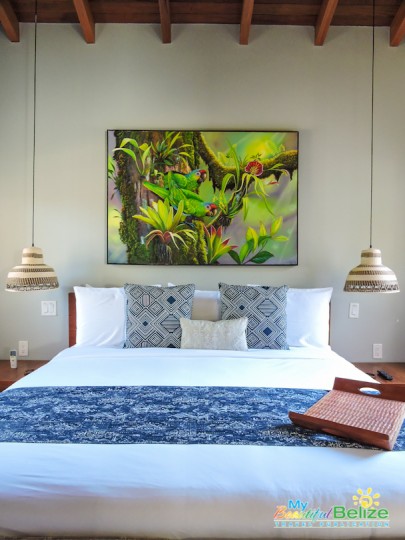 It is hard to believe that this lovely resort just opened in January! Although immaculate in every way, the space feels lived in. The mature foliage and quaint architectural design of the beach homes emanate the warm sense of a sleepy neighborhood, where people wave to you from their porch front. The super friendly staff who maintain the grounds or attend to your every need, smile and greet you like a friend; you can't help but instantly feel at home.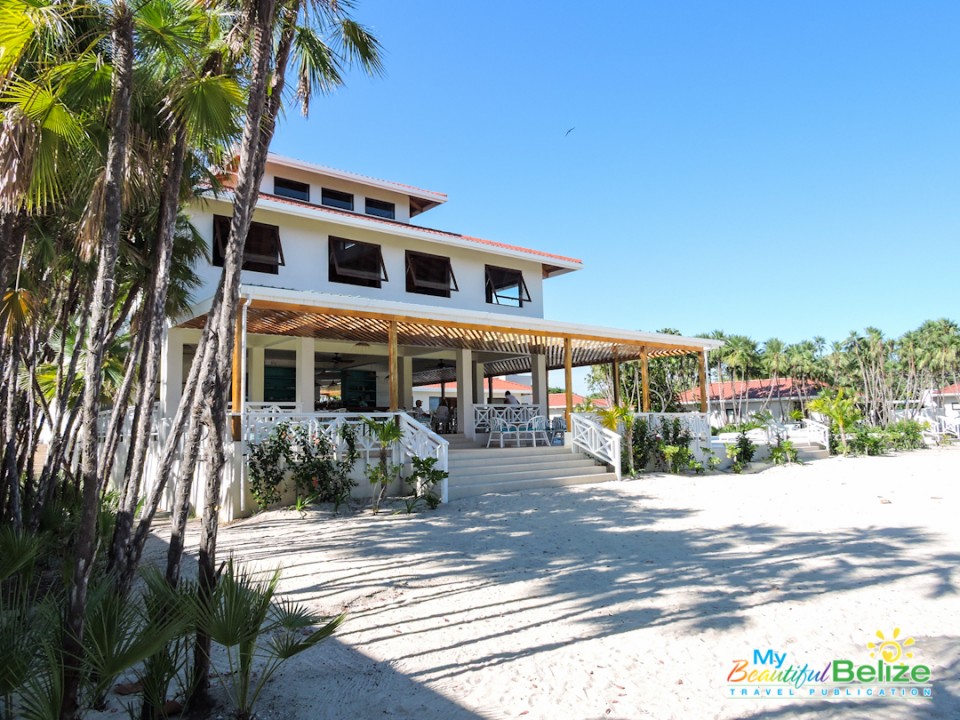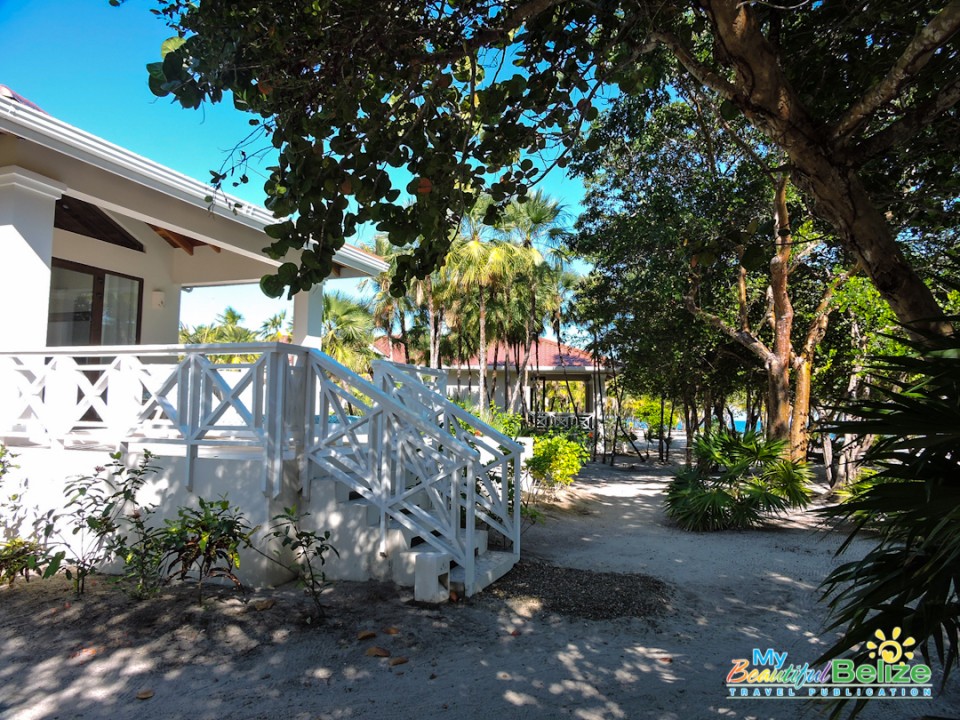 Pamela also gives me a proper tour of the property, pointing out the gorgeous décor throughout the resort. Thanks to their very creative consulting artist Gilvano Swasey, who is the well-known curator at the Image Factory Art Foundation & Gallery in Belize City, almost everything has been sourced in Belize. From vibrant paintings, to sculptures, hardwood furniture and even hand-woven basket lamp shades, the locally made furnishings not only embrace the genuine character of Belize, but celebrate the artisans as well.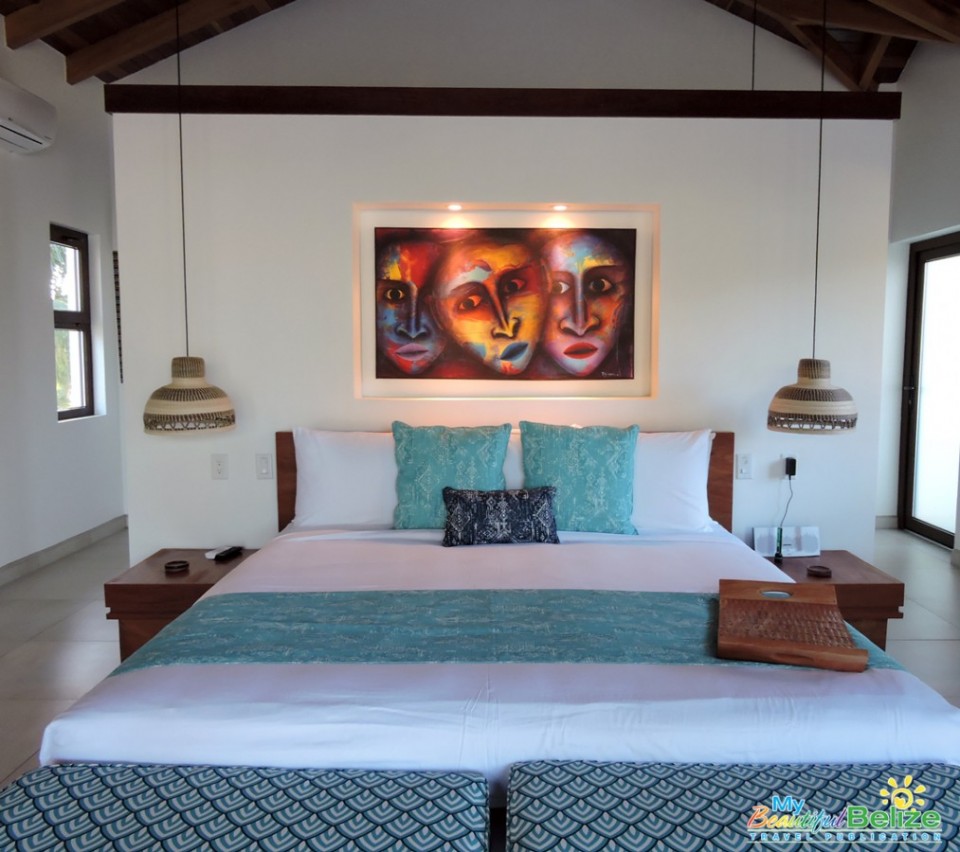 Perhaps the most impressive characteristic about Naïa is how the landscape transitions from a beachside retreat to a tranquil, jungle spa hideaway. As you walk to the west side of the resort you enter a lush expanse of pimento trees and jungle foliage, where you cross a series of wooden bridges that connect little islands within the lagoon.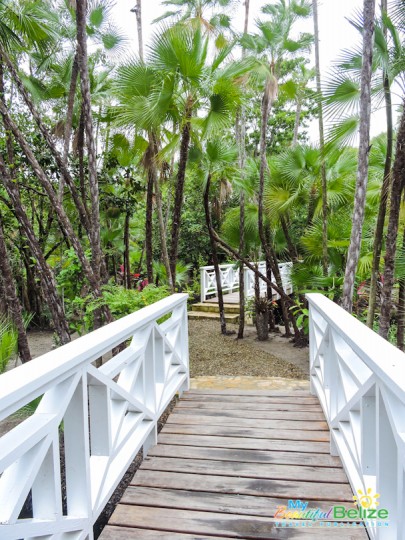 With each step, you feel closer to the quite zen-like ambience around you. The grounds are serene, with a shimmering swimming pool aside the tranquil lagoon, and individual pebble paths lead to the five over-the-water treatment suites.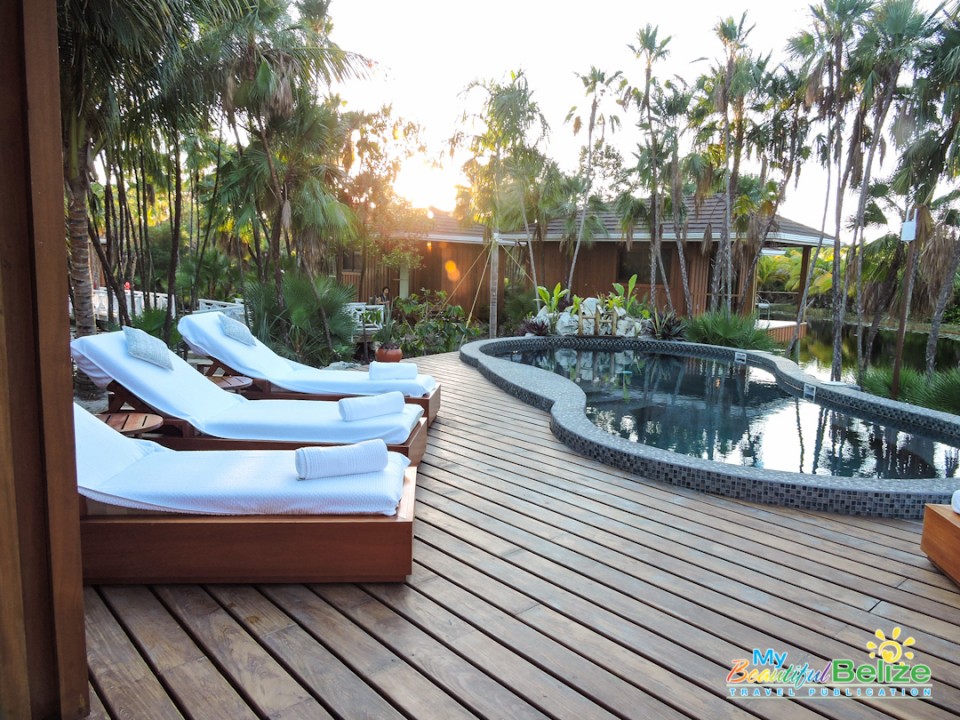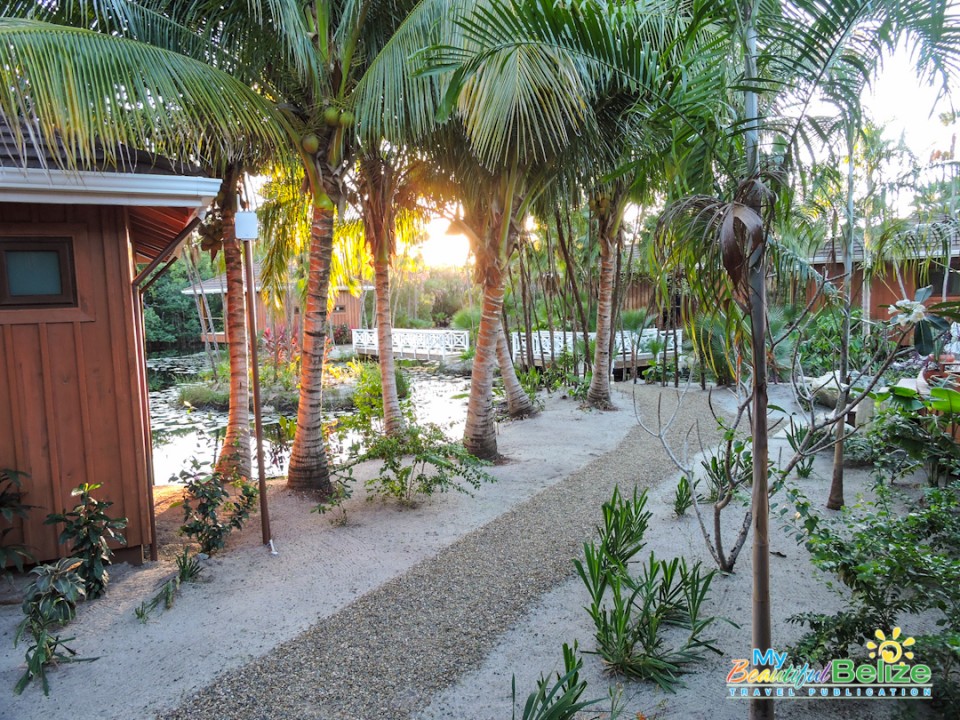 My lovely massage therapist Meeka welcomes me and asks me to fill-out a questionnaire to be sure my experience is customized to my needs. The final question asks, "How would you like to feel after your treatment"? I respond, "like heaven," and Meeka laughs, assuring me that she can arrange that!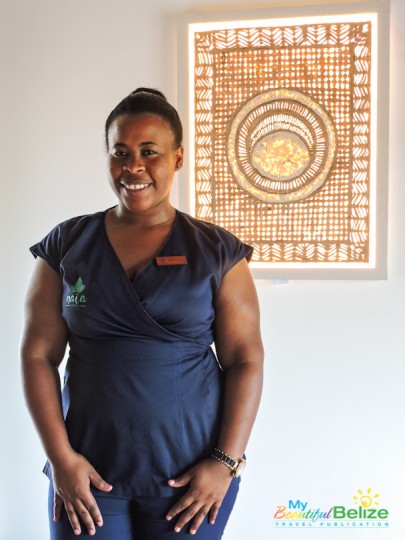 After showering, and donned in a fluffy white robe, she leads me to one of the most tranquil studios I've ever had the privilege of being in. With a picture-perfect view of the lily pad lagoon, framed with coconut trees mirrored in the still water, the setting couldn't be more peaceful. I'm given the choice of either a Primal Salt Stone massage or a Native Essence massage which incorporates Copal. I am in love with the scent of Copal, which is a tree resin that has been used for spiritual cleansing by indigenous healers for centuries, so that's the massage I eagerly request.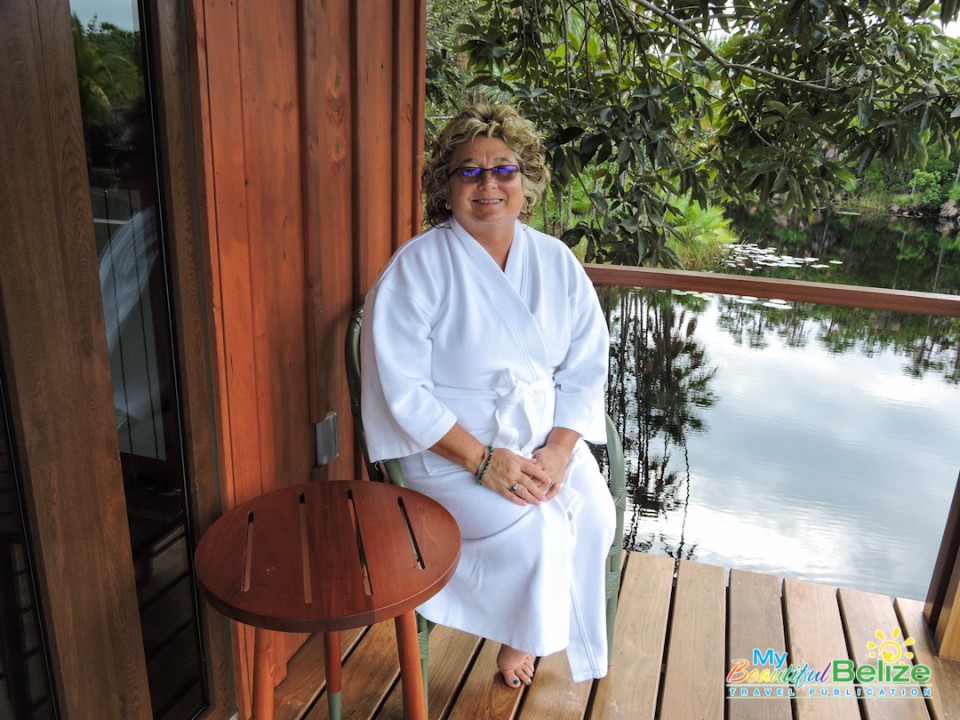 Meeka works her magic, using the Copal combined with other medicinal essential oils including ginger, ylang-ylang and orange harvested in Belize. There isn't a stressed muscle she doesn't find and persuade into a state of surrender. By the end of the hour I do indeed feel like heaven…and beyond.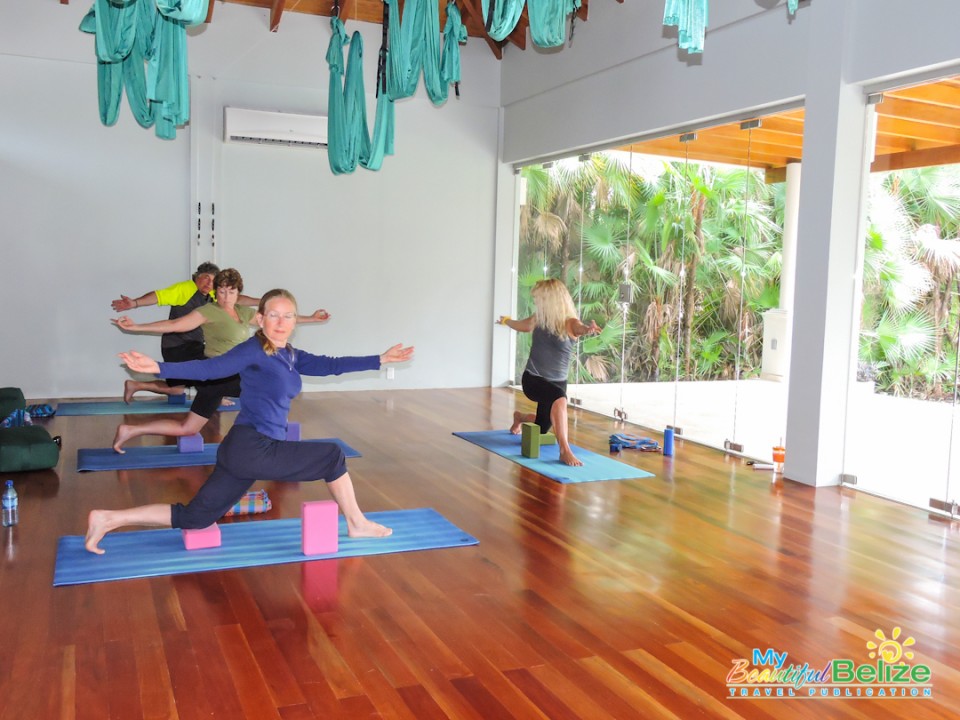 The full-service spa also has two buildings with glass walls that face serenity ponds. One is a fully equipped gym facility, and the other is a beautiful yoga studio. It's the perfect place for mediating and relaxing while treating your body to a little exercise, and the yoga studio also offers aerial yoga, which is something new to Belize.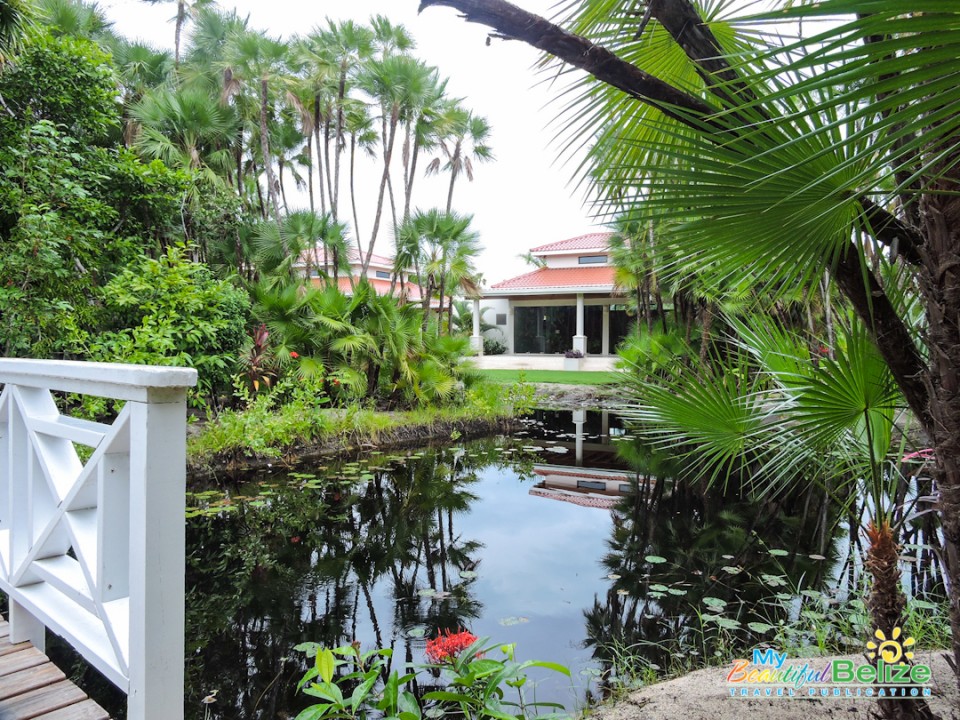 After all that hard work relaxing, you can nourish your body with healthy fuel at their charming lagoon-side restaurant aptly called Reflections. There you can enjoy fresh fruit smoothies, avocado spring rolls, pan-seared red snapper and Greek orzo pasta salad to name a few.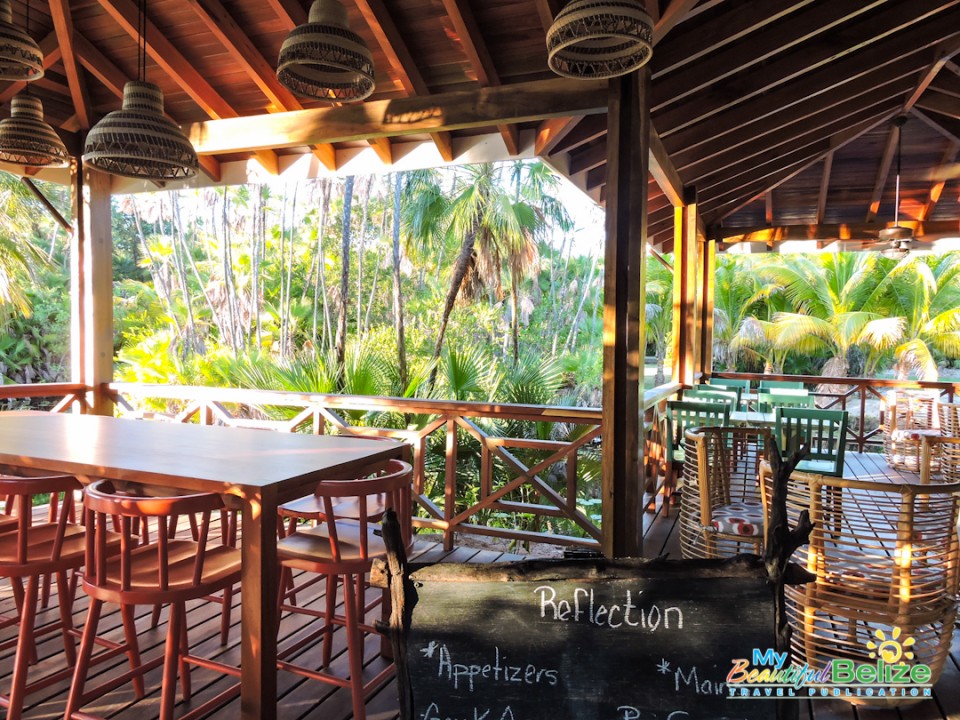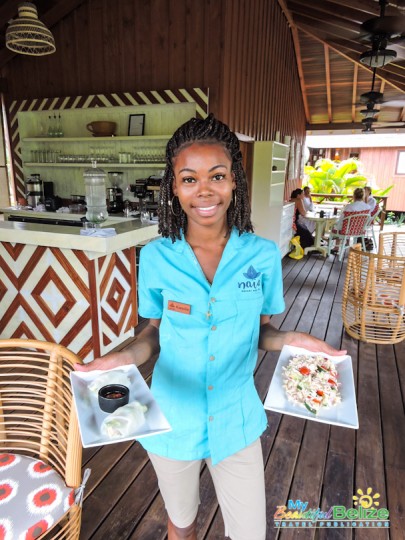 Within the resort, Naïa hosts two other restaurants. On the ground floor of their main building is the Beach Bar & Grill. The open beachside eatery embraces a casual setting and serves a nice variety of healthy and locally inspired breakfasts, lunches and light snacks.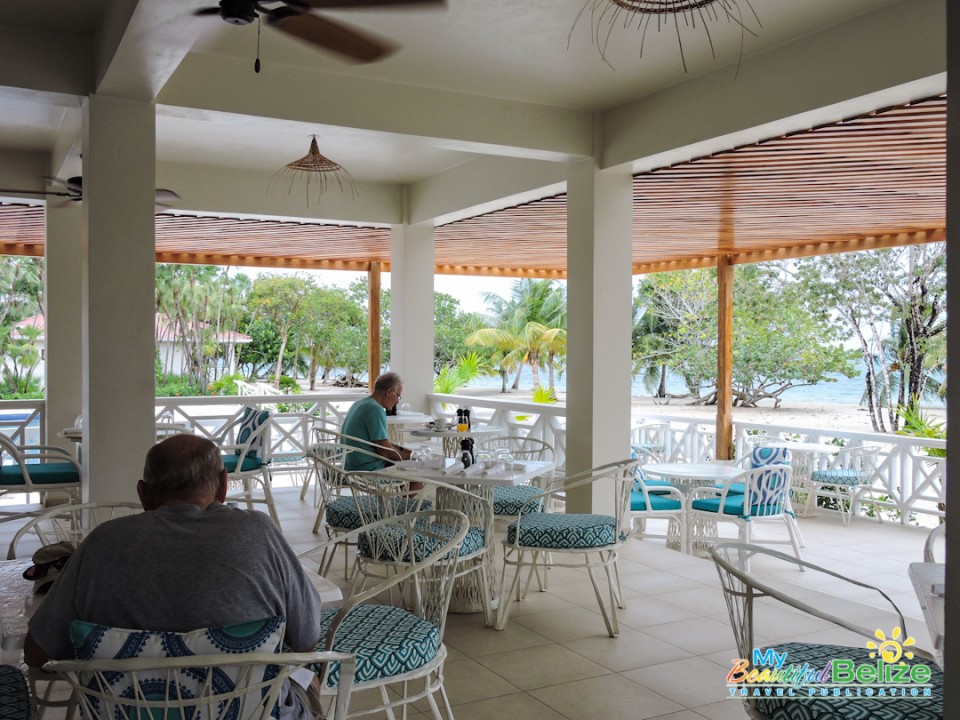 For breakfast, I must indulge in the classic Belizean breakfast of fry jacks, scrambled eggs, beans and cheese, the perfect start to a perfect day. And for lunch? Chicken Topped Patacones! I don't often see these fried plantain cakes on a menu, so I couldn't wait to try these!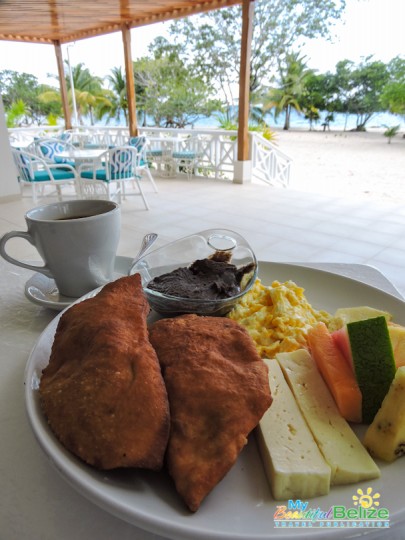 Deliciously topped with a black bean puree, guacamole, shredded red recado chicken and a crunchy creole slaw, the flavors and textures were a full-on party in my mouth. Add one of the best Bloody Mary's I've had in a long time, garnished with a couple cocktail shrimp, and it was a meal made for a nap…perfect!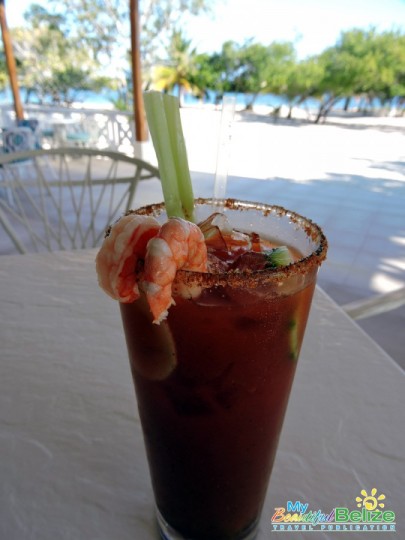 Undeniably, the 1981 Restaurant at Naïa is the belle of the ball. Located on the second floor of the main building, the high, wood vaulted ceiling is adorned with hanging basket lamps, and the space is warm with the earth tones of Belize.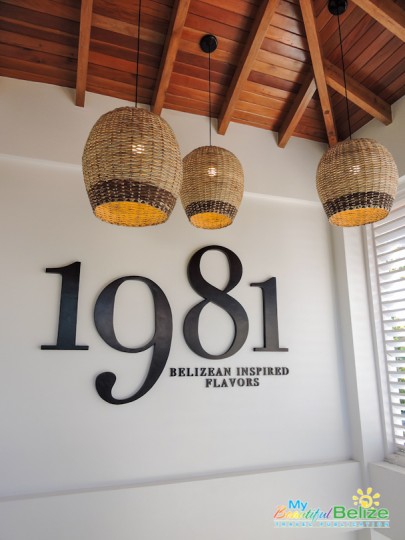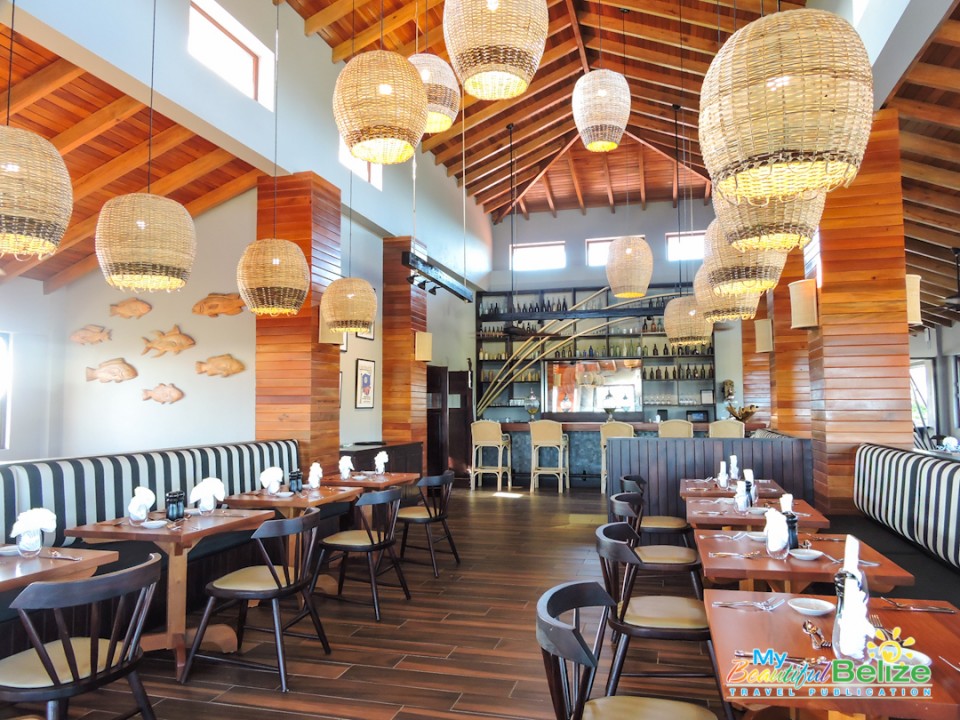 Named after the year that Belize attained independence, 1981 is refined yet casual, and their menu incorporates fresh Belizean cuisine sourcing only the best in local ingredients.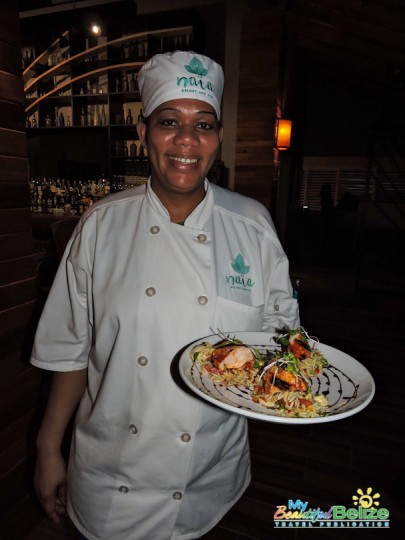 My dinner companions Pamela, Ed and I are treated to culinary masterpieces created by Head Chef, Ms. Trinell Smith. We begin with Coconut Lobster Bisque and Grilled Chicken and Watermelon appetizers, and savor our entrees of Blackened Pork Chops, Grilled Chicken with Orzo and Catch of the Day.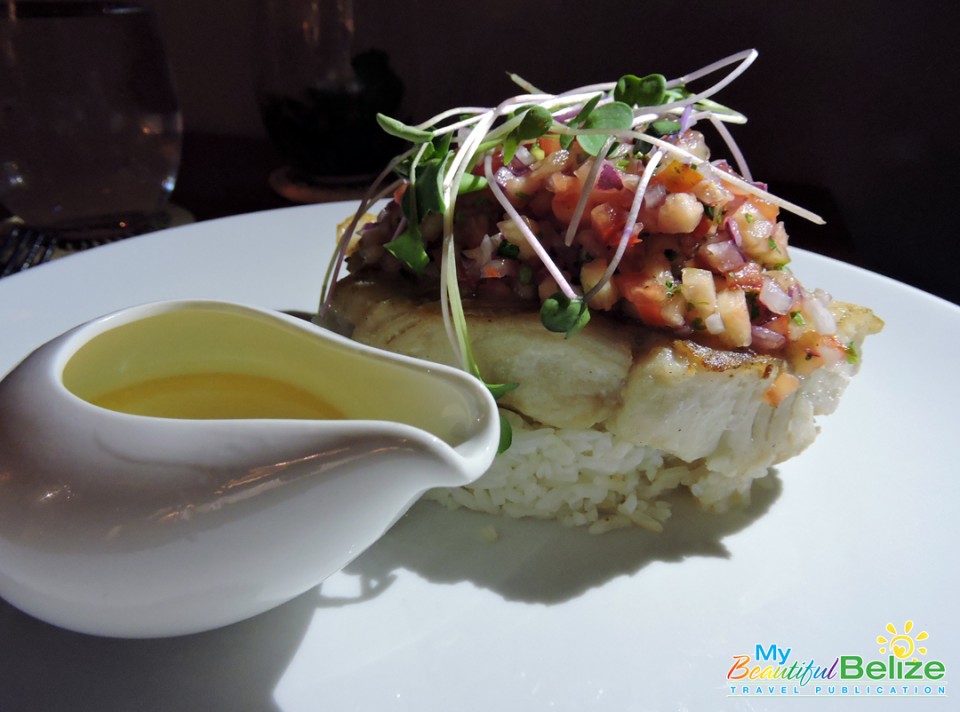 The very talented mix-master Miguel concocts some tasty cocktails, and although we are full, I manage to find room for some Key Lime Cheesecake. The entire meal is nothing but a delight, including the company!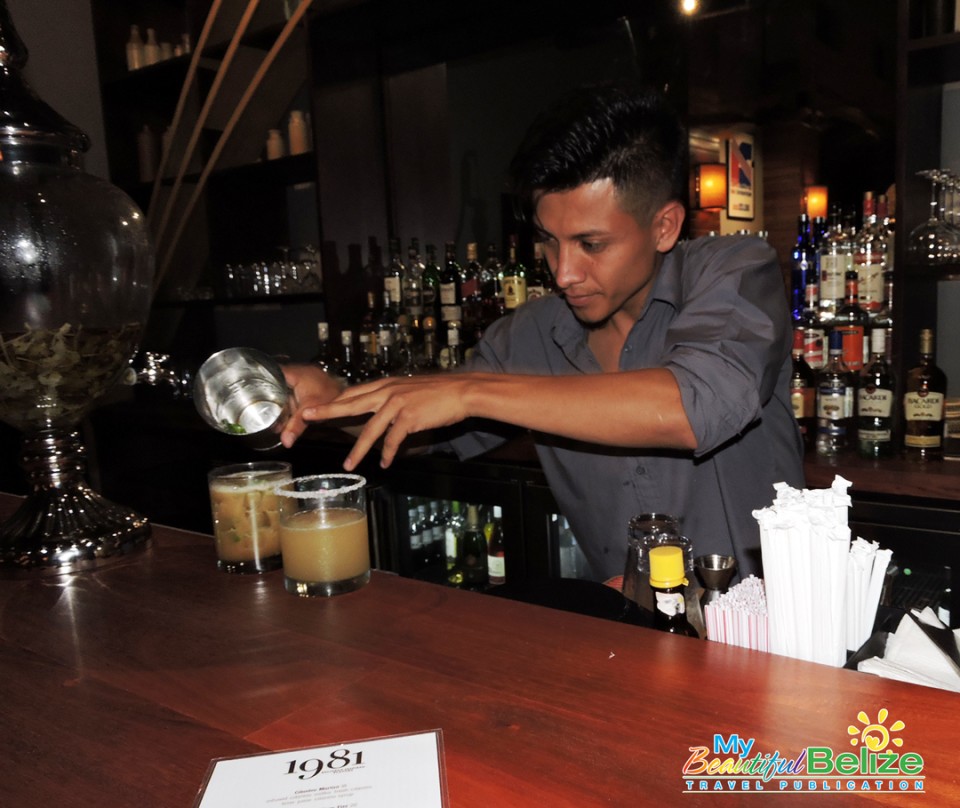 The beautiful Naïa property boasts one bedroom units with or without a pool, beach studios, two and three-bedroom beach villas with private pools, and a two-bedroom tree top villa.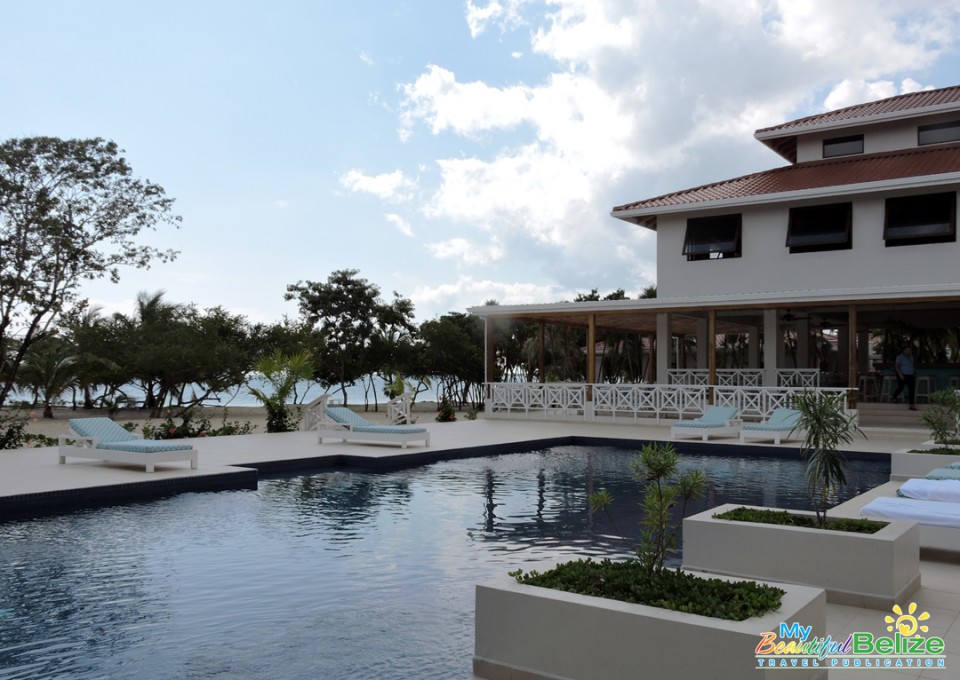 When staying at Naïa, the weight of the world seems lighter, the color of the sky seems bluer, and the smell of sea air even sweeter. Naïa has cast her spell, and I'm hooked. If you would like to learn more about Naïa please visit their website at www.naiaresortandspa.com.