It was a family post-Christmas vacation we had planned for months. With my sister and son joining us in Belize from frigid Wyoming, along with my husband, son and 85-year-old mother, we were destined for a remote island off the southern coast of Belize. Here we would spend four days in glorious sunshine and crystal-clear Caribbean waters where we planned to dive, snorkel, paddleboard, kayak, eat too much, laze in hammocks drinking one-too-many Belikin beers and even read a book while decompressing after the ever-so-hectic holiday hysteria. We were well-prepared for fun in the sun, heck I even gifted everyone colorful long-sleeved swim shirts to protect us from all that sun! In hindsight, I see this was my first step in jinxing us. Bring an umbrella and it won't rain, prepare for too much sun and you can bet the weather will make sure you don't need it!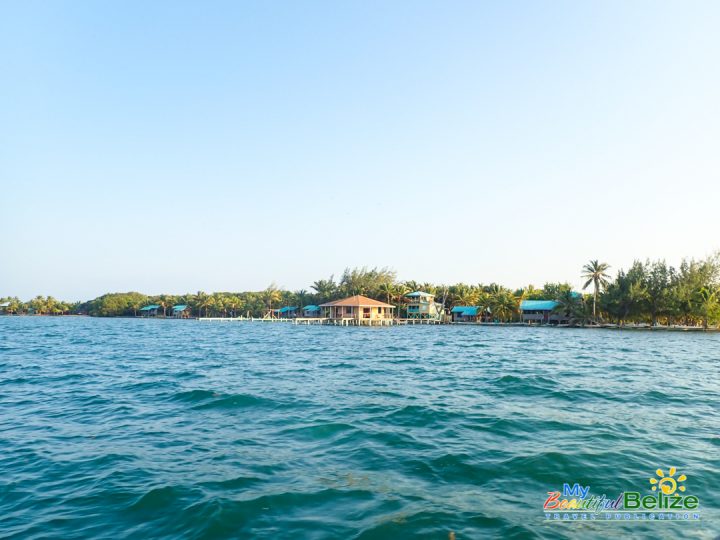 We were headed to the Isla Marisol Dive Resort on the Southwest Caye of Glover's Reef Atoll some 36 miles west of the Dangriga coastline. This area is located within a United Nations World Heritage Site and Protected Marine Park and promised unparalleled diving for hubby and son and great snorkeling for us floaters. After flying to Dangriga from Belize City we were transferred to an open-air boat for our voyage to paradise.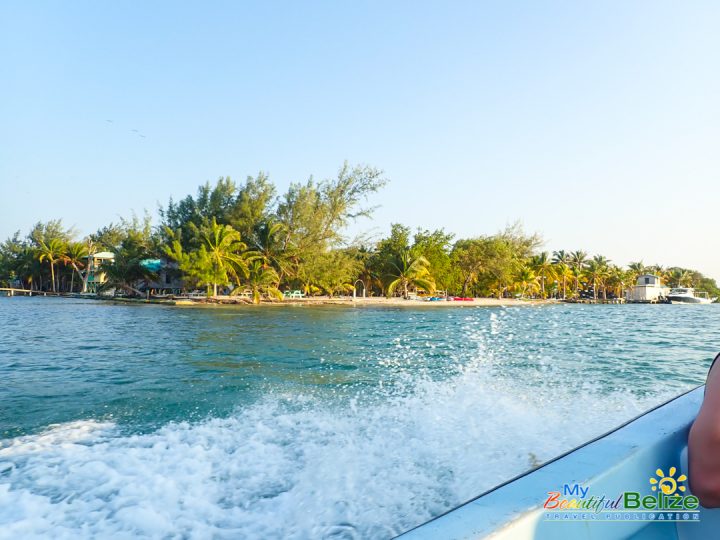 There were other guests boarding who over the next few days would become friends, and with the sun shining, clear skies and donning lifejackets and smiles we took off. Well, sort of. It was low tide and our weighted boat promptly got stuck on a sandbar when exiting the mouth of the river. It was a Saturday afternoon with dozens of locals out enjoying the water and it wasn't long before many able-bodied young men made great fun out of getting us unstuck. It was a memorable and entertaining start to our adventure!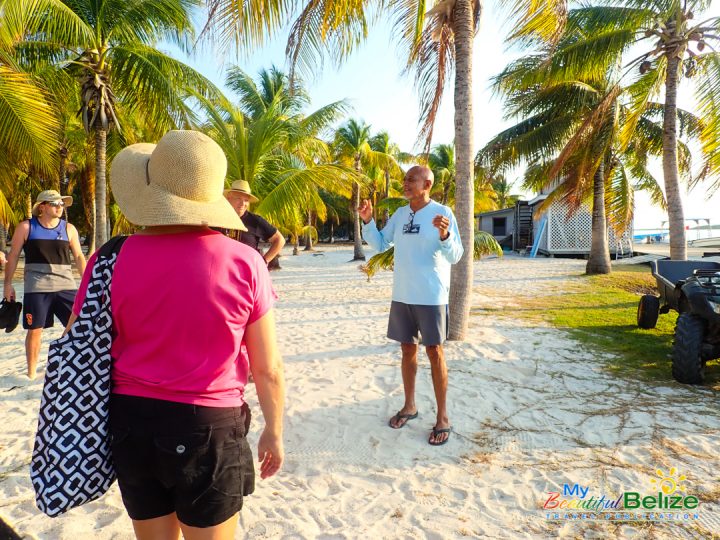 More than an hour later, after passing a handful of tiny islands, some dotted with colorful cabañas, we reach our picturesque destination. Managers Mora and Letty welcome us at the dock and give a briefing about our island home. Power by day is solar and wind, while in the evening a generator takes over.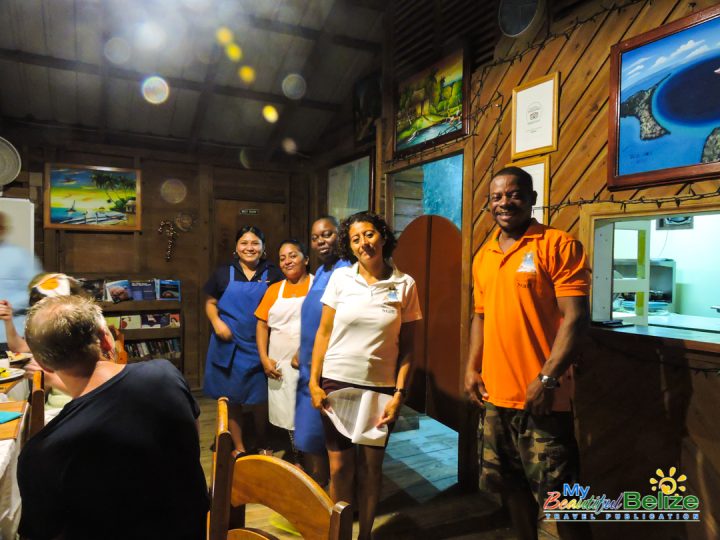 Meals are served three times a day in their common dining/lodge area, offering delicious Belizean and American homemade dishes enjoyed in a casual, communal atmosphere, and they ask if anyone has special dietary requirements they can accommodate. Guests are welcome to use the kayaks and paddleboats that rest on the nearby beach and they point out the ever-so-important bar at the end of a dock across from the main lodge. Now that we are fully informed Letty escorts us to our cabins.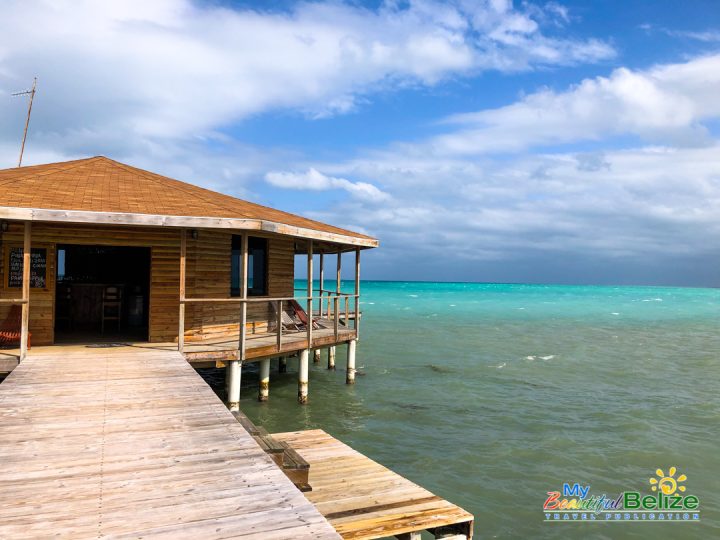 Cozy, cute and clean, two of our three cabañas rest at the water's edge overlooking the expanse of the blue sea. Our creature comforts include hot water in the shower and air conditioning available at night. Complete with a nice porch and requisite hammock, the stage is set for some serious relaxing.
After a tasty dinner of grilled Wahoo steaks, we enthusiastically plan our next day of vacation fun. As we fall asleep with visions of sunbathing and snorkeling dancing in our heads, the clouds start rolling in and the wind begins to howl.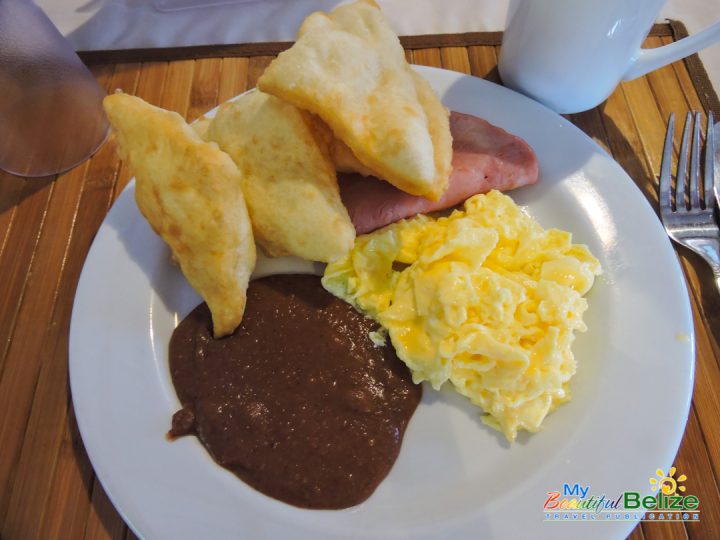 The following day my sister and I chase the sunshine with our beach chairs whenever it manages to break through the clouds. We imagine how pretty the area would be if the sun revealed its beauty, and the blue in the water is just vibrant enough to confirm that it is indeed there. Little did we know that would be the last we'd see of the sun for the next three days. Despite the cloudy day the weather still allowed for some diving where my hubby and son enjoyed exploring the nearby reef with Divemaster Mora and other guests. We hoped the next day would bring better weather, but Mother Nature had other plans.
Belizeans call the rain 'wet blessings from the sky,' and over the next two days, we were properly baptized. The wind was relentless, the clouds dark and angry, the sea churned and the 'sky juice' rained down on us. We braved the weather and managed to explore all 18 acres of the island and beachcombed along a long stretch of exposed reef that had succumbed to the elements.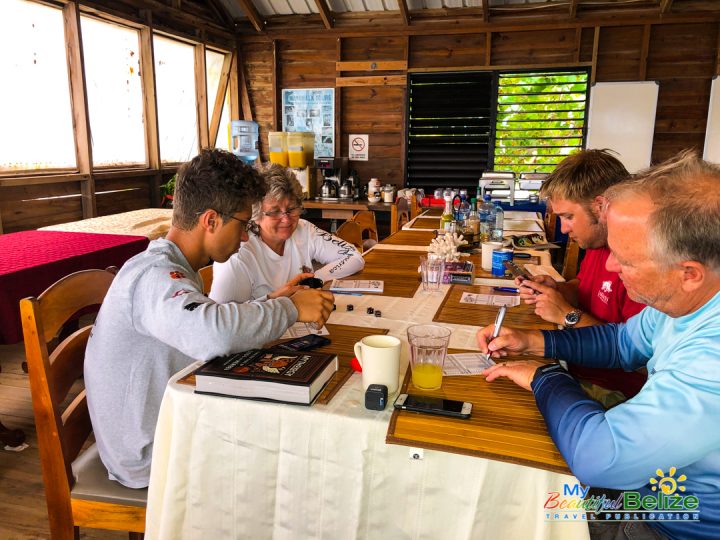 We played Yahtzee and cards games for hours and were thankful we had brought a set of Bocce balls to play under the shelter of coconut trees. We had our share of beers and I even read a book. With limited internet access and more than thirty miles of water between us and the mainland, stranded on an island in the Caribbean took on a whole new meaning! We managed to get in one afternoon of snorkeling and diving, and I could only imagine how beautiful the seascapes would have been if the conditions were better.
Despite the craptacular weather, we made the most of it. It's not the nice people at Isla Marisol's fault that my sister claims it was the worst vacation…ever, and we all agreed if the weather had been better our stay would have been fabulous. On their website, they warn that the transport boat may not be covered, and you might get wet. As we board the vessel on departure day, we are decked out in lifejackets and large black plastic bags. Our captain does his best to skirt around pockets of rain but between the choppy water and drizzle, we are soaked by the time we return to Dangriga. As we wait for our flight back to Belize City, my octogenarian mother exclaims, "Well, that was fun; I would go back again," and yes mother, I'd do it all over again too, but first I'd check the weather forecast!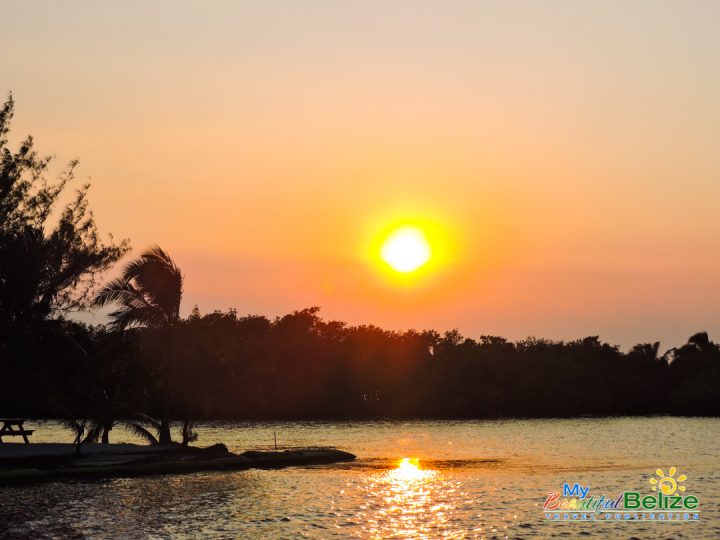 For more information about the family-owned and operated Isla Marisol Dive Resort, please visit their website at www.islamarisolresort.com.