Imagine growing up with the Belize Barrier Reef as your front yard. Your (not-so) private swimming pool, if you will! All those endless blues, the magnificent coral reef awaiting exploration, turtles, fish, rays, sharks, coral, eels, perhaps a manatee or two – and so much more, just ready to make your acquaintance. For a lot of Belizeans, growing up on Ambergris Caye meant just that.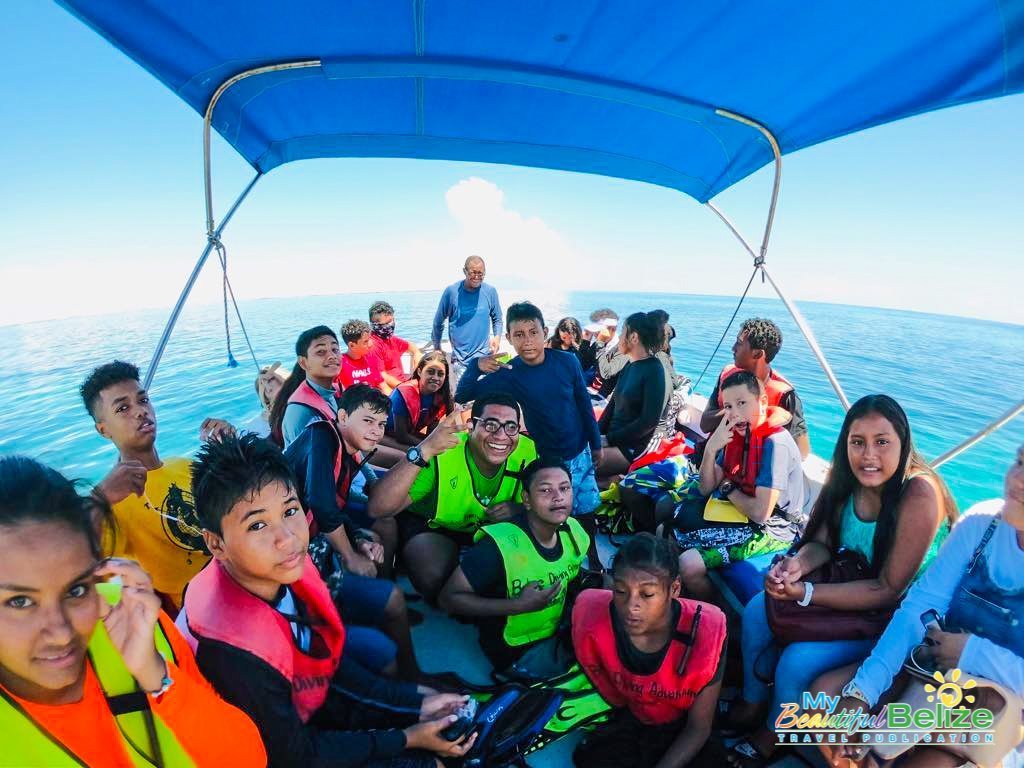 Taking it a step further for the past decade is the group called Kids In Action (KIA) – an annual diving program that certifies young divers (free of charge) so that they can better appreciate the natural marine resources surrounding Ambergris Caye. It is organized by the San Pedro Tour Operators Association (SPTOA) in collaboration with the San Pedro Tourist Guide Association (SPTGA). Our very lucky reporter for The San Pedro Sun, Hamerlin Sandoval has been part of this group, doing his share of diving and working closely with the organization to promote their work.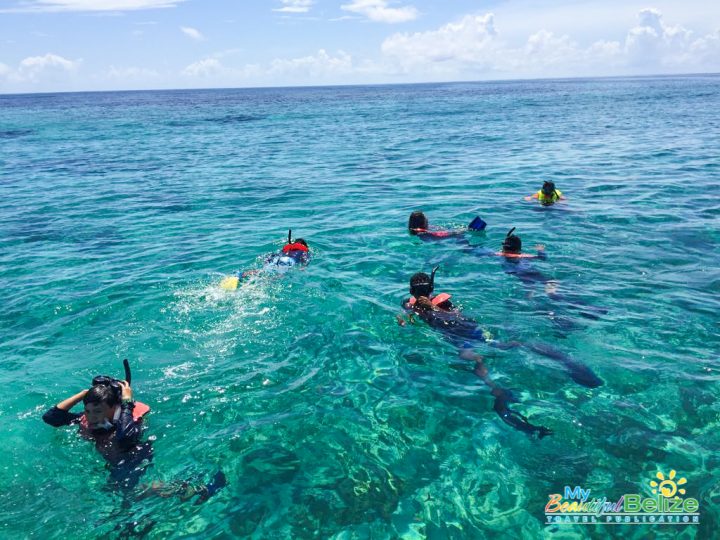 For the last two months, KIA members have participated in different weekend educational trips to learn about, appreciate and protect the environment and marine life. Their latest weekly field trip took members of KIA to the North Caye Caulker Channel in Caye Caulker Village on a gorgeous Sunday, (September 22nd). The aim of the trip was for the children to see and appreciate manatees, as well as to raise awareness about the protection and monitoring of these endangered species. If not protected, Belize's Antillean Manatees may not exist in the near future.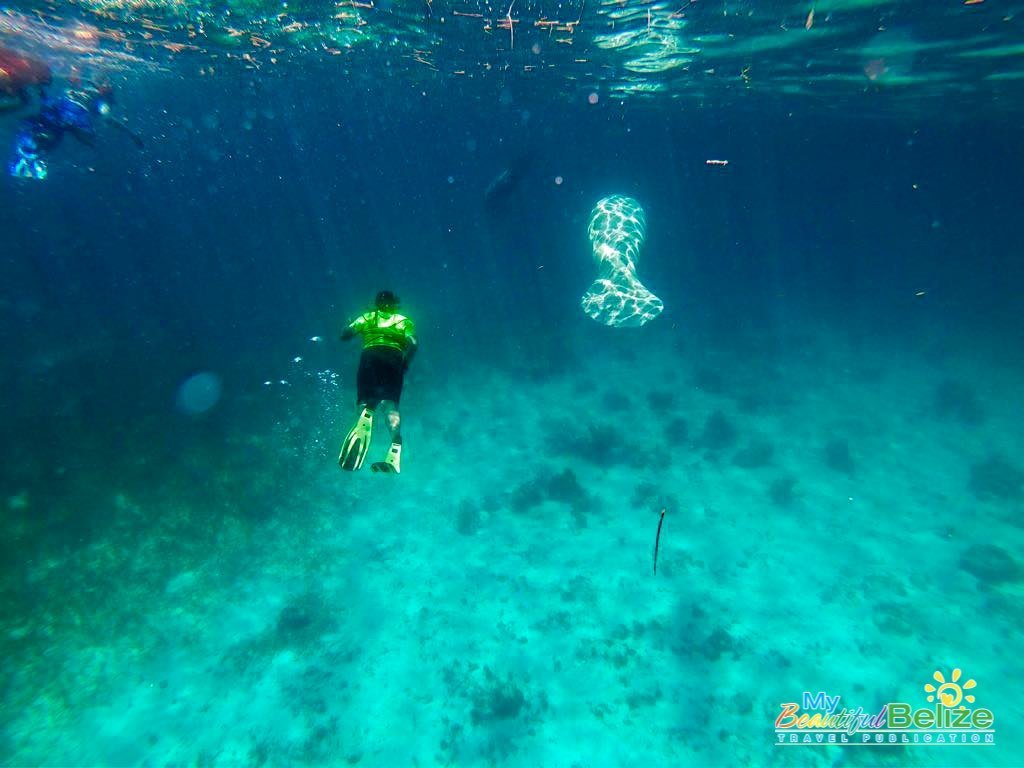 At 9AM, KIA members along with their instructor Brittney Garbutt met at Belize Diving Adventures and headed out to the area. At the North Caye Caulker Channel, the children got to snorkel while Garbutt shared the importance of the corals in the area. After that, they got see and swim with two manatees that were in the area. The KIA children were excited to get the chance to encounter these creatures so closely as they are usually shy. They even had the opportunity to have pictures taken with the gentle giants in the background. KIA members then learned about the importance of manatees in our ecosystems and the different dangers they encounter.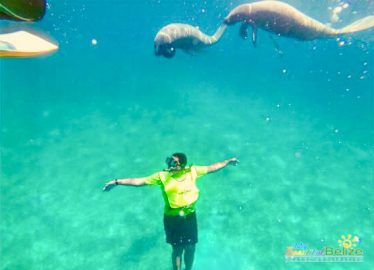 Belize is known to have the most Antillean manatees in Central America. They are mostly found in the coastal zones and mangrove areas of the country. Although Belize has the largest population of these creatures, in recent years the death toll of manatees has drastically increased, mostly due to watercraft collisions. Other causes of manatee deaths include dredging, pollution, gill nets, and even poaching. Therefore, it is important to protect this species.
The general public is reminded that manatees are protected in Belize under the Wildlife Protection Act, No. 4 of 1981, whose jurisdiction is under the Forest Department in the Ministry of Natural Resources. Under this Act, no person shall hunt, meaning "to kill, molest by any methods and includes attempting to kill, take or molest by any method" any manatee. Anyone who hunts a manatee will be fined $500 on a first offense, and $1000 and/or imprisonment for six months, for previously convicted wildlife offenders.
For more information, or to report manatee deaths/injuries/sightings, please contact the Manatee Researchers at the Coastal Zone Management Authority and Institute via 223- 0719 or 223-5739. You may also visit their website. To avoid manatee boat collision-related deaths, boaters are cautioned to drive carefully in these areas and mind NO WAKE ZONE warnings: Swallow Caye, Moho Caye, Port-O-Stuck, Drowned Caye, Hicks Caye, Bluefield Range, Rider Caye, Turneffe Atoll, Placencia Lagoon, Chetumal Bay, Port of Honduras Area, Indian Hill Lagoon, Deep River, Belize River, Monkey River, Rio Hondo, and Mullins.
Special thanks go out to Access to Better Opportunity, Reef Adventures, Belize Diving Adventures and SPTOA for sponsoring the trip, boat captain Mr. Ched Cabral, instructor Brittney Garbutt, and SPTOA President Everette Anderson for educating the children, and the parents for allowing their child to be part of this fun and educational trip. Anyone interested in partnering with SPTOA's environmental projects can contact Anderson at 600-4856. For more information on the great work SPTOA is doing on the island, you can visit their Facebook page or their website.