Island Dream Tours on Ambergris Caye offers a variety of excursions on their customized catamaran, the YOLO. From sunset cruises to snorkel day trips that include time at our sister island Caye Caulker, there's something for everyone. But my 'go-to' trip that I insist on taking friends and family on when they visit my island home is their full day Chill n' Cruise Day!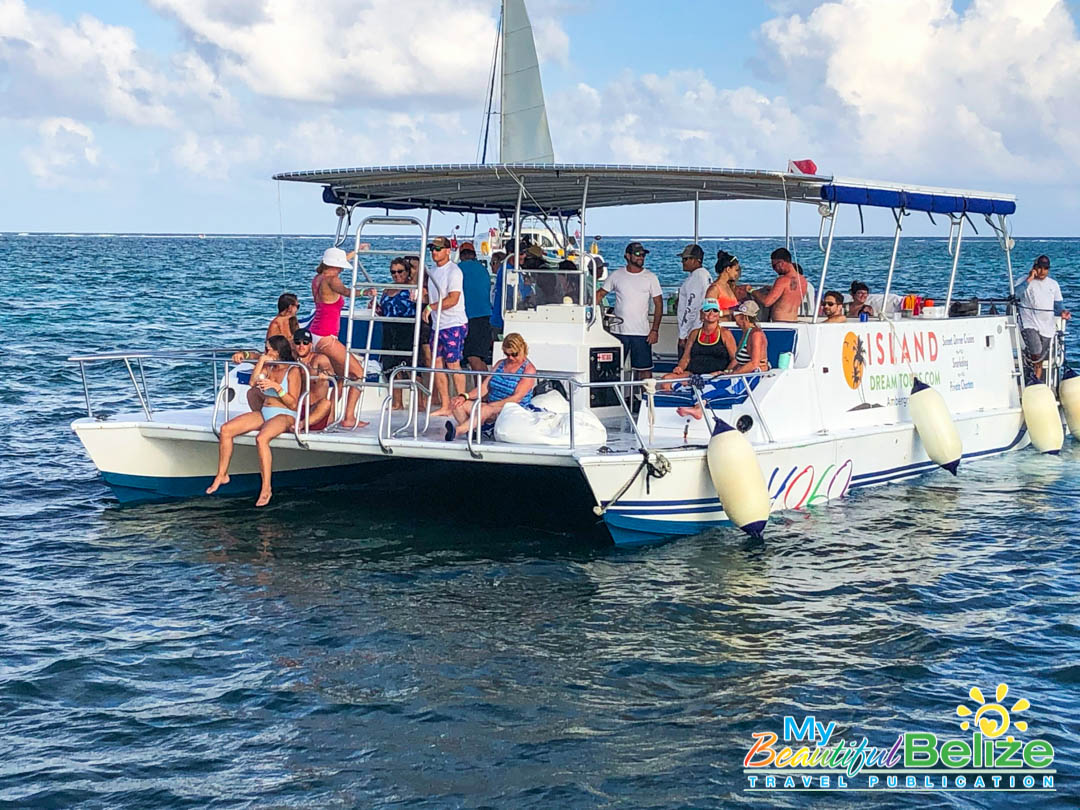 The day kicks off at 9AM on the super comfortable YOLO, with lots of great seating in and away from the sun, ample room to socialize, a full bar, and even a bathroom! After a brief safety introduction, the boat sets sail to our first snorkel stop at Hol Chan Marine Reserve. Along the way, we enjoy a buffet of yummy ham and cheese-stuffed French Toast, fresh fruit, and juices. Caribbean music sets the chill vibe, and guests can choose from their impressive menu of custom-made libations or anything else from their well-stocked bar, including sodas and fresh juices. It's just minutes after 10AM when we reach Hol Chan and the very attentive crew is sure to properly outfit the guests with snorkel gear and divide us into groups with designated guides.
The water is clear and warm, with colorful fish eager to greet us. Our guide knows how to find the good stuff and leads us to where a Green turtle is grazing on turtle grass, imagine that! The busy turtle doesn't mind our dives to get a closer look (and photos) and the day is off to a brilliant start. For the next hour, we explore the gorgeous corals of the Belize Barrier Reef and spot gray angelfish, trumpet fish, barracuda with big teeth, nurse sharks, parrotfish, permits, and brightly striped Sargent Majors to name a few!
Once back on the boat we head to Shark and Ray Alley to swim with guess what…sharks! Have no fear, these bottom-dwelling denizens of the deep are just there for the chum and are not interested in eating tourists! There's nothing quite as exhilarating as swimming with sharks and rays, and while some of us are eager to jump right in and check it out, others are happy to have another drink and watch the huge school of begging nurse sharks from the comforts of the boat.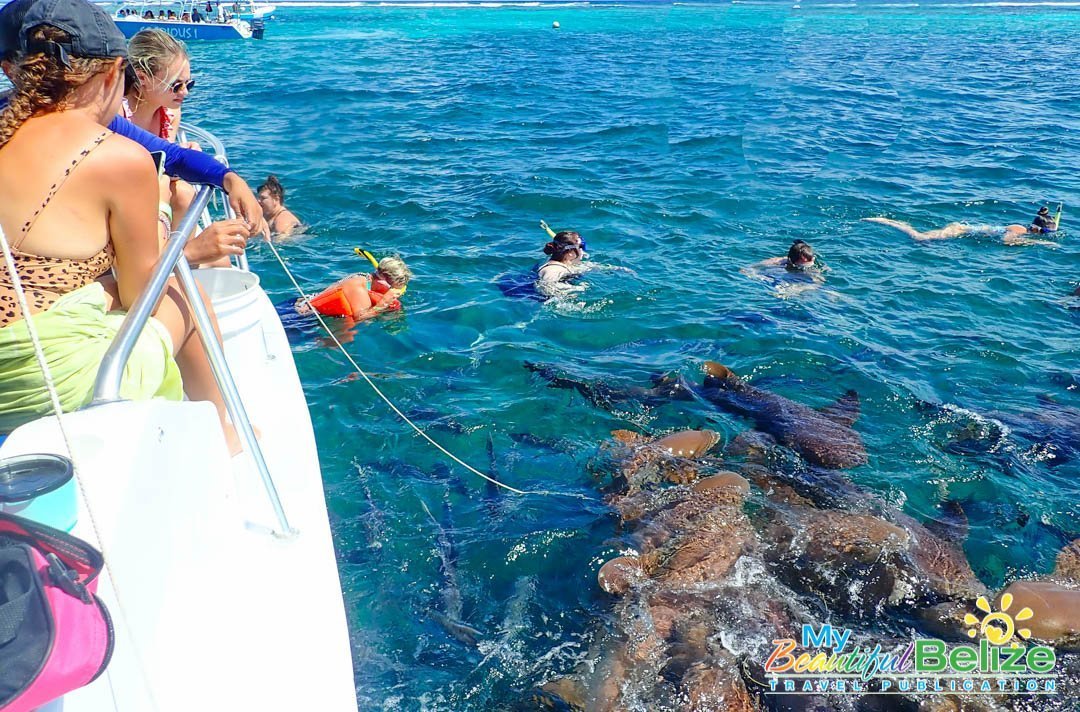 All this excitement and swimming has everyone hungry, and as we depart from Shark and Ray Alley, heading to the ultimate chill destination, lunch is served. Delicious chicken and ribs, along with rice and all the fixings are served buffet style and for once the chatty passengers are quiet as they devour the tasty meal. The crew keeps the drinks coming, and we are all very happy campers! Next stop, the best swimming hole you'll ever soak in!
We set anchor in shallow, crystal clear water that's not more than four feet deep. Everyone into the pool! Next comes the inflated pink flamingoes and unicorns to lazy away in or maybe you want to take up a game of volleyball at the net the crew has erected. At this point no one is a stranger, cocktails have a way of doing that, and it's just one grand pool party with twenty of your new best friends! After a couple of hours of fun in the sun its time to load back up and head home. Out comes fresh seafood ceviche and chips with, of course, more cocktails. The music now playing is solid get up and dance tunes and everyone is on their feet bustin' a move, posing for selfies and group photos while having a blast!
Once we reach the dock where we launched from, my visiting nephew and his wife, along with their four friends proclaim, "this was the BEST TIME EVER!!!" I do know how to show my guests a good time, and it's easy when you take them on the YOLO! Trips on the YOLO are all-inclusive, offering chef-prepared meals, limitless open bar, local beer, signature fresh fruit cocktails made to order, sodas, water, juices and more. Is it possible to have too much fun? Never! After all, You Only Live Once!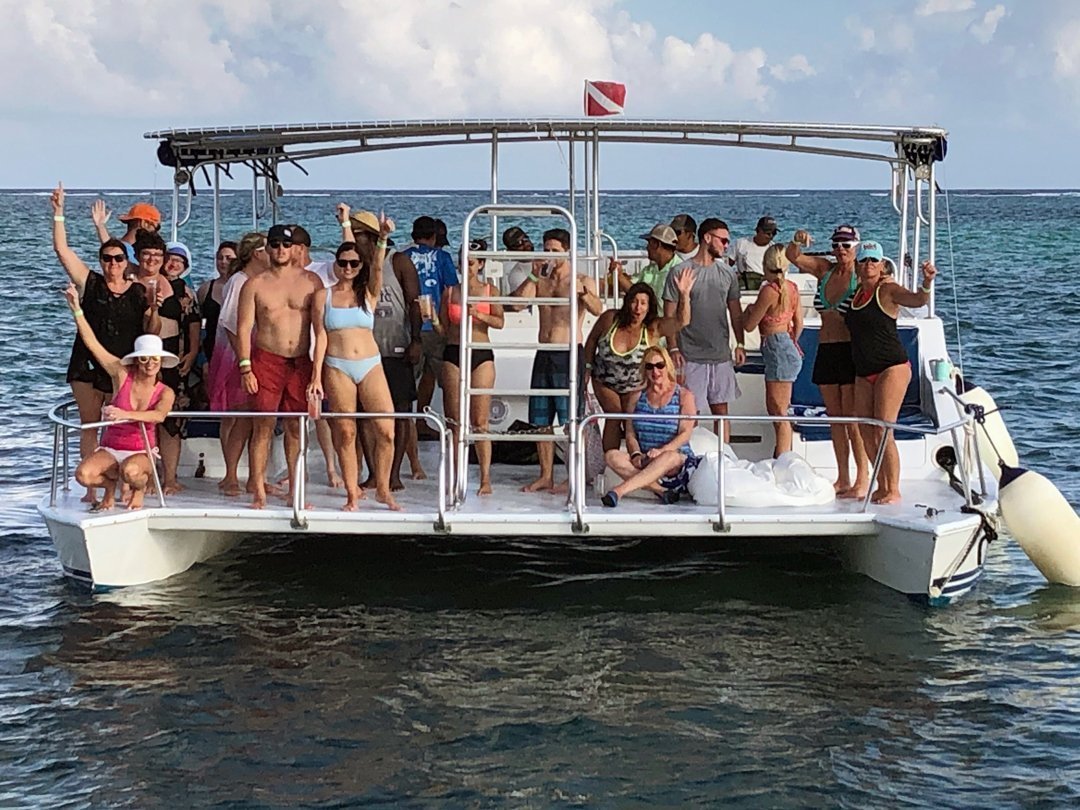 For more information please visit their website at www.islanddreamtours.com or find them on Facebook at Island Dream Tours – YOLO.