Imagine eating your way through Belize…
No, really, imagine tasting all the foods that are enjoyed across our little country. Yes we're known for rice and beans – it's a staple that is on nearly everyone's table at Sunday lunchtime, but honestly, there's so much more in our kitchens. Foods that take advantage of the bounty of farms, meals that have evolved from stretching one's dollar to provide a protein rich soup for an entire family, and even snacks that can double as dinner if you so desire (we won't judge).
Remember, calories don't count during vacation, so forget the diet, and indulge in a taste of everything deliciously Belize!
Breakfast
We Belizeans love our starches. Give us all the days our daily breads…and tortillas, and Johnny cakes, and fry jacks. Serve them alongside scrambled eggs, re-fried beans and hey, is that leftover stewed chicken from yesterday's rice and beans lunch? Throw it on the plate too!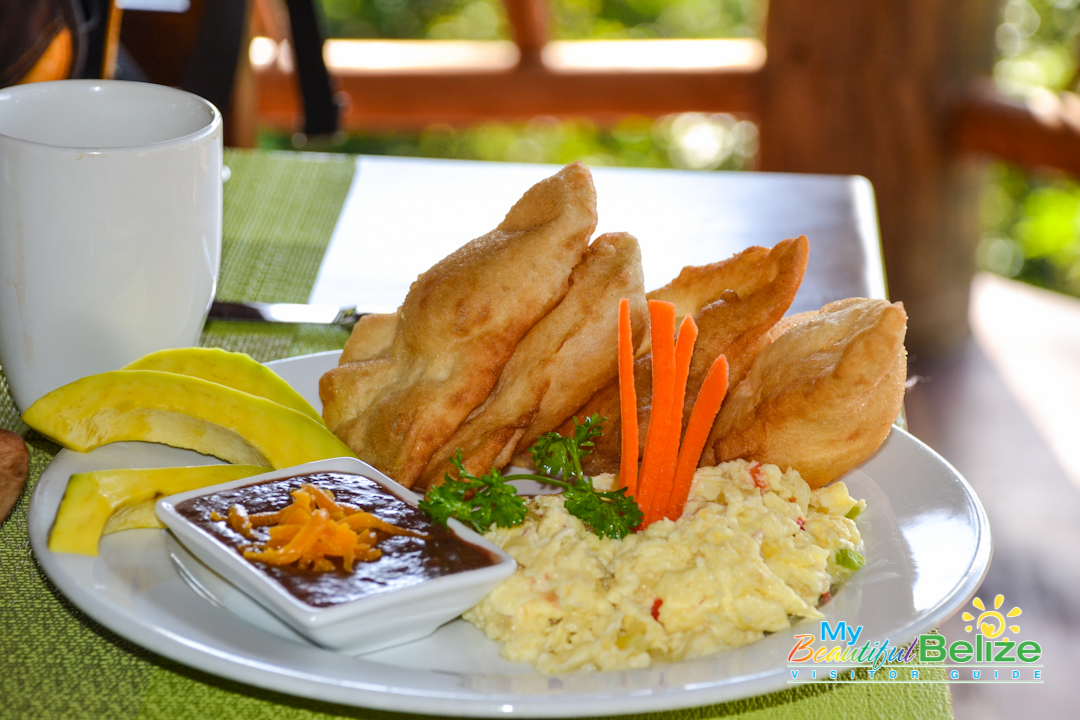 One particularly delicious combination to break one's fast is what we call Maya eggs, with re-fried beans, and, when in season, avocados. To scoop up all that goodness, nothing better than a few puffed and crispy fry jacks. It's really one of life's little pleasures to sit down and enjoy such a treat. Made of the same dough as a flour tortilla, instead of baking the flattened disc, we fry it up. Because, of course we would! (We didn't promise you fat-free anything – and you know you don't want that anyway! Save the granola and non-fat Greek yogurt for later; fry jacks are worth it…)
Celi's stuffed tortillas also get major love from us. The fabulous ladies at the deli will make thick tortillas that they then slice in half, filling it with a spread of re-fried beans, meats (our favorite is bacon) and cheese. We go so far as to ask for some Marie Sharp's pepper sauce sprinkled on there too, and when they toast everything up, the cheese melts and the morning can start. If you're too late for these deliciousities (yes, it's a word!), have no fear. There's an alternative: meat pies!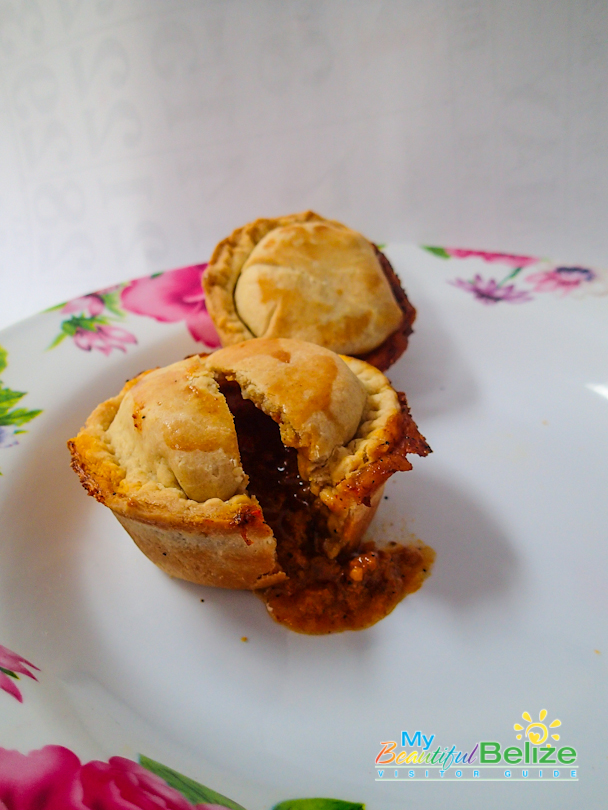 Flaky crusts stuffed with seasoned ground beef are baked in muffin tins, forming super delicious and convenient mini-pies that can fill you up till it's time for lunch. "Little pockets of heaven", exclaimed one enthusiastic tourist after devouring a few of these bite sized staples.
RECIPE TIME: Fry jacks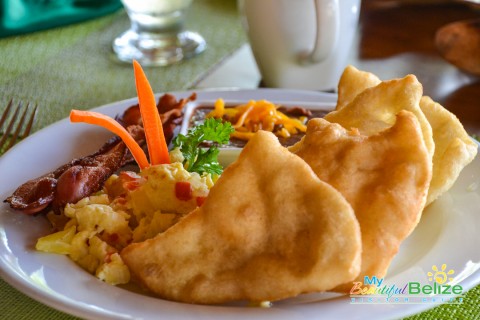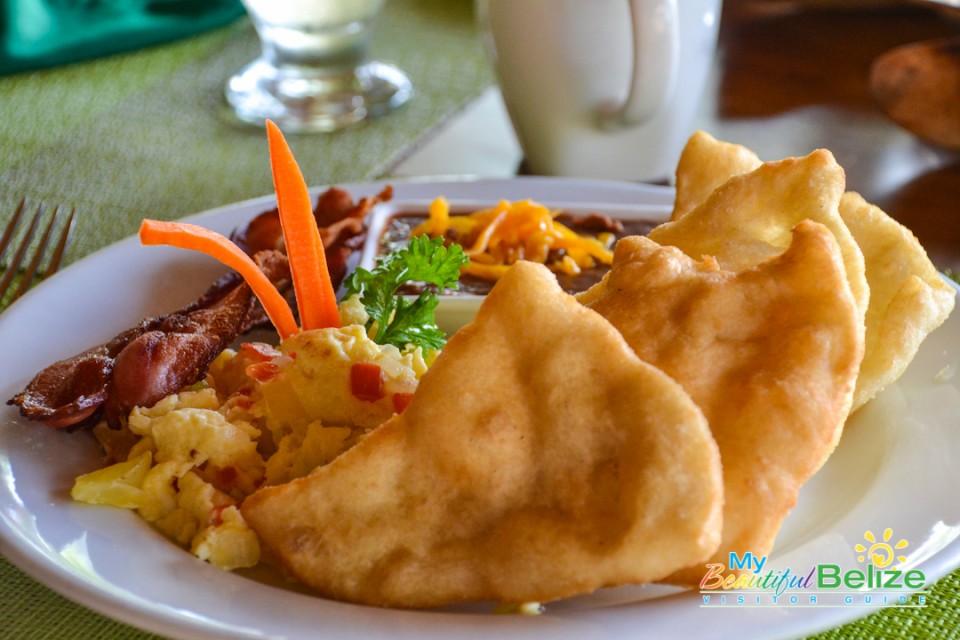 Ingredients:

6 cups flour (dry measure)
4 level tablespoons baking powder
1/2 cup shortening
1/2 teaspoon salt
Room temperature water
Directions:
Mix flour & baking powder to incorporate the baking powder as best as possible. Sprinkle salt and mix well, then add in shortening. Using your hands, incorporate shortening into the flour mix until it feels/looks like cornmeal.
Add water, starting with a 1/4 cup at a time, so you don't run the risk of your mix getting too sticky. Add a bit more water till the flour is moistened and starts to come together. If it feels too dry, add a tablespoon of water at a time…and if it feels too tough, add a little shortening and keep kneading.
Knead till it feels smooth and elastic, and you can form little balls easily. You should get around 16 dough balls.
Let them rest for about 15 minutes in a nice warm spot.
Heat up about 2 inches of oil in a heavy bottomed pan.
Flatten dough balls into rounds, slicing in half and quarters, then carefully place in hot oil to fry up. They should puff up beautifully. After about 30 seconds, flip to brown next side for another 30 seconds, then remove.
Place on a paper towel-lined plate to drain any excess oil.
Serve with Maya eggs (eggs scrambled with fried diced tomatoes, onions and peppers) or serve them simply drizzled with honey. Enjoy!