Have you ever felt like a tourist in your own country? Well, author Jessica Retseck Wigh totally gave that illusion in her latest book in her Caye Boy series, 'Caye Boy Visits the Jungle'. The book features Gilford and his little brother Alvis, and their adventures growing up on an island. Gilford and his family live on Caye Caulker island, and being separated by many miles and actual water made exploring Belize City quite exciting.
In the book, Gilford and Alvis are so excited to visit Mama's family on the mainland, taking the trip as a big adventure since they're used to their little island and blue house. From doing unusual things such as getting their hair brushed to putting on "itchy" clothes, Jessica's new book shows how the brothers experience culture shock, but adapt very well to the jungle.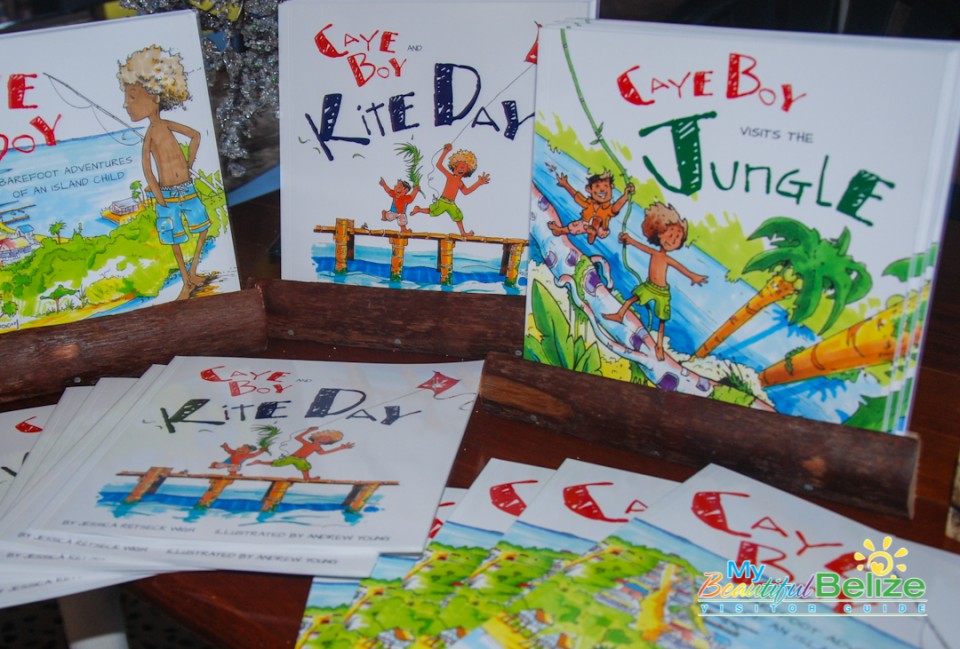 From when they come off of the boat on the mainland, the brothers find the city "super busy", filled with houses, cars, buses, trucks, and a hundred fruit stands. After taking the "bush bus" out of the city and through marshy lands, farms, hills, and lastly to the mountains, the boys are amazed to see cows, horses, and rows of orange trees. When they arrived to Mama's mountain, they are greeted by their family with hugs and kisses before heading into their adventure.
Mainland Belize is definitely different from the island. Instead of sand, the jungle is filled with dirt, plants, and trees. The jungle is loud, due to the whooshing noises of the river, trees blowing, and many native animals making noise. The best part of having an adventure is having company, and their cousins help them fit right in by building a secret jungle fort. Gilford's favorite thing to do in the jungle is to lie down and watch the butterflies, while Alvis enjoys playing a warrior and scaring his brother.
The adventure never seems to stop in this book! The children play endlessly, race each other, visit waterfalls, and experience a family-like Sunday dinner. However, after spending a couple of days with Mama's family, the boys' feet started itching for sand. Like Papa said, "you can't take out the Caye out of the Caye Boy!"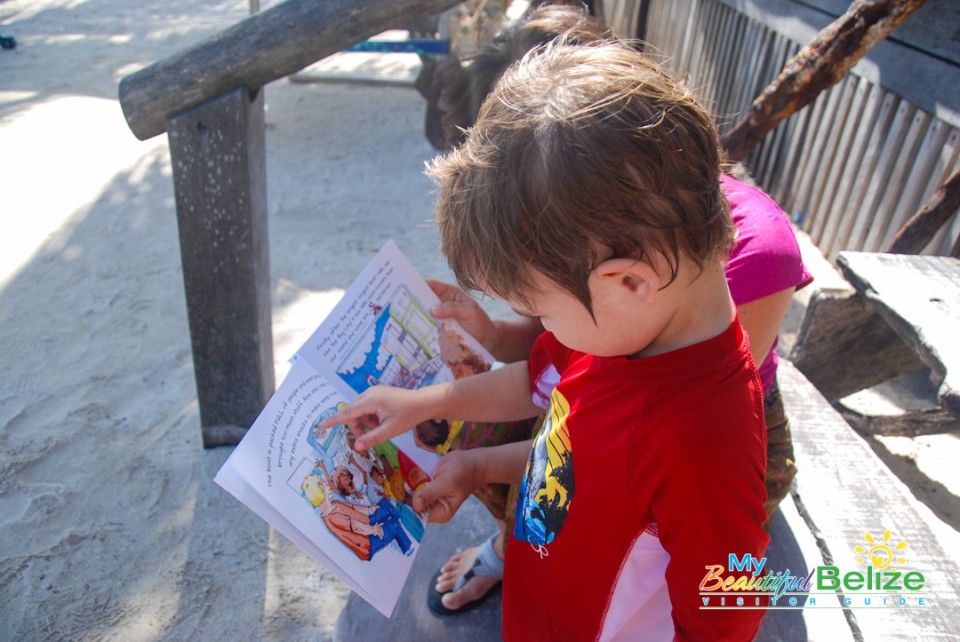 Author Jessica explained her inspiration behind her latest Caye Boy book. "My husband I have been on the island for over 17 years, and we watched our neighborhood children grow up. We have three children of our own, and the first two books were only about the island experience, and so we wanted to add the mainland experience in the third book. When you live on an island, it is very common that people have families scattered around the country. We wanted the island children from the book to visit their mother's extended family in the mainland, and have a different kind of fun from what they're used to," said Jessica.
For those who are in love with the Caye Boy series like I am, another is currently in the works! "The next book will be a spin-off from the series. I am currently working on a field-guide for children to teach them about the animals of Belize. It's a little bit more information-based, than a story-book, but Gilford and Alvis will still be the main characters," said Jessica.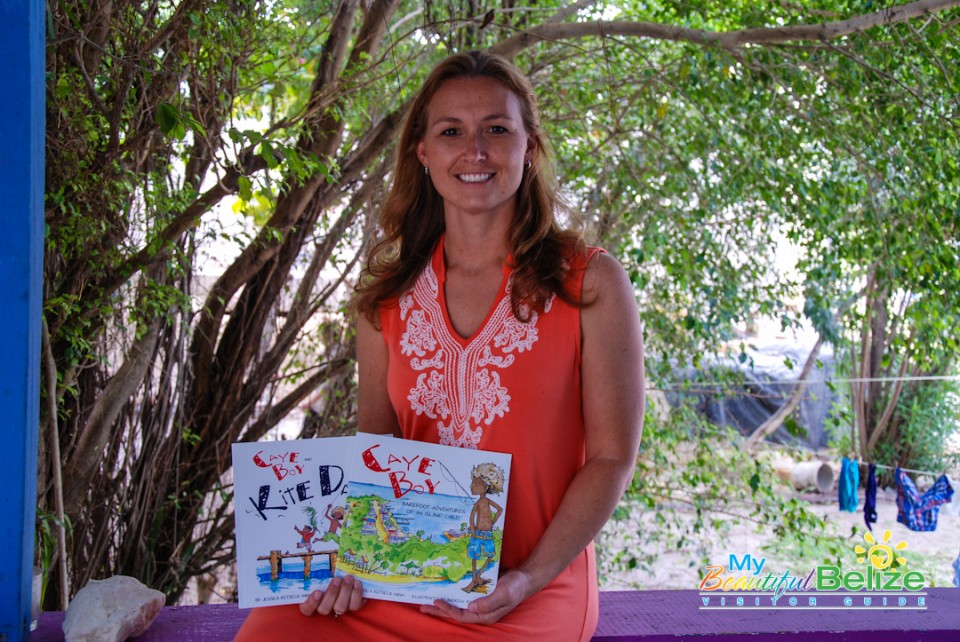 Jessica also spoke about her interest in preserving printed publication. "I am passionate about the written word on paper, and I think it is so fun to go out on a chair or hammock and feel through the pages. However, I completely understand the need for that to be transmitted electronically. But being an author and having a journalism background, I'm in a push-and-pull situation where you want to preserve written things and understand the impact it has on the environment. It's the same information, but you experience it a totally different way. There's nothing like collecting books, and reading them to your kids," said Jessica.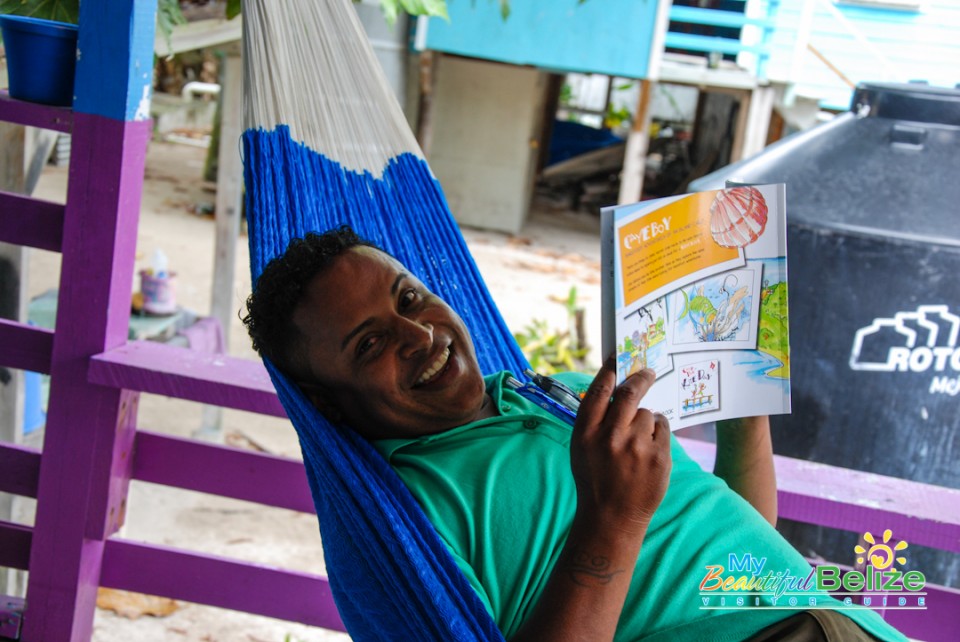 Published by Little Blue House Publishing, the Caye Boy series is illustrated by Jessica's old-time college friend, Andrew Young. They are available at www.cayeboy.com and on Amazon.com for world-wide shipping. Oh, and be sure to look for Hermes the crab on each and every page! You can also get them across the country at these local retailers:
Belize City– Belize International Airport (Toucan Gift Stores) and Moho Chocolate
Caye Caulker– Caye Caulker Plaza Hotel, Cayeboard Connection, Caribbean Colors Art Café, Island Link, Island Magic, Mirany's Gift Shop, RandOM Yoga, Seaside Cabanas, Laca Laca Toucan and Little Blue Gift Shop
Cayo – Art Box, Black Rock Lodge, Hidden Valley Inn, and Orange Gallery
San Pedro – Belize Arts Gallery, Captain Morgan's, El Pescador, Las Terrazas, Moho Chocolate, Portofino Resort, Salty Dog Gift Shop, Toucan Gift Stores, Twelve Belize, White Sands Cove and Ramon's Village Resort
Placencia and Off-shore Cayes– Hatchet Caye Resort, Chabil Mar, Crocodile Gift Shop, One World Gift Shop and Robert's Grove