Are we there yet?! Shockingly, it was not me asking this question every climb of a seemingly never-ending trail hike. It was Tamara! We were both HOT and feeling extra sluggish the further we got into the jungle. Despite our guide Marvin's pleasant stream of chatter and informative facts, we were ready to get to our long-awaited destination. He encouraged us patiently, and when we felt the air temperature drop and a roaring sound in the distance, our hearts raced, and relief flooded our limbs. We practically raced up and down a tricky part of the trail, and every sore muscle was worth it, because there before us lay an incredible sight: Butterfly Falls!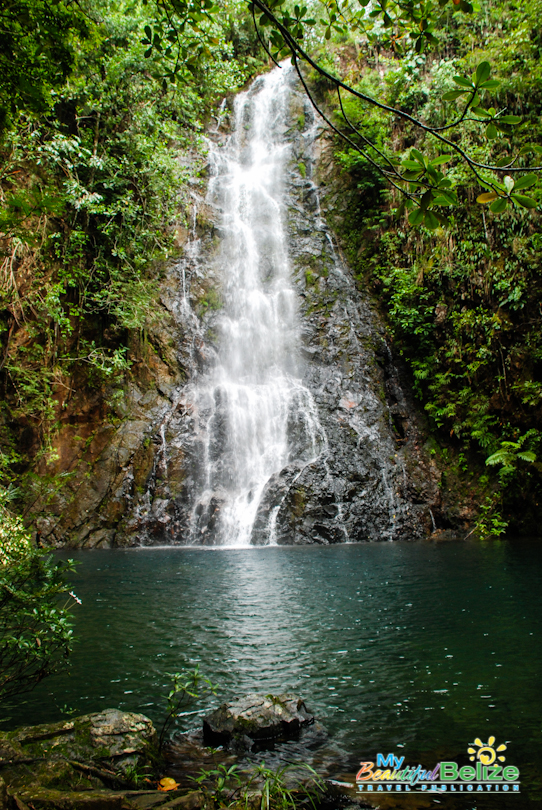 My home country constantly surprises me. She lulls me into oblivion, as I spend my day to day on an island beloved by many. The soft waves of her blue sea are the soundtrack to my life. I may not subsist on coconuts and fish, but the island life is pretty much it for me….that is…until the wild comes a-calling. I can see her tall and proud in the Maya Mountains, her verdant frock tempting me with its dew, its mist, cool winds and fresh, crisp air. To be ensconced in her is my very favorite thing in the world, and I never tire of exploring and discovering her hidden gems.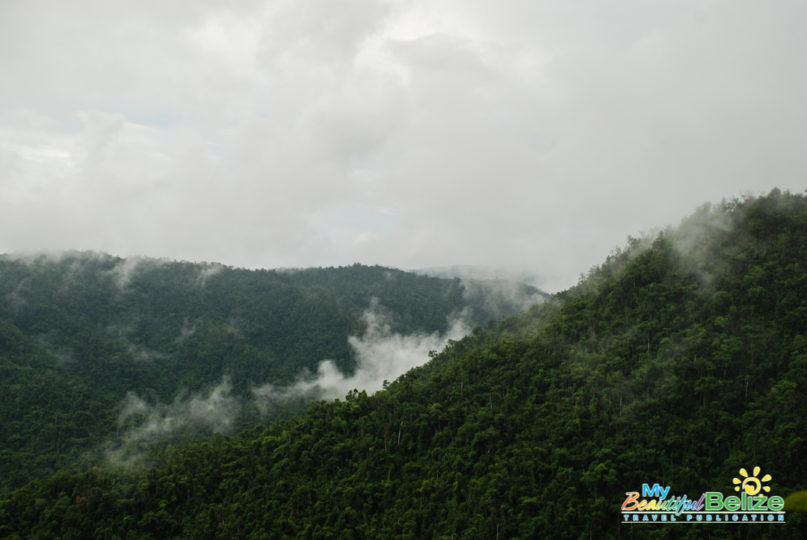 Belize is home to many reserves – in fact, 26.2% of her territory is under legal protection by the government. 17.8% constitutes private protected areas, and 70% of the forest remains standing. One such private reserve is the Hidden Valley Inn and Reserve in the Cayo District, the largest of Belize's six, and my home district. Spanning 90 miles of mountain pine ridge forest, trails, and waterfalls, Hidden Valley is home to an exciting variety of flora and fauna, especially migratory bird species.
Touring this expanse would take quite some time, but oh the breathtaking possibilities! As it is, I was able to enjoy some vistas while staying at Hidden Valley Inn. Thanks to our knowledgeable guide Marvin, we were able to visit some spectacular spots that most visitors only dream of seeing. I mean, I grew up nearby, and even I had no idea they existed either!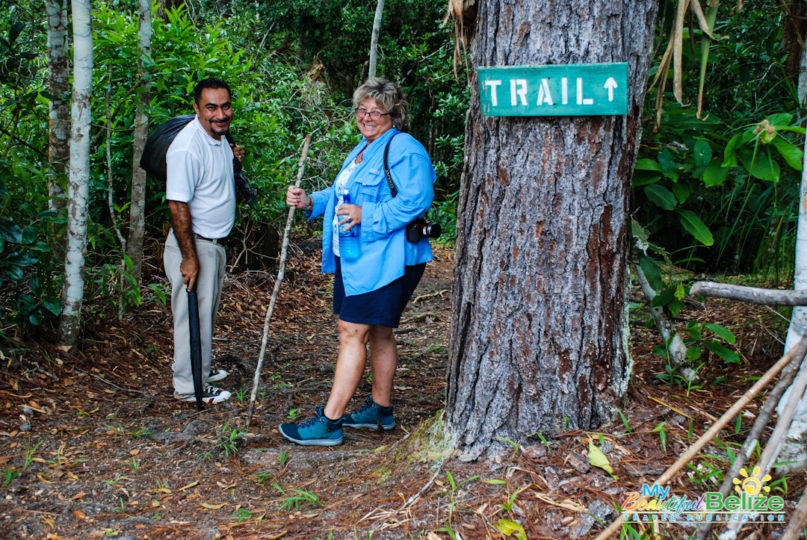 On our first day at the resort, we quickly discovered that the reserve is a hotspot for mountain bikers, adventurers, hikers and nature lovers alike. As such, the Hidden Valley landscape is dotted with trails ranging from easy to extreme, but all set up so that one does not get lost! At any point in time during a hike, you can call on your resort-issued walkie-talkie, and there will be rescuers headed your way! That is, if you don't orient yourself and follow the signs scattered throughout the property on marked trails – clearly, the lesson is, 'don't go off-trail'…ha!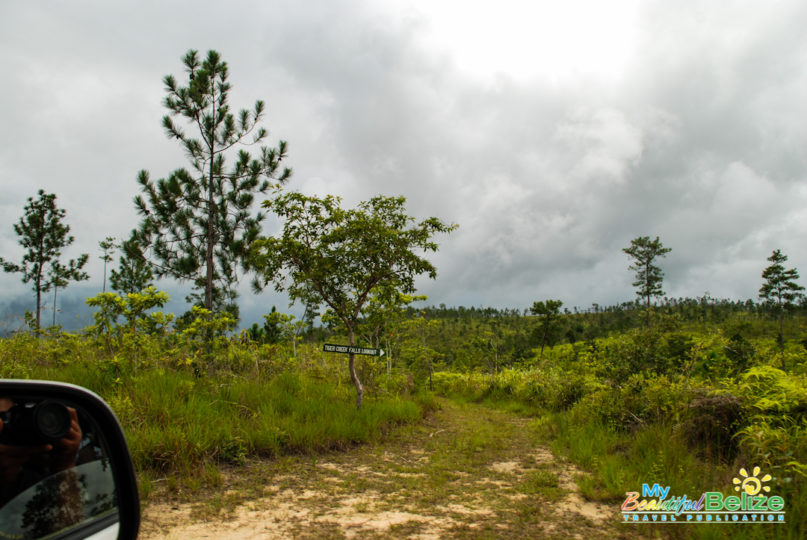 Our first hike seemed gentle enough; in fact, to start with, we clambered into a double-cab truck to cover most of the ground. Tamara was thrilled to have someone else driving for a change after she had spent nearly four hours behind the wheel from Belize City to Hidden Valley. Marvin told us of the variety of birds that migrate to the reserve, and we admired his expertise as he began pointing out birds here and there. The drive was at times bumpy, but I looked out to the roadsides and saw all manner of trail markers, one of which was for the Butterfly Falls Trail. Marvin told us we would save that waterfall for the next day, but what he wanted us to experience was one called the Secret Falls.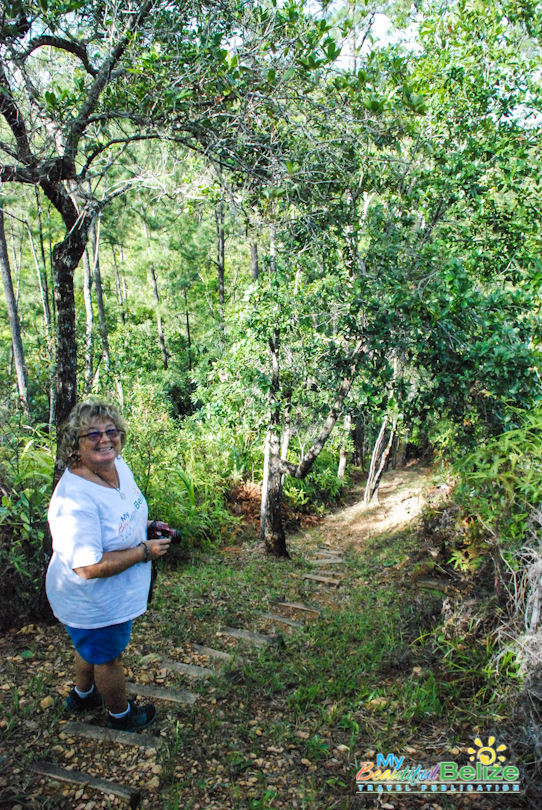 Popular with honeymooners and the romantic types, this waterfall can be roped-off 'reserved' for a special morning or afternoon of utter leisure and privacy. Seeing as Tamara and I were neither honeymooning nor romantically involved, we decided that the perfect reason to reserve the falls was so we could drink our wine in peace! Marvin had revealed the contents of the cooler at the top of our hiking trail, and we couldn't wait to make it to the bottom and toast to our accomplishment. Going down was fantastic, rope rails were there to help in some trickier spots, but overall, it was a breeze to walk downhill. The closer we got to the bottom, the cooler the air got, and the louder the sound of roaring water became. Soon, we could see the splashing falls, a gazebo built just a little way from the base of its pool, perfectly situated to enjoy the wonder of nature before us.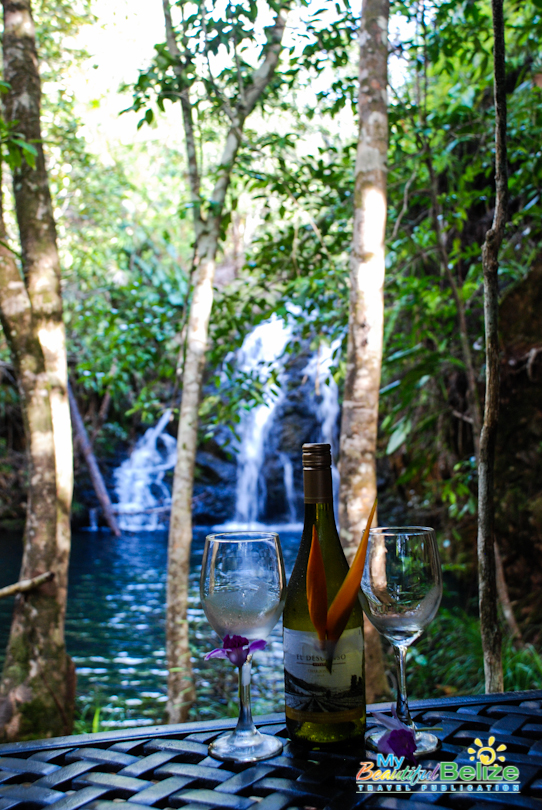 We sipped on wine, chatting pleasantries with Marvin and finally unwinding after a long day of travel. We could definitely spend an entire day, perhaps with a book or two, on a hammock strung on the gazebo hooks, napping whenever we felt like, swimming in the cold, refreshing waters, returning to the Inn only after our minds and bodies were fully recharged. As it was, we soon had to hike back up whence we came from, and to Marvin's immense amusement, we did so while holding our wine-filled goblets. Cross another one off our bucket list indeed! (You can take the girls out of the party island, but…clearly…the party comes with them!)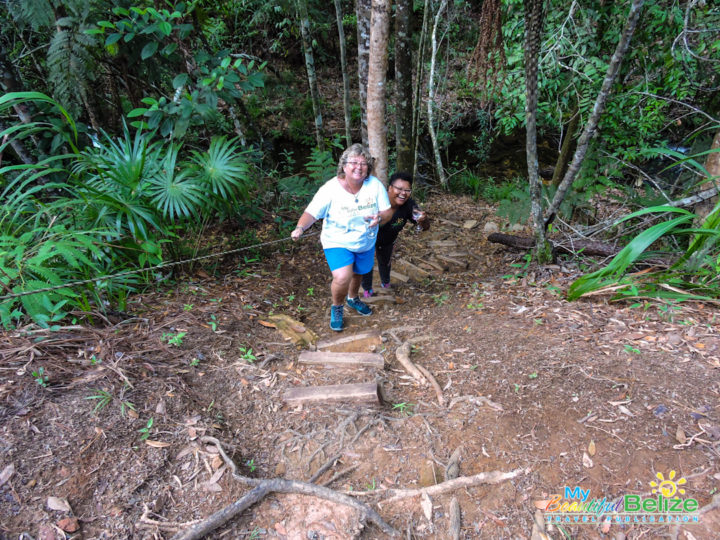 The next day, I joined Marvin on a solo expedition throughout most of the area, checking out their coffee plantation (which provided tasty coffee in our rooms every morning) and even a man-made lake. The skies became cloudy, and soon, fat droplets of rain fell, and the jungle took on a different hue. All around swirls of mist rose as the cold rain hit the hot earth. We hiked to a few nooks on the property, finding all the best places to escape to with a good book and a picnic.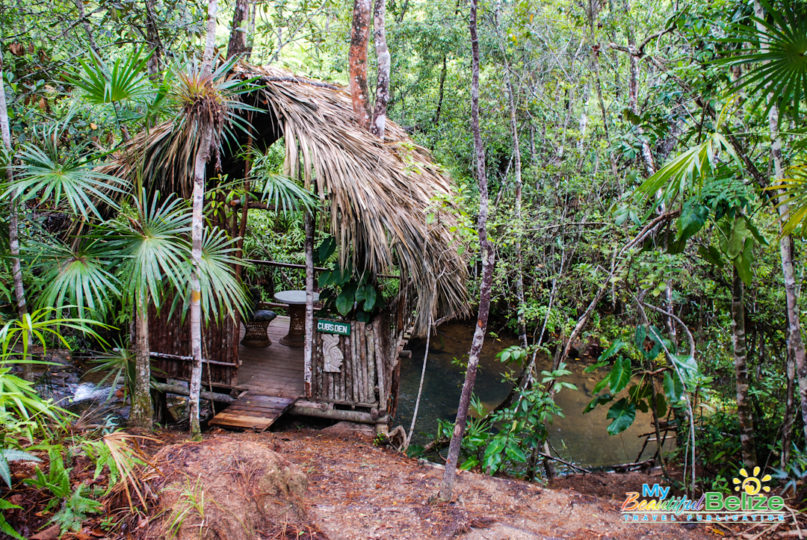 For families, Marvin recommends Cub's Den, with its thatched hut, table and chairs, low babbling stream perfect for children to frolic and cool off while Mom and Dad relax close by. Other falls were merely visible from a vantage point nearby, but Marvin pointed out trails high up in mountains across valleys, showing just how far the land extended and how much could be covered and explored.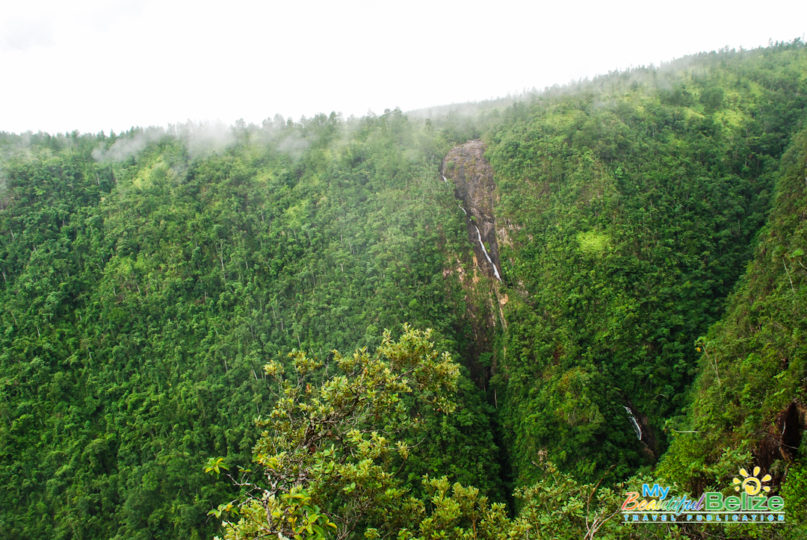 I was completely unprepared when we drove to a parking spot underneath an Orange-breasted falcon's perch. Thanks to the rain, its inhabitants weren't home, but still, I could hear the sounds of the jungle as we walked over crunching pinecones and leaves. All of the sensory experiences I'd had that morning, birdsong, rushing waters, driving over dips and valleys, taking a leisurely or strenuous hike, all led to the moment when sound disappeared. My singular focus was on the sublime spread before my eyes.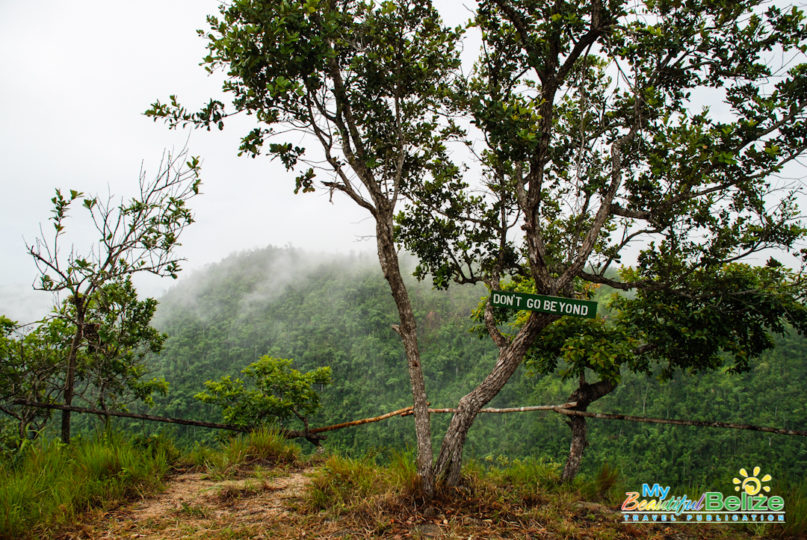 If Marvin spoke to me I never heard it, because there was only the rushing sound of silence in my ears as I took in the spectacle before me. Raindrops fell slowly around me, and I watched the face of the mountains before me take on a different hue, deepening, darkening until the green leaves became almost black under the rain. Almost as soon as the skies stopped pouring, the magical mist rose from below…slowly creeping up to crown the mountaintop, the mist swirling and enveloping me. How long I stood slack-jawed before this phenomenon, I cannot tell you. It was over sooner than I was ready for it, but I recovered my senses long enough to see Marvin handing me the binoculars. I focused, and there perched on its branch, unfazed by the beauty around it, was a majestic King Vulture!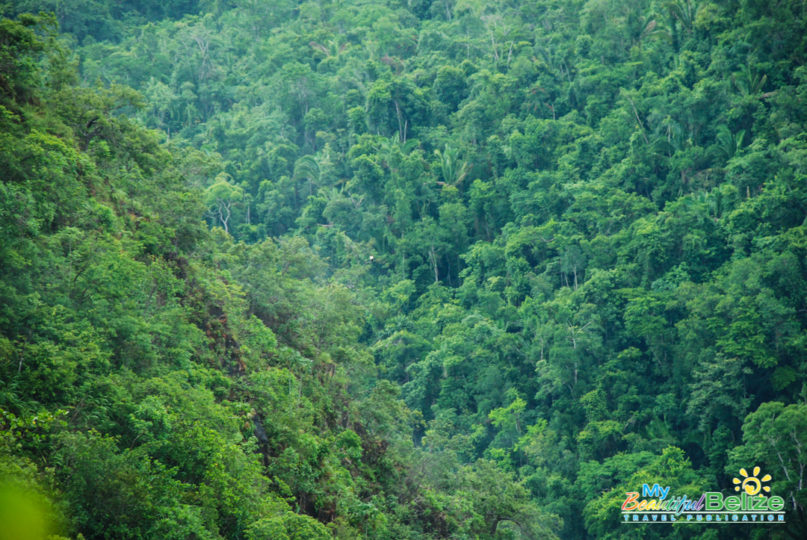 All day we had been talking birds and different species of animals, and to see one such elusive, giant bird in its element was utterly gratifying.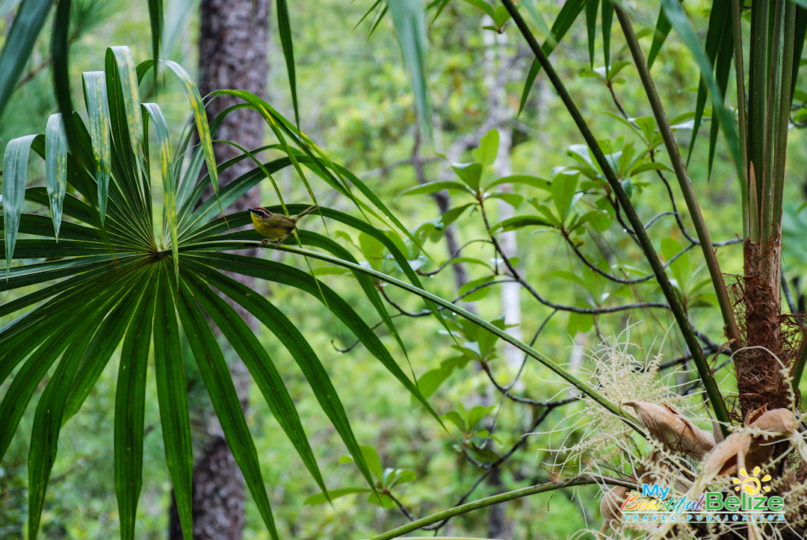 I told Marvin how much I longed to remain on that spot, taking in every bit of the beauty and raw wildness of the reserve. The sting of tiny black bugs brought me back to reality, however, and it was perfect timing to head back to the Inn where lunch awaited, and our final jaunt of the day would begin. After all, we still had to visit the jewel of the reserve: Butterfly Falls. Everyone pretty much INSISTED I had to go to when I mentioned visiting Hidden Valley Inn. In fact, Gladness and Chris Besmehn, managers of the inn joined the chorus, and how can you say no to that!
After a delicious lunch, armed with water and our cameras and rousing enthusiasm, we got into the car. Most hikers opt to hike from the Inn to the trail and to the falls, but, well, we were more like half-hikers. Ha! At the entrance of the actual trail to the waterfall, we grabbed walking sticks, and Marvin slung a bag of towels in case we braved the cold water. It was an overcast day, with sprinkling rain here and there, so we also carried umbrellas for any chance downpour. The trail dipped and rose, and pretty soon, we were sweating and breathing heavily. That's when Tamara asked the classic question, "Are we there yet?"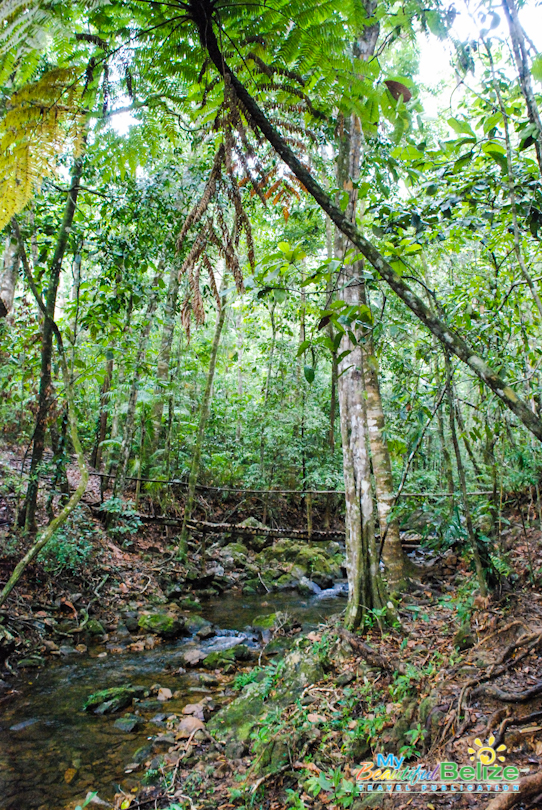 Once we crossed a tiny bridge that seemed fit for a fairy tale, Marvin smiled and said yes, we're almost there now. The temperature was different, and we strained to hear a deep roar. One more tricky climb and descent, and then the air practically buffeted us around. A small cascade set us up for the grand finale, the rushing waters a prelude to the fantastic 150 feet of rushing, roaring waters ahead.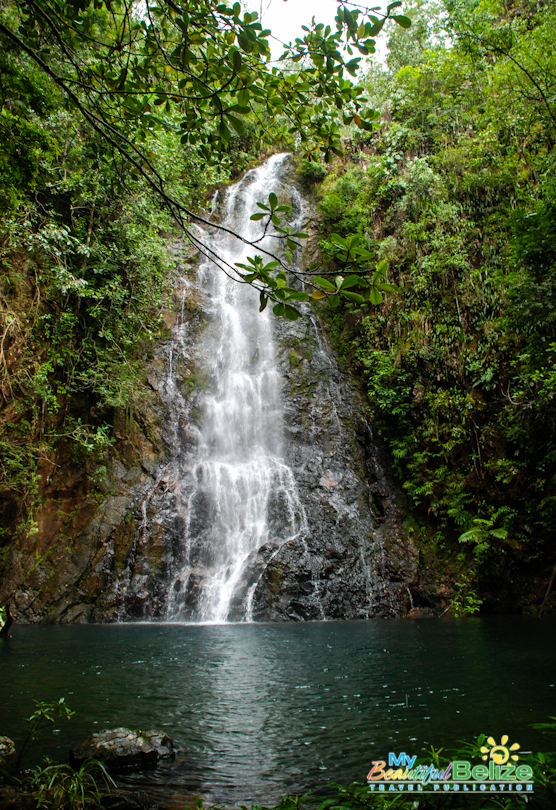 We took a break from gaping at the spectacle to dip our feet in the icy cold water, slowly making our way into the knee. I finally braved the cold and dipped completely, but the shock of the cold never left my body. I decided to simply drink in the gorgeous sight, and cross that item off my bucket list.