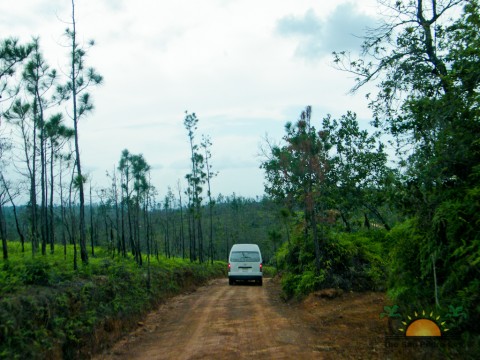 Nestled about an hour into the Mayan Mountains, and in one of the country's oldest natural reserves and over 2000 ft above sea level, is one of the country's most serene destinations, Hidden Valley Inn. The Journey to the Inn provides a very picturesque two and a half hour drive from Belize City, along the winding Western Highway and through rocky roads via mountainous terrain. Via public transportation (bus) to Belize's twin towns, Santa Elena/San Ignacio means arranging to have Hidden Valley send one of their very knowledgeable guides/drivers to pick you up.
Deep in the Mountain Pine ridge, sitting among towering pine trees and tropical vegetation, Hidden Valley Inn awaits its guests. While the road that leads to this destination is rocky, the view quite makes up for the bumpy ride. Winding up the mountains, greenery whizzes by, bringing with it a refreshing pinewood scent that is very much unique to the mountainous region. At one point along the road, we can see the peak of the mountains where Hidden Valley sits.
When fields of coffee trees become the main vegetation in sight, we know our picturesque hour's drive draws to an end. Hidden Valley grows its own coffee which is freshly ground and brewed on a daily basis for "coffee lovers" to enjoy. Once our car drives to a stop at the main entrance, having passed the coffee groves, we are welcomed by the inn's friendly staff. They lead us to the lobby where large comfy couches invite us to sit and relax our travel-weary selves.
The resort's resident masseuse offers a cold towel and a most welcoming hand massage, while a fresh glass of ginger ale is provided to help refresh us. Assistant Manager, Raul Rodriguez and Front Desk Clerk, Leni Jimenez, both offer a welcoming brief, detailing the many activities and amenities the resort offers. Once their presentation is done, we're taken to our private cabins.
As exhausted as I was from our long drive, the little details I found in my unit were quite refreshing and welcoming. There was an individual personalized card that further welcomed us and invited us to have a pleasant and relaxing stay – and it is exactly what I did. With the scented oils and sea salts located in the bathroom, I was soon relaxing in a soothing bubble bath while music filled the air. Luxury in the mountains, what more could I ask for!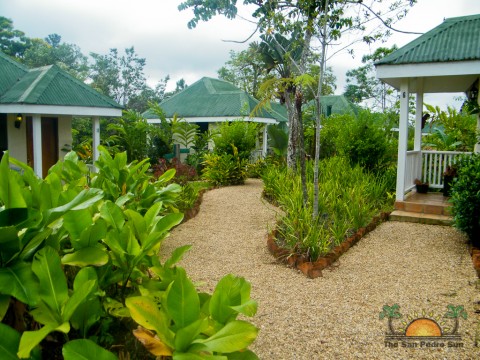 Hidden Valley offers twelve individual cabins with the capacity to accommodate about 29 persons comfortably. There is the option to have a unit with three single beds, two single beds; a double and a single or a queen sized bed. All units are complete with private bath, hot and cold water, high-ceiling fans and, this is the intriguing part: NO TV! This is done intentionally as it is the vision of the managers that visitors to Hidden Valley take full advantage of the many outdoor activities offered at the INN. "While our rooms are luxurious and very comfy – we want our guests to get outside and see what the outdoors has to offer," commented Raul.
Hidden Valley Inn sits on approximately 19 acres of plush jungle terrain. The grounds offer close to 100 miles of biking or hiking trails and over five secluded majestic crystal pools and waterfalls in a tropical rainforest setting, offering private swimming and amazing photo ops. A twenty-minute ride through hills and over creeks, followed by a 35-minute hike into the jungle along the mountainside and over a very ancient looking wooden bridge, past Butterfly Falls, leads to Devil's Falls. At the falls, water roars down 80 feet to a 30-foot by 15-foot pool. The icy cold, incredibly refreshing pool of water goes as deep as a dozen feet, and is certainly a spot to take a dip, if only to shriek how c-c-c-c-old it really is! Brrrr!
Hidden Valley Inn staff keep in mind the "Secret Pools" as a special spot for lovebirds who may be on honeymoon, baby-moon, just celebrating or looking for the ultimate in romance. Imagine a private champagne luncheon on a platform that overlooks a combination of four different waterfalls which lead to one really steep fall. Like a marriage, or a new life together, looking over the edge of that fall truly brings things to perspective. But, so does champagne and a delicious catered lunch!
If feathered friends are more your speed, hiking the many miles of designated trails could mean luck for bird lovers. There are five very rare birds that have made Hidden Valley their home and consequently made it very famous over the years. The Orange Breasted Falcon which has grown increasingly rare as its habitat in Central and South America have been impacted by human development; the birds were re-introduced into Belize in 2007. There is also the Stygian Owl, a very rare species that can be found only in two places, Cuba and in Belize's Hidden Valley. Other rarities that may make a special appearance include the Black and White Hawk Eagle, the amazing King Vulture and the Solitary Eagle.
Due to its unique location within the mountain pine ridge reserve, Hidden Valley Inn means accessibility to the Caracol Ruins. Located only about an hour-and-a-half away, a trip to Caracol can mean a quick stop to see the Rio Frio caves and a jump in the Rio Hon pools. Hidden Valley also offers trips to various Cave formations within the Mountain Pine Ridge reserve such as the Barton Creek Cave. While these are the more accessible trips from Hidden Valley Inn – tours to other Mayan Ruins and River trips may be arranged during a quick visit with Leni at the front desk.
Hidden Valley is a full service resort complete with an outdoor swimming pool that is open 24 hours a day (please bear in mind there is "no lifeguard on site"), plus an outdoor Jacuzzi Pool. The resort restaurant is opened from 6AM through 10PM, serving the best in local and international cuisine. Serving delicious cocktails and icy cold beer, the bar is open from 10AM until the resort goes to bed for guests' convenience. After sampling a few refreshing cocktails, I highly recommend the Mojito. I'm not certain whether it's because the resort grows its mint and it's picked fresh for the mojitos, but I've got to say it is by far the best that I have sampled.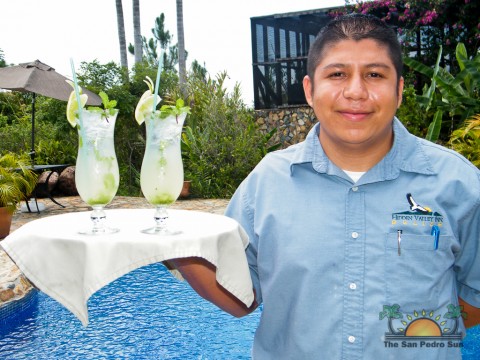 Hidden Valley Inn's front desk is open to serve guests and answer questions from 7AM through 11PM. With the many outdoor activities offered, the inn also offers a full service Spa. After an arduous day of hiking, bird-watching, swimming in the falls or pool, visit the Spa and get untied with an hour of rejuvenating aroma therapy massage. For those not quite ready to immerse themselves completely in the mountains at Hidden Valley Inn, you are welcome to stop by for lunch with reservations, take a look around the property and give them the opportunity to convince you to come back for an overnight – or two. Though I must say, it will not take much convincing. For an experience with some of the most professional, accommodating and friendly staff in one of Belize's most beautiful setting, contact Hidden Valley at Tel: 501-822-3320 Toll Free: 1-866-443-3364 Fax: 501-822-3334; Email: [email protected]; or visit their website at www.hiddenvalleyinn.com.