Visitors often tell us that their favorite part of Belize is her people. They talk about how friendly and open Belizeans are, welcoming them warmly to our shores and showing them the absolute best of Belize. With that in mind, we present to you some of those friendly favorites.
Chances are, you will meet them during your travels and experience the warmth and hospitality that make them stand out to us too!
Eli Chi: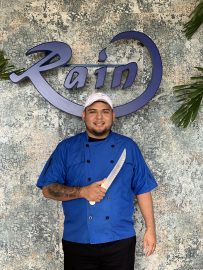 "Life doesn't always go as planned," says Eli when asked how he became a chef. He started off as just a dishwasher, but always wanted more out of his career. Eli set his goal to one day become a chef at a well-established restaurant; a goal he has now achieved.
The sous chef at Rain Restaurant and Rooftop Terrace and Aqua Seafood and Steak House, Eli is passionate about his life in the kitchen and proud of where his culinary journey has taken him. "It took me many years to actually start cooking in the line of a restaurant, but it was all worth it. The experience I had from cooking at home when mom wasn't around was what helped me to get the position I have today. My passion is now preparing outstanding and commendable dishes."
While his favorite types of cooking are Caribbean and Italian, Eli does not shy away from experimenting with flavor from all types of cuisine. For Eli, the kitchen life offers "a life time experience and one of the best jobs anywhere."
Visit Rain and Aqua at Caribeville and enjoy a fine dining experience. If you enjoy the food, ask for Eli, he is sure to give you a Belizean Smile!