It's incredible how much cuisine has expanded on our 26-mile island, going beyond our cultural staples to embrace a variety of cultures and their specialty foods. My favorite part of this growth is watching local cooks and chefs taking on the challenge and excelling at providing us with tasty, beautifully presented dishes. The talent has always abounded; it was just the freedom of expression and access to ingredients that possibly held us back. Well, no more!
Aqua Sushi and Steakhouse at Grand Caribe is a prime example of just how much our local chefs have grown. Chef Samuel Gonzalez Jr. (Samii) is a fantastic success story of a young man who moved his way through the kitchen to become an executive chef, with intimate knowledge of the inner workings of the cooking sanctum. His mind is always working, and as he tastes food wherever he goes, he has lots of ideas on how to re-create, improve, re-design or replicate. It's no surprise that when he was trained to take on sushi that he would pass the test with flying colors!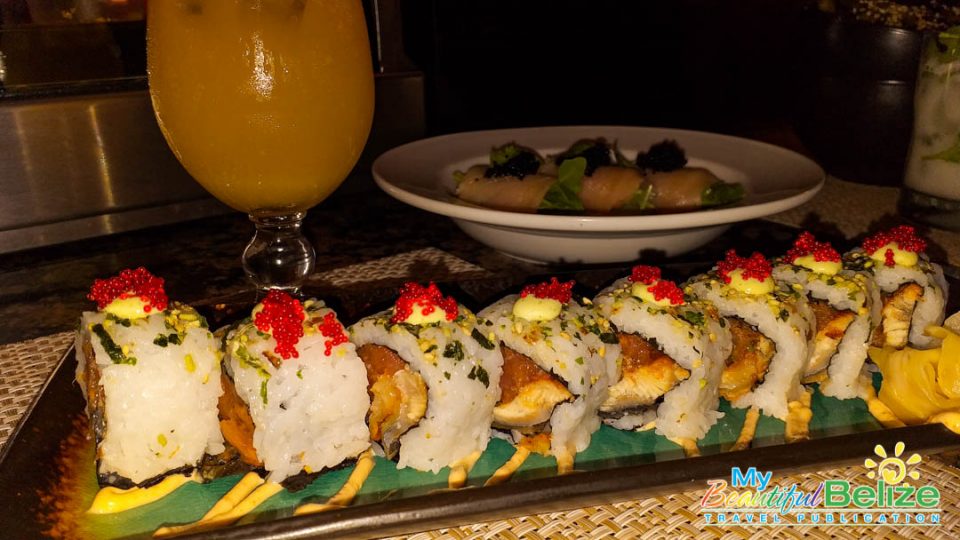 During a girls' night out, we had the delight of watching him and Chef Gian Cortez craft a variety of rolls that brought inspired flavors. The Serpent Roll was a fun, familiar sight that we enjoyed from tip to tail. Chef Gian's Salmon Okaki was also quite the fun bite: I thought it looked like mini salbutes or tostadas, with its crunchy base of crispy fried sushi rice. While we ate and chit-chatted, we sipped on refreshing cocktails – inspired and innovative like the food we had before us. The White Walker, with its bamboo straw, dehydrated citrus garnish and cilantro smash was incredible. The sweet Passionfruit Mai Tai was a perfect tropical accompaniment to our meal.
More and more dishes arrived, each one unique in flavor and presentation. The Hamachi, a Strawberry-Arugula sauce was refreshing, as was the Ichigo Hamachi in a vibrant hibiscus citrus sauce. The Barbecued Eel was a tasty follow-up to all the lighter sauces, but then came the surprise treat. It was two (nice-sized) bites on the platter, yet the Surf Clam in its garlic chili oil packed a singularly unique flavor punch that I could not get enough. Both chefs shared with us the origin of the ingredients they use, and we learned that Aqua goes above and beyond to ensure its chefs have the necessary tools to indulge in their creativity. Dare I say, I may have found my favorite sushi spot on the island?!
There will always be tasty, local, traditional Belizean food. But we also celebrate our chefs who test themselves, learning and evolving to bring forth unique dishes honoring other cultures with the same passion as we hold for our own. For more info please visit their website at www.aquabelize.com or find them on Facebook as Aqua Belize.