For a country so underpopulated, it's surprising how varied its cuisine is. It's also fun to discover a dish you've never heard of! That is the great thing about Belize though: she's small enough that you could find yourself in a familiar kitchen being served a bowl of deliciousness like Mechado. That's what happened to me!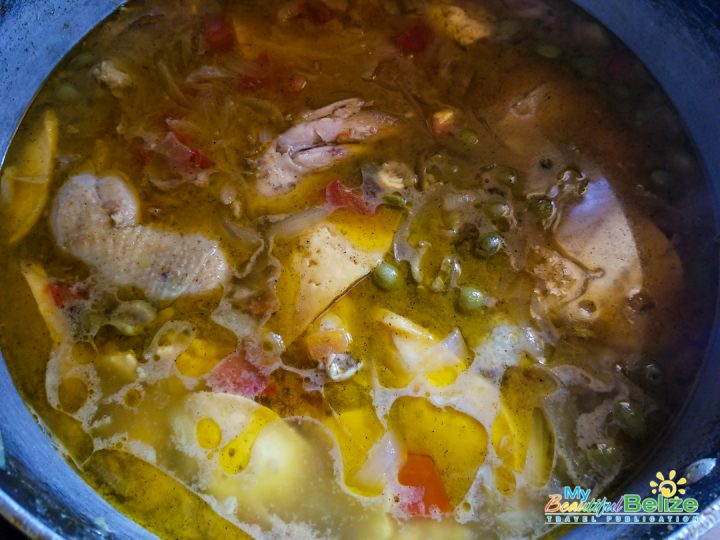 Cooked by my friend Dulce Gonzalez, an entire pot of gorgeous Mechado awaited consumption as requested by her grandson, the birthday boy, and I was honored to be invited to this special occasion. This rich, complex soup made with chicken, green olives, onions and Dutch cheese is served with hot corn tortillas and/or white rice. It is quite a complicated dish, requiring some patience, so I happily ingested my first bowl of goodness with a major foodie appreciation.
A cross between escabeche (just because of the onions and 'white' soup) and chicken soup, topped with the unique Dutch cheese (hardback or red back cheese) and olives, this dish has me stumped. Complex flavors combine for a truly rich finish. It is genuinely nothing like I've ever had. When I polled friends online about this dish, several had never heard of it, and many had eaten but never cooked it. And then there were some claiming to make the best.
A little bit of research has shown that it has Yucatec roots, and since Ambergris Caye was a haven for refugees fleeing the caste war in the Yucatan Peninsula, I can only assume that is how it became a dish known and loved here. And now I do too. Bon Appetit!