Caye Caulker has so much to offer, including delicious eats! I got to enjoy Caribbean Colors Art Café's bounty on my last visit, and let me tell you, it was so good!
The Art Gallery/ Café certainly takes the phrase 'food is art' to heart – much as artists devotes time and patience to perfecting their craft, so do Lee and her sous chefs in their cozy island kitchen.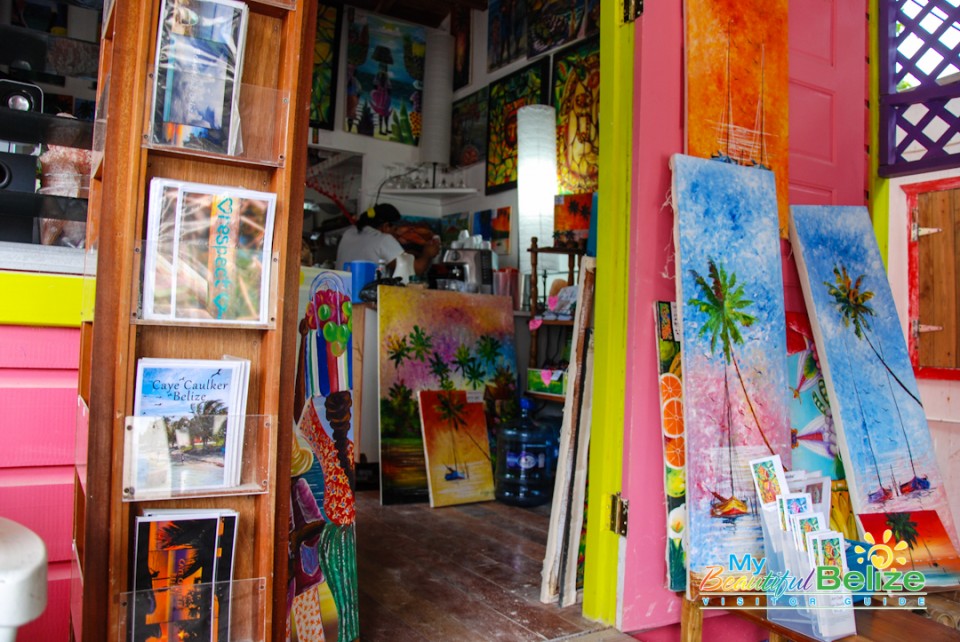 Located in the heart of the island, and decorated with colorful pieces by owner Lee Vanderwalker herself, Caribbean Colors specialize in fresh and natural cuisine.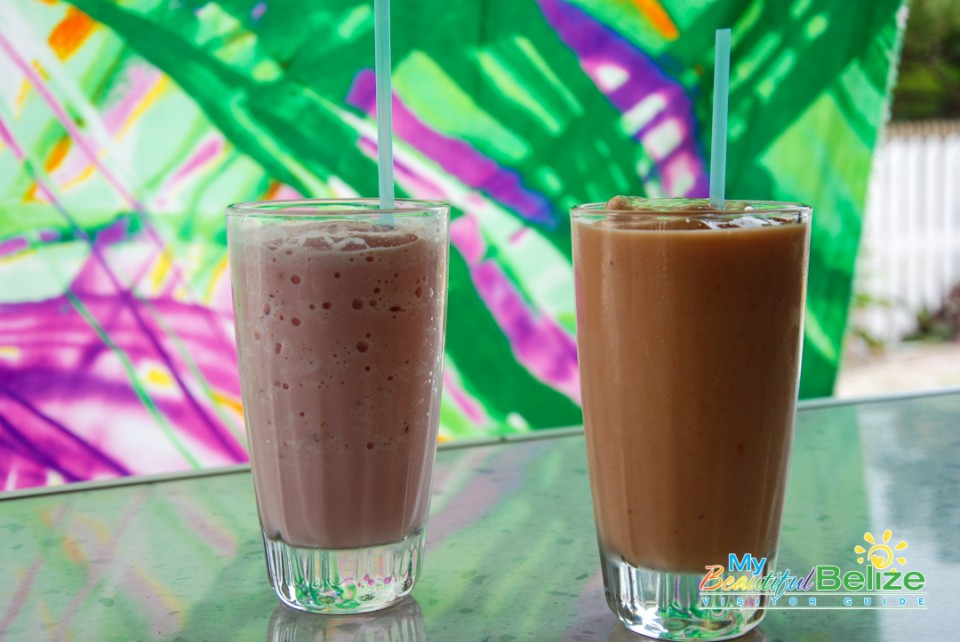 Dennis and I's tasting tour begun with refreshing fruit smoothies and the aptly named Crazy Sexy Hot Wings. Deep fried crispy wings tossed in a special sauce were served with a creamy blue cheese dressing. Talk about a yummy start to our meal!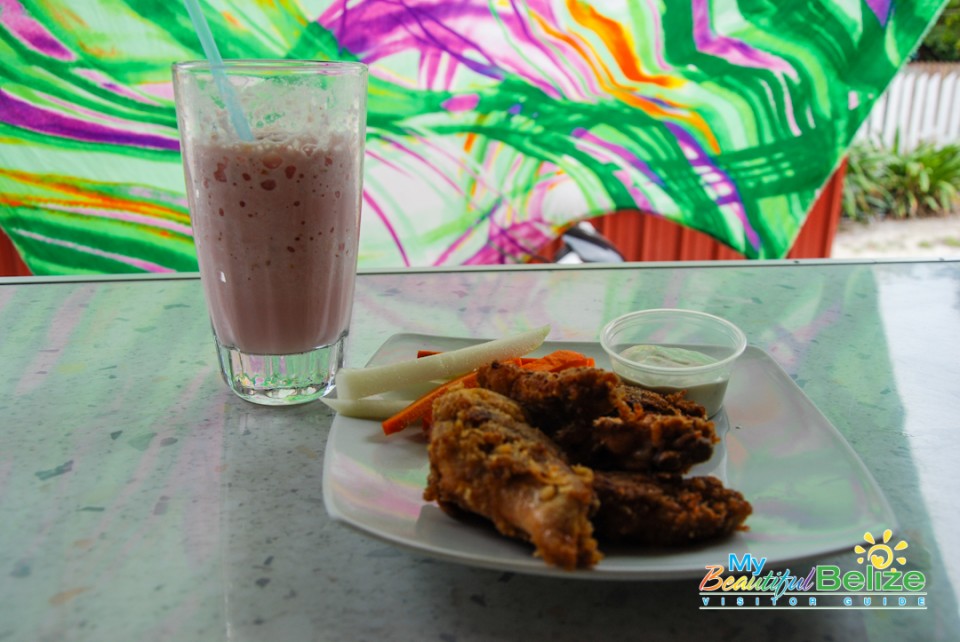 After a finger licking start, we were excited for the next course. And what a unique and artful dish it was: a chilled pineapple and coconut soup, sprinkled with cinnamon. It tasted like a piña colada- all that was missing was the coconut rum! Inspired, I deiced to get a cappuccino.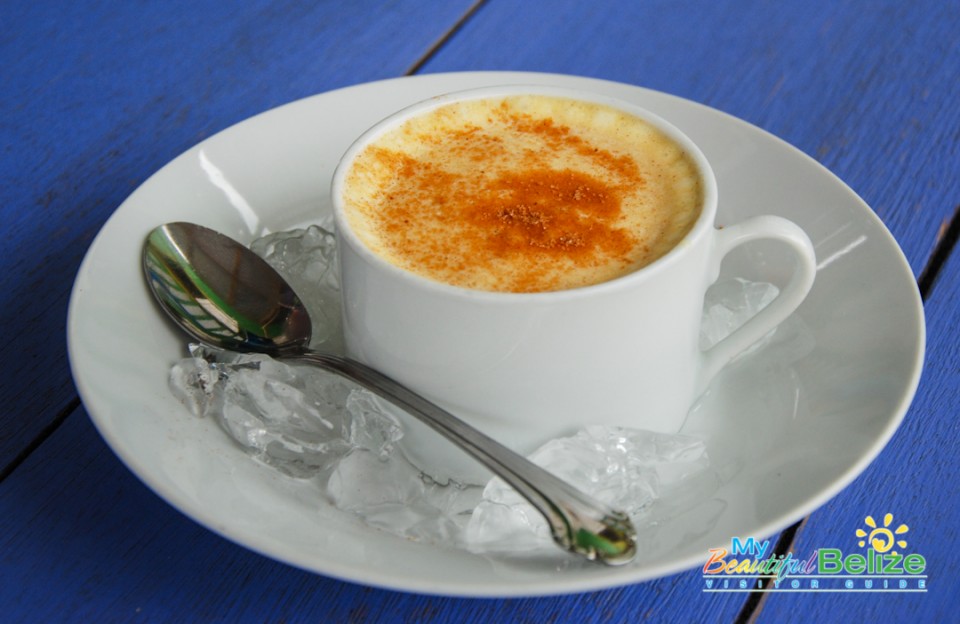 After all, Caribbean Colors Art Café is known to have the best coffee on Caye Caulker- that's not a lie, my coffee was fabulous!
Properly caffeinated, I got to enjoy a fabulous sushi combo plate. 12 rolls featuring vegan, California, spicy shrimp and spicy lobster lay before me, teasing and tempting me.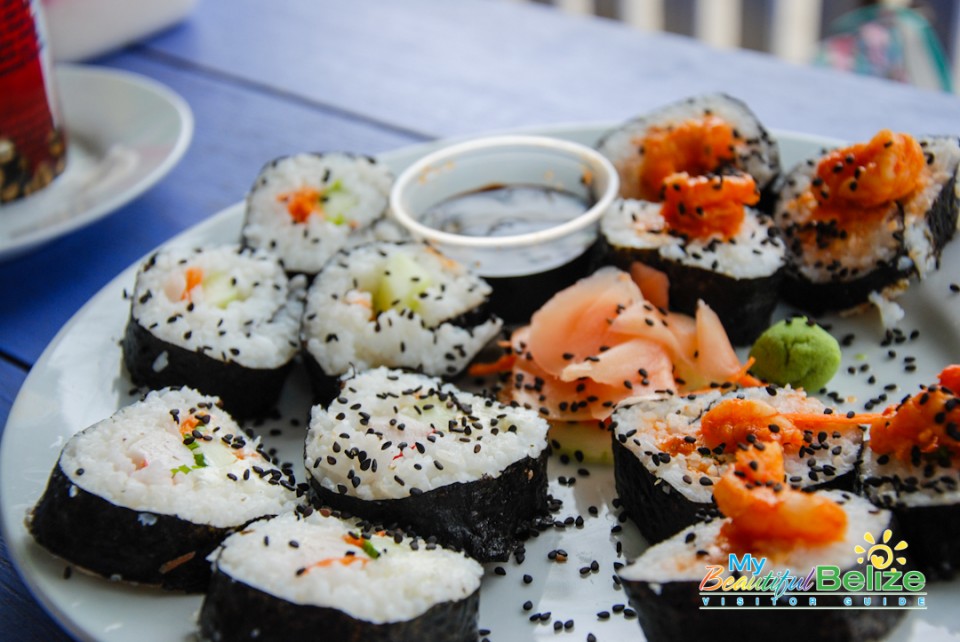 Yes, it was a lot of sushi, but this girl was not to be intimidated! I grabbed my chopsticks and went to town on these rolls. With a dab of Hoisin, I declared that the spicy shrimp was my favorite, while Dennis loved the California roll.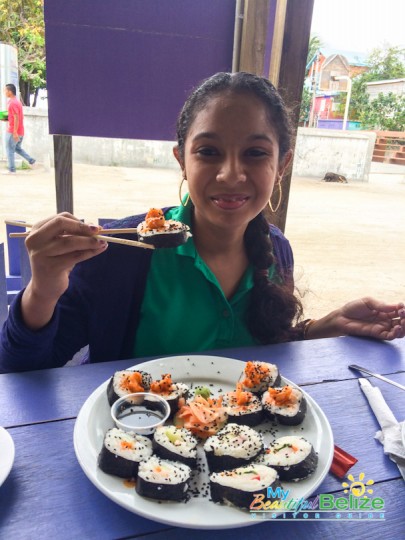 Speaking of Dennis- our resident picky eater who doesn't go beyond chicken, he had a divine chicken Greek salad- he isn't the biggest meat or seafood eater. Layered lettuce, purple onion, tomatoes, cucumber, sweet peppers, beats, olives topped with shredder chicken and feta cheese and served with the house Greek dressing, the salad was a mountain of goodness. It looked so delicious that I had to try it too! It was as good as it looked!
By the time our meal was over, Dennis and I seriously contemplated just heading to the nearest stretch of beach and lying there for the rest of the afternoon, because we were S-T-U-F-F-E-D!
Even so, with all the great eats I had, I'm already looking forward to my next trip to Caye Caulker. I have got to try some of the other dishes on the menu- maybe the spicy shrimp salad?! If you want to give Caribbean Colors Art Café a try, they are located on Avenida Hicaco, and are open from Monday to Sunday from 6:30AM to 8PM. They are closed on Thursday, when the fabulous geniuses 'cook up' more treats ideas to tempt our taste buds!