We all have things that we look forward to throughout the year. Maybe it's a holiday or celebrating your birthday that you eagerly anticipate each year, or maybe it's a favorite season or event? Some could say they live for the opening season of baseball while others can't wait for mangos to ripen on the tree. Whatever the occasion may be, you find yourself counting the days, hours and minutes until the long awaited day has arrived. Gushing with embarrassing enthusiasm you find yourself acting like a kid on Christmas morning or the birthday girl who finally got her pony, your zeal and excitement is off the charts.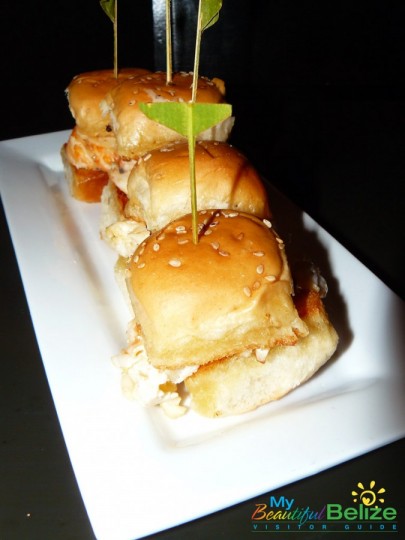 One such occasion that has me salivating in anticipation each year is the opening of lobster season on June 15th. Of course this means bring on the grilled lobster, the stewed and stirred and baked and broiled lobster…all a delicious treat, but you can have them…because I will be waiting on the doorstep at Casa Picasso on the evening of June 15th waiting for LOBSTER SLIDERS!
These ridiculously delicious bite-sized gifts from the sea god Neptune himself are a confirmation that indeed life is worth living. Call me crazy…..tell me I need to "get a life"…but these melt-in-your mouth Caribbean mini-sandwiches of tender, sweet lobster morsels served on a soft bun toasted to buttery heaven are a solid 10 on the yum meter.
How is it that Casa Picasso has created these divine bites I wanted to know! The lovely co-owner Mrs. Jackie Feldman let me in on the scoop, "Connecticut [USA] is the only state that I know of that makes lobster rolls with butter instead of a mayonnaise based salad.  Jimmy's of Savin Rock in West Haven Connecticut, made them famous in the 30's and 40's and has never looked back.  We noticed that the Caribbean lobster can be a little tough and not as sweet as Maine or Connecticut cold water lobsters, so we knew that if we could add tenderness and sweetness to the lobster meat and find a vehicle, a roll that matched the rolls that made them so popular in Connecticut, that we would have a hit.  With a lot of experimentation, we found that poaching the lobster in sweet butter for at least 20 minutes, would allow the lobster meat to tenderize and give it a richness that is not typical for Caribbean lobster.  Add to that, a sweeter style bun, toasted, and voila!!! When lobster season ended, we were asked what menu item, would we use to replace them…possibly another slider….the answer is and always will be…there is no replacement.  They are decadent and our guests find them to be addictive.  Nothing says lobster better than butter….simple and every bite delicious." I wholeheartedly agree…and obviously I am not the only one silly for sliders!
Not only will the sliders be back on the menu June 15th but their other stellar lobster dishes such Lobster Mac n Cheese and Lobster Risotto will be back….yum! Of course Casa Picasso will also be participating in the ultimate lobster throw down at the Lobsterfest Block Party on June 22nd, and you can bet they will be contenders for the first prize lobster dish!
Casa Picasso will also be unveiling a new menu on June 15th, as if we didn't already have enough delicious things to look forward to! Open Tuesday through Saturday 5:30 pm – 10:00 pm Casa Picasso is located on Stingray Street south of San Pedro Town. For reservations please call 226-4443 or visit their website at http://casapicassobelize.com/