Internationally, Belize is known for its beautiful snorkel and dive destinations. During the months of April, May and even June, southern Belize is where professional and novice divers head to in search of the elusive whale shark. These gentle sea creatures temporarily visit our waters to feast on a veritable banquet of fish eggs during spawning season. As someone who loves the sea and has never encountered the giant whale shark, I jumped at the opportunity to visit the Placencia Peninsula with my ultimate goal of swimming with these giants of the sea.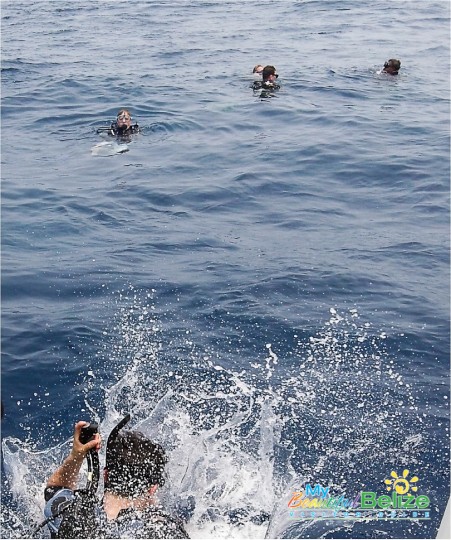 Traveling all the way from Ambergris Caye to Placencia requires a lot of coordination and planning, but with a direct flight via Tropic Air, we got to the peninsula with ample time to enjoy a relaxing evening. Following a restful night's sleep I and my companions (the boss and miss bossy) were ready for the challenge. Our dear friend Anna Williams at Robert's Grove Dive Shop ensured that we were well taken care of. With gear in hand, Tamara, Mary and I were ready for the experience of a lifetime.
We eagerly jumped into the large, fully equipped boat that awaited us. The vessel had everything, from restroom to freshwater shower, cooler of icy water and even a top deck; nothing else is needed to ensure a good time. We took our place on the upper deck of the vessel ready to enjoy the panorama. If the first 15 minutes was a sign, we were in for a good day! We saw dolphins and eagle rays jump out of the water a mere few feet from each other as we pulled out of the lagoon! Oh yes it would be a great day to be in the water; we could tell. Once we were off the peninsula, we settled in and read up on the whale sharks, learning how to conduct ourselves while they are around. Like humans, whale sharks are curious, so we have to proceed with caution around them.
After an hour and half boat ride, we finally arrived at Gladden Spit and Silk Caye Marine Reserve. Just outside the reserve, Ed our knowledgeable guide took the opportunity to brief us about the procedures while swimming along with the whale sharks. Just as the briefing was over, our attention was drawn by the presence of a curious Hawksbill turtle that poked its head from the water, perhaps to greet the visiting humans and to take in some fresh air. It swam toward us for a couple of pictures before moving on. Ed signaled that it was time for us to move on as well.
A quick boat ride over the reef brought us close to about half a dozen of dolphins that jumped out of the water, breaking away and escorting the vessel through the channel. It was a spectacular short show, one I had seen only on television, and now here I was, living it.
I have heard that Gladden's Spit is considered to be the only place in Belize that whale sharks aggregate during specific periods of the year, normally during the full moons of April, May and June. By all accounts it is a spectacular show where the gentle giants of the sea feast on Mutton and Cubera snappers' eggs. They also mate around the same time. In my mind, I envisioned seeing schools of snapper in the thousands with whale sharks passing through them feeding before my very eyes. (Well, isn't that what we all dream of?)
With gear on, one by one – divers first, then snorkelers – we jumped into the deep blue Caribbean water. I stared into 3,000+ feet of water through my lens, and all I saw was bottomless blue. I floated along, bobbing and weaving with the rolling waves, expecting that suddenly, from out of the bottomless ocean, whale sharks would appear. If I was lucky, the curious sea creatures might just come close to me – something I have always wanted to experience. But after spending about an hour playing with divers' bubbles, the gentle giants were nowhere to be seen. From the surface, I got to see schools of fish, a reef shark and even divers in the far distance also in search of the whale shark. Time passed quickly and before we knew it, the morning portion of the expedition was coming to an end and the sharks did not show for our appointment. (I am more than positive that their secretaries neglected to deliver our message to them. Not even Mary's version of the whale call seemed to work – in fact, I had a sneaking suspicion it was the cause of their no-show!)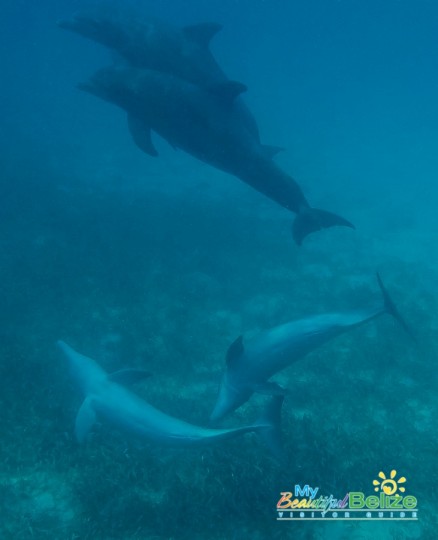 Our divers resurfaced and we all made our way back inside the vessel for a quick break for lunch at the ranger's station. Just as we anchored for lunch, I got the once-in-a-lifetime opportunity to marvel at a pod of six bottlenose dolphins frolicking right in front of us. It was a spectacular show as they sprang into action creating a spectacle in their natural environment. The fully mature adult dolphins sprang out of the water and into the air then splashed back into the water for a dive. All their movements were well synchronized as if they were choreographed to do so. I was determined that if I had failed on my close encounter with whale sharks, then I would settle for the dolphins. It was sight to behold and I just had to get in the water. I gradually came in close proximity to them, stopping short at a couple feet taking in the breath-taking view of the playful creatures. Under the water, two calves swam in whirlwind motions almost as if dancing to a specific tune. They whistled and clicked at each other as they synchronized their motions. Above water, the adults tested their speed and agility by jumping far into the air. Unbeknownst to them, they were putting on a spectacular show for those still onboard the vessel and in the water. After nearly 20 minutes they disappeared into the distance making their way beyond the reef. Occasionally they would jump out of the water as if to say "follow us!"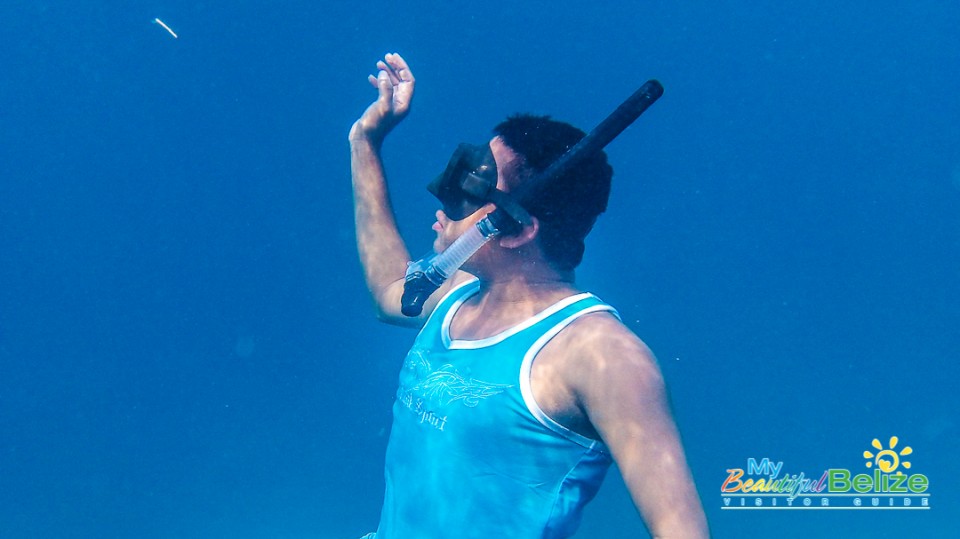 We remained in the water, enjoying the abundance of marine life along the patch reef just inside the reserve. It makes for spectacular dive and snorkeling experiences, as you are always certain to see schools of trigger fish, or the everlasting beauty of the angel fish, and the blue tangs in all its iridescent beauty. The abundant marine life brings to life the colorful sponges, sea fans and other coral formation. There may not have been a whale shark encounter, but there was much to enjoy.
After spending most of the day inside the water, we boarded our boat back to Placencia. On the long ride home, as Mary made her whale sounds in her sleep (snoring), I couldn't help but reflect on the day's events. Yes it was disheartening to have missed the whale shark, but it is a lesson learnt. Nothing is guaranteed with nature; a sighting of wild animals in their natural environment is not always a given.
If there ever is an opportunity to encounter the elusive whale shark you can bet we will be there with bells on. I may not have swam with a whale shark on my first try, but I certainly had a whale of a good time swimming with turtles, bottlenose dolphins, and schools of fish and making new friends.
To learn more about the different tours offered in Placencia, you can contact The Inn at Robert's at [email protected] or call them at (501) 523-3565. Thanks to Ed and the crew for a great adventure – we had an excellent time!