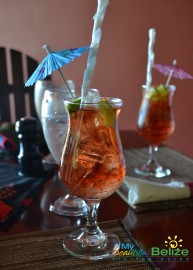 There are plenty of things to love about Sundays….from sleeping in, to lounging in your jamies all day, to spending the afternoon on the beach with friends or tending to your garden, chances are we each have mastered the art of Sunday! For me the perfect Sunday starts with the perfect breakfast, a jumbo meal to be savored along with a tasty libation…but the key is it has to be when I am ready for my feast, gosh forbid I have to raise early from my Sunday slumber just to get to breakfast in time. I want it on my own terms, be it at 9AM or more often closer to noon, or even later, depending on how much fun was had the night before!
There are just a handful of eateries on the island that serve breakfast ALL day and believe me it is a comfort to know that the Black Orchid Restaurant & Lounge serves breakfast until 2PM on Sundays! And what could make a Sunday brunch even better? How about a delicious, cool and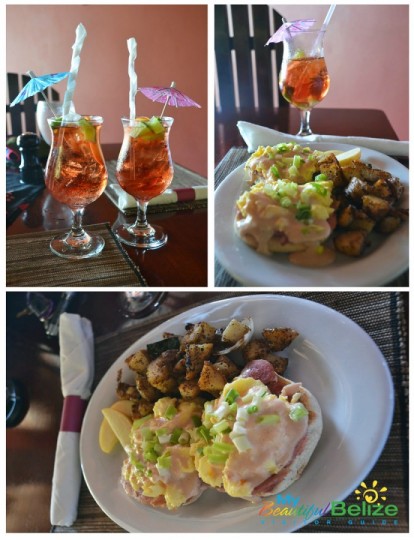 fruity Sangria? I guess if I'm skipping church I'm at least having wine, no? Yes, Sangria Sunday is the perfect way to start off your day of rest, relaxation and full tummies.
Their breakfast menu offers a variety of treats, from omelets to French toast and of course the  must-have eggs with bacon or sausage, but my favorite is their Island Eggs Bendedict, a scrumptious medly of scrambeled eggs on top of Candadian bacon, English muffins and topped with a heavenly cheese sauce garnished with green onions. As if that is not enough excitement for my tastbuds, the Seasoned Fried Potatoes that accompany this morning masterpiece are crunchy yet soft inside and heavily seasoned with a mixture of salt, pepper and a touch of magic, simply devine! Of course the glass of complimenarty Sangria that comes with the brunch is a perfect complement to the meal.
If you aren't hankering for breakfast they have a great lunch menu to chose from on Sundays as well, such as burgers, salads, sandwiches and pastas. And don't forget Black Orchid when your looking for a romantic dinner or family meal, the super friendly owners JudyAnn (who is also the talented chef) and Tom Horton offer wonderful dinner choices you are certain to love.  Black Orchid Restaurant & Lounge serves breakfast and lunch on Sunday's from 9AM until 2PM and breakfast, lunch and dinner Tue – Sat: 11am – 9pm. They are located just a  quick golf cart ride 2.5 miles south of San Pedro Town past the WASA lagoon. For more information please call 206-2441 or visit their Facebook page at www.facebook.com/BlackOrchidRestaurantLounge.