Sailing is what you make of it. When I sat down to try and write about what sailing means to me, it was hard to find the right words. I think back to the times I've lounged atop a catamaran or an old-school sailboat, and the memories are varied – and sometimes quite fuzzy, if you get my drift! Somewhere along the years, sailing has gone from being a non-stop party to something almost therapeutic for me.
As I've made clear before, I'm not a born island girl. Growing up with mountains and hills to climb, and jungles to explore, sailing was not exactly available to me. I did spend many years on this gorgeous island, and would often play on the beach with my local friends, getting boat rides to and from the various picnic spots along our beach. But always further out beyond the standard shallows, were these magnificent vessels that seemed to have wings, and floated gracefully across the turquoise seas I had come to love. Getting on board one of them was always my dream, and to be able to do so now feels like such a treat. That little girl dreaming onshore would be so happy to know that yes, the wind really blows my curly hair every which direction. Yes, the sun does seem to shine harder on the boats, and their 'wings' make a beautiful sound going up, then carry us to new and exciting places each and every time.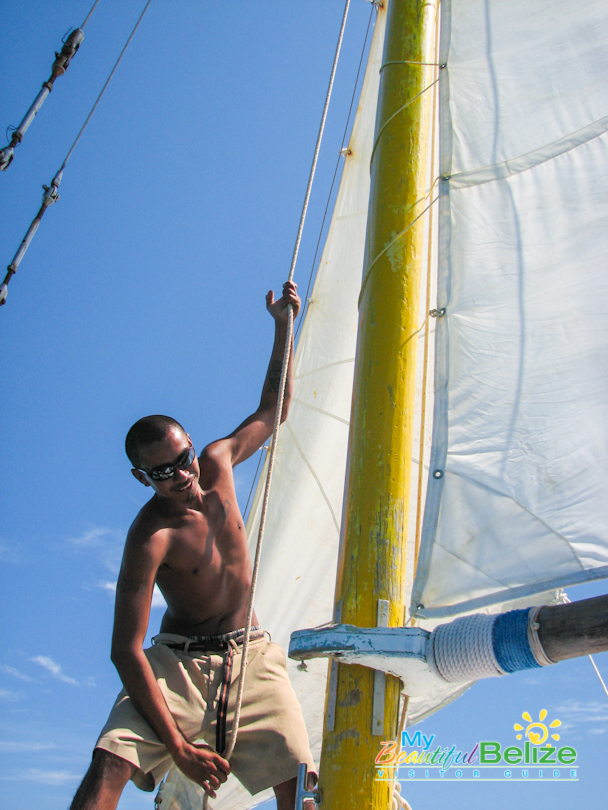 But what that innocent little girl didn't know was that there are yummy things on board as well! The first few times I've been sailing, the actual journey was an amalgamation of snacks and never-ending rum punches, beers and mixed beverages. The sunburns brought about from utter lack of inhibition may have faded, but those memories of laughing, dancing, singing and partying onboard, are present each time a catamaran sails by. Sailing is truly what you make of it.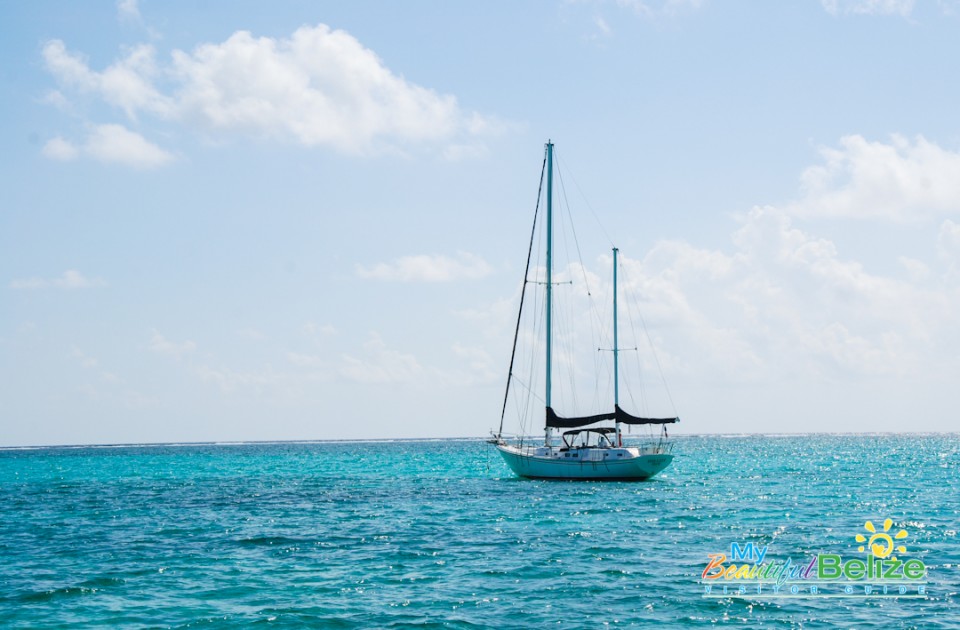 Party:
Gather a group of friends and tell them you want to sail with them. The destination? Perhaps a snorkel stop at Mexico Rocks, or the famed Hol Chan/Shark Ray Alley, or even Caye Caulker (our sister island). But really, we ALL know the plan. Pack a fabulous picnic of fish/meats/ceviche/chips and dip and of course, coolers full of Belize's best: Belikin. Add in a little rum and some mixers, and la fiesta se armo (the party is ON)!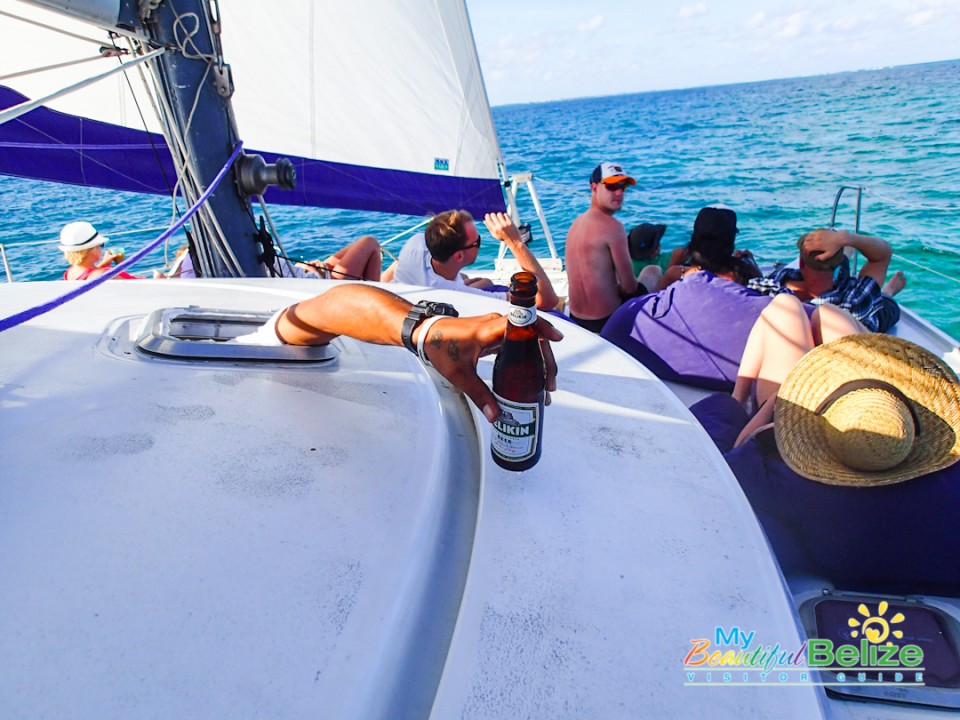 Choose the sailboat to go on (personal favorites include the Rum Punch with Mr. George, and Seaduced by Belize), and let those sails go up to begin the cruise! One rule that I appreciate beyond a shadow of a doubt, is that no drinking can take place until the snorkel is completed. Those who prefer to stay dry can of course, start early, but it's really fun to be with the crowd and enjoy a rip-roaring good time!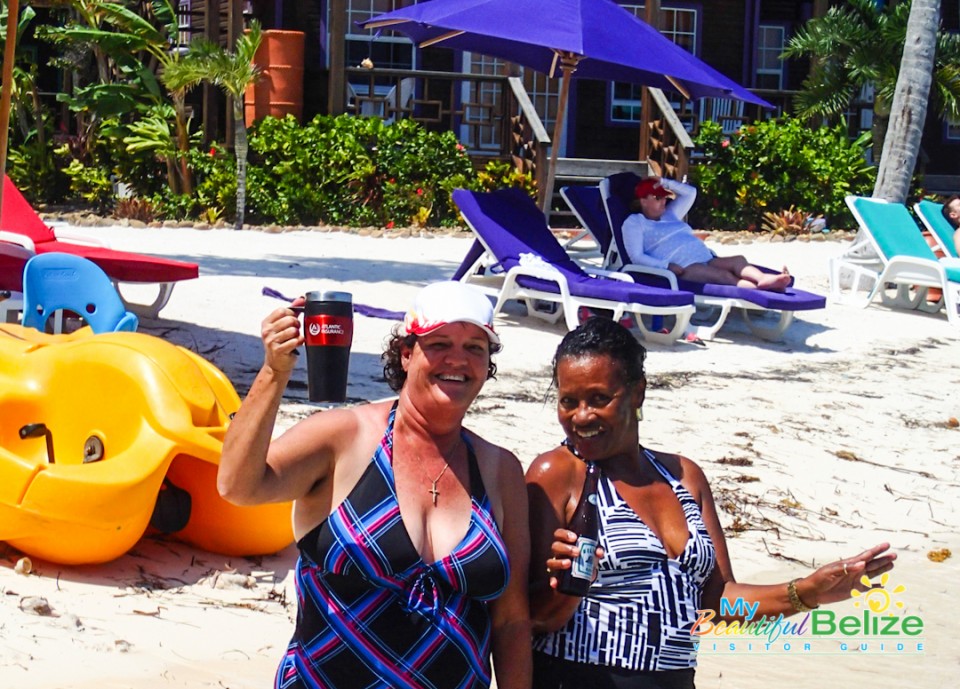 Music, friendship, laughter, swimming, snorkeling, followed by a fabulous picnic and lots of delicious icy drinks (and water, always pack water) can take anywhere from a couple of hours to all day. The ride back will often consist of tanned, happy people in a pleasant haze of food and rum sleepiness. The music will probably be turned down lower, and often groups will have formed with their quiet conversations occasionally bursting into uproarious laughter. The photos will have become quite blurred by then, but those memories? Well, they last forever – filed away till the next time everyone can come together and make new ones.
Chill: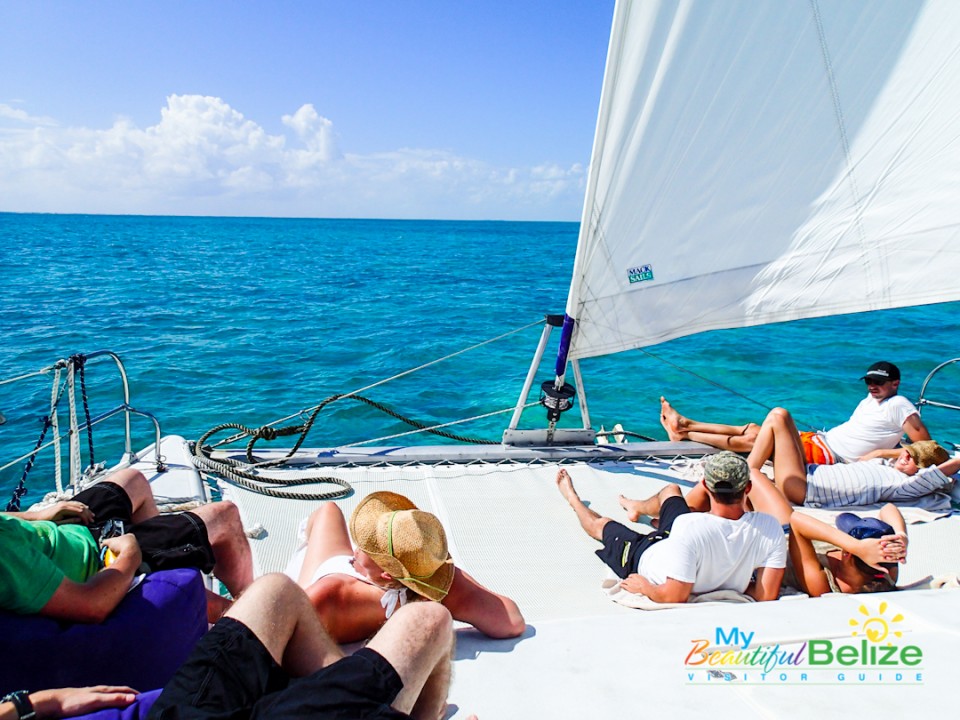 Relaxation…chilling…taking it easy…all these are valid reasons for going on vacation. Perhaps you've been working non-stop for months, putting those coffers away with dreams of sunshine, glorious blue and green hues of some ocean somewhere far removed from your workplace. Does your dream also include a colorful beverage or two, practically glowing in the rays of a sunset? Now add in the occasional shadows from a sail proudly flapping in the breeze…perfection, right?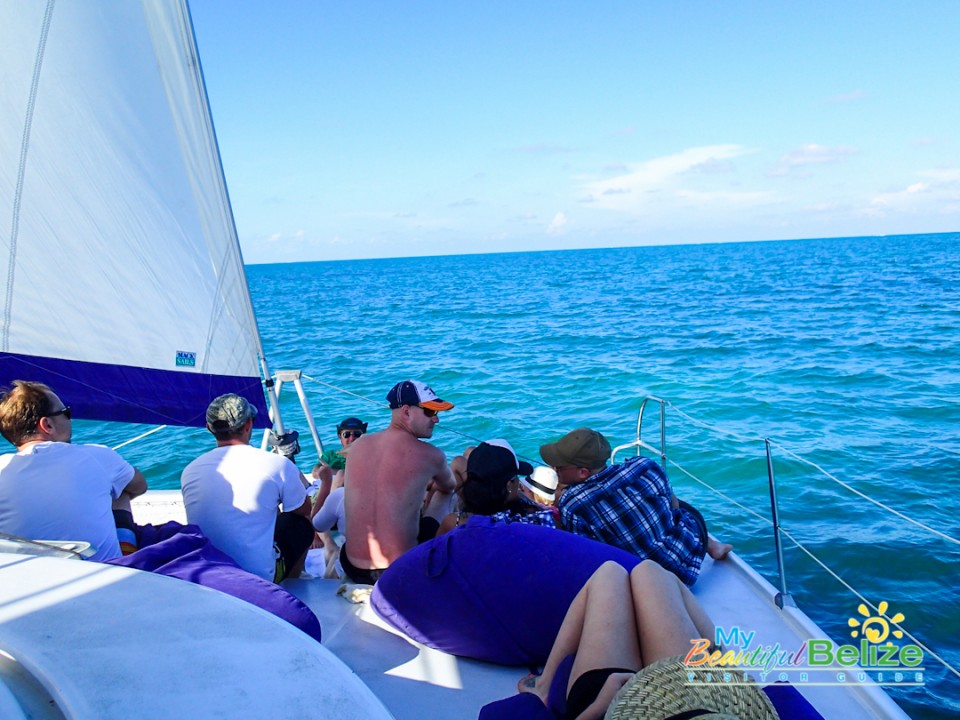 While onshore, you can appreciate the magnificence of the Caribbean Sea. But when you get ON the water? Oh, the mood changes: sun above, water below, breeze in front, just blowing away whatever troubles you may have. For me, there's that sense that the wind is taking away my worries. I'm not on land; I am untethered. While I cannot go anywhere too far (well I could if I ambushed the captain), I know for the few hours I'm onboard I can just be. I generally would just be another guest onboard, and while it's fun to meet new people, it's also nice to be able to be on my own and do my thing. After years of making it all about the party and socializing, sailing has become therapeutic, and I need my fix every so often!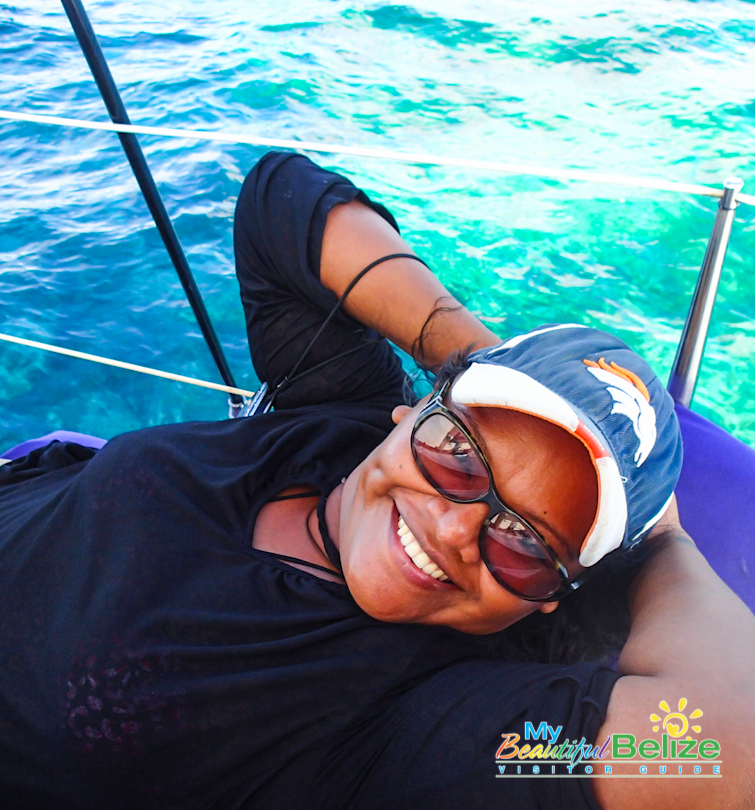 Not to get all woo-woo on you, but I feel like a completely new person once I get back on dry land. And no, it's not the rum punches or the beers! It really is something about the fresh air hitting my face, filling my lungs and blowing coolly.
The fact that there are often first-time visitors eager to learn a bit more and enjoy what Mother Nature has blessed us with astounds me. Watching a newcomer and their reaction can reaffirm that I am in the right place, and that I am truly lucky to live where I do. Even though real life awaits once we've docked, we usually walk off a sailboat with a fresh perspective, and a renewed sense of appreciation for the beauty that is our slice of paradise.