Inspired Belizeans, Pt. I
Being locked up at home and unable to travel at will has been a challenge for us at My Beautiful Belize. We miss the flights over the blues of the Caribbean Sea. We miss the sights of a city fast fading in the rearview mirror as the green carpets of Belize's lush jungles roll out in welcome. I've personally spent an inordinate amount of time mourning the days of yore while creeping through my phone gallery. Not satisfied with those images, I peeped onto Instagram to find solace in more pretty pictures. It was there that I realized, while I wallowed, other people were reinventing themselves and adapting to the new norm.
Inspired, I began to pay attention, and I'm so excited for Belize once again! What incredible people she has! From beauty products, cured meats, shopping and delivery services, incredible desserts, body and bath care, unique clothing, gourmet food and drink items, there is a bounty of unique Belizean wares to choose from. What is also impressive is the aesthetic that goes along with the product. Smart packaging, logos, whip-smart online advertising strategies, all with a healthy dose of Belizean-ness. That Belizean vibe just can't be missed…it's in every post. Friendly, engaging, sharing – tagging each other, giving a shout-out to those entrepreneurs working to keep the economy going. It's a thing of beauty, and I'm (again) so inspired to share a few of my favorites with you!
Of course, I'll start with coffee. If you're like me, the day doesn't go right if coffee isn't a part of it. Hot, iced, even lukewarm (yikes) and even the dreaded instant, I've done it all. On these ridiculously hot days, I think MANY of us are saying "Thank goodness for Pop & Sip!"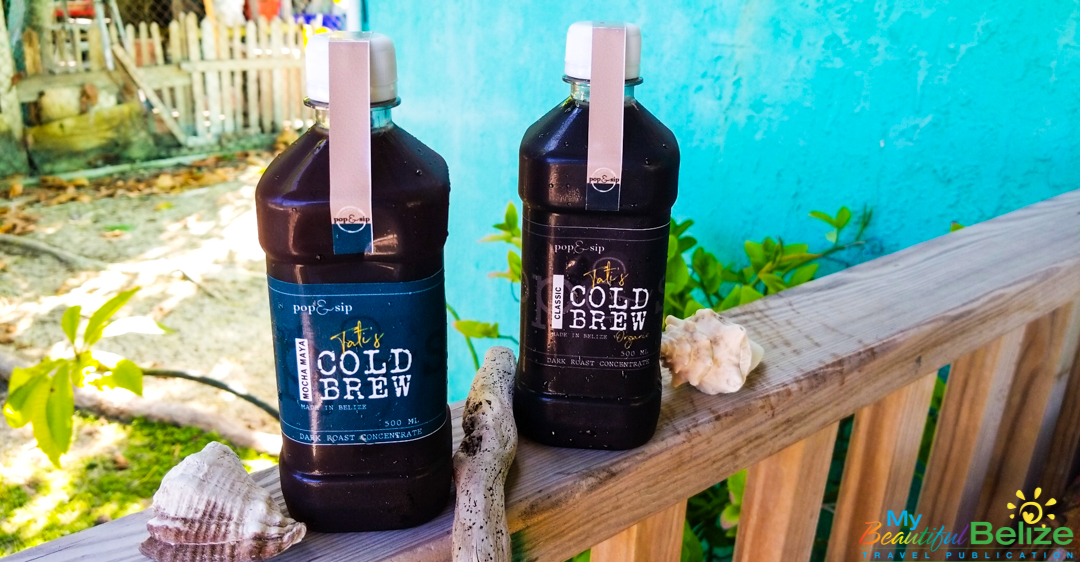 100% Belizean and women-owned, Pop & Sip emerged to bring deliciously filtered cold-brewed coffee to have iced coffee on demand. Tati's Cold Brew comes via the hands of female entrepreneurs Dora Guerra and her sister-in-law Monica Gallardo. A few years ago, I fell in love with Dora over the phone – such is the reach of her vibrant personality. We 'met' via another amazing venture called Belize Food Tours, which she runs with her brother Felipe (Monica's husband). From the get-go, their approach to entrepreneurship has been ALL IN. I expected no less from Pop & Sip, and I had to find out more, including the inspiration behind "Tati's Cold Brew". Knowing Dora, there was a good story behind this venture, and I was not wrong!
"When life gives you lemons, hand them back and ask for coffee instead," says Dora. She explained that since the pandemic hit Belize, their small, local tourism-based businesses stopped generating income, like everyone else. With deep-rooted entrepreneurial spirits, the women kept thinking of new business ideas.
A few months and several ideas later, it became time to come up with Father's Day gifts for Dora's beloved Daddy. "If you know my Dad, you know he is the most generous person. If you ask him for the moon, he'll get you the whole solar system if he can. He drinks cold coffee religiously as a cool-me-down and pick-me-upper – every morning and then again in the afternoon! He has a little aerator and had the parts counted. 'I have to wash five parts every time I make my iced coffee,' he'd say.
So I began looking for coffee gift ideas. Tada! I pinned Cold Brew. At the same time, my parents were thinking of starting a juice business from home." Monica mentioned that [the parents] should probably do cold brew too. It was a lightbulb moment, and Dora immediately responded, "Omg! I just pinned Cold Brew. WE should do Cold Brew!" And that was it!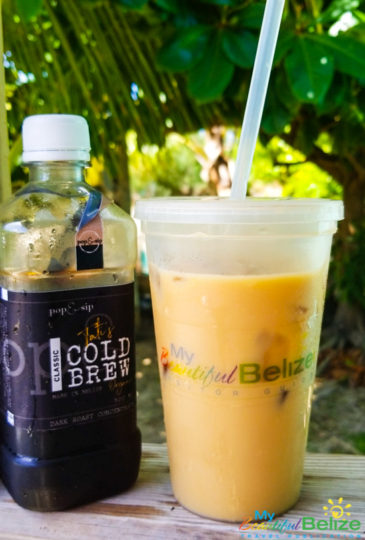 Tati, also known as Tatito to his three grandkids, was the inspiration behind the Cold Brew. Both women were dead-set on making a delicious, high-quality, convenient, cold coffee worthy of their beloved father. As their biggest supporter and constant rock, they knew he deserved nothing but the best – no corners would be cut.
The two mad scientists began experimenting with different coffees, dark roasts, medium roasts, blends, grind size, beans…until they found their favorite and the perfect recipe. To their utter delight, the winner was a bean grown in Belize, blended and slowly cold brewed. "She beat several other countries hands down, and we were so, so proud," said an excited Dora. "We love anything and everything Belizean. Being Belizean is one of the things we are most proud of."
Of course, now that the coffee had been chosen, it was time for recipes. "Monica and I love Chai Spice…so it took us several rounds to perfect the recipe." Dora shares that there are no pre-made mixes or syrups. "Everything is uniquely ours and made with all-natural ingredients and a whole lot of love in every ounce. We always laugh because we feel like the Chai is bold and spicy, like us." There is no doubt this is true!
Having perfected the Chai, Dora and Monica began working on their Mocha Maya blend – their Belizean pride and joy. "Of course, it wouldn't be your regular mocha recipe – we are unapologetically extra," says Dora with a laugh. Organic cacao beans were sourced from one of their favorite cacao growers in Punta Gorda. That cacao is paired with spices that Dora's Ke't'chi Maya best friend uses in her chocolate drinks. "She is Belizean southern hospitality personified, and we wanted our recipe to highlight the Maya grandeur – again, we are proud Belizeans."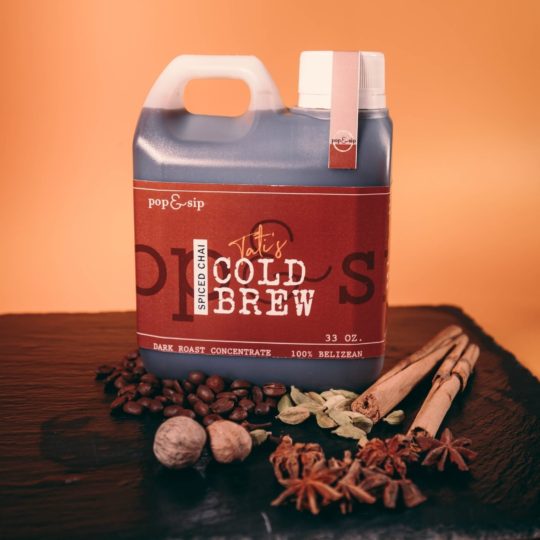 I asked them what their favorite Pop & Sip flavor was, and of course, Dora admitted that they get asked that all the time! "True story…both of us would grab Chai first, but then rotate between Chai and Classic, and then have a Mocha, and wonder why in the world we don't drink more Mocha. So, with that said, we love them all. Bahaha." Did I mention Dora's cheeky?!
With their product being shared on social media like wildfire, and Dora and Monica are beside themselves with joy every time they are tagged in photos of people enjoying their cold brew. "There's a quote that says, when you buy from a small business, an actual person does a happy dance. This is cliché, but so, so, very true! Monica and I spend all day screenshotting and jumping up and down – our kids are already used to it."
There are nerves when a new customer delivers some feedback, but there is no greater feeling than that of the support and love they have received from so many people – total strangers even! We talked about the joy of seeing other local businesses lending support. "We are surprised but so extremely grateful for the circle of small businesses that feel like family."
Of course, being the kind, generous women they are, they shared a few words of wisdom with budding entrepreneurs. "You can do it! Find a support system, make a plan, reach out for help when you need it. The road is not easy, and it's not always pretty (especially right now with all that 2020 throws at you) but if you love being your own boss, creating, innovating, troubleshooting and making people happy, being a local entrepreneur is love."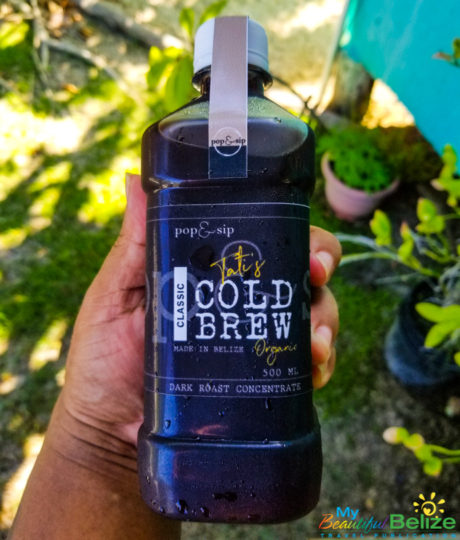 Not content to run their cold brew Pop & Sip empire as is, the ladies have one ultimate goal: become a beverage company with high-quality teas, spritzers, juices, flavored milks, pre-mixed coffees and seasonal blends (!) "We've been in the test kitchen with these for months, literally! But that's just how we do things; we won't introduce anything we aren't 2000% damn proud of. We have to absolutely love it. We want to become a local household name, something on your grocery list every week like Marie Sharp, not just a passing trend. Kudos to Marie, by the way. She is queen!"
It's even more exciting to learn of the various places starting to carry Pop & Sip. In Belize City, you can find them at Brodie's on the Northern Highway and Carnivore. A&R Orange Walk and San Pedro are their newest distributors, and Belmopan's Caribbean Chicken is also signing up. You can get your own bottle by private messaging their Facebook Page or Instagram (slide on in their DMs) – these ladies will find a way to ship this tasty Belizean goodness to you.
As for Tati – the best gift of all is probably the fact that he no longer has to wash 5 parts for his iced coffee.
You go Dora: Best. Gift. Ever!