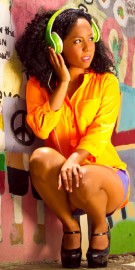 She has been touted as the Caribbean's Hottest Disc Jockey in Heels, and to see her, and listen to her smooth vocals on the radio, or watching her in action at nightclubs and hotspots, you know you agree. Known around the Caribbean as "Miss Blease from Belize", she is an incredibly talented deejay who can tease the ears with mixes that can spin a crowd into frenzy. Her resume lists "television producer, actress and socialite"– a woman of many talents indeed.
Linda Michelle Blease was born on December 29, 1985, and raised in the island village of Caye Caulker. Her humble beginnings in an environment with few privileges only fueled her ambition, and it helped her build up for opportunities that have brought her to where she is.
We at My Beautiful Belize had the opportunity to get some a quick Q & A with Linda, talking about growing up in Caye Caulker, sharing her ideal day on her home island, and of course, talking a little bit about making it in Belize, especially in the entertainment industry of this country.
MBB: You grew up in Caye Caulker, but now live in the city and travel quite a bit with your (amazing) deejay career. A lot of people grow up in a small place, and head out searching for a better life. You have succeeded in so many ways, creating a path where there was none, and making big strides for yourself. Bravo! How does a Caye Caulker chick do it?
Linda: Thank you very much, yuh made me feel like I da like supawoman jus now *chuckles*.
Yes I did grow up in Caye Caulker; that is my home ground. I've never been someone who felt that the world was this HUGE AND DIFFICULT place to live in. I always believed in the idea of six (6) points of separation, which implies that everyone is only six (6) similarities away from the other person. I think that perspective helps me to zone in and focus on what I want and head towards that angle, building my way there, improving in the process, and gaining a lot of loyal friends all over the world, especially in the entertainment business.
Anywhere you go people appreciate hard work; I think I am a hard worker.
I also feel that some people in smaller populated and unexposed countries like Belize underestimate their pull and the value of being a professional in this country – in succeeding in this country in whatever they are pursuing. I never felt "you have to leave to 'make it'." I guess it's peoples' glamorous impression of what they see worldwide that blinds them to success in their own country. When you are in a bigger industry or country, it is harder for you to meet the right people and it is a harder struggle to get where you want to. Unlike in Belize where you have an easier time getting established in your profession, thus building a solid portfolio and value. After that the rest is all publicity and exposure.
MBB: Can you tell us a little bit about what growing up in Caye Caulker was like?
Linda: Growing up in Caye Caulker was a lot of fun, family and work. You can go kayaking with friends, go from dock to dock in your boat to your friends house, go snorkel with friends because the barrier reef is so close, go hang out with friends, go swimming at evening times at any dock, go sit on the beach and chill, go hang out at the split. Caye Caulker is beautiful, peaceful and a lot of fun.
I have never been too much of an outdoor person; I am not too particular about being out in the sun or swimming too much. I like it [sun and sea], just not that much.
Caye Caulker when I was growing up was a very close knit society; you know everyone even if you don't socialize with them, you still know that they live on the island. It has grown a bit since then. I love Caye Caulker and appreciate it even more now because I realize a lot of people around the world did not get the opportunity to grow up on such a beautiful island with clear waters, white sands and blue skies and will never get the opportunity to see it ever.
MBB: Do you go back – even if just for a couple of days to chill/party?
Linda: OF COURSE! I have to go back to Caye Caulker, almost all my family is out there and I love spending time with them and with my friends there. I try to be as present as I can, key word "try".
MBB: What would be a typical day in the life of Linda Blease in Caye Caulker?
Linda: As I arrive whether it's on a plane or boat ride, I would head straight home to see my grandmother, who has one of the most well known and favorite restaurants in Caye Caulker "Glenda's Restaurant". [MBB has been there and will agree – the food was delicious!]
I spend most of my time there and later in the night I either go have dinner (because we don't serve dinner and if no one wished to cook at night or we don't have leftovers from lunch) at Habanero's Restaurant. There's this one dish that I love: a chicken in white wine, simply divine! Or I would go and get some fried chicken from Syd's Restaurant up the street from home.
Afterwards, we rent a golf cart and pile up: my aunts, grandmother and cousins. We go circling the island and get ice-cream at the ice-cream shop on the main street and stop for some snacks. After that I go out to party with my aunts and friends at Oceanside, or I&I. It's nice to see everyone and catch up on what they have all been up to. The next day is lunch and breakfast with family, go visit more family and dig into their pots, go to the bar at the split to get a drink, then go back to the city.
MBB: Whoosh! That sounds like a lot of eating and family time – so, you know, the best possible way to spend a weekend! Count us in!
…So, I'm having a party on the beach; do you have a mix that could bump it up from 'so-so' to 'till da mawnin'?
Linda: I would keep it a mixture of Dance/House/ Hip Hop & RNB (old and new) / Bubbling Dancehall (make sure ladies are happy) / dash a few reggae selections/Soca music and a little bit of punta. It will definitely be an enjoyable party. I have to feel the crowd first and see the age range of people at the event.
MBB: As a deejay, you obviously keep up with the latest sounds. What do you think will be the big sound for 2013 in Belize?
Linda: Dance music has been going hard for a while now. I think that (dance) and electro/dubstep will keep growing in popularity.
MBB: What is one of the best things that have happened to you while doing what you love?
Linda: I can't pinpoint one thing that has happened to me; it's a combination of things. Firstly I love the support I get from Belize and Belizeans. That is one of the best things – the reaction they have to me. All the support you get in other countries is the next best thing. There are too many great things that have me feeling super humbled and sometimes surprised, it's too much to mention. I get a bit emotional when I am crossing another step in work and am super grateful for all the support people have given to me and the reaction people have to me and what I do in its entirety. I love my job.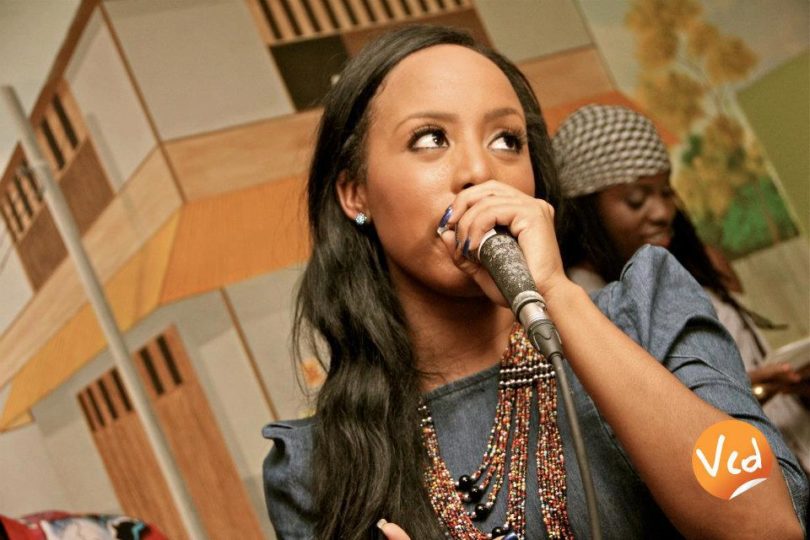 MBB: What is your dream gig?
Linda: Touring nonstop with or without a well known artist is my dream gig for right now and being signed by a label due to the exposure.
MBB: What's next for Miss Blease?
Linda: The work continues as per usual for me: developing the brand and I keep moving forward and see how far I can get before I die. Giving up right now is not an option, growing is. I have a lot in the works and I am happy with all of it, sadly I cannot bring anything up before it is all confirmed and contracts signed.
MBB: Darn. Well, we would never want to unwittingly get the secrets out. However, we are certainly excited to add that on February 15, 2013, the annual publication Destination Belize has a feature on the lovely Linda. Miss Blease from Belize, we salute you, your talent, and your ability to overcome obstacles that have landed you standing tall in your heels.
A few more details on Miss Blease:
Her biggest show to date was being featured as the only female disc jockey at the event dubbed "greatest reggae show on Earth", Reggae Sumfest.
With an innovative approach to producing her radio and TV shows, her media influence has grown throughout the Belizean community at home and abroad – both on and off the air. In 2012, she was awarded with the Krem Television Shoa Wiself Award for "Selector of the Year", a well deserved kudos for her fabulous work. She has also made guest appearances on numerous Caribbean community events in Los Angeles, Miami, and New York.
The Caribbean has recognized her talents, and we appreciate her meteoric rise, her ability to influence the sounds coming through the airwaves.
For your hearing pleasure, download a sample of her mix and be sure to follow her on Facebook or Twitter to keep up with Miss Blease, from Belize!