The blistering hot sun finally dipped behind a stray coconut leaf, and for a brief moment, even the wind stilled. Undulating waves rose and fell, tossing me gently to and fro as I floated on clear salt water. Above, if I had opened my eyes to take in the blue skies, I would have seen pelicans and frigate birds flying high and low. Instead, I just heard their cries, muffled by the water that covered my ears. I was waaaaaay too busy relaxing to bother with the birds at that moment.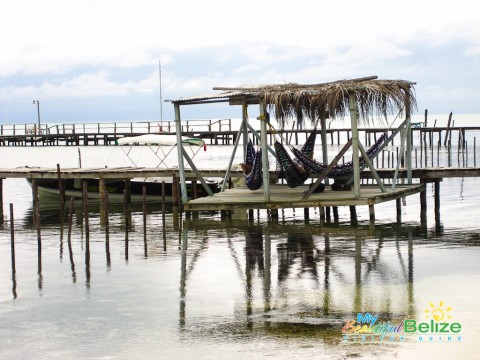 Caye Caulker seems to have that effect on me: I could be going, going, going – absolute non-stop activity – my brain wired from endless hours at the computer, then to home where the housework never seemed to end, and a fat kitty awaited food and pats and love and full-on attention.
But the moment I take that first step off the boat and onto the water taxi pier in Caye Caulker, my brain has been known to grind to a halt.
When I was younger (eons ago) that slow-down mentality did not sit well with me. In fact, I distinctly remember that feeling of being 'trapped', with (insert whiny voice here) "Noooothing to dooooo! Wahh wahh!" Now I roll my eyes at that younger version of me, wishing I could go back in time and shake some sense into her. I mean, truly, what a wonderful thing it is to do absolutely nothing, then take a nap when doing that exhausts you!
Well, okay, so maybe "nothing" is not exactly true. La Isla Cariñosa is a small village with tons of personality. It is an absolute draw to the tourist who wants to get away, longing for that desert island experience without the actual desert and the distinct lack of amenities that come with said desert.
So just what is it that keeps calling one back to La Isla Cariñosa?
It could be the still-quaint village air. Homes intermingle with businesses, many of them Belizean-owned. Vehicles are mostly golf carts, and they are not lined up in excess along the sandy streets. Even taxis are the longer, 6-seater carts driven by smiling, friendly people who greet you with a smile, waiting for you to ask for their services. Even a walk around the main core of the village is ambling and easy, the most dangerous vehicle one can potentially encounter is a bike.
It could be the way the island waits in all her glory: just three streets to cross before you hit the other side. With her colorful, cheerful buildings juxtaposed with a few older, neglected structures, Caye Caulker is not pretentious. She is tiny and unique, from her pretty sandy beaches and funky boats tied up to mooring spots – to the darker, yet just-as-enticing, west side where older homes, fishermen's spots, and mangroves have taken root and made their home.
It could be the most popular place on the island – the split. Carved out by Mother Nature many years ago, the split is a beautiful aquamarine stretch of sea that divides two pieces of the island. It is the popular place to catch rays of sunshine, for jumping and splashing, and thanks to the only bar around, a place to sit at built-in tables in the sea and imbibe Caribbean style. The Split is the quintessential party spot – Easter sees a throbbing mass of humanity enjoying every inch of the split, with coolers full of beer, grills set up for cooking up some grub, and loud music and laughter filling the air. In July Lobsterfest sees another large crowd of revelers, and it has established itself as the place to be when on the island. So, it's not so 'go-slow' at the split after all!
Considered one of the best spots to hang out, The Split in Caye Caulker offers gorgeous waters and a great place to tan.
It could be the fun adventures that await us each and every day. I have had plenty of fun escapades on Caye Caulker. I have found myself snacking on some fresh fruit from the little stand down a ways. I have walked in the hot sun until I stumbled into a restaurant with cooling shade, rough-hewn tables and chairs that have been polished over the years, eager to consume some delicious local food. We've been rained out, and discovered the kindness of people along the way, and the best place to get a nice hot coffee to ward off the chill. Other adventures included sinking into the wet shores to cool off, and having to scrub sand from every orifice with an extra-long shower. Once a crowd of football fanatics (the hubbies) insisted we search high and low for the bar that had screens large and loud enough to at least blast out the statistics of the game. We found one with five screens – each showing a different game. The bartender concocted one of my favorite drinks: Blackberry Wine Spritzer. Funnily enough when I tried to recreate the beverage at home, I realized it was missing the key ingredient: Caye Caulker. The key to the drink being successful is that it has to be enjoyed on the beach on Caye Caulker; anywhere else just isn't the same.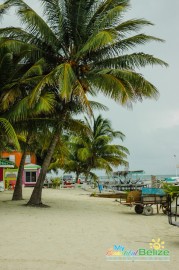 That day I lay in the warm waters, so sun- and rum-soaked, that my bones felt fluid, and the idea of getting up and heading back seemed nearly impossible. Friends were happily seated at the bar, another lay on the sand near where I floated, and yet another took her daughter down the beach, chasing shorebirds and stopping for some ice cream. Yes, Caye Caulker has seeped under my skin. After all those years when I insisted that it was "boring", had "nothing for me to do" and "please-please-please-please-please-please let's go back home" – I now find myself saying, "When can we go back…?"
That day, we let the boat go by, saying 'we'll catch the next one' until it was absolutely go-time, and we had to remove ourselves from the beach and the bar stools, slowly ambling to the dock where the last boat of the evening awaited.
There is of course, no need to leave if one wants to extend the Caye Caulker experience. There are any number of hotels that meet a wide range of budgets, and places to eat are a-plenty. For a little bit of color and fun, plus delicious grub, try Caribbean Colors Art Café – where you can meet the fabulously talented artist Lee Vanderwalker in her living room, where she serves you a frothy cappuccino and decadent brownies. You can enjoy some sushi, a lovely breakfast, plus indulge your senses in the riot of colors that decorate the walls. From earrings to gorgeous paintings, including her trademark painted silk work, Lee's Art Café gives you so much experience in one small, cozy space.
The Tropics Hotel, The Tropics Too and their restaurant Tropical Paradise, can take care of all your worries should you find yourself stranded (oh darn!) in Caye Caulker. Tropical Paradise Hotel and Restaurant offers up-scale accommodation with fine dining serving both local and international cuisine. For the budget traveler, the Tropics Too offers clean, upscale, moderately priced accommodations. All located on the front street in Caye Caulker, getting to and fro is just a couple blocks apart.
Wherever you decide to stay, however long you plan to enjoy Caye Caulker – we hope you can unwind in one of the best places there is to do so. Take it easy, relax, and go slow!