Life on La Isla Bonita is full of unique and colorful encounters that we often experience each day. Sometimes it's the little things that can make my day, like spotting a new bloom on the hibiscus plant in my yard or marveling at the coconuts that are collecting on my tree. Other times I can be genuinely moved, like after weeks of watching a pair of osprey tend to their massive nest on my daily commute to work I notice for the first time a gray fluff-ball of a baby bird poking his head out of the nest. It's not just the flora and fauna that can delight me but the people, places and food as well. There are some folks who I see on the street that I have been waving to for eight years and even though I know not their name I know their smile. And there are favorite swimming holes, restaurants and beachside bars that I gravitate to, each offering something that I have grown to like immensely. We all have favorite places to go, be it the best stretch of beach for a BBQ, to the restaurant that dishes up the best ceviche or the bar that has the best happy hour. So, what is the next best thing to having a favorite? Sharing it with friends! Allow me to share with you just a few of my favorite things…who knows, maybe we have something in common!
Magnificent Frigatebird; Pirates of the Caribbean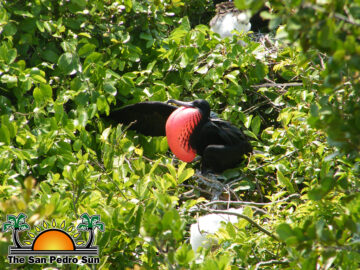 What's that in the sky…a kite, a plane, a pterodactyl? No…this prehistoric looking avian effortlessly gliding high above us is a Magnificent Frigatebird. Aptly named centuries ago after the sails on ships that their large wings and forked-tails resemble, to me everything about this bird embodies tropical personality. As if their nautical name was not enough, this agile flier is also considered the original pirate of the Caribbean, snatching food off the surface of the ocean, stealing fish from other birds and raiding nests of their babies. All they need is a patch over one eye and throaty 'urgh' song! They spend most of their lives flying over the ocean and rarely, if ever land on the water. The male is entirely black with a red throat pouch and the black female is larger with a white chest. They are also known as Man O'War birds as they have the largest wing span in proportion to their weight of any bird, amazing! It is easy to spot these birds on La Isla Bonita and they always congregate where ever fisher folk are cleaning their catch. It is great fun to watch them competing for food, diving and darting the sky while absconding with an others' meals right out of their mouth! If you are lucky enough to visit Halfmoon Caye while visiting Belize you can mount their tree-top observation tower and see eye to eye where these magnificent birds roost with Red-footed Bobby birds. Despite their rebellious reputation these birds are seasonally monogamous and both parents participate in feeding their young, so I guess they aren't all that bad!
Friday Night Bingo & BBQ at the San Pedro Lion's Den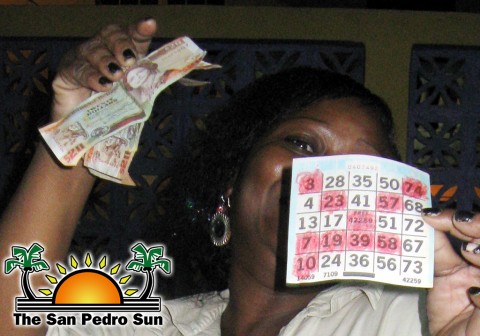 At the heart of community fun is the Friday night Bingo and BBQ at the Lion's Den. Although I don't frequent this favorite evening as much as I'd like, it is always one I thoroughly enjoy and recommend to visitors of La Isla who want to be part of a local, family oriented tradition. When enjoying the evening you not only have a great meal and good fun but help the club raise funds for the community. The amicable crowd is always warm with camaraderie while groups of friends and families devour finger lickin' BBQ chicken, stew beans, coleslaw and yummy tortillas, all for a very affordable price. The Lion's Den also has a full bar for those who want to enjoy a cold Belikin or cocktail with their meal and they sell three beers for just $10 and local rum drinks at the same bargain price! Bingo starts around 7PM and each game costs $2BZ, with a middle and final game costing $5 where you win more. Depending on the size of the crowd each game can garner up to $100 or more, with the $5 games adding up to as much as $400! It is fun and easy and a great activity to enjoy with friends or as a family. The Lion's Den is located on the northern end of Barrier Reef Drive in the heart of San Pedro Town.
Salt n' Pepper Chicken Nuggets at Average Joe's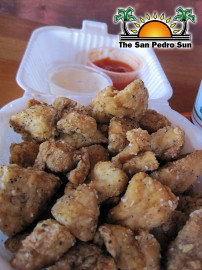 Most everyone has their favorite type of wing. Be it breaded, battered, fried, baked, grilled or in a sticky sweet and tangy sauce; to each his own. Although I enjoy a good wing once in a while, I've never been much of a carnivore when it comes to cleaning off a bone and I have to admit I have not mastered the art ….I think it might be a gringo affliction. However, I am not immune to the call of the chicken and I love the flavors that are synonymous with wings, sans the bones thank you very much. Fortunately for those who prefer the wing flavor without the wing the good folks at Average Joes also offer them as tender, juicy white meat nuggets, perfect for this gringa! With a great variety of flavors to choose from my absolute favorite is the Salt n' Pepper, available as nuggets or wings. These mouthwatering morsels from heaven are perfectly dusted with a salty, black pepper seasoning and fried to a perfect crunch. Dredge them in a glob of Ranch dressing and oh my…you are going to eat up the whole basket like popcorn at the theatre!
Hibiscus Flowers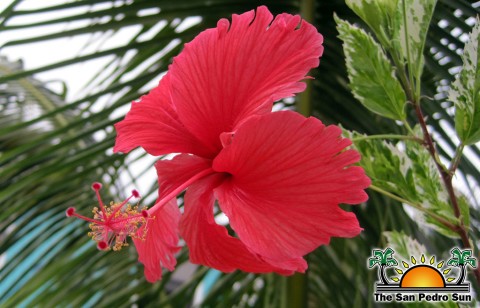 Stop and smell the roses…I mean hibiscus! What they lack in fragrance they make up for as the happiest flowers around! So many colors, shades, shapes, even their leaves can vary! It is easy to become immune to the vast surrounding of hibiscus blooms we have here on the island, but once you stop to admire one you can't help but marvel at their simple, Caribbean charisma. Bright ruffled red, bursting yellow with rosy centers, white with purple hearts or passionately pink, the variety of blooms are certain to delight you. Next time you pass one, stop and say hello, it will surely great you with a smile and wearing a colorful bloom behind your ear is pretty fun too!
Ice Cold Beer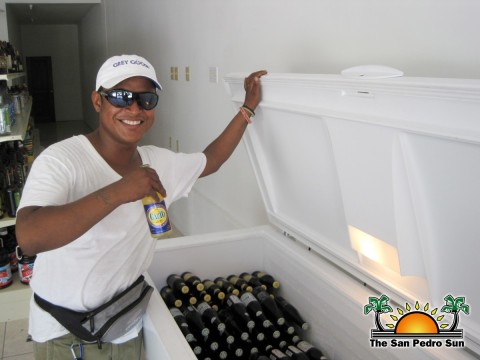 OK…this in a no-brainer. It's hot…I mean HOT out there, and what is going to taste better than an ICE cold beer after cool water has taken care of the necessary rehydration? There are lots of places that claim to sell the 'coldest beer in town' and believe me I have conducted extensive research. The new liquor store in town, LC Distributors has now exceeded my thirsty expectations and they have a freezer chest stocked with a variety of beers that are literally one degree above freezing…oh man it doesn't get better than that, well actually it does….not only are they this-close to being a frozen slushy but the Belikins are only four for ten bucks, or try the yummy new-to-the-island Carib beer, just three for ten bucks…that is the best deal around. Add some lime and salt and wow you could be on a Corona commercial! Save your thirst and pocket money at the same time, yup, that is definitely one of my favorite combinations!