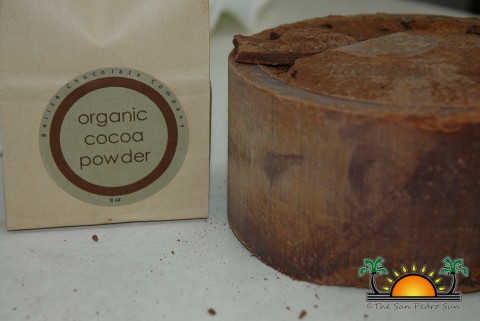 I opened the oven door one last time, my gloved hands pulling out the tray of perfectly rounded chocolate cupcakes. The rich, heady scent of warm chocolate filled the air in my tiny kitchen, and the anticipation was high. They would be served plain, with no need for adornments, although, there were a few bars of dark & chili, dark with nibs and a rich, creamy dark – so perhaps, a few shaved pieces on top could work…
Using Belizean cocoa powder from Kakaw Chocolate company, I had spent a few minutes whisking, beating and creating a rich batter for cupcakes. It's my go-to recipe, never failing to deliver. But I had always used the standard fare – imported cocoa powder. I was thus thrilled that my visit to the chocolate factory on the island also meant I came home with a few treats, including a nice bag of cocoa powder. It is richer, containing more fat, so island chocolatiers Chris and Jo Beaumont warned me to cut back on the butter or oil that normal recipes required. Less fat?! Whoohoo!! It seems my 'diet' could include treats made with Kakaw-based products.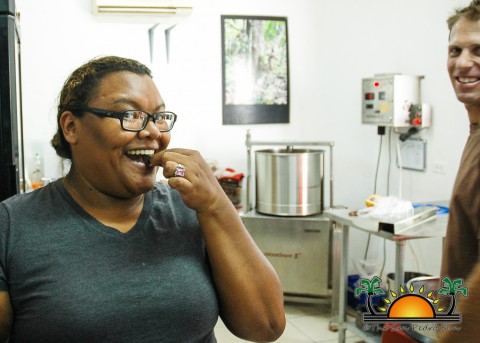 Chris and Jo are from the United Kingdom, and they run Kakaw Chocolate Company, an artisan chocolate factory that lovingly produces small batches of chocolate for the discerning consumer (AKA Chocoholics). Let's face it. Chocolate is a universally spoken language, it brings people together in their love and passion for the creamy, crunchy, rich, decadent product. There are any number of places that produce chocolates, but there is something about those bars, bites, powders and byproducts that come in small batches, made by hand, by a person you know, using ingredients grown in your own country.
Inspired after the first-ever (2008) Cacao Festival in the southern Toledo district, Chris and Jo have been churning out delicious dark chocolate made by beans grown organically 'down south'. The sugar comes from "Suga City", the northern Orange Walk district. Being a small company, there is a very hands-on approach to crafting products at Kakaw, including the making of filled truffles. On my visit, Chris had some samples of guava and mango filled dark chocolate bites, and my personal favorite, sea salt bites. Funnily enough, for me, there is such a thing as too much chocolate – so I held off on gobbling the bars that they generously provided me with, planning on sharing with the hungry staff at the office. (They better not be expecting Christmas gifts this year…)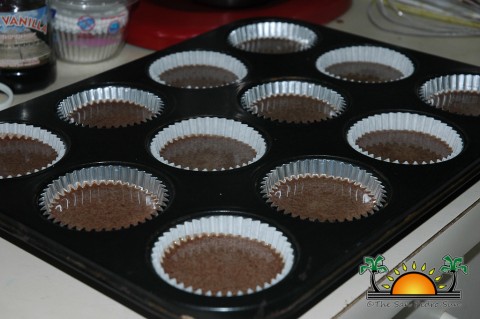 Thus, the next time I dealt with chocolate was in my kitchen, covered in a few chocolate splatters, but mostly unscathed. With a bar of dark chocolate with chili, one with nibs and a bar of pure dark chocolate, plus nice warm cupcakes, I headed off to feed the troops. The rounded cupcake domes had sunk slightly, but they still shone rich and dark. Apparently the changes I made to my standard recipe didn't seem to faze them. When peeling the cupcake wrappers off, I noticed a big change as well – no greasy feel, the cupcakes were light and fluffy, but still rich.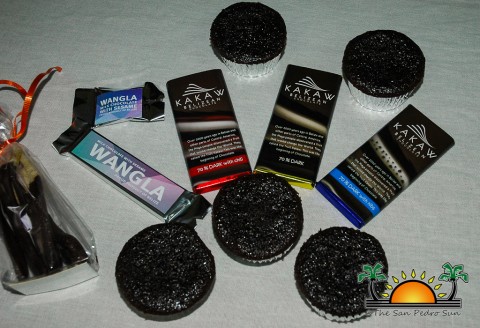 When tasting began, I mostly heard "mmm", "snorffmmmgood" and "yummy". One especially hard customer even said "It tastes like cupcakes you'd pay good money for." A baker always likes to hear such things (I'll keep that backup career in mind). The positive reviews certainly made me believe that the difference was Kakaw.
Everyone's palate is different, and while many enjoy the mass produced, sugar-loaded 'chocolates' (and every once in a while they can pass muster), there is always a deep appreciation for a well made, singularly rich bar of chocolate. When it is hand made, and the makers know the farmers who produce the cacao beans that eventually turn into the thick, gorgeous chocolate we can all enjoy, it is especially satisfying. Kakaw's bars: Dark with Chili – with the smooth rich taste that ends on a deliciously spicy aftertaste; Dark with Nibs – crunchy bits of roasted cacao seeds enrobed in dark chocolate; and of course, the simple and perfect bar: Dark. It is silky, smooth and with just a slight touch of sweet to temper the bitterness that is naturally present.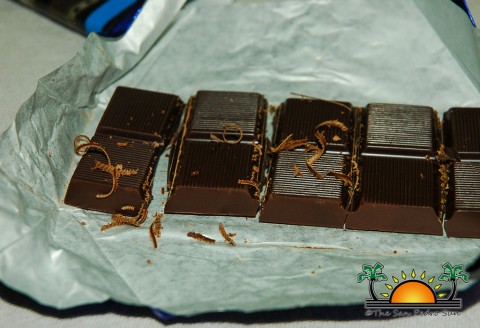 We all nibbled away, enjoying the perfect bites. For at least an hour, we indulged ourselves in all things chocolate – anyone who walked in would have thought Valentine's Day had come twice in one year! At the end of our taste test, we were all in agreement – Kakaw rules! The Mayas considered chocolate a divine gift, a source of power – and after our snack hour, we were indeed sated and happy. Powerful? Well, we may have to eat lots and lots more chocolate bars before our powers kick in, but that's a challenge we will accept.
Tia Chocolate Cupcakes
Adapted from Ina Garten's Barefoot Contessa – Beatty's Chocolate Cake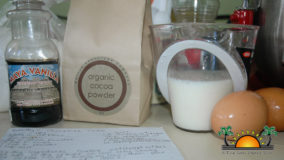 Ingredients:
1 3/4 cups all purpose flour
2 cups sugar
3/4 cup Kakaw cocoa powder
2 teaspoons baking soda
1 teaspoon baking powder
1 teaspoon salt
1 cup buttermilk, shaken (Use 1 tbsp vinegar, and add enough milk to add to 1 cup, let sit for 5 minutes then shake and use)
1/2 cup vegetable oil – (cut back to ¼ cup if using Kakaw cocoa powder)
2 extra large eggs, at room temperature
1 teaspoon pure vanilla extract (I used Maya Vanilla – a most delightful Belizean vanilla available in most stores and gift shops throughout the island)
1 cup freshly brewed hot coffee
Directions:
Preheat oven to 350°F.
Sift and combine flour, sugar, cocoa, baking soda, baking powder and salt in large bowl. In a medium bowl, combine the buttermilk, oil, eggs and vanilla. With a mixer on low speed, slowly add the wet ingredients to dry. With mixer still on low, add the coffee and stir just to combine, scraping the bottom of the bowl with a rubber spatula. Batter will be thin.
Pour the batter into the lined cupcake pans – filling two-thirds of the way. Bake for 35 to 40 minutes, until a toothpick inserted in center of cupcakes comes out clean.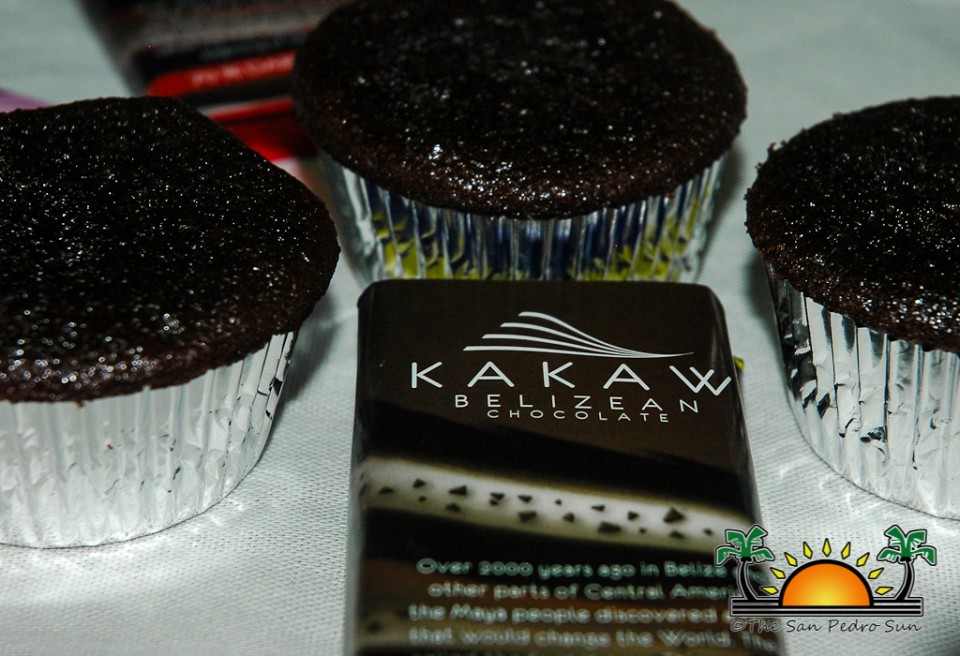 Kakaw is available in a few specialty shops, such as Greenhouse and Wine de Vine. Call 610-4828 for tours of the factory (the glorious scent of chocolate will follow you for hours afterwards – it's divine!) or check out their website at www.belizechocolatecompany.com