When the sun goes down and the nightlights come on, San Pedro Town's vibe changes…
So, you're visiting La Isla Bonita with your twin sons who recently celebrated their eighteenth birthday. You're scheduled to do an assortment of mainland tours – a visit to the Maya ruins, experience the caves and waterfalls. You've also included some snorkeling and being that you and your wife are certified Scuba divers, there are plans for that as well. But you're thinking… what can we do with the boys on the island that will be fun and exciting – things they wouldn't be able to do back home?
Well, following is The San Pedro Sun's guide to the "San Pedro Nightlife"! In San Pedro, there is something to do every night – and the legal age to do any of them is 18. There are things you can do as a family and or as individuals.
Sunday Afternoon and Night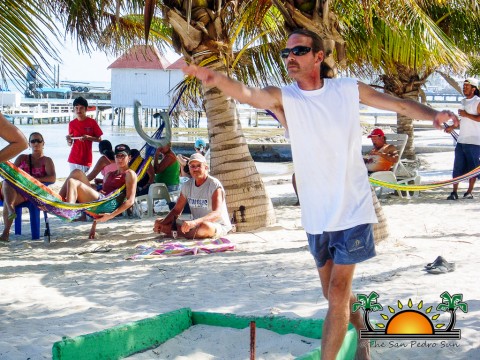 Let's start off with Sunday, the beginning of the week. This day usually begins mid to late afternoon with a live music jam, dancing and games of horseshoes at Crazy Canucks. This is a favorite beachside hangout spot for ex-pats, locals and visitors. With new owners Rob and Krista – they have now added select food items – their chicken fingers are the best – a little sweet with just the right amount of spice!!
Sunday is also FUNDAY at Fido's, with Dennis Wolfe and the Usual Suspects playing live from noon till 4PM and acoustic, contemporary music by the very talented Tull starting at 8PM.
If you're looking to enjoy a more local crowd, hang on over to the Tackle Box around 6PM and they've got a healthy crowd singing to their favorite karaoke tunes – which more than likely will be something you've heard and who knows, maybe even love.
Monday Nights
Monday nights, it's back to Crazy Canucks with local bands playing through to twelve midnight. This is a lot of fun. Visitors get a chance to mingle with the locals as they are taught the art of the "Punta". It is a super fun evening and nice just to sit around, have couple drinks and people watch as everyone have loads of healthy fun.
It's also taco night at Fido's, with tasty fish, chicken or shrimp tacos to choose from. They also have rum punch and draft beers for only $4 and live music with Dennis Wolfe and the Usual Suspects kicks off at 7PM.
Tuesday Nights
Tuesday nights is the big night for Tackle Box. This is where many locals who don't have to wake up in the early morning for work flock to – to party. Party starts around 9PM. Guest DJ's are usually invited to perform alongside resident DJ Debbie. Tackle Box also offers what has long become some of the town's best wings – I personally highly recommend the Garlic Parmesan – delish!!!!
It is also $1 Taco Tuesday at Wet Willy's and the infamous Legends Live Jam (which has moved to Wet Willy's while Legends is closed for the season) starting at 8PM. Lots of folks turn out for this fun night of music and entertainment.
Fido's has karaoke on Tuesday nights starting at 9PM and a great happy hour from 9 – 10PM with rum punch, Kamikazes and $25 buckets of beer!
Wednesday Nights
Karaoke! Karaoke! – Whenever I do go out on a Wednesday night, I like to start with a visit to Roadkill Bar to visit with my friends Matt and Joe, along with the rest of the ex-pats and locals that make Wednesday night Karaoke at Roadkill a constant. And if you're a new face, believe me – they make you feel right at home. It's always very refreshing to see familiar faces, where everyone cheers and applauds when you sing – even when you don't really sound that great! (Chuckle) Oh, and up until 9PM you can get a shot of Jager, Green Fairy or some other Top Shelf liquor and a beer for just ten bucks! Just try a couple of those and you'll think that you are Michael Jackson re-incarnated, with the dance moves and all.
Later on into the night for those who crave the younger, more energetic environment – Ladies night at Wet Willy's has been a long time favorite for just about anyone that comes to the island. It's a "Must Do" kinda thing. At Ladies Night, ladies get in for free and the gents pay a $5 cover charge – which also gets them a ticket for a drink at the bar – local rum or beer. Locals and visitors alike converge at Wet Willy's to have a great time – drinking and dancing the night away!
Thursday!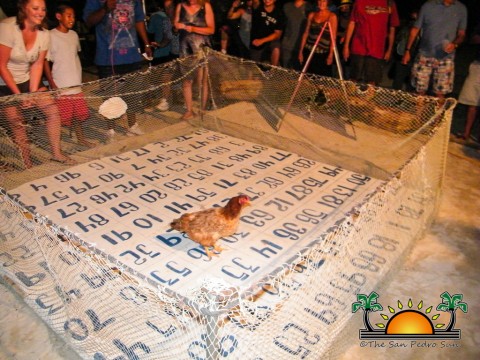 I've gotta give Thursday nights to Wahoo's Lounge and their World Famous Chicken Drop. Doug and Noele are absolutely amazing hosts – energetic and super friendly. They're also the owners – and how often can you say that you get to party with the owners of the bar? The Chicken Drop has become famous after being filmed by international film productions over the years. This is quite interesting – you pay for a ticket which corresponds to a number on a huge board on the ground surrounded by a net. The price ranges from $1 to $10 depending on the game. A well fed chicken is brought out and after a hilarious ritual of a gentle shake and … (you have to be there to see it, we can't give EVERYTHING away) the chicken is placed on to the board inside the fenced area. After a while, well – everything you put in at some point must come out. If it comes out on YOUR number – wahoo! – you're the winner. It's a lot of fun – the prize is either $100 up to $1,000 depending on the game.
The Weekend!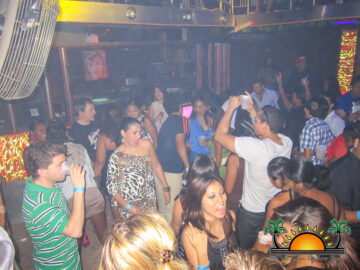 The weekends on the island I'd have to say go to the Night Clubs. An easy start off for me on a Friday night would be a swing by Pedro's for Friday Night Jam. Gino and the Shack Shakers play some of my all-time favorites. You get to sing along or if ya think you're good enough – they'd even loan you the mike. I'm not sure if this is something they do all the time, but I've seen it happen.
San Pedro has three night clubs. There's Club Latino, Jaguar's Night Club and Daddy Rock. The Club scene gets happening around 11 to 11:30PM and goes up to around 4 or 5AM. Club Latino provides DJ music, reasonably priced drinks and NO cover charge. Jaguar's and Daddy Rock charge an average cover charge of $5 to $10 depending on whether they are having a special event. Once you're inside, the cares of the world are left at the doors. The ambiance is friendly – the servers are accommodating – and the drinks – well – they're bountiful. Both clubs provide much space to either lounge around if you so choose or get your boogie on-on the dance floor!
If you aren't up for the Club scene Wet Willy's has karaoke and $5 burgers, and Fido's has live rock music starting at 9PM on Fridays.
Now, these are just some of MY favorite spots for the night life here in town. Though I'd have to mention, that if I were to write about everything there is to do here at night time – we wouldn't have enough pages. Whatever the case is – there is always something to do or somewhere to go to and unwind in the night time in San Pedro. So, come on down and enjoy all that we have to offer.