With most of Belize's agriculture industry providing fresh and organic produce and the rich bounty of the sea, making the healthy choice when it comes to meals is easier and tastier than ever. As we become increasingly aware of how we nourish our bodies, finding like-minded businesses that cater to our nutritional needs becomes important. One island eatery leading the delicious green way is Juice Dive.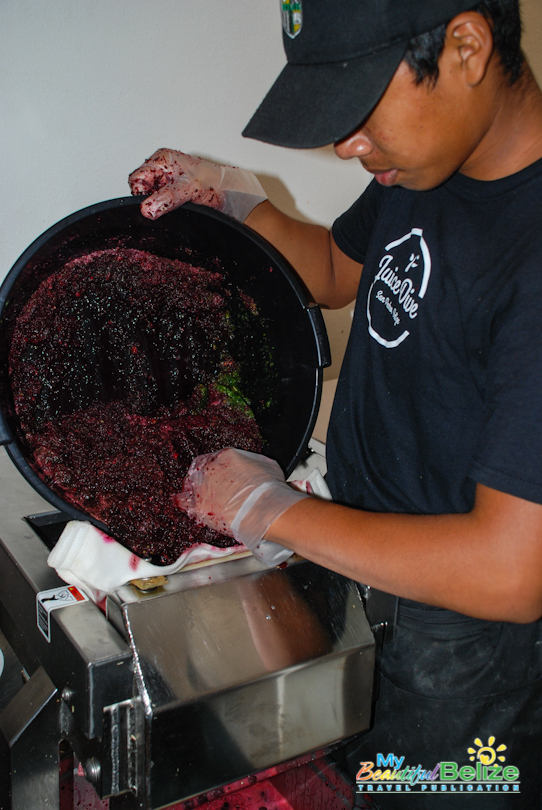 As the first commercial cold press juicer in Belize, Juice Dive is so much more than shots of wheatgrass! Using a combination of vegetables and fruits, pressed to extract all its nutrients and fiber, the juices are refreshing and tasty. You may taste the health, but you'll enjoy every last drop. Since they held their soft opening on December 30, 2017, Juice Dive has had customers rushing back for their delicious juices, avocado toasts, wraps, and salads.
Proprietor Renato Solis is a Belizean who returned to his home country after living in New York, USA for the majority of his life.
His wife Brooke is also a major inspiration – the reason the family is healthy, according to their son Justin. "She has been making the Green Goddess dressing since I was in elementary school, and I think of her every time I have it in a meal." With Brooke's original recipes, Renato, Justin and his brother Alex, Juice Dive is a true family business. Alongside Sergio (the chef), Hector (the juicer) and Miguel (the all-around helper), the business is providing islanders and visitors a variety of refreshing juices as well as delicious breakfast and lunch options that include wraps, salads and for the first time in Belize, Acai bowls!
Curious to try out the healthy treats, Janelle and I decided to drop in for a taste-test. At the entrance, you're immediately greeted by a fridge stocked with a rainbow of fresh juices…hmmm, which one to taste first?! Should we go for the Sweet or Super Green? Are we here to Feel the Beet? Should we just drink and lay off the terrible puns…? Eight flavors later, we're convinced that two pounds of fresh fruit and veggies in one container is the easiest way to get all the nutrients. However, I remain hesitant when it comes to the Juice Cleanse packages – despite the phenomenal health benefits!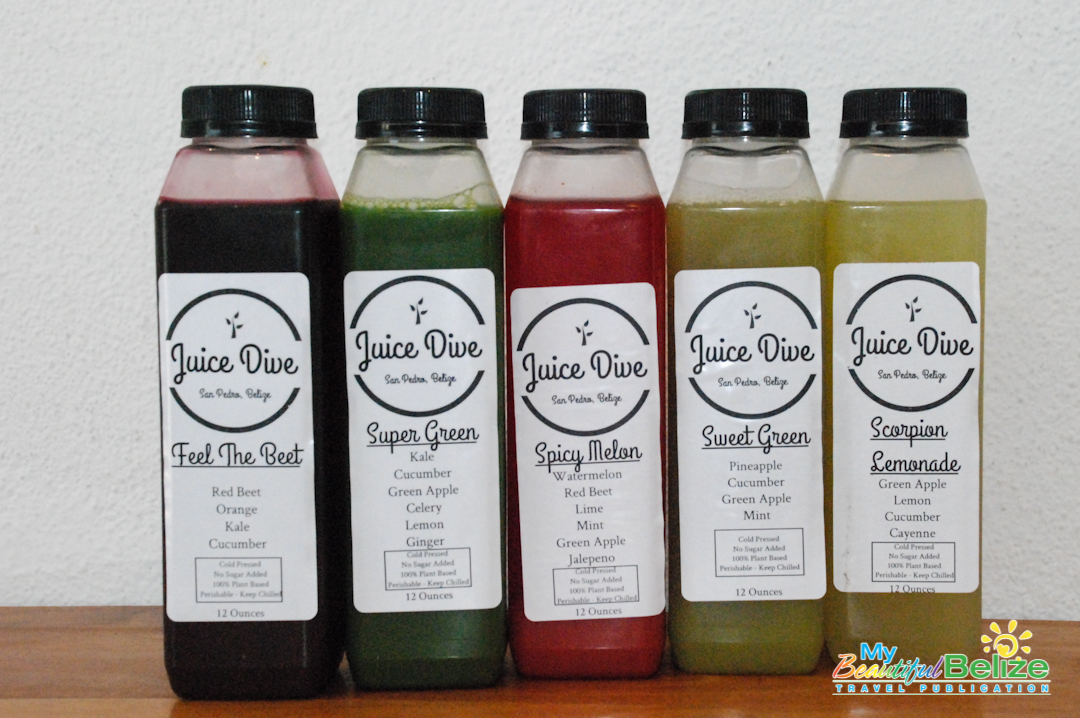 As it is, we're torn between our favorite juice flavors. Janelle's was the creamy Crescent Moon – a mix of filtered water, cashews, vanilla, dates and a touch of agave nectar. Mine was the Carrot Karma, a delightful orange juice with carrots, red and green apples, ginger and lemon. The Spicy Melon could easily be naughtied up with a shot of vodka (like I said, I'm only marginally healthier than before), and with ingredients like pineapple, cucumber, green apple, and mint, it's clear why Sweet Green is a clear favorite of many.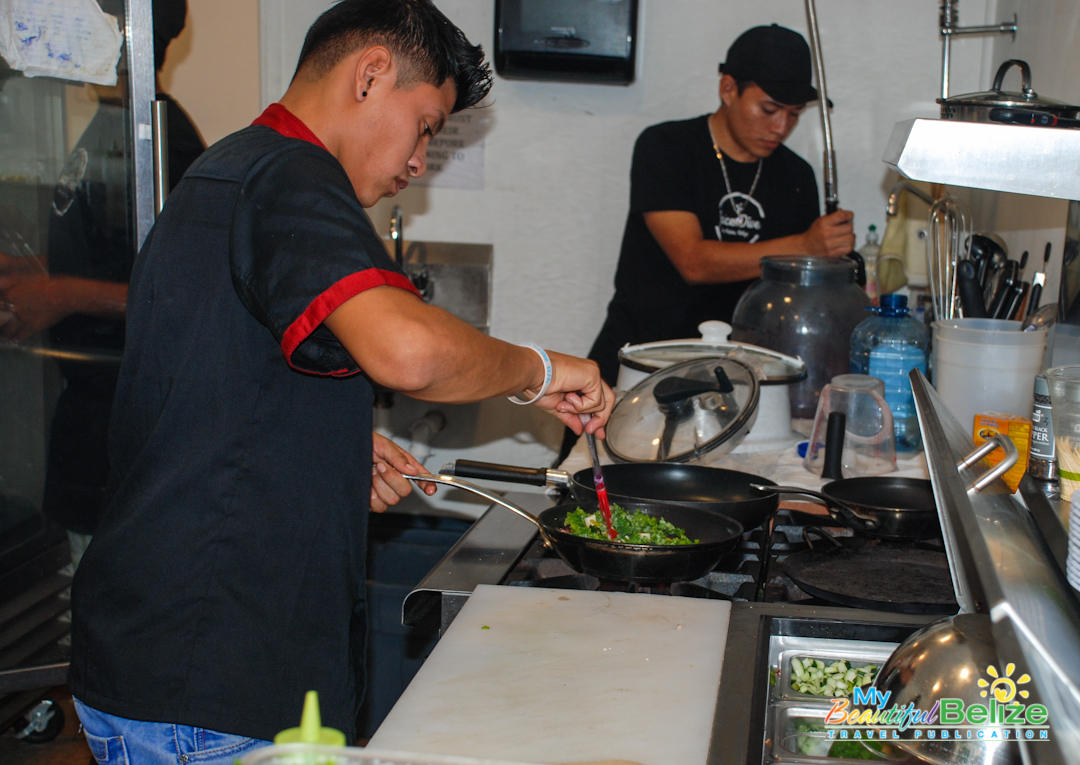 As for their food selection, everything on the menu sounds delicious, but my eye is caught by the Thai Chicken Wrap. I love the complex and savory flavors in Asian cuisine, and can never get enough, so Justin and Sergio get to whipping up two separate wraps for us to try.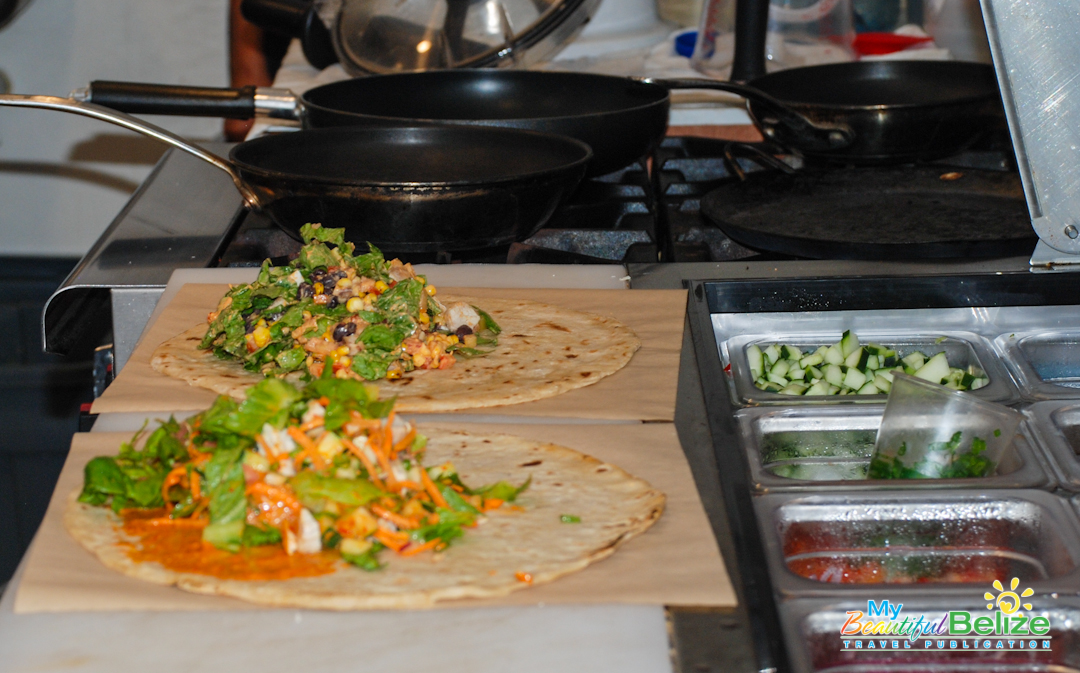 The Thai chicken wrap has crunchy kale and romaine layered over a vegan tortilla, topped with roast chicken breast, scallions, pickled red onions, cucumber, shredded carrots and an amazingly delicious chili peanut sauce that Justin whipped up while we were chatting away. Fresh, crunchy, sweet and salty flavors made this a winner in my book. Loaded with roast chicken, crunch lettuce, black beans, corn, tomatoes and a spicy chipotle dressing, the Southwestern wrap is bundled in its vegan tortilla.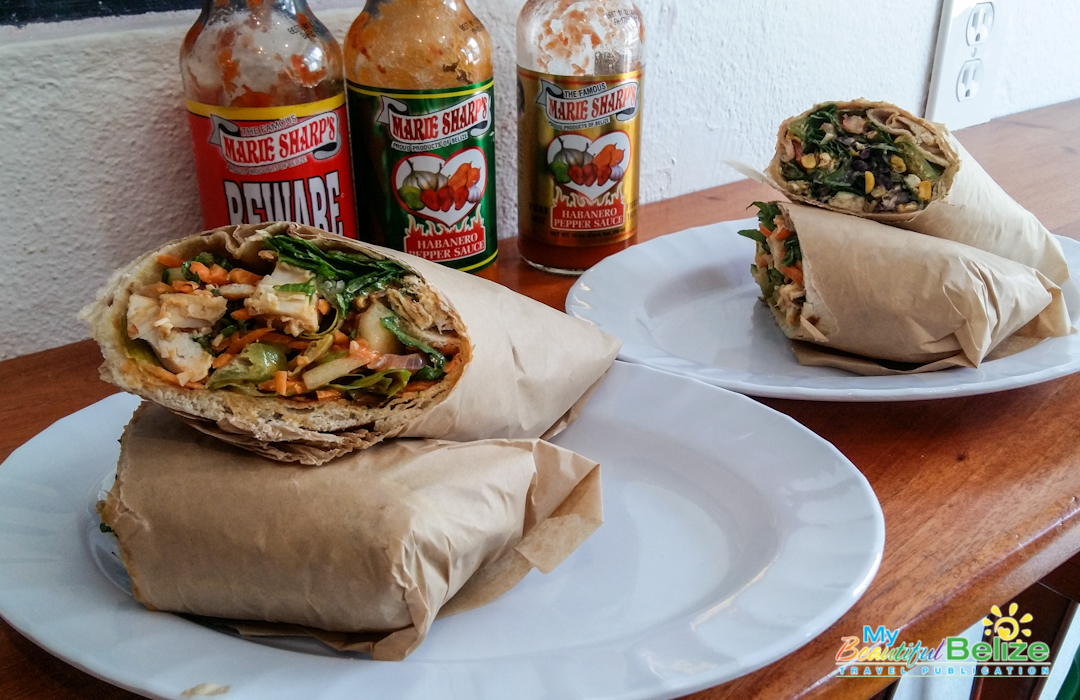 Janelle even claims she forgot she was eating something healthy, and if that isn't a testament to the Juice Dive's success, I'm not sure what is!
"Eat Clean and Live Green" is their motto, and Juice Dive is paving the way to deliciously healthy eating in Belize. Serving organic, vegetarian and vegan options, they are open seven days a week, from 8AM to 6PM. They are located on Pescador Drive, directly across the street from Atlantic Bank's San Pedro Branch main office. Check them out and be sure to follow them on social media platforms @juicedive. Locals receive a 20% discount on all food purchases.