"Look where we'll be staying!!" The email from Tamara contained a link. I clicked it in trepidation, wondering which shack I'd be slumming at on this trip. (After my pre-birthday escape to Cayo, I thought my luck had run out) The screen refreshed, and oh…oohhhh!! What was that beautiful blue water…oh, god, it's stunning! I turned to look at her and the grin on her face must have matched mine.
Helloooo Belize Ocean Club!!! Prepare for another Rice and Beans adventure!!
We were gearing up for another visit to the Placencia Peninsula and excited to check out the Placencia Sidewalk Art & Music Festival. But suddenly, thoughts of floating around in the resort pool with umbrella drinks eclipsed our carefully laid out travel itinerary. As tempting as that thought was, we had to stick to our plans.
When my 6AM alarm went off on that warm Saturday morning, I was already wide eyed, ready to get a move on! Our 7AM flight on Tropic Air to Municipal was followed by a smooth 8AM flight direct to Placencia. By 8:30, we were in one of the prettiest (and cleanest!) Belize spots, ready for fun and adventure! Car Rental of Placencia picked us up at the airstrip, and after Candy fixed us right up, we were driving past historic and colorful Seine Bight on our way to Maya Beach.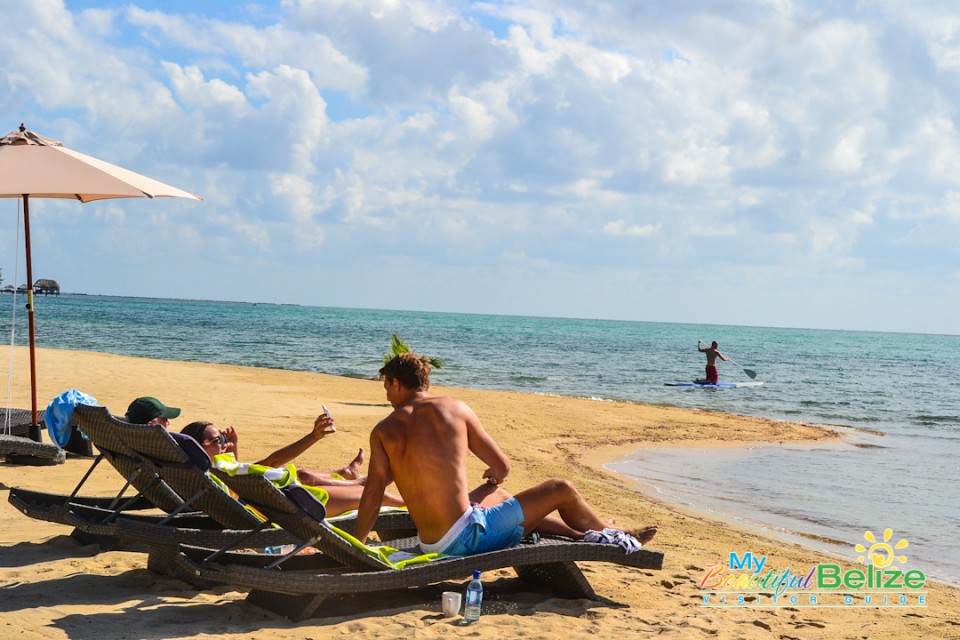 Maya Beach is a small community on the Placencia Peninsula, located about 7 miles north of Placencia village. It is a small community, mainly made up of small and luxury resorts, private homes and a few wonderful restaurants and bars. It is where Belize Ocean Club is located and where our weary heads would rest for the night.
We drove in to the compound and were tended to in the pretty, open air office. We had arrived early, so before being whisked away to our room, we took a tour. Gunter Mathieu, restaurant manager and long-time friend was happy to catch up and show us the resort grounds, outlining plans for the expansion of the resort across the street to offer both beach and lagoon/mountain view. One thing about being on the peninsula on the mainland: sea and mountain views. A girl could get used to having the best of both worlds!
While walking around and taking in the breathtaking views from the main building being built to take complete advantage of said imagery, we were surprised with a refreshing beverage to cool us down. A cocktail at 10AM? Don't ever say we're not up for anything!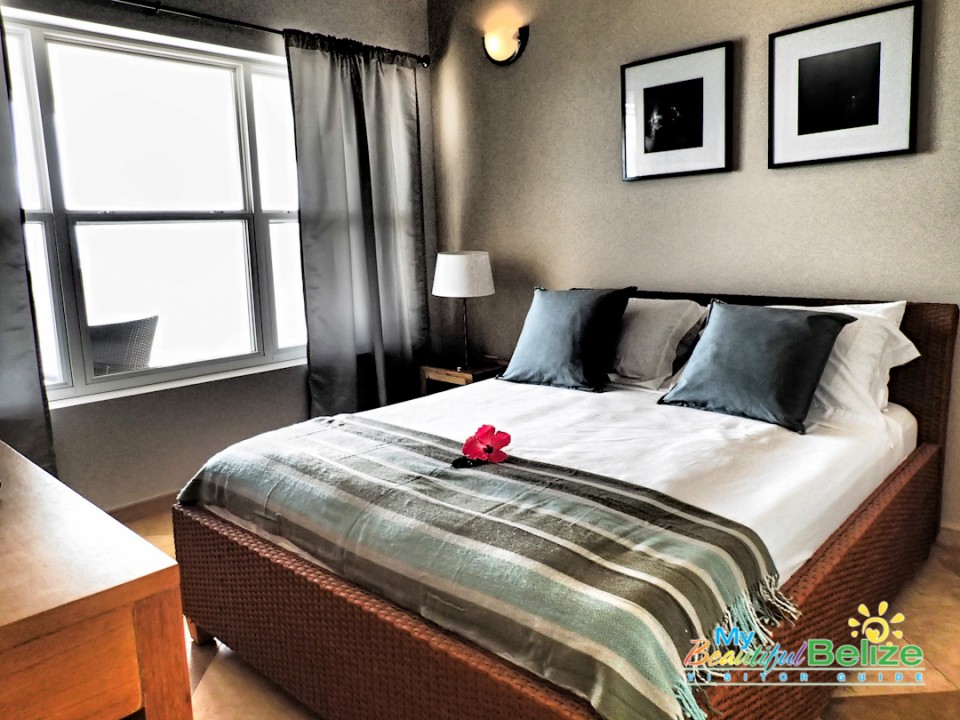 We sip on our first drink of the day and head to our villa – oh yes, penthouse no less! Up three flights of stairs and we were stepping into our cool haven. Two bedrooms, each with its own private bath, a kitchen and living/dining area, plus a balcony that afforded us breathtaking views of the pool and bar below. Out beyond the property, brown sugar sand stretched out as far as the eye can see, and rolling waves crashed onshore in a rhythmic pattern. We were certainly in a sweet spot, quiet and secluded, with enough amenities to ensure that we could enjoy a full day of sun, sand and sea, without having to leave our resort.
But leave we must, if only for a few hours – a festival calls our name, and we must follow the siren song of art, people and music. The drive is quick and scenic, and again, it's incredible how clean and well-kept the peninsula is! After parking, we head out to the festival grounds, prepared to walk and take in as much as possible. Imagine our excitement when we saw the legendary Pen Cayetano playing his guitar under the shade of an almond tree,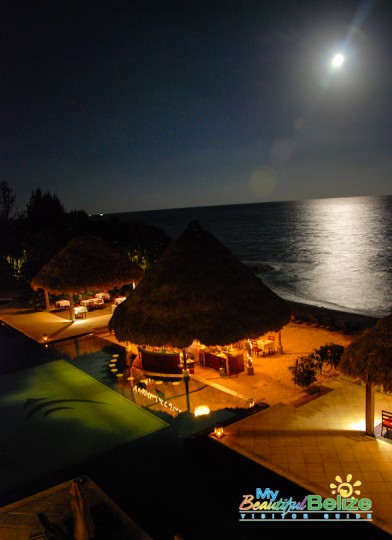 surrounded by his original artwork. If this was how our day would start, we couldn't wait to see more! From left to right, Placencia's famous network of sidewalks leads us north to south and on to the beach there was art and jewelry, colors and friendly faces, plus music, food and drinks. Once again, the Placencia Sidewalk Art & Music Festival was a great event that brought out visitors and residents alike to mingle and enjoy. With coconut water in hand, plus beers at the beach we stayed till the sun set, then headed back to our place.
A bright full moon shone down on us as we sped down the smooth highway on our way back, and if that wasn't a sign to head on in and enjoy a fabulous dinner courtesy of Gunter, and maybe a glass of wine, well I don't know what is! The menu read like a dream, and our choices were easy to make: Caribbean spiced pork kebabs, fresh spinach fettuccini with shrimp, and for dessert, Maya cocoa chocolate mousse. Doesn't that just read like a dream? Well its taste was real, and it was utterly delicious!! Gunter never fails to deliver. With some tunes and a great glass of wine, we step out onto the balcony and take in the gorgeous night, trying to photograph the magnificent moon and the lit buildings below. But hundreds of photos can't bring across just how it felt to be standing there taking in another slice of Belize paradise. With mental images of the moon and the sound of the waves, we headed to our respective rooms ready for a night of slumber.
We awoke refreshed after a great night's sleep in our comfortable beds, ready to enjoy Belize Ocean Club's amenities. Once again, the sun shone down on the green of the sea, and the great pool beckoned like the temptress she was designed to be. But first: breakfast! We enjoyed some fabulous eggs benedict on the beach while people watching, a warm breeze feeling blissful and tempting us to pull up to the sun loungers and be utterly lazy bums. This is what people do on vacation isn't it? We go, go, go, GO all the time so when it's time to relax, and an avenue presents itself, we can hardly figure out what to do with ourselves.
To fix that problem, we decided to jump in the pool. The first shock of cool water quickly turned refreshing, and we were soon splashing around, enjoying ourselves immensely. The first few visitors to the compound began arriving for the Sunday Pool Party, and the air was soon filled with the sound of children laughing gleefully as they jumped into the water. A DJ started mixing the tunes and the party vibe kicked up, with more people arriving to enjoy an afternoon of sunshine, good party food, icy cold drinks and a glorious stretch of beach.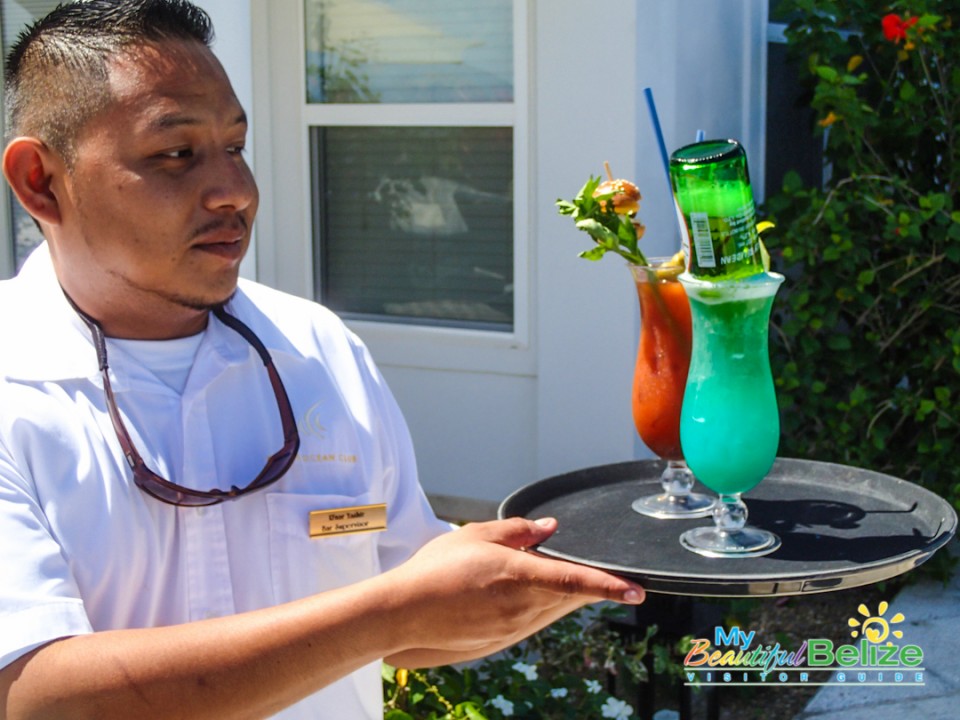 Efnar, the bar manager comes by with two intriguing drinks on a tray: Blue Hole Dive and their signature Bloody Mary. My beverage had a Lighthouse Lager (the dive tank) upside down into a fruity blue cocktail mix (Blue Hole), and the combination of beer and liqueur gave me that weightless diving sensation…oops!! They were dangerously good, and I could see myself having a few more of them before the day was over. Finally, there was my moment to laze in the pool with fancy cocktail in hand!!
Tamara's Bloody Mary was a spicy mix of vodka and tomato juice, plus all the fine fixin's of a bloody, capped off with the most adorable mini-burger! It truly was a meal in a glass. Not being a Bloody Mary fan, I can only attest to their cuteness and her declaration that they were damn good!
We swam and drank for quite a while, after ensuring that the staff would make certain that we caught our last flight out of Placencia! Although, secretly we hoped that we'd miss said flight and have to extend our stay. Belize Ocean Club has definitely captured our hearts: friendly staff, no pretentious airs; just a place where all are welcome.
Formerly Bella Maya, Belize Ocean Club recently re-opened to the public. It's 1,000 sq. ft. villas are designed for comfort and luxury on the beach. Located at Maya Beach in the Placencia Peninsula, it is remote enough for those looking to relax and unwind. With full bar and restaurant service, Sunday's fun pool parties, watersports equipment and activities available, it also caters to those seeking a little excitement and adventure as well. Great for families, local tourists and all those who seek a unique Belize experience, Belize Ocean Club welcomes one and all with open arms. Call 533-4500 for reservations!