When I say Blue Hole…which one do you think I'm talking about?
There is that one that millions of divers have travelled to dive into. It is a giant sinkhole in the middle of the Caribbean Sea, prime for exploring an underwater world full of magical wonders (and sharks and corals and fish and did I mention sharks?!). Well, I'm not talking about that one…
Then there's the St. Herman's Blue Hole.
Located far from the sea, and actually in a cave/jungle setting in Western Belize, it's a common spot to visit, and contains two cave systems: St. Herman's and Crystal Cave. Natural trails and a jungle pool with icy-cold blue water make it a fun place for residents and visitors alike to play in! But it's also NOT the one I am talking about either…
YES, there's ANOTHER Blue Hole.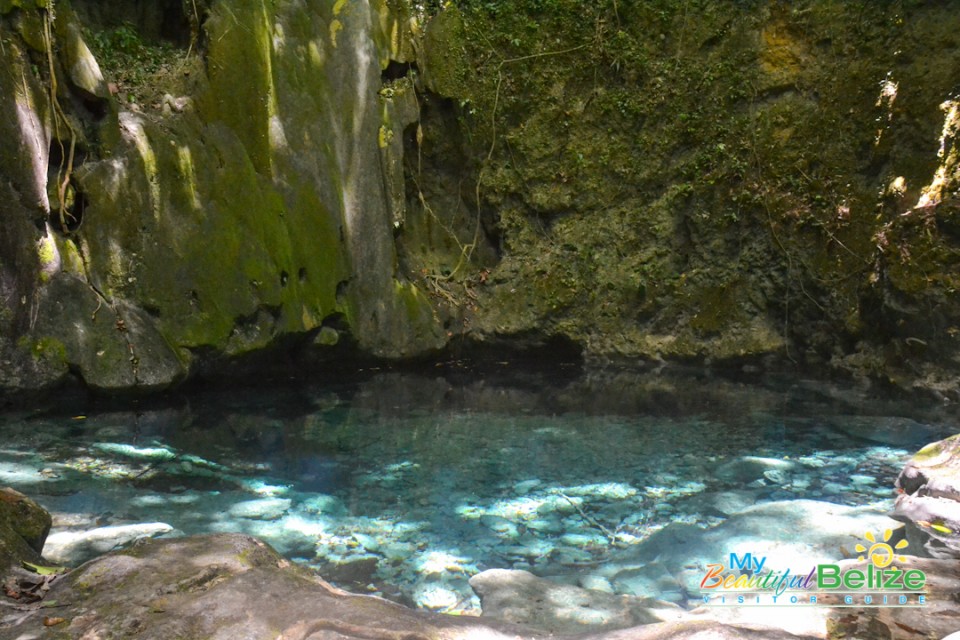 I had no idea either, and I supposedly come from the jungle! During our sojourn to the fabulous, majestic, incredible, daunting, breathtaking Chiquibul rainforest, our guides Luis and Roni casually mentioned that there was a Blue Hole up a steep climb…pointing at the path.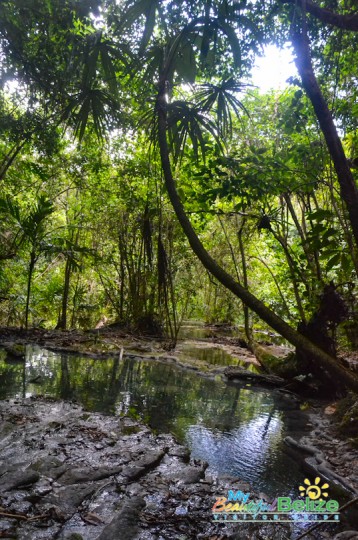 After sitting on a hard metal boat all morning, I needed to stretch my legs. So off I went, following them, huffing and puffing, slipping once – okay, twice – and grabbing onto some hardy plants to keep from sliding downhill. Once I made it out to a clearing, the walk became more about avoiding a slip on the mossy boulders…it took a while to realize I was climbing up a (dry) waterfall path. Gulp. Some crafty jumping and maneuvering around a few rocks, and there it was.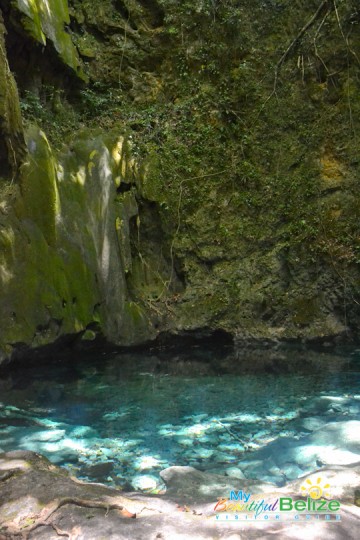 The glorious Blue Hole simply stood there in the middle of the jungle. There was a faint trickle as water ran down a few crevices, and from different vantage points, I could envision where a roaring waterfall would be after some rains. The sun beamed down on the turquoise pool as little minnows darted to and fro. Its icy waters called me, but my grandmother's threats of a 'Pasmada' held me back. I'll just have to go back better prepared.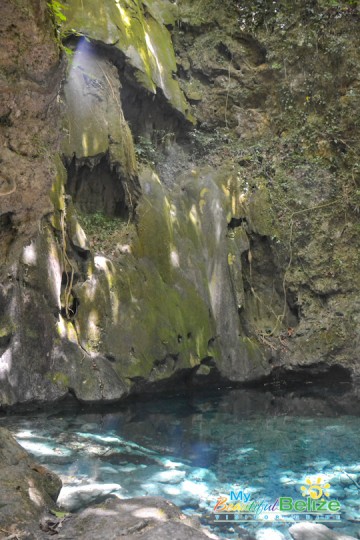 *El Pasmo – It is believes that the body needs to properly cool down after much exertion or exposure to heat before plunging into cold waters. As someone who prefers peer-reviewed scientific data and has seen sweaty athletes plunge deep into an ice bath, proclaiming its restorative powers, I am often tempted to throw beliefs and caution to the wind.
But I just know my 4'8" grandma wouldn't approve, so I hold back! 